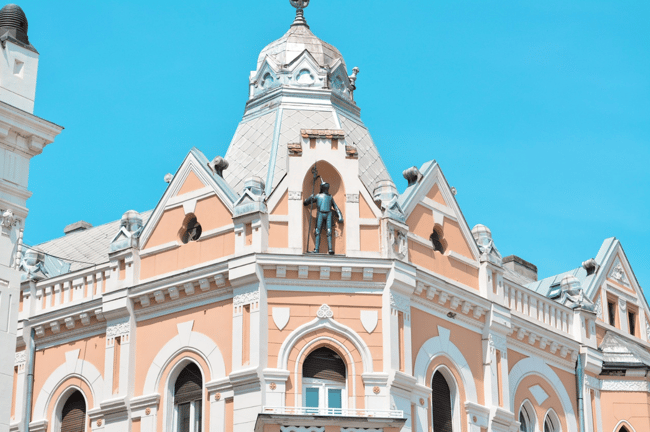 What's there to see in Serbia? If you're asking that question, it's only because you haven't seen photos yet.
When I was volunteering in Eastern Europe, my group and I had the hardest time deciding where we were going to vacation. ILP makes sure you have time off so that you can actually see the part of the world you're living in that semester, so right away we sat down and tried to narrow down our gigantic list of places in Europe we wanted to see. You can see quite a bit of countries in one European semester (some groups have done 15+!), but there are hundreds of cities that pull you in making the choice a difficult one.


---
Looking for an affordable Europe semester abroad?
Check out ILP and see it all on a college budget like I did!
---
For me, just about any country in Eastern Europe was at the top of my wish list. I knew all the popular western cities were popular for a reason and I knew I wanted to go someday ... but I knew that if I planned more trips back to Europe after my semester was over that it was going to be much easier to go to the western side. If I was going to see the eastern side of Europe at any point in my life, now was the chance.
And I'm so glad we did that because eastern countries were cheaper to see, had less crowds, and were just as stunning with sites I didn't even know existed until I started researching. Places like Krakow, Poland and Budapest, Hungary were my personal favs!
And Serbia is one of those types of countries. Just like many other Eastern countries it gets overlooked by tourists, but that's just good news for travelers who like things a bit more "untouched". If you like those hidden gems like me I think you might be adding Serbia to your travel list.
Serbia Highlights + What To See
If you've only spared a day out of your Europe trip for Serbia, you're likely going to head right for the capital city Belgrade because that's the easiest city to fly into.
And while flying into the capital and wandering for the day is an easy way to get a quick glimpse, just like every place in the world, locals will tell you that you missed the best spots.
So where to start? If you're a backpacker and want to make some memories in Serbia but really can only fit 2 to 3 or 4 days in, my vote is to do a quick loop of the northern side seeing Belgrade, Subotica, and Novi Sad.
Starting Your Northern Route Trip
Getting Oriented
Serbia sits nestled into the heart of the Balkans, neighboring countries we really love traveling to: Montenegro, Bosnia, Hungary, and Romania. You'll be flying into Belgrade and the two cities on our route are just north of there.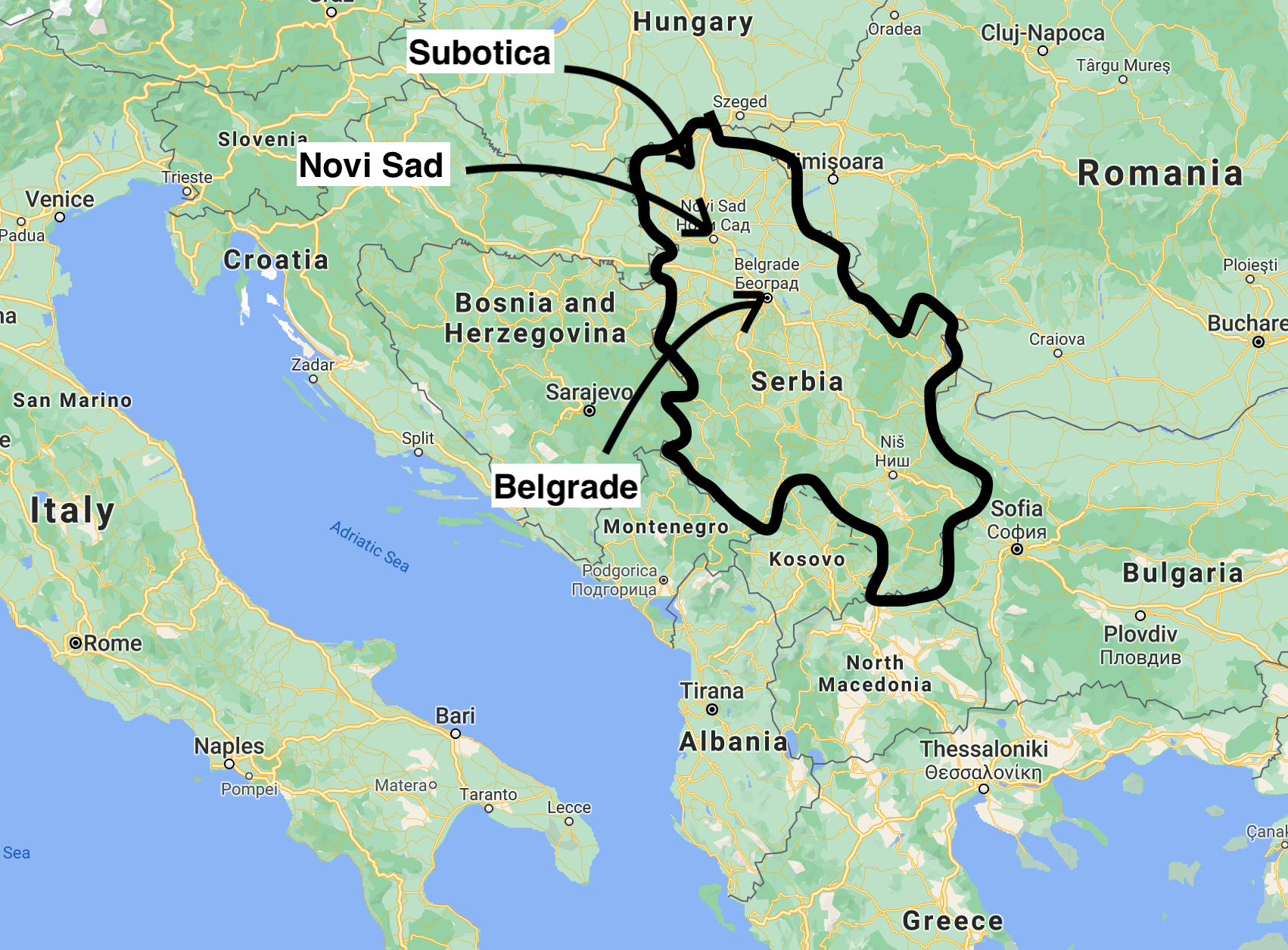 Getting Here
The most convenient way to access Serbia (especially if you're short on time) is flying into Belgrade. There are train routes that may be a bit cheaper, but major cities are quite a distance away and those rides will cut days out of your trip.
So flying into Nikola Tesla International Airport (BEG) is usually the best choice. Belgrade isn't a major tourist hub, but instead it often acts as a connecting hub between western and eastern countries which means there are flights from many major cities (but budget airlines are a bit limited).
Podgorica to Belgrade —
via bus: 9-10 hours, around $30 USD
via plane: 45 minutes, around $90-100 USD for single journey, or $100-135 roundtrip
You've actually got a couple options, you just need to weight the pros and cons. On Omio do a search for Podgorica to Belgrade and most days of the year you'll find both a day bus and a night bus. I'd pick the night route! You won't waste any of your vacation time sitting on a bus and it's cheaper, but the con is that it's pretty hard to sleep on a bus so you could be pretty tired when you get there. So just decide if those savings are worth it to you.
The nice thing about flying is that you can usually find a direct 45 minute flight! Airlines like Montenegro Airlines and Air Serbia usually have the best deals.
Kiev to Belgrade —
via bus: 27 hours and definitely not worth it
via plane: it majorly varies (see below)
Here's the thing: You've got to be willing to look around for creative routes if you want to do this on a budget. As a head's up, there's just not really a direct route from Kiev to Belgrade, so don't be frustrated if your initial search shows 6 hour layovers and $150-300 flights. That's pretty normal, but you might be able to find a better deal using a couple tips — You just need to start playing around with options and maybe it's best to include Serbia as part of a vacation itinerary including other countries.
There are major cities that would be rad vacation spots anyways, but the main thing is that they do have direct routes to Belgrade! So instead of trying to go straight to Belgrade, maybe you jump on a 2 hour, $20 flight to Berlin first (yeah ... you can actually find flights that cheap!). And then you book a 2 hour, $50 flight from Berlin to Belgrade. Then boom! You made it, plus you got another rad city tacked onto your trip.
Also, try embracing the long layovers. Often the cheapest flights have the longest layovers, but don't count those out. If you find a flight with a 12+ hour day layover, you could use that time to explore that city before you continue on with your trek to Belgrade. Then you've got the cheapest flight + (again) an extra city on your travel list.
Of course all these options are constantly changing based on the day and time of year you're flying, so the key is to just spend time looking around. My recommendation is to pull up 2 tabs on your browser — both on Skyscanner: one browser searching routes from Kyiv to Everywhere, and the other searching routes from Belgrade to Everywhere. Then it's just a game of finding a city that has direct flights to both Belgrade and Kiev. WIZZ Air is a budget airline that services flights from multiple cities to Belgrade that you might want to check out.
Bucharest to Belgrade —
via bus: 14 hours, around $130
via plane: 1.5 hour direct flights, around $60-120
Exploring Belgrade
See + Do
Take a walking tour: so much of this city is walkable, which is perfect if you're just dropping by for the day and want to head straight for the most famous and popular sites to see in Belgrade without having to figure out as much on your own. You could get a guided tour from a local — this group offers free tours one some days of the week (you'll just want to make sure to tip).
There's also the app GPSmyCITY that lets you download maps to your phone so you can do a self-guided tour to all the best spots (they have a 3 hour Belgrade route called "City Introduction Walk" that hits up the best spots). The nice thing about this is that you don't have to meet up with a group at a particular time. Head's up, the app is free but there are paid tiers to access the directions to get to those sites. Oh and bonus? They also have walking routes of the Subotica and Novi Sad!
Skadarlija: this is the Boho heart of the city and should be one of your first stops. Actually, the saying goes if you haven't been to Skadarlija, you haven't really experienced Belgrade. This neighborhood has a charming, vintage feel to it, and because it's pedestrian only it's perfect to come wander. You'll find lots of cafes and spots to stop for a bite, street performers, and art displays. Just as a head's up, it's a bit quieter over the winter months so April-September is usually when you'll see the most action.

To get here, you can take the tram: 2, 5 or 10.
Church of St Sava: this Orthodox church is an important monument in the city and quite literally a focal point ... it's huge! It's the largest in the Baltics (and actually one of the largest in the world). It sits high in the city and you'll be able to spot those towering white walls for miles. That app we mentioned above will take you on a route walking right by the church.

Address: Krušedolska 2a, Beograd, Serbia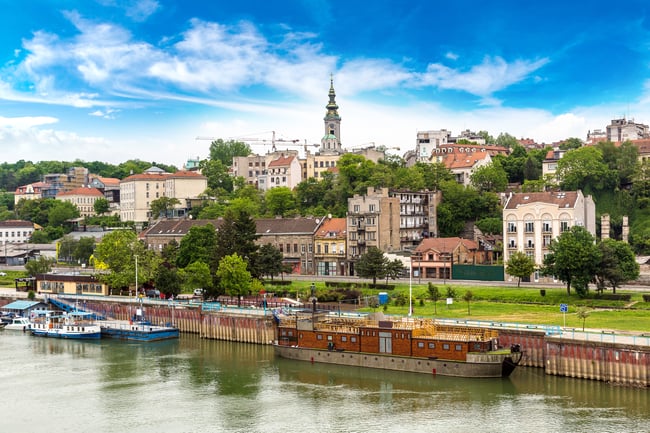 Exploring Subotica
After seeing Belgrade, head out to your next city: Subotica. It sits on the tippy top edge of Serbia, just across from the border from Hungary. You've got a bit of train ride to get here, but you won't want to miss it! This city holds so much of the really expressive design in Serbia and is such a stand-out with Art Nouveau themes styling the streets.
Getting Here
Bus routes are an easy way to go — 3.5 hours, costing around $15. Check out options on Omio. It's a pretty common route so there's often multiple options per day.
Oh and just an idea — Subotica sits about halfway between Belgrade and Budapest, Hungary (check out Omio for train routes, they're typically $10 for the 3 hour ride). Some travelers keep heading north instead of looping back to Belgrade, so if you have the time I highly recommend seeing Budapest!
See + Do
Walking tour: this city is still undiscovered and on the quieter side, plus so many of the best sites are all downtown making it an ideal city to wander on foot. Check out this local tour, or try the app for a downloadable map.
Town Hall: I know ... Town Hall being my first recommendation might not give you a lot of encouragement that this is an incredible city, but trust me. The fact that even their Town Hall is a piece of art should tell you everything you need to know about Subotica! It's so ornate and really just one of the masterpieces in this city. Need more convincing? Check out photos here.

Address: Štrosmajerova 3, Subotica 24000, Serbia

Raichle Palace: to be honest, seeing this photo was the first time my interest in Serbia really sparked. It was so unique, and I couldn't even guess where it might be located. I was so surprised when I realized it was hidden on the border of Serbia!

Address: Đure Đakovića 9, Subotica 24000, Serbia
Hours: 8 AM - 7 PM Monday-Friday, 9 AM - 1 PM on Saturday
Cost: 100 dinars ($1 USD)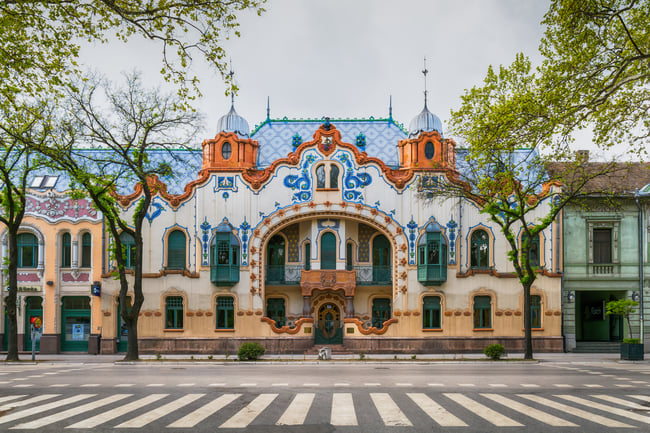 Jakab and Komor Square Synagogue (locally known just as the Subotica Synagogue) — This is another stunning piece of art! It was built in the early 1900s, embracing Art Nouveau by adorning the building with carnation, peacock feather, and tulip motifs. They finished a major restoration in 2018 and you can actually arrange a tour of the inside if you talk to the tourist office at the City Hall, but walking around the outside also gives you those stunning views.
Address: Ulica Dimitrija Tucovića 13 Subotica, 24000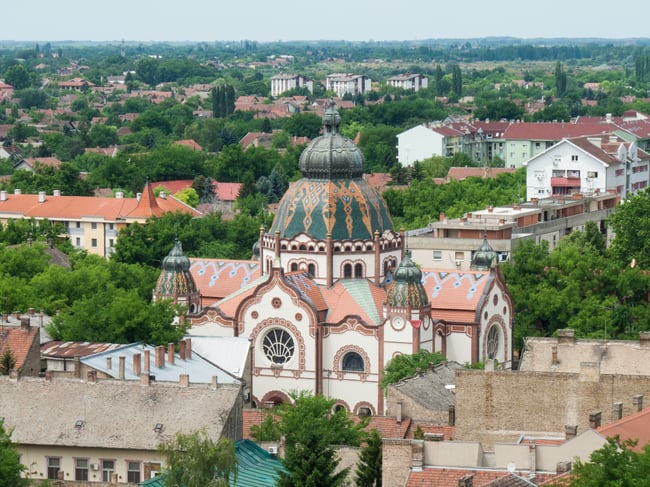 Exploring Novi Sad
Unless you decided to jump on a train to Budapest, swing back and see Novi Sad! It's on your way back to Belgrade, and another Serbian favorite.
Getting Here
Again I like looking for routes on Omio — there's both train and bus options that are typically under $10, but I like the bus since it's an hour shorter. It'll only take you 1.5 hours to get here from Subotica.
See + Do
This blogger has a 2 day itinerary that'll get you seeing it all! But if you only have one day, here's a couple highlights you shouldn't miss:
Trg Slobode: just head to the main city square and you'll find many of the most popular sites, including another ornate Town Hall and the towering catholic Name of Mary Church, among others.

Address: find it on Google maps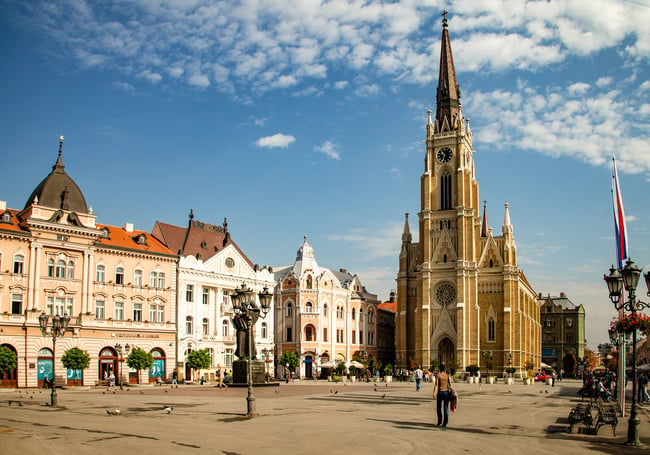 Petrovaradin Fortress: head east from the city center, past Dunabe Park, and you'll spot a massive fortress sitting on the other side of the Dunabe River. That white clock tower is iconic, and interesting to note that it's big and little hands are actually reversed! Historically this spot has changed hands several times, but typically was used as a military fort (but since being demilitarized has become a monument site for the city). There are also catacombs here that you can explore, but you'll want to make use of the available guided tours as it's very easy to get lost.
Address: Beogradska, Petrovaradin 21131, Serbia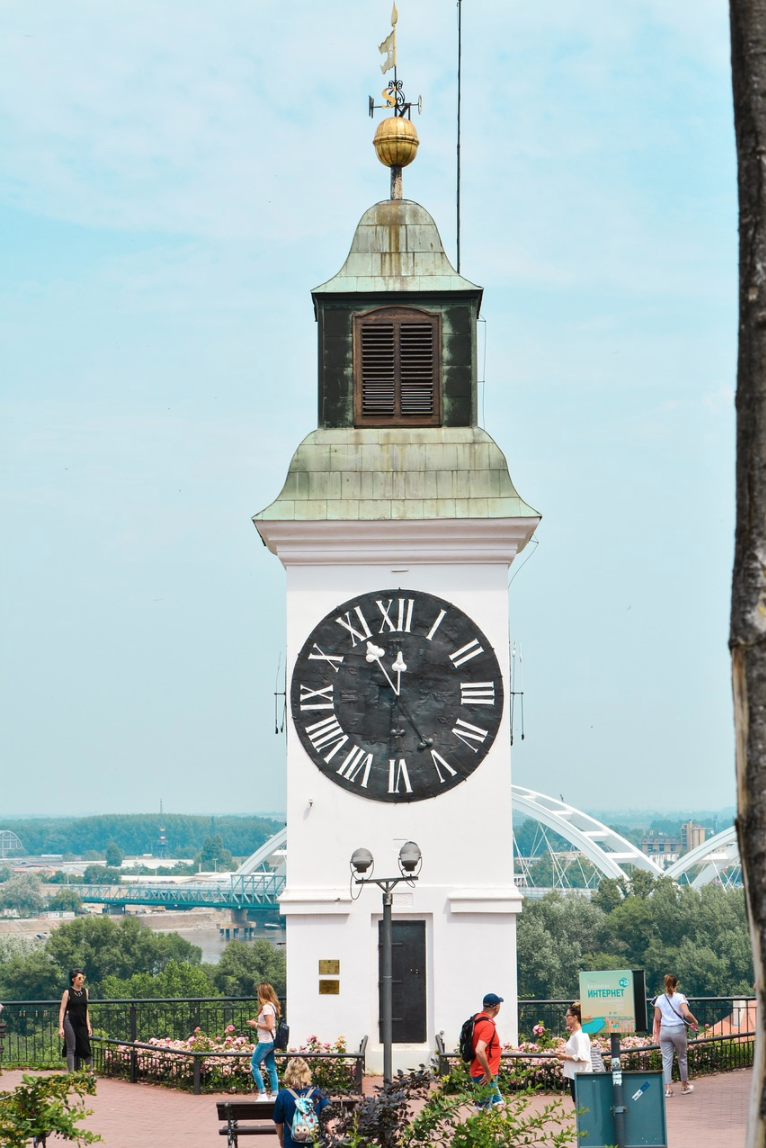 Getting Back To Belgrade
Again bus is your best bet! It's just a quick ride to get from Novi Sad to Belgrade — about 1.5 hours, costing around $5 USD.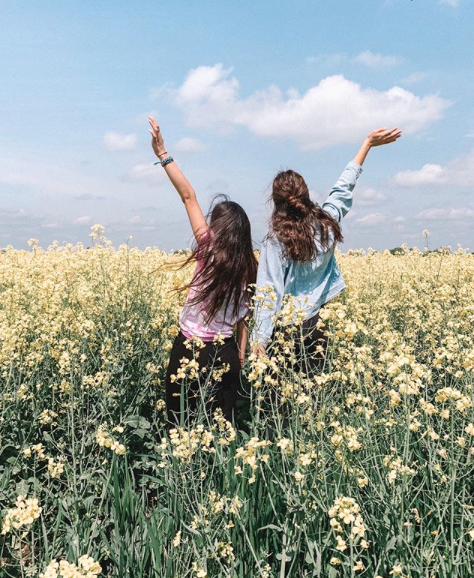 Come see Europe with us!
Dying to come travel around to all these gorgeous countries but not sure how to make it happen? ILP might be the right fit for you! We set up semester abroad programs for college-age volunteers. You'll get to spend a few months in another country, teaching English to kids part time, and then using the rest of your time to get to know the culture and explore. There's also plenty of time to travel around and see other countries like Serbia.
It's a really affordable way to see the world, meet other friends to travel around with so that you're not doing it all alone, and get tons of experience. Click that button to see how it works and find out if it's right for you.