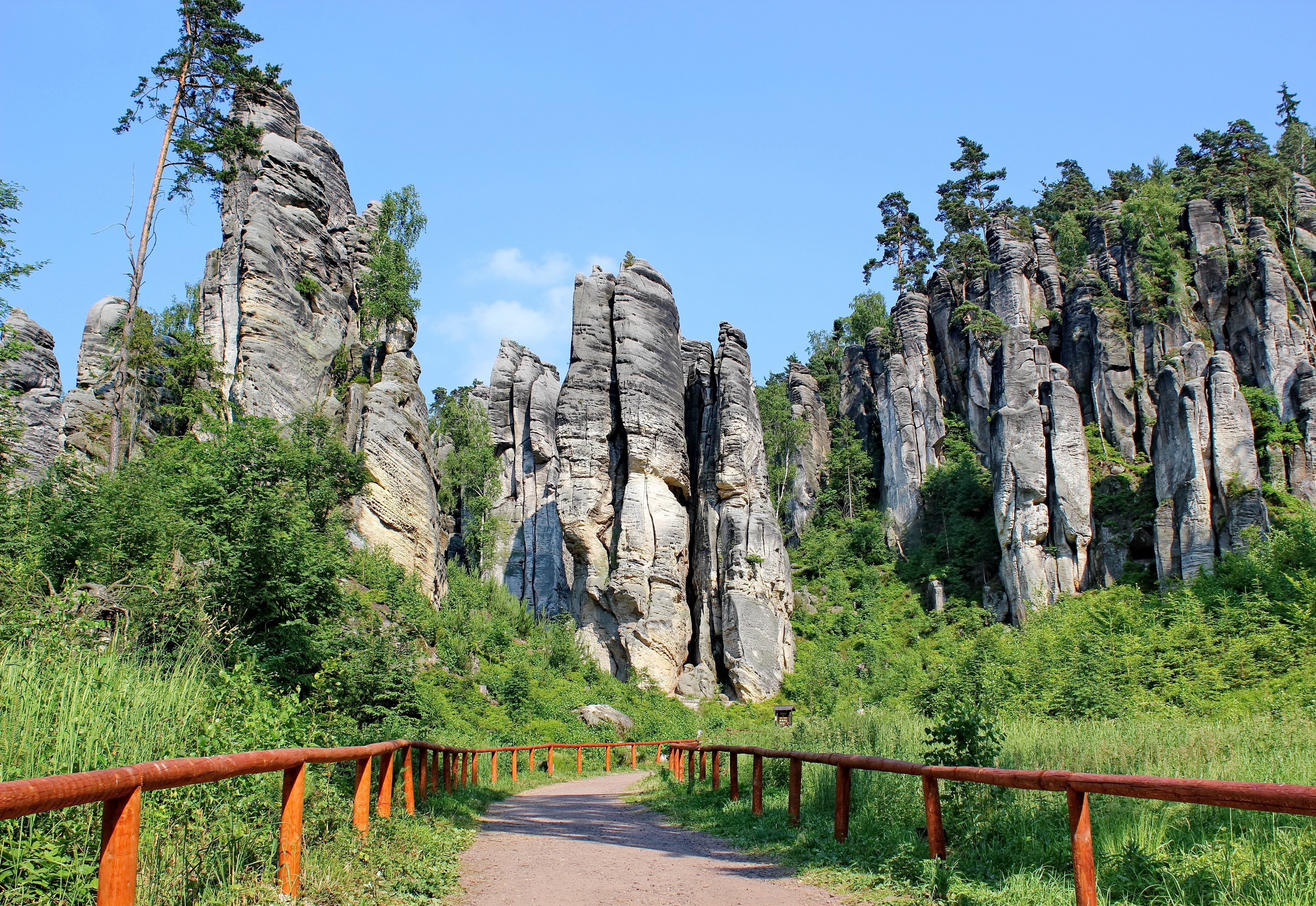 Just a little ways north of Prague is a beautiful, natural park with breathtaking views and unique rock formations. For those of you who are nature lovers or who just want to take a break from the city, Česky Ráj is the place to visit! You can see for yourself why the Czechs call this area a paradise.
When you think of the Czech Republic, the first thing that comes to mind is probably Prague. Not that this is a bad thing! Prague's a gorgeous city famous for its architecture, intricately designed cathedrals, the art scene, and delicious foods (I still dream about trdelnik all the time). There's always something to do in Prague and we absolutely recommend you see this wonderful city for yourself!
That being said, the Czech Republic is also known for its natural beauty and many, many old and forgotten castles. Česky Ráj is an area that few tourists know about. All the better for you! If you're looking to escape the city noise for a day, just head north.


---
Still not sure if the Czech Republic's worth the visit?
Check out our list of some of the best things to do in Prague

---

Trails To Hike
You're here for the hiking right? What makes Česky Ráj stand out is its many rock formations that you'll find around every corner. There are also several cute towns and incredible castles surrounding this area that you should definitely check out.
Prachovské Skály

There are several hiking options in the area, but we'll start with the main one. You'll find towering rock formations that line the winding trails, and many spots that get so narrow that you almost feel like you're walking through a tunnel! lThere's a lot of narrow paths here that wind through tall rocks.
And like I mentioned, you typically don't find crowds here which means you won't have to constantly wait to pass by groups of people or fight for great picturesque viewpoints (which there are plenty of here).
The paths are also clearly marked to make it easier to choose one that works with your skill level. Yellow means the trail is a bit easier while green is more difficult. If you ask me though? I definitely recommend the green because that's where you really see the rock formations that you came for — you'll go through some amazing rock tunnels and stairs. If you take your time, it really isn't too difficult a hike (at least in my opinion).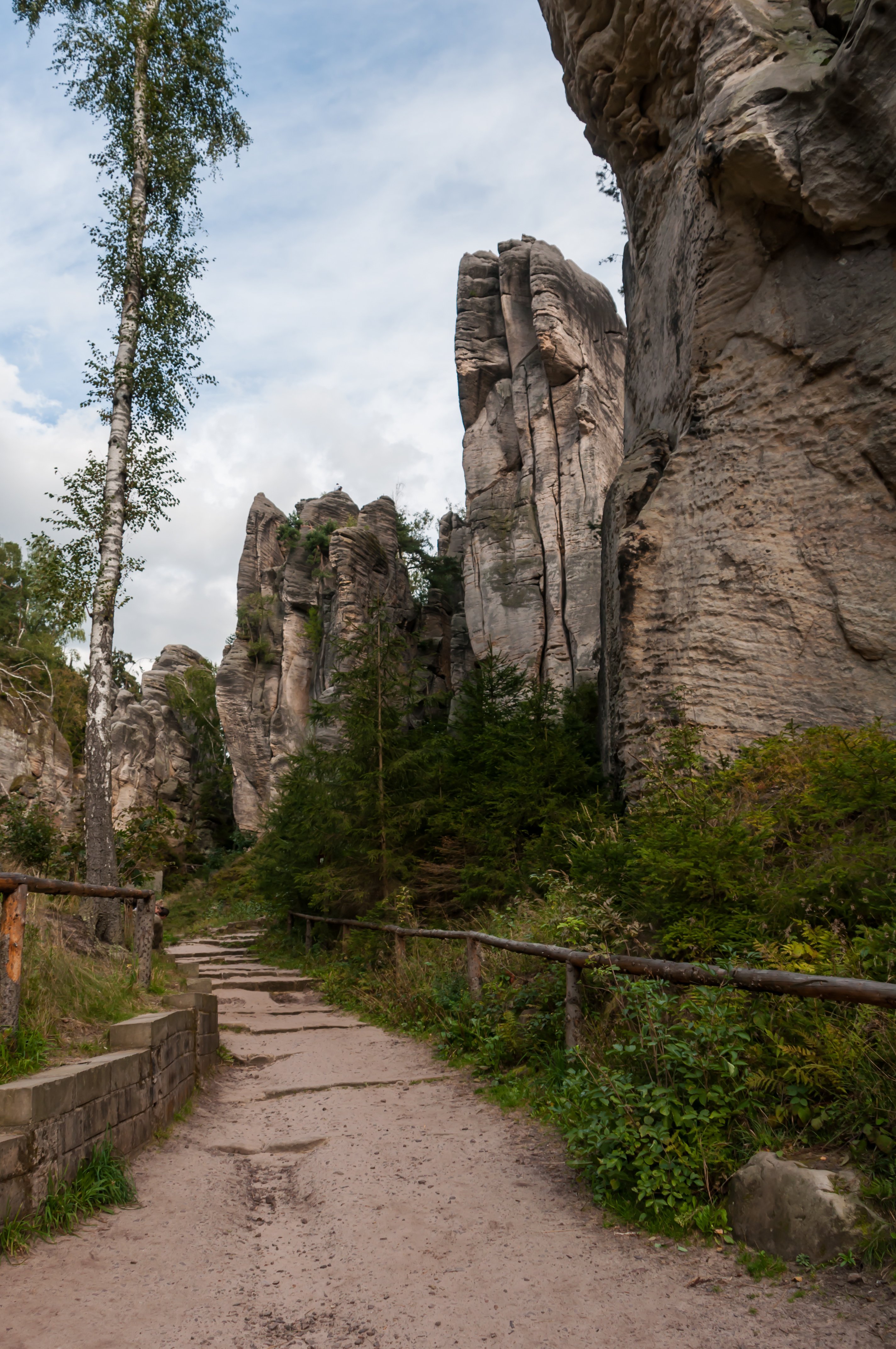 Hrubá Skála

Just 19 minutes north from there is another incredible hiking location. Much like Prachovské Skály, this area is filled with trails that wrap around old rock formations. There's a great outlook from the top and, of course, plenty of green trees all along the way to get your fill of nature. This area usually has more tourists, but it's still well worth the visit!
There's also a castle here that you can visit! It costs about 50 CZK (around $2 USD) to go up the tower and get some great views of the natural preserve. You can explore around this area and try out their cafe, but you can't go inside since it's currently being used as a hotel, unless you want to stay here of course. It costs about $92 for a night.
Castles To Wander
Valdštejn Castle
This is a smaller castle that's located in the city of Turnov (which is about 3 miles from Hrubá Skála). This baroque style castle has an awesome bridge and is filled with art and furniture from that time-period. It's open from April to October from about 10am to 4:30pm all days of the week (except for April and October where it's only open on the weekend or holidays; the castle is also closed on Mondays in May but open all the other days). It costs about 80 CZK ($4 USD) to visit. You can learn more about it here.
Address: 511 22 Turnov, Czechia
Kost Castle
This castle is much older and bigger than Valdštejn. It was built in 1349 and still has that medieval feel and style, both inside and out. During the summer months (July-August), they have a medieval knight tournament that they hold daily at 2pm.
You can walk around the castle grounds for free. There are a lot of paths that lead further into the woods surrounding the castle which are absolutely gorgeous. The castle itself is open from April to September from 9am to 5pm every day except for Monday (aside from July and August which are open daily, September which is only open on the weekends, and April which is closed on both Monday and Tuesday). You can get a full tour of the castle where you see the interior, a black kitchen, and a medieval torture chamber for 120 CZK ($5.50 USD). You can learn more about this castle here!
Address: Podkost 1, 506 01 Libošovice, Czechia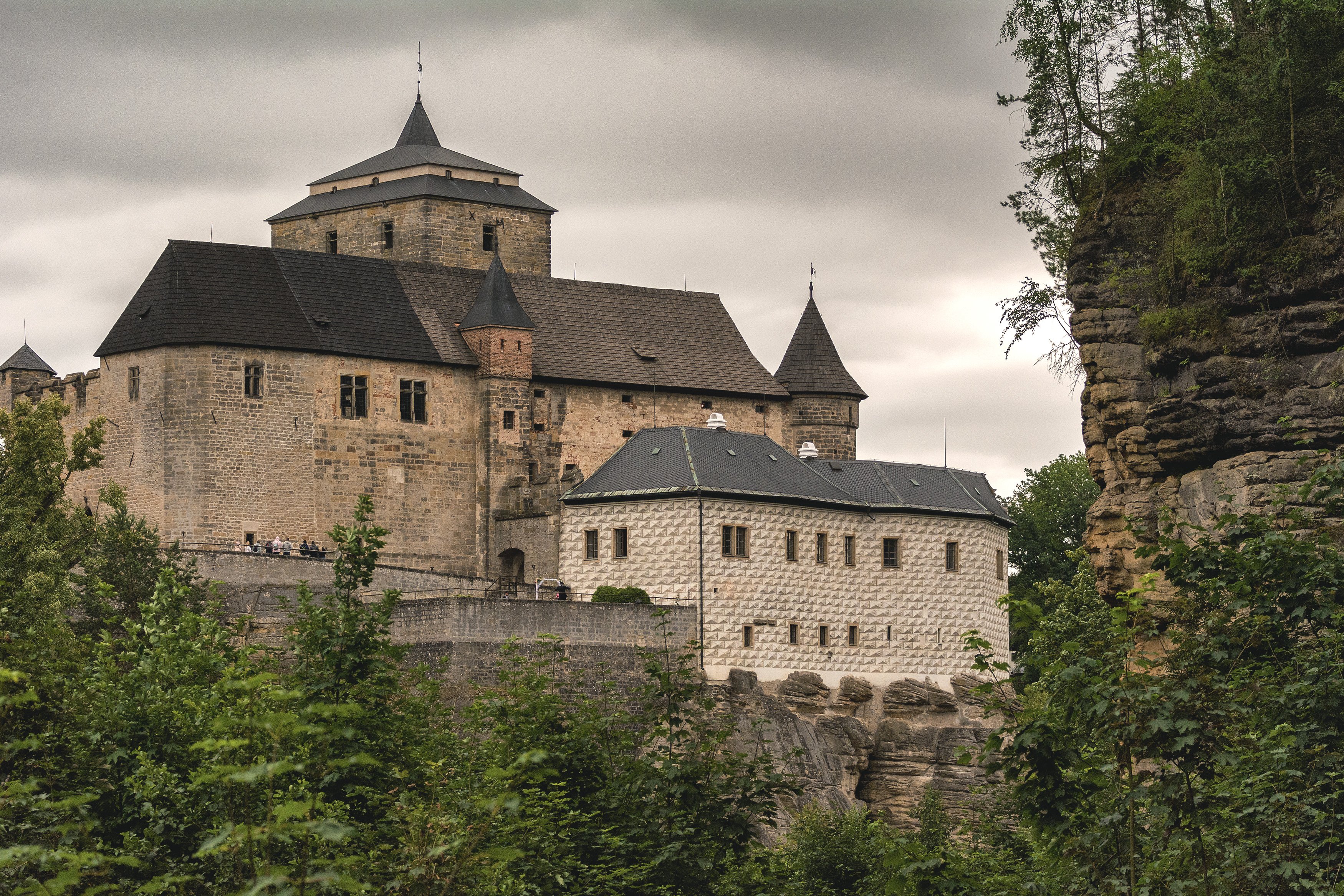 Frydštejn Castle
Now this castle isn't exactly all in tact. Actually, today most of it is in ruins. The fun part here is wandering through the old crumbling walls and exploring the area around it. There won't be any furniture or painting from the castle's century, but it's still worth the visit if you love both. history and hiking. Admissions are about 50 CZK ($2 USD).
Address: 463 42 Frýdštejn, Czechia
Charming Towns To Visit
Jičín
Just outside of Česky Ráj is this quaint town called Jicin. It's known as the fairy tale town because of its colorful town center, old clock tower, and dragon statue. It's a very small, sleepy town, but it certainly is cute.
The highlights for visiting this town would include going up the old, stone clock tower. The towers open from April to September at 10am to either 4pm or 6pm depending on whether it's summer or not (July-August stays open until 6pm). It costs about 30 CZK ($1.50). Going to the top offers a great view of the town!
Address: Pod Koštofránkem, 506 01 Jičín, Czechia
Another great place to visit is Valdštejnská lodžie, a baroque style monument built in 1632. It was but never completed (and no one really knows why), but it's still fun to admire what does stand, and just outside you'll find a beautiful garden as well. It's open from 1pm to 6pm all year round plus it's free. It's also an easy walk from the town square in Jičín.
Address: Sedličky 4, Jicin 50601 Czech Republic
There are a lot of really cool places to visit around Jičín that you can check out here.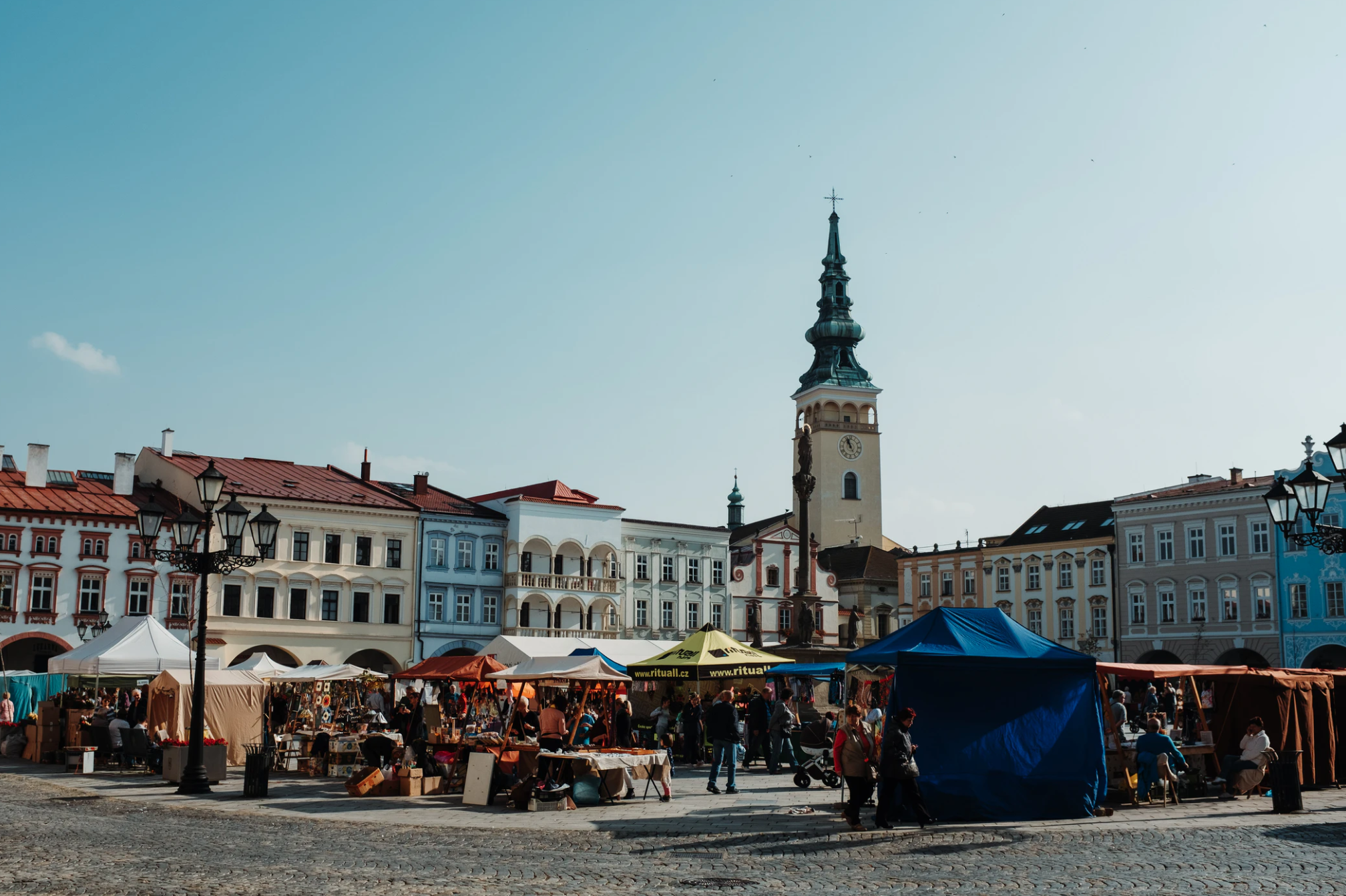 Turnov
Much like Jičín, Turnov is tiny ... and so charming! You'll want to see Valdštejn Castle for sure (mentioned above), and if you have time to see another, I recommend Hrubý Rohozec (another castle not far from Turnov). It's fully furnished and provides tours at about 140 CZK ($6).
Address: Hrubý Rohozec 1, 511 01 Turnov, Czechia
You can see what else Turnov has to offer here!
Getting To Český Ráj
First, most visitors are coming from Prague, so we'll assume that's the case for you as well. Česky Ráj is a very large area where you can see and do a lot of things, so keep that in mind while you're planning your trip. There's several ways to do it. The other thing to know is that currently there isn't a direct bus or train to Česky Ráj, so you'll just need to head to a city around the area (like Jicin or Turnov) first, and then jump over to the trails from there.
One route option —
The most direct way to get Česky Ráj from Prague it to take a train to Turnov (takes about 2 hours) and then transfer to another train to go directly to Hruba Skala (takes about 13 minutes). If you're starting in Prague, this means you'll go from the main train station. The easiest way to get there is on the metro (subway) where you ride line C (the red one) and go to the stop hlavní nádraží. From there, get your tickets (or you can book them in advance) and then you're off. Check out the train stations main website to plan the trip.
With this trip you can hit Turnov, Valdštejn Castle, Hrubý Rohozec, and Hruba Skala. You won't be able to see all these places in a single day since hiking can be pretty time consuming and all the castles around Turnov require you to walk a ways to get there. If you want to see more of this area, I'd recommend staying for at least two days. For the best accommodation you'll need to do some searching, but you can find some decently priced hotels in the area.
Another option —
Or you could go from Prague to Jicin by bus. If you're starting from Prague, you'll go to the Černý Most bus station. To get to Černý Most I'd recommend riding the metro on line B (yellow) and ride it to the end (the stop is literally labeled Černý Most). Check out Omio for bus times! The bus ride to Jicin lasts about 1 hour and 23 minutes and costs about $7.
Bus station address: Černý Most, 198 00 Prague 14, Czechia
From Jicin you can visit Prachovské Skály which you can get to by walking (it's about an hour journey though) or by bus (you'll get there in about 13 minutes). You can learn more about the bus times here.
Kost castle is much closer here as well. You can take a train (that takes about 37 minutes) and then you'll walk (for about 30 minutes). You can learn more about it here. If you want to stay more than a day in this area, I'd recommend looking up hotels here.
Getting Around
If you ever need to find a way to get around the Česky Ráj (or the Czech Republic in general) I recommend checking out IDOS. It's all in Czech, but Google translate should help with that. It checks for both trains and buses which is great!
Here's the Catch
The biggest problem with Česky Ráj is that it's just so ... big! There's so much to see and do that you're probably going to have to pick and choose.
If you're just visiting the Czech Republic for a vacation, you're likely spending most of your time in Prague. Depending on how much time you have, you might want to choose between Turnov and Jicin to save time. If that's the case, just decide what you most want to see and do and enjoy every minute you have there. It's really a beautiful place.
See Europe for yourself
I can't say enough good things about spending time in Europe! There's just to much to see and do ... you can't do it in 10 days. You can't even do just the Czech Republic in that amount of time! There are magical places like Česky Ráj all throughout Europe. You should come see it for yourself.
International Language Programs sets up volunteers who are around 18-25 years old to live abroad for about four months. You'll get to travel around with your new travel buddies in your ILP group, teach English to young kids, and experience all the things on your bucketlist. It's really one of those experiences where you're there long enough to dive into learning about another country and make Europe feel like your second home.