Visiting England? While London alone could keep you busy, making the time to visit the impressive and iconic structures of Stonehenge is definitely worth it.
We're thinking it might be fun to visit the birthplace of English itself. While it might be a bit of a trip to get there from where you're based, England has many awesome and fun places to visit.


---
Want to check out what our volunteers are up to?
Follow us on Instagram!
---
While London has so much to offer and could easily fill up your entire trip (check out how much you could do in a weekend there), there are lots of other historical and significant sites throughout England that you just can't miss. Just a day trip away from London is the iconic and awe-inspiring structure of Stonehenge, so even if you're short on time, we recommend trying to sneak it into your itinerary.
What is Stonehenge?
A Prehistoric Monument
Stonehenge is the most famous prehistoric monument in all of Europe! Perched on the chalk uplands of Salisbury Plain, the megaliths of Stonehenge offer one of the most recognizable outlines of any ancient structure.
Although there are hundreds of ancient circles around the UK — an estimated 900 now and possibly over 4,000 at one time — Stonehenge remains without a doubt unique. It's a wonderful piece of engineering, especially considering it was built by people who had only the most rudimentary of tools to do the job.
Due to its historical value, Stonehenge was added to the UNESCO list of World Heritage Sites in 1986 in a co-listing with Avebury, a Neolithic henge located 17 miles away that is older and larger than its more famous neighbor.
It has since been restored and maintained in a manner that will preserve it for future generations. Visitors are no longer allowed to walk within the circle of stones, which will cut down on erosion and damage to the monument.
Why Was It Built?
No one knows. Stonehenge remains to be a mystery for many researchers.
There is some evidence that points to it once being a burial ground, with the presence of dozens of burial mounds and human bones that were excavated from the sight in the 1900s. Make sure to turn up your free audio guide during your visit and find out how many people were actually buried there.
But with so much history, there isn't a clear understanding of how the sight was used and why. Speculation is part of what makes it so mysterious.
Learn More About Stonehenge
When you go, make sure to check out the Visitor Center and the exhibition with artifacts and objects found near the sight, along with a great amount of information on its significance.
We love the idea of learning more before you trip too. Doing a bit of research ahead of time can change your experience so much! Here's a few resources to check out:
—This illustrated guide on Amazon
—Watch this documentary from National Geographic
—These (free) articles from History.com, National Geographic, and the English Heritage site
*Quick note: Some links in this post are Amazon affiliate links!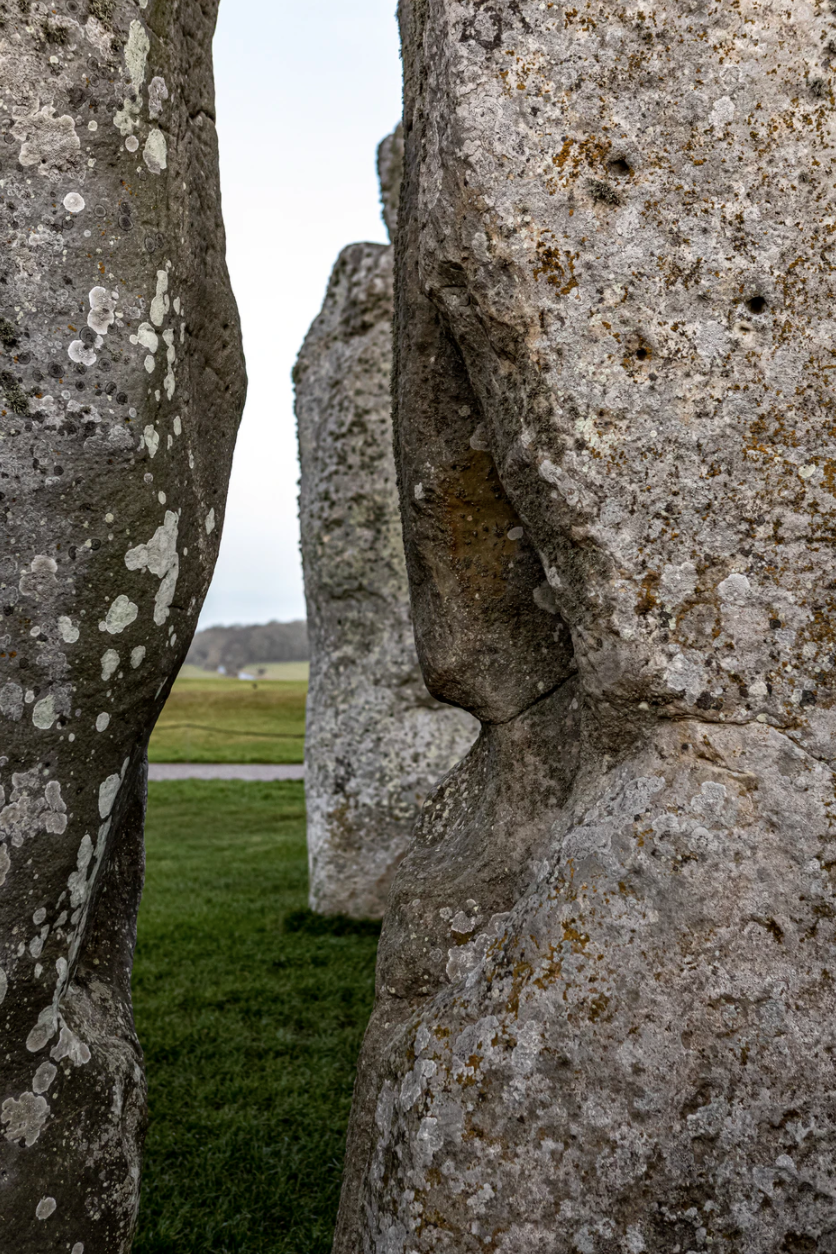 Traveling from London
Day Trip
Stonehenge isn't far from London (only about 90 miles west), in the county of Wiltshire on Salisbury Plain. You can easily make a day-trip there and back, or even visit a few other sites along the way.
If you're looking to see even more historical sites, Durrington Walls is just five miles to the north west, Woodhenge is just three miles away to the west, Old Sarum nine miles to the south. Avebury is 23 miles to the north.
By Train
If you take the train, you will get off at Salisbury, where you can then get on a Stonehenge tour bus from the train station.
You can buy advance tickets online up to an hour before you travel, but for the best deals you should book 12 weeks beforehand. We love searching for routes and booking on Omio! The train ticket will be about £45 (about $62 USD).
By Tour Bus
This is definitely the easiest option and the cost is usually really reasonable as well. Not only is your entrance fee usually included in the tour price, but many tour groups add other iconic locations, such as Bath or Windsor, and still offer reasonable prices.
If you do schedule a bus tour, you are looking at anywhere from $67 to $100 or more, usually including other sites. There are several tour options, so you can pick the one that works best for what you're looking for.
Most of the tours start out visiting Stonehenge and move on from there. You can expect a pretty long day, if you combine sights, with 11-13 hours including bus travel being the norm.
If you just see Stonehenge, you can expect to spend around 5 hours on the tour. Journey time will usually take around two hours from central London if using a tour bus, taking traffic into consideration, so be sure to pack a water.
Tickets
If you choose not to take a bus tour or if for some reason your ticket is not included in your tour fee, be aware that you have to schedule ahead of time. Tickets to Stonehenge are now managed on a timed-entry system.
The current cost of Stonehenge tickets is £19.50 (about $27 USD) for adults. The ticket will cover the visitor center, the shuttle, and access to Stonehenge itself. Tickets are timed, to thirty minute time slots — this is the time in which you report to the ticket desk at the entrance to Stonehenge. Once you book your timed ticket online, you print out your confirmation and bring it with you.
If you walk up without a reservation, expect to pay a few pounds more, especially at peak times like summer or weekends.
What to Do While You're There
Visitor Center
This visitor's center is top-notch. Inside, there is an incredible 360 degree screen that takes visitors on a trip through time. You can witness what it is like to stand in the middle of Stonehenge during all seasons.
In the visitor's center, they also have an interactive map that will show you how Stonehenge (and the surrounding landscape) has changed through the ages.
While your there, check out the free audio guide you can download to your phone using their free Wi-Fi.
Exhibition
Also at the Visitor Center is the Exhibition, which boasts nearly 300 archaeological objects. Found from Stonehenge and other nearby monuments, the pottery, tools, jewelry, and even human remains offers a lot of understanding about the main theories surrounding this famous monument.
Cafe
The Visitor Center also hosts a nice cafe offering all types of food, including snacks, soup, sandwiches, hot dishes, etc.
Whether you bring your own lunch or purchase one, take advantage of the grounds and enjoy a picnic.
Shuttle
The Stonehenge Visitor Centre is located about a mile away from the stones themselves, so you'll probably want to take the free shuttle. They run very frequently so you will never have to wait more than a few minutes and the trip only takes about 10 minutes.
If you are arriving as part of a tour you will form a queue to go through round the side of the building and from there will join the shuttle bus to take you to the stones. In that case, you'll want to leave yourself some time at the end to come back and go through the Visitor Center.
Stonehenge
The reason you came right? Enjoy wandering around and exploring this ancient, mysterious monument and take lots of pictures.
But, keep in mind, the Stonehenge monument area itself has no shelter, even at the shuttle terminus, no toilets, and no refreshments. The site is very exposed, so it's better to bring that extra layer. And you should probably be prepared for a possible unexpected shower of rain.
During normal opening hours you cannot walk up to the stones themselves. The nearest you will get to the stones is about 10 yards.
Neolithic Houses
And I bet you didn't know this was an option! Step inside a Neolithic house and imagine what life was like 4,500 years ago. There are mini tours you can take to learn more about life at this time and how the stones were likely transported.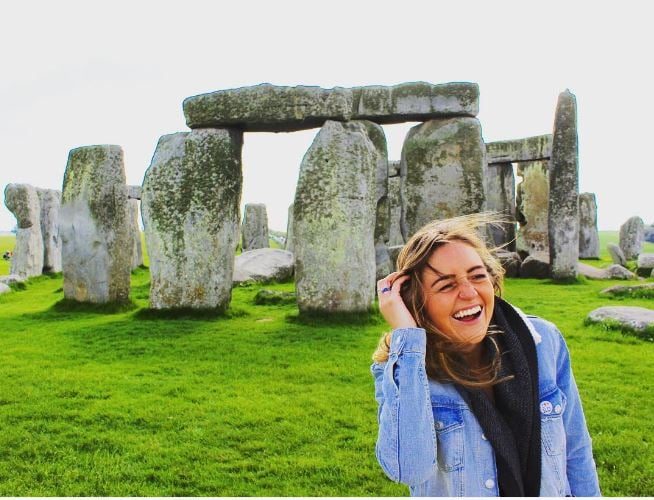 Want to Live in Europe for a Semester?
With so much history to discover and so many places to visit, a short vacation is hardly enough time.
Come volunteer with ILP for a semester! College-age volunteers are set up to teach English part-time in Europe, then have weekends and some vacation days to explore the rest of Europe. Come have a once-in-a-lifetime adventure with us!