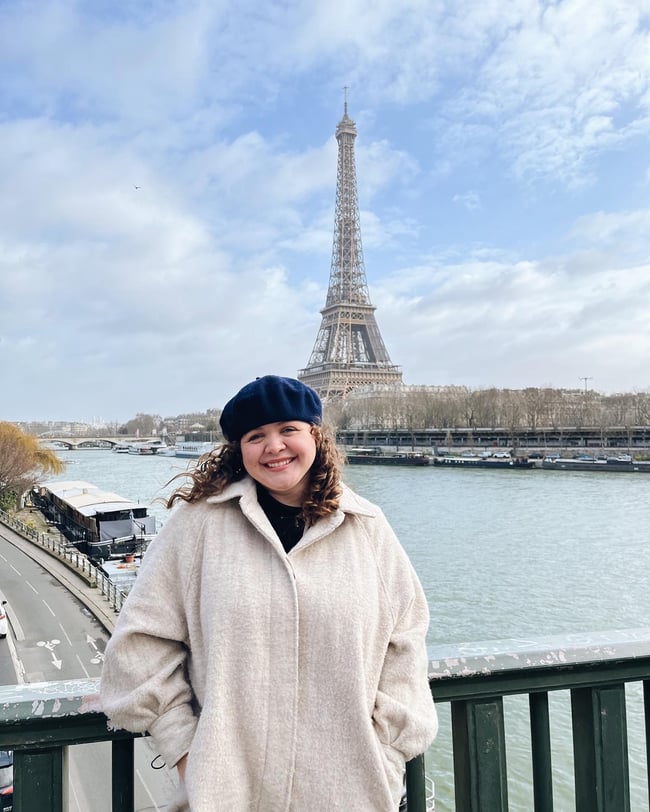 Aww, Paris. Your towering landmarks, cutie streets, yummy pastries, and inspiring museums keep us coming back! But what if you want see the real Paris? You know, like a local?
Paris is the 2nd most visited city in the world (just under Bangkok) for a reason! Well, lots of reasons. And if you're wanting to experience La Ville Lumiere for yourself, why not stop by while spending an entire semester in Europe as a volunteer through International Language Programs? With plenty of vacation time, you'll not only get to experience your volunteer city like a local but you'll also get to visit so many bucketlist destinations during your semester!


---
Want to experience Europe as more than a tourist?
Learn All About Volunteering With ILP
---

Visiting Paris is just a must for our volunteers. It's absolutely iconic! We even put together the ideal itinerary for you. And while you'll hear some tourists say they were underwhelmed by this city, we have some tips that will help you enjoy it in ways many tourist don't think of. Here's how to really experience Paris like a local!
Psst: Want to get some inspiration from the Parisians themselves? We recommend checking out @paris.with.me, @candiceperrin, and @parisjetaime on Instagram.
Stay Where the Locals Live
Skip out on hotels and hostels and nestle into your own little Parisian apartment by booking an AirBnb for your trip. You'll get the most authentic experience by staying in the actual home of a local Parisian! If you're really wanting to experience Paris like a local, that also means you'll be starting your mornings early. So make sure you get a good night's sleep!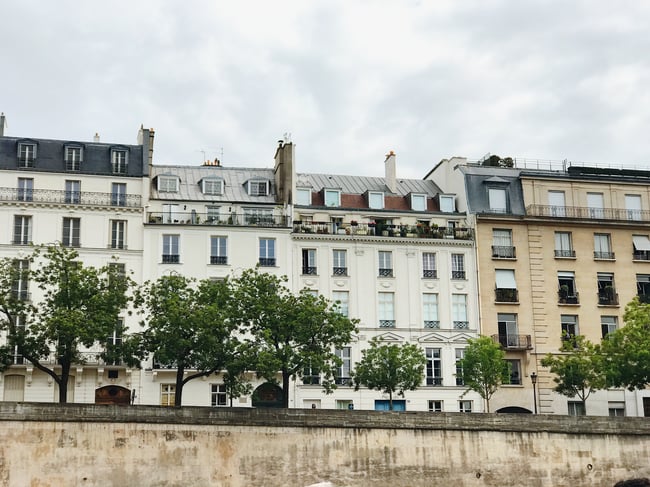 Dress The Part
You probably already know this, but fashion is huge in Paris! After all, this is the home of Coco Chanel, Louis Vuitton, Yves Saint Laurent, and so many other fashion icons. If you want to fit in (and not look like a tourist), dress like it! Here are six tips to keep in mind:
Think classic and clean.
Opt for neutrals (preferably black).
Keep your accessories, makeup, and hairstyle simple.
Limit visible brand-name labels.
Mix cuts, so if your pants are tight, wear a looser shirt and vice versa.
Pair dressy with casual, like a cute dress with white sneakers.
Since you're in Paris, you should also do some shopping (or at least window shopping for inspiration) at the very chic and hip boutiques on La Rue de Charonne. Also, stop by local favorites on La Rue du Commerce after seeing the Eiffel Tower; it's just around the corner!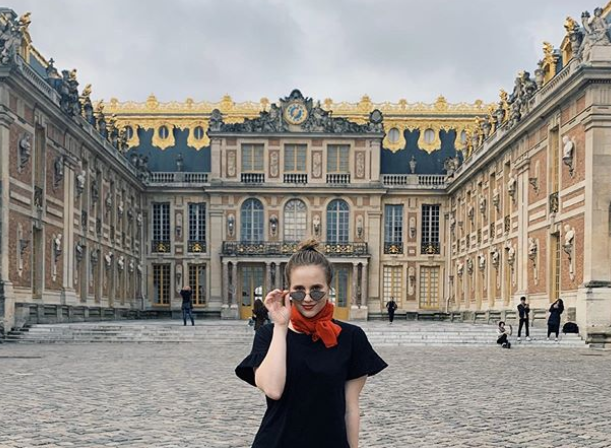 Speak French
No, we're not expecting you to suddenly become fluent in French just for a short visit here. But, you should say "bonjour" every time you enter a shop, and "merci" every time you exit one. If you want to brush up on your high school French before visiting, get comfortable using these 50 phrases!
Pastries For Breakfast
Start your day off right—and like a local—with some coffee (or hot chocolate) and a delicious pastry or two. You'll see so many boulangeries and patisseries all over Paris! But a local favorite is Le Grenier à Pain, which has quite a few locations around the city so you should be able to find one close to wherever you are. Then enjoy some people watching, since there is nothing more Parisian than that.
Visit Notre Dame & The Flower Market
While the Cathedral of Notre Dame is on every tourist's list, it is also much beloved by the locals. To experience her like a Parisian though, make sure you're here at 7 am to beat all of the tourist crowds. As more and more people arrive, make your way to the nearby Sainte Chapelle (gothic cathedral), Place Dauphine (beautiful public square), or even this cutest flower market.
Since 1808, Marché aux Fleurs has been one of the favorite open-air markets in Paris! While the vendors sell colorful, delicate bouquets every day of the week, they also bring out a variety of birds on Sundays.
Hours: Open Monday through Sunday from 8 am to 7 pm.
Address: 37 Place Louis Lépine, 75004 Paris, France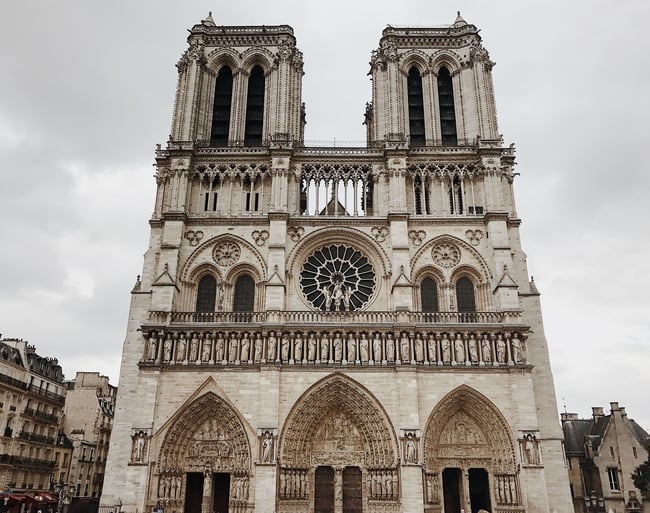 Shop At This Flea Market
Skip out on touristy gift shops and shopping streets for your French souvenirs. Marché Aux Puces De Saint-Ouen is an enormous and beautiful flea market where you can buy anything—antiques, knick knacks, clothing, books, etc. It's the largest second-hand and antiques market in the world, so plan on spending a lot of time here! And check out these very helpful tips before you go.

Hours: Open Monday (10 am to 5 pm), Saturday (9 am to 6 pm) and Sunday (10 am to 6 pm).
Address: Marché aux Puces de Saint-Ouen 140 Rue des Rosiers 93400 Saint-Ouen, Paris
Picnic For Lunch
Skip out on the crowded bistros and cafes all over Pinterest and head to a local supermaché (or one of these outdoor food markets) to grab some cheese, a fresh baguette, and fruit to munch on in a local park.
If you want to still dabble in a tourist ritual, then on your way to one of the beautiful parks in Paris, you must stop by a patisserie to grab a few macarons. While Ladurée is the most famous (and most expensive) place to get this local specialty, you can also find other little shops with an impressive selection.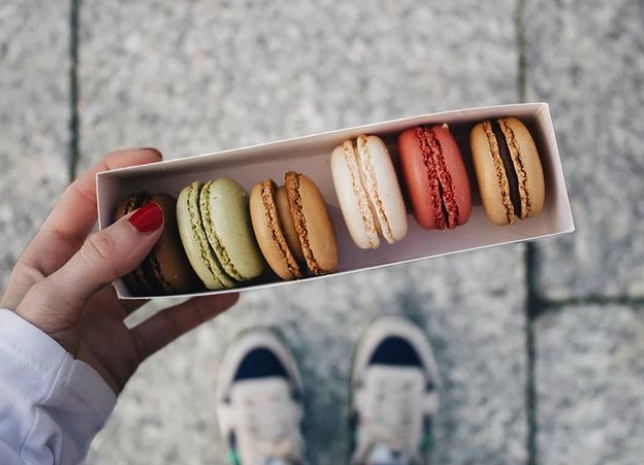 See Paris From Above
While the streets of Paris are beautiful, there is nothing quite like seeing Paris from above! Two of our favorite free places to catch this view are from the tops of Printemps Haussman and La Galleries de Lafayette, which are conveniently located right next to each other.
Printemps Haussmann
While there are three different Printemps locations here, you need to get into the one called "Printemps Beaute Maison". Take the escalator or elevator to the terrace. Once there, you'll be able to see Montmartre with the stunning Sacre Couer up close, and even the Eiffel Tower in the distance.
Hours: Open Monday through Saturday from 9:30 am to 8 pm, and on Sundays from 11 am to 7 pm.
Address: 64 Boulevard Haussmann, 75009 Paris, France
La Galleries de Lafayette
After experiencing the wonders of the Palais Garner (the Paris Opera House), skip on over to Angelina, located in La Galleries de Lafayette, for the best hot chocolate you'll find in Paris. Yes, definitely a touristy experience, but absolutely loved by the locals too.
From there, walk to the nearest escalator or elevator and make your way to the terrace (Level 8). Then, just walk around and experience the panoramic views of Paris! You won't be able to get a good view of Sacre Couer from this terrace, but all of the other notable landmarks are visible!
Hours: Open Monday through Saturday from 10 am to 6 pm.
Address: 40 Boulevard Haussmann étage 3 Bâtiment l'Homme, 75009 Paris, France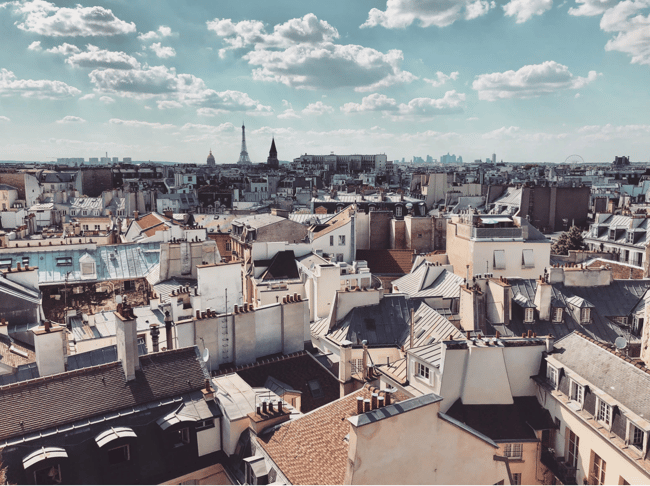 Cycle The Streets
Local Parisians are known for walking EVERYWHERE. But since you don't have days and days to spend in the city, the next best way to see all of it is from the seat of a bicycle. Paris is a pretty cycle-friendly city and has a bike sharing system called Velib. You do need to get a pass ahead of time, so here's what we suggest:

Buy a one-day pass for $5 or a seven-day pass for $15 online. When you do this online, you'll get your own access code that you just type in every time you want to "check out" a bike.
Enjoy A Real French Dinner
Parisians usually eat dinner pretty late (7 pm and beyond), so if you have the time and money, there is no better way to finish off your day of experiencing this city like a local! We recommend Le Select, which has quite the reputation and was frequented by Ernest Hemingway and Pablo Picasso in the 1920s.
Check out the menu before going and definitely try to get a reservation online. Keep in mind when making a reservation that each "couvert" is a place setting. So if you have 4 people in your group, then you want "4 couverts".
If you don't want to spend the money on a dinner, consider eating lunch at a restaurant instead (Parisian lunch menus are so much cheaper). Then, opt for an authentic picnic dinner!
Hours: Open Sunday through Thursday from 7 am to 2 am. Open Friday and Saturday from 7 am to 3 am.
Address: 99 Boulevard du Montparnasse 75006 Paris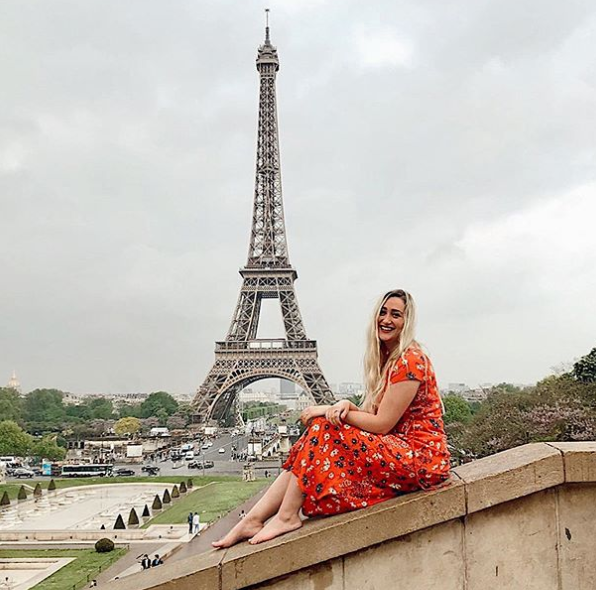 Want more tips and tricks for visiting cities all over the world?
Since ILP has been sending volunteers to serve in different countries for almost 30 years now, we've learned a thing or two about traveling. And we love sharing what we've discovered and experienced so that you can make the most of your time abroad too! Click the button below to get weekly updates and info send straight to your inbox.