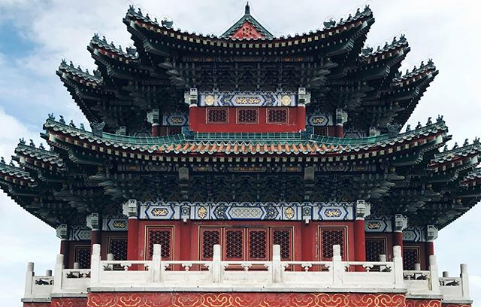 I was an English teacher in China for about 5 months with International Language Programs (ILP). When I tell people that, they always think it's pretty cool that I've traveled ... but they always ask, "Why China?"



Honestly I don't even know how I ended up volunteering in China! It wasn't my dream as a little girl to be living on the other side of the world in a completely foreign country. But when I started looking into programs to go abroad, I was interested but had a lot of questions — luckily, one of the ILP representatives called me and answered all my questions about what it's like to be a volunteer.


---
Come get your questions answered
Just click here to set up a call.
---

The girl that called me had been a volunteer in China before so she told me all about what living in China is like and there was something about how excited she was talking and laughing about her experiences there that by the end of the conversation I was like, "I'm sold. Send me to China!"
Actually I knew I wanted to volunteer with ILP before that representative even called me. I had already been a volunteer in Mexico with ILP and loved the experience so much that I wanted to go again. I had just graduated from BYU-Idaho and wanted an adventure before I started a real, full time career. So, of course I chose ILP again (especially because I could volunteer for free on my second trip)...but ILP has multiple volunteer locations all over the world the only question was — which country?
Why I Chose China

It Is Cheap To Live There
So cheap! Most people don't think about the cost of living until after they've traveled multiple times and can compare from personal experience, but did you know Asia (especially China) is crazy cheap to live in? If you volunteer somewhere like Europe you'll probably pay almost twice as much for things like vacations, eating out, and shopping than you would in China. I could walk down the street to the yummiest dumpling shop and get a huge bowl of dumplings for $1.
The country you choose to live in affects cost, but so does the program you choose to volunteer with. Like I mentioned, I was just graduating so I was a living on a poor college student's budget and cost was a big factor for me. Before I graduated I looked at BYU-I vounteer abroad programs and they were all pretty expensive so it seemed out of me reach.
I'm so glad I had found out about ILP because the cost was so much more affordable than study abroad programs ... but it still had all the things I wanted like being with a group of other volunteers (I didn't want to travel alone), high standards (their rules were similar to the BYU code of conduct so it was what I was used to), and the teaching wasn't as scary because they didn't throw me in front of a class of 50 kids like some similar volunteer programs do - I got to teach a class of 8 kids and get really close to them.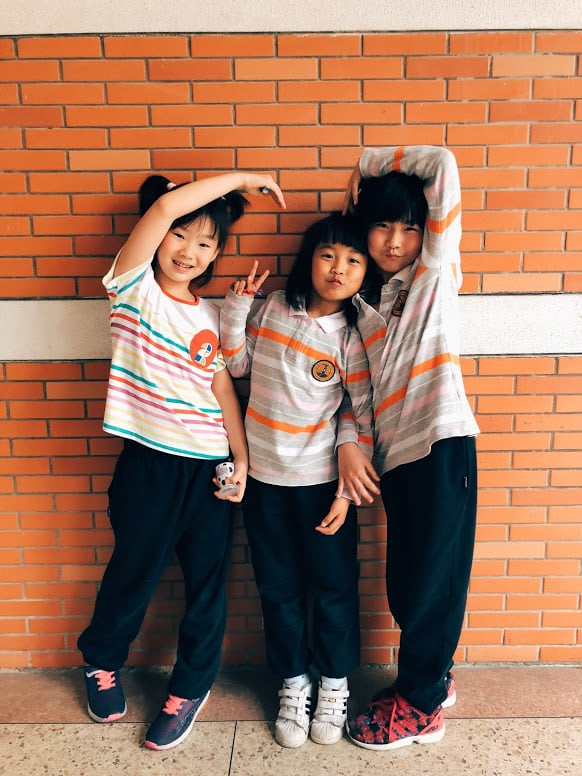 It Was Intimidating
After volunteering in Mexico, I definitely had the travel bug. That was my first experience even leaving the U.S. and I loved it. I knew I wanted to keep traveling throughout my life and wanted to see as many countries as possible, so I chose China because I honestly just didn't see myself traveling there on my own. Who goes to China for their Christmas vacation? I can go vacation in Thailand later on my own, but while you're volunteering with ILP you have a lot of people helping you out so I wanted to make the most of that by seeing a hard to get to country like China.
Well now that I've been there I can say everyone should go to China because the vacation spots are unbelieveably unique and beautiful (to this day Yangshuo is still one of my favorite places in the world), but let's keep it a hidden secret as long as we can, okay?
As beautiful as it is, it's pretty tricky to travel alone through China if you don't speak Mandarin. I didn't speak a word of Mandarin and so traveling with a group of other volunteers and having a local support system set up made it so much more doable! It's not like Thailand where so many of the locals speak English and it's easy to travel on your own as a tourist there.
ILP gave us a Local Coordinator who picked us up from the airport when we arrived and showed us around our city, teaching us how to take the bus and where the grocery store was. She helped us buy train tickets when we were planning a vacation. I think tourists can get around a major city like Beijing fairly well if they're well traveled, but China just isn't the easiest place to do on your own if you've never been there. I'm so glad I got to experience it with friends and get that stamp in my passport.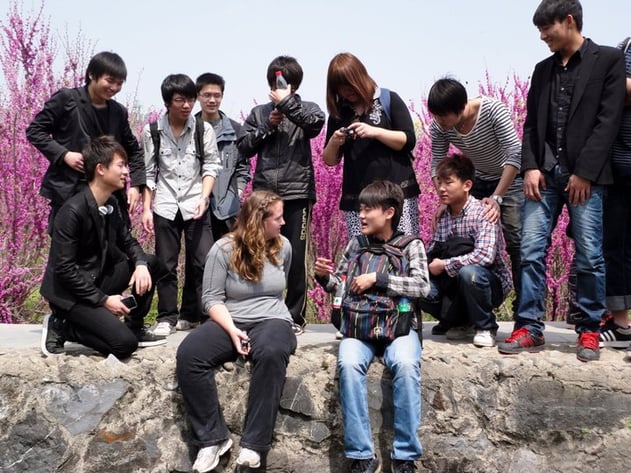 Getting A Chinese Visa Is Expensive
Some countries require that you apply for a visa before entering their country, but others don't. If you want to travel to Thailand you can just show up at the Bangkok airport and get in the country for free without a visa! China is not that way. You have to apply for a visa ahead of time and it's expensive. It's also a long and confusing process trying to get it and you have to time it just right so that it arrives before your flight. China can just change their visa rules at anytime and you just have to go along with it.
The awesome thing about volunteering with ILP is that the visa is included in the program fee and they also do all the work of getting it for you. So if you volunteer somewhere like Lithuania where you don't even need a visa you're paying the same price as you would volunteering in China, but the expensive visa is included! It's just a little more bang for your buck. I'll travel to Lithuania on my own later and I'll cross China off my bucket list now while someone else who is experienced and knowledgable is worrying about getting my visa.
Oh and also I have this really cool visa in my passport forever now, so that's a pretty bomb bonus!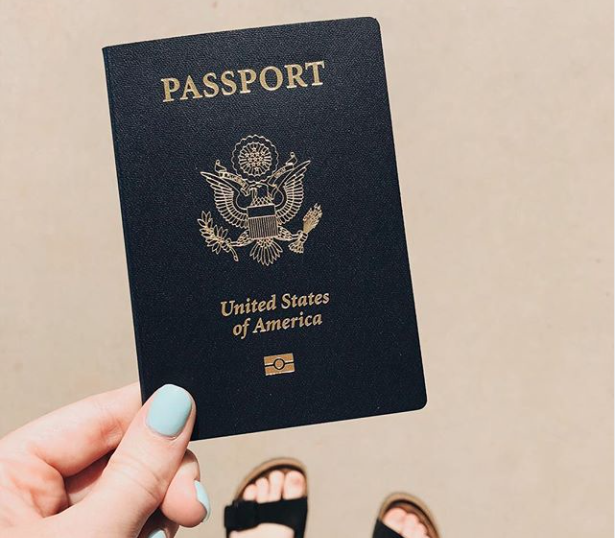 I Wanted A Serious Adventure
I was looking for something seriously adventurous that I would remember forever. I wanted stories that I could write in my journal that my kids would read years from now. I wanted to change my life. I thought about Europe and while that's an adventure too of course, the culture just seemed more relateable to how I was raised in the United States. China just seemed so foreign and so opposite of anything I had ever experienced.
And it was. Moving to China was like moving to the moon. I mean everything was new. Every single day there was something I did or saw that had me cracking up from the lady who brought her chicken on the bus to trying to eat a bowl of rice with chopsticks. I wanted adventure and I got it. There was a lot of hard days in China because culture shock is real, but it was completely life-changing...in the best kind of way.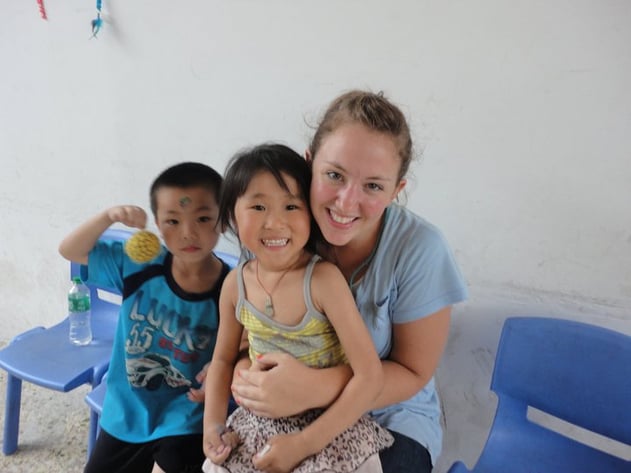 ILP Has A Discount For China.
ILP often offers a friend discount for China, so if you're married or if you have a friend you want to bring with you - then you can make it even cheaper. They give out their biggest discounts for that!

Just ask your representative about how you can qualify for that and what they're offering when you apply. My college budget really likes those discounts.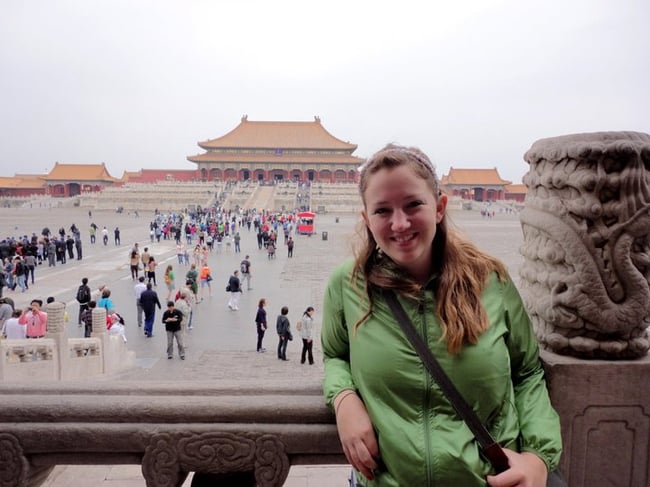 Are you ready for an adventure, too?
Come to China! Spending a semester volunteering there was one of the best decisions of my life and I still miss it to this day. Get a better idea of what volunteering in China really looks like here — we walk through what a typical day is like and answers more of your questions.

You can also get in touch with an ILP representative who has been to China and can answer your questions, just click below: