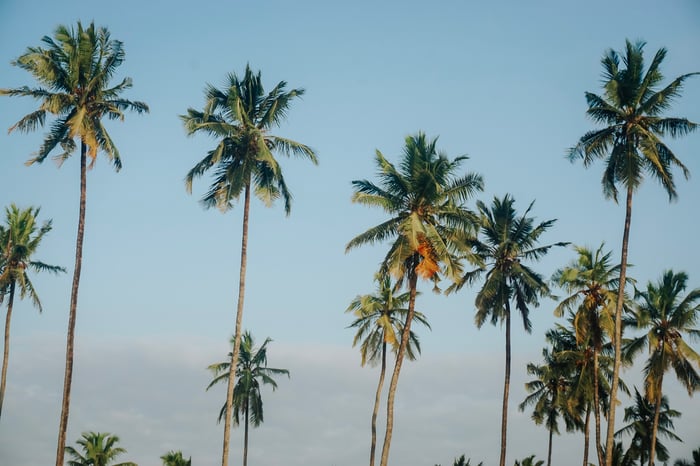 Planning a trip to the dreamy Caribbean side beaches during your semester in Costa Rica? Make sure you add this beautiful national park to your trip too!

Cahuita National Park is right by our favorite Caribbean beaches and is a perfect little getaway to add to your vacation there! With white sandy beaches, pretty hikes, and tropical wildlife you'll love it here.


---
Planning a trip to Central America?
Check out our destination guide with all of the best spots you can't miss!
---

Here are some tips and info on getting to the park and making the most of your time there!
Top Adventures At Cahuita Park
Hangout on the beaches
The park has a couple of beaches you should spend time on, Playa Blanca and Puerto Vargas. These are two of the most beautiful beaches in Costa Rica! Swim in the bright blue water, play on the soft sand, and relax.
If you're looking for other beaches in the area, here are some of our favorites.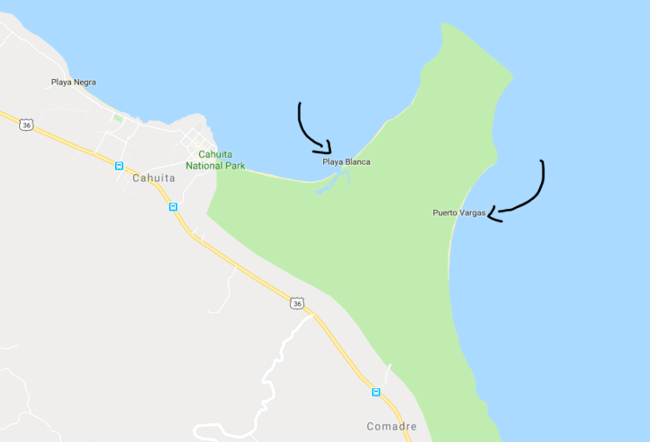 Snorkeling
The park has over 30 different species of coral and lots of beautiful fish you can see if you hop in the water and swim around! Keep in mind, you have to take a tour to snorkel in the park. The reefs are protected and you can't take your own gear with you.
This snorkeling tour is a great option. It includes transportation, a boat ride to your snorkeling spot, and a waterfall hike afterward.
Hiking
Hiking in the park is a great way to explore and see the beautiful wildlife and views. Make sure you to bring some good shoes, lots of water and bug spray, and get out there!
You'll definitely want to make a trip hiking to Puerto Vargas! Enter the park through the main Cahuita town entrance and walk for a couple of hours until you get to Puerto Vargas. The hike is beautiful with the beach on one side of you and the tropical jungle on the other.
Hike the perimeter of the park
If you're looking for a longer hike (5.6 miles) you can hike the perimeter of the park. Start at one entrance (ranger station) and hike to the other to see pretty views of the jungles and beaches.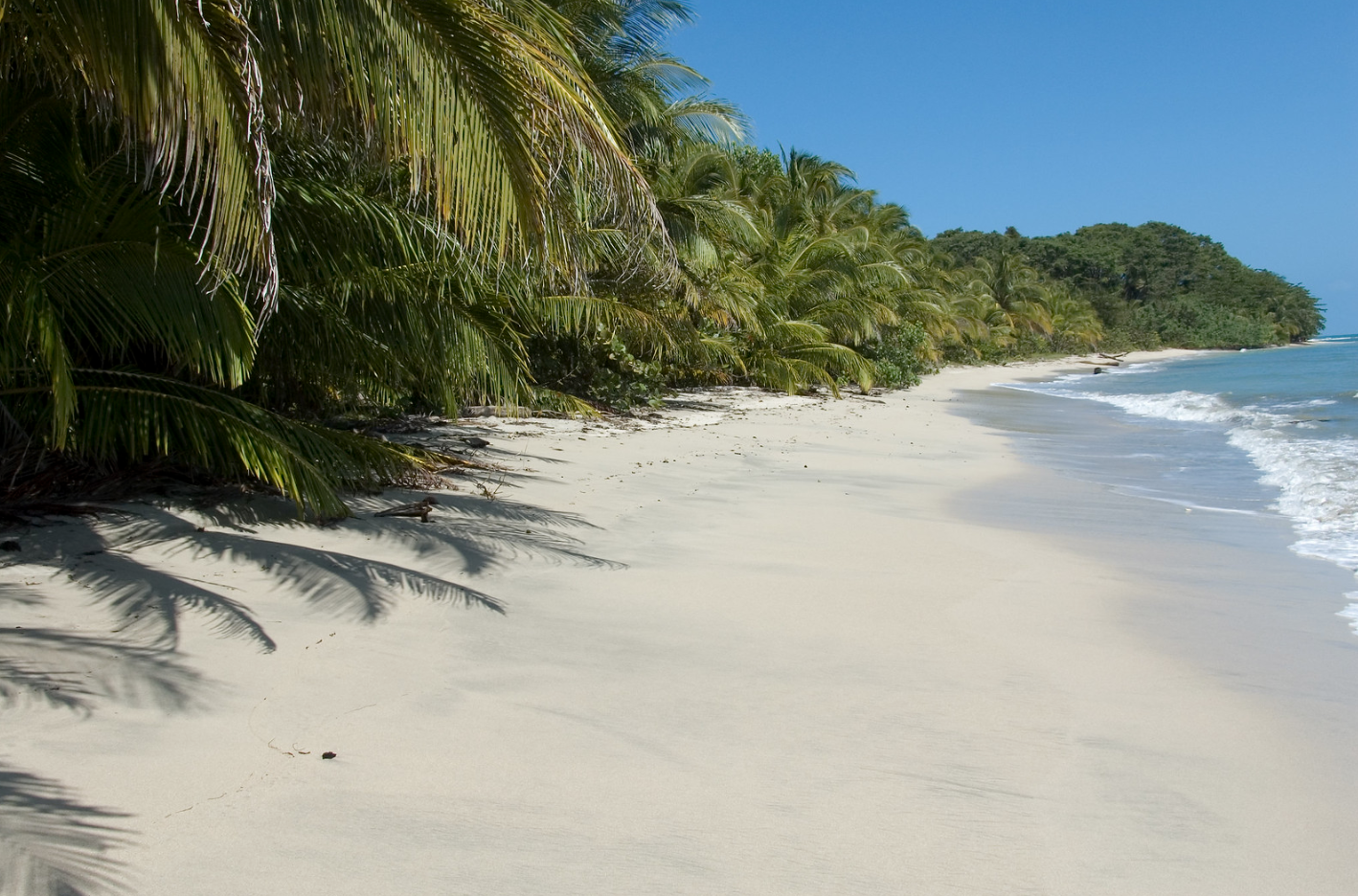 Watch For Animals
Keep your eyes peeled for animals throughout the park. You will usually be able to see raccoons, howler monkeys, tropical birds, and lots of fish as you explore and swim.
What To Bring
Pack smart when you are exploring the park! Make sure you bring these things because once you're there, there aren't any shops or places to buy things.
Bug spray (there are A LOT of bugs in the jungle)
Swimsuit
Plenty of water + snacks for the day
Comfy shoes for hiking
How To Get There
From San Jose
Head to Terminal Atlantico on Avenue 9 and Calle 12 to grab a bus from San Jose. They leave daily at 6 AM, 10, AM, 2 PM, and 4 PM. Just show up a little early to grab your tickets. This bus will take you right to Cahuita and will take about four hours.
Return buses head back to San Jose at 7 AM, 8 AM, 9:30 AM, 11:30 AM, and 4:30 PM.
From Puerto Viejo
Visiting the park is easy, especially if you are already on a trip in Puerto Viejo! Adding the park to your Puerto Viejo trip as a quick day trip is totally doable.
First off, head to Puerto Viejo — directions are detailed here.
Once in Puerto Viejo, hop on a bus to get to Cahuita (it's a short 30 minute ride).There's a bus that leaves from the center of town each hour on the half hour Monday-Friday. Ask locals where to find the Cahuita bus and they can easily show you where it stops.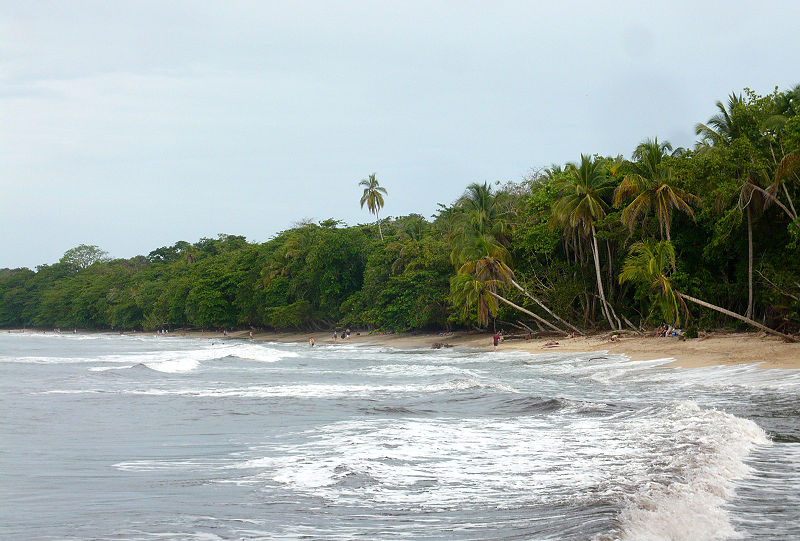 Where To Enter The Park
There are two Cahuita park entrances: The main entrance is the Kelly Creek Ranger Station and the other is the Puerto Vargas entrance.
Kelly Creek
The Kelly Creek Ranger station is easy to get to. In the town of Cahuita, it is at the eastern end of the city's main street. Simply head to the end of the street and follow the signs to the park.
The entrance fee is free here but they do happily accept donations. Bring a few dollars to drop in the donation box if you'd like!
Puerto Vargas
If you are planning on heading to the Puerto Vargas beach anyways this is a good place to enter the park. If you have a group of a few people it's easiest to get to this entrance by taking a taxi.
To enter here there is a $10 fee so make sure you have that in cash.

Hoping to spend a semester in Costa Rica?
You probably have questions about what volunteering is like, so let's chat! Click the button below to talk to an ILP representative who has volunteered abroad before.