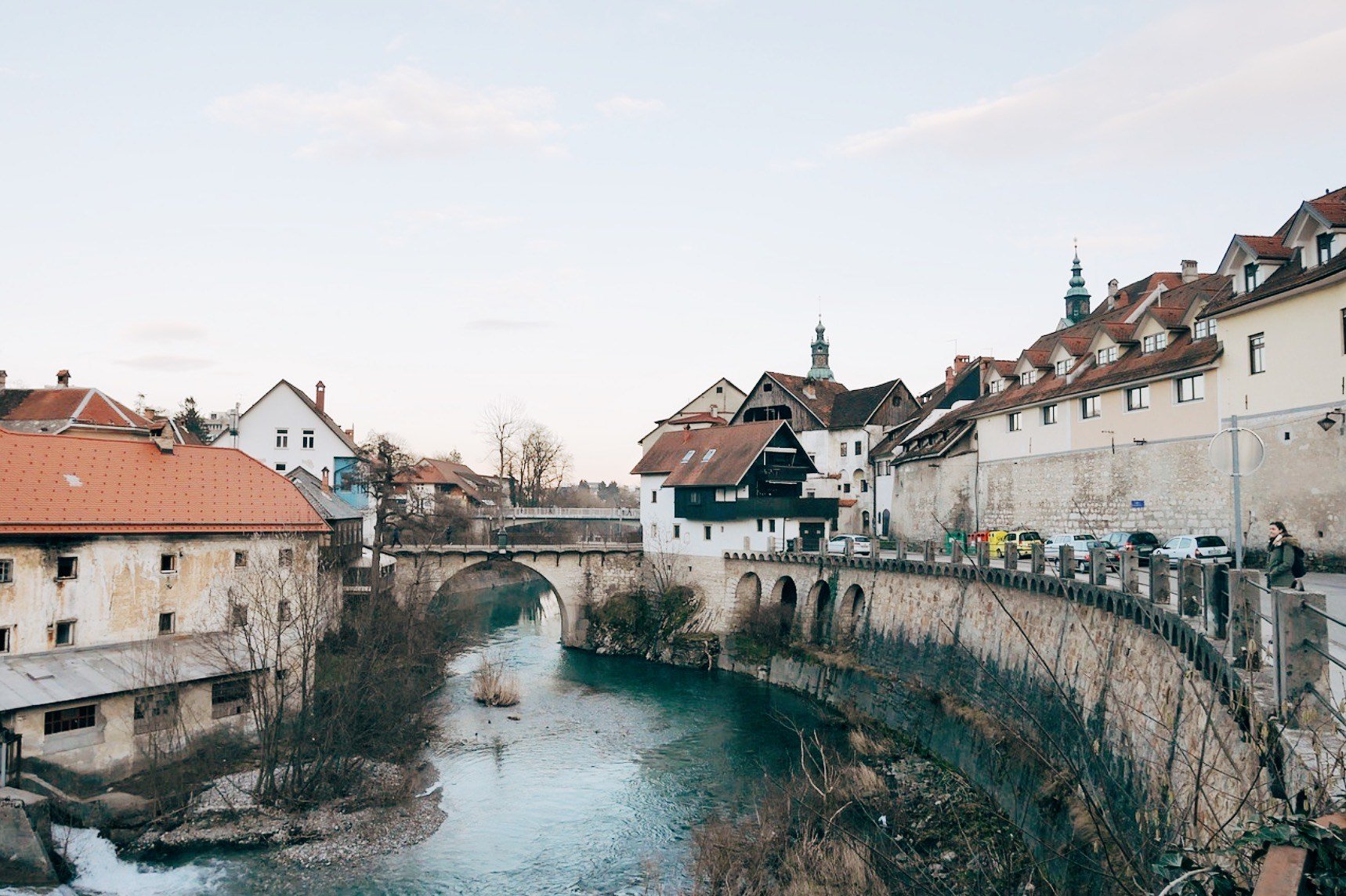 Um, how come the rest of the world isn't flocking to this fairytale-esque town in Slovenia?
So Slovenia might not be on your "must hit" list for Europe, but that's probably because you don't know what an underrated gem it is. The country is bordered by favorites like Italy, Austria, and Croatia, but somehow misses a lot of the attention which is a shame because of all the hidden treasures Slovenia is hiding. Seriously, spend a few minutes looking into all the adventures and hikes here, and you'll want to book your flight, ASAP. And if you're anything like me, your newest obsession will be the tiny town of Škofja Loka.


---
Want to make your Europe trip beyond affordable?
Come learn more about volunteering in Europe with ILP.
---
Škofja Loka is a quiet little town, filled with picturesque red roofs, and a circle bridge over curving rivers. Are you totally in love yet? Even better, it's best visited on a day trip from the capital city, Ljubljana making this a cinch to add to your itinerary … especially since we've planned what you need to see while you're here.
Tour Loka Castle

Trek The Three Castle Path

Your Fav Parts Of Old Town

This Circle Bridge

Get A Killer Viewpoint
Getting To Skofja Loka
Tour Loka Castle
So lots of European cities have castles, but the one found in Škofja Loka is exceptional. It's very well preserved since the medieval times (after a couple of re-buildings), so you feel like you're flipping back the pages of history when you're out exploring the carved wooden doors, and painted hallways. Another perk? The castle doubles as a bomb museum that details the history of this little city and the country of Slovenia. It's seriously impressive, a surprise from such a small city. Inside, you'll find exhibits that outline the country's role in WWII, painted fresco ceilings, intricate lace (all done by hand!) as well as rusted artifacts and glazed pottery that's hundreds of years old. Get more info about the castle and museum here.
Getting Here
It's an easy (yet slightly uphill) walk from the Old Town, about a 10 minute stroll. The walk is absolutely gorgeous, especially if you're visiting in the spring, summer, or fall — the walk is a curving paved road through green hills that parallel a stone wall. Over the wall, you can see those rust-red rooftops I know you'll want to take a zillion pictures of.
Heads Up: This castle is a part of the Three Castle Path, so if you end up going on that trek, it'll lead you to Loka Castle. If you're not in the mood for quite that long of a walk, follow your Google Maps who can get you to the castle from Old Town in just a few minutes.
Hours: 10:00 to 6:00 PM (Closed on Mondays)
Cost: Just 5€ for both the castle and the museum.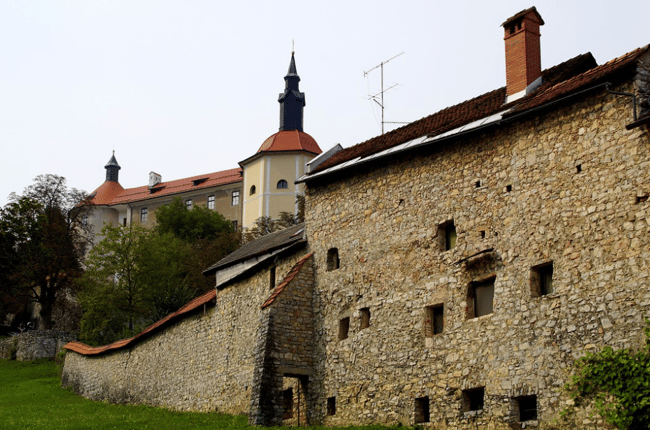 Trek The Three Castle Path
This 5k pathway winds you deep into the forest, past the Loka Castle as well as the remnants of the city's past — the Tower on Kranclju and the Wild Loka Castle. The pathway as a tourist attraction is old, over 120 years, but the structures you'll pass are even older. The other two (besides Loka Castle proper) are crumbling remnants, slowly being overtaken by nature. It adds an ancient and slightly eerie feel to the entire hike. Get a bit more info about the three castles you'll see on your walk right here.

While the pathway is marked on occasion by a page boy carved into the rocks, you can get a clearer map of things if you visit the Tourism Center — they have maps of the city and can outline your trail if you'd like to visit the three "castles" on the pathway.

Here's their address: Kidričeva cesta 1a, 4220 Škofja Loka, Slovenia.
Your Fav Parts Of Old Town
If you've been to Europe you know that pretty much every city has an Old Town, so it goes without saying that something to do when you visit a new city is to stroll around the Old Town. Yep, that's still the case when visiting Škofja Loka … but I'm guessing that this Old Town is far prettier than a few you've already experienced.
The Main Square
The town's main square, Mestni trg is a big open space, enclosed by some of the prettiest buildings in the area. You'll find three story buildings painted a rainbow of pastel colors, a sharp contrast to the creamy and stark white buildings you'll find elsewhere in Škofja Loka. The Main Town Hall is something to look at, it's been around since the 16th century and you can still see the remnants of the original Baroque frescoes that decorated the outside hundreds of years ago.
A Few Buildings To Find
If you're architecture-obsessed like I am, you'll also want to hunt down the Old Parson's Home, and the Martin House, which was built in the 17th century and supports a wooden first floor and a neat row of shuttered windows. Nun's Church is also one to visit. Supposedly, there are secret passageways underneath the church that lead all the way to Loka Castle.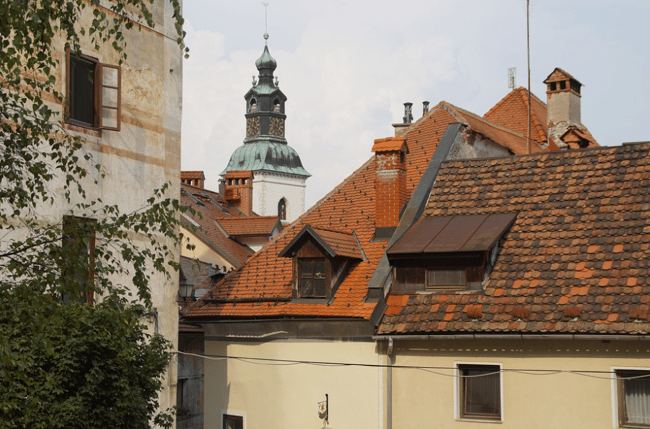 This Circle Bridge + Church
I mean besides being the oldest bridge in the country, the Capuchin Bridge (sometimes called the Stone Bridge) is just magically pretty. Rumor has it that Bishop Leopold built the bridge, only to lose his life while crossing it in 1381 when his horse startled and he fell into the river and drowned. Despite his death, it took about 500 years for railing to be added to the bridge.
But while you're in the neighborhood, don't miss out on the 300+ year Capuchin Church, which is home to quite the tradition. While it's a modest and rather unassuming building, this church is home to the origin of the oldest dramatic text that was written in the Sloven language. It's a passion play that's only performed once every six years but you can read the play's manuscripts inside of the church, along with shelves of rare and old books. The showing of the play is due in 2021, which will celebrate 300 years of the play's performance.

Here's the address of the bridge: Cankarjev trg 7, 4220 Škofja Loka, Slovenia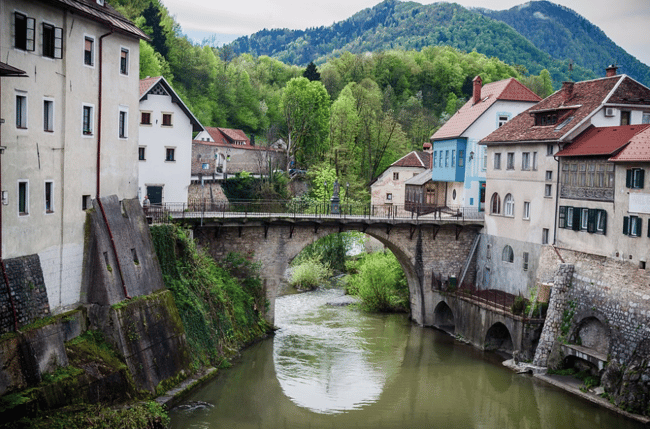 Get A Killer Viewpoint
Visit Nearby Pustal + Hribec Hill
Can't get enough of the rooftops you'll find in Škofja Loka? Yeah, I didn't think so. Škofja Loka sits on one curve of the river, but found in the split between the Poljanska River and Soara, is a neighboring area known as Pustal. You'll want to cross the river over to Pustal for a stellar view of Škofja Loka from above.
The hill you'll walk up is easy to reach if you walk down (south) Spoodnji trg square then just turn left onto the first bridge that crosses the river. It's named as Fużinska Ulcina on Google Maps if that's helpful. This area is a distinctive shift from the Old Town, with buildings that are looking like they are in need of some fixing up, combined with flourishes like orange, stand alone porticos.
Climbing Up Hribec Hill
There's another viewpoint in this region of Pustal that's also worth seeing, found on Hribec hill. That hill you'll walk up once your cross over just continues, eventually dissolving to a gravel pathways that leads to a church. Officially, the route is a pilgrimage route all the way to the Church of St Cross which has been in operation since the 18th century.
The church has inconsistent hours for tourists, but the gatekeeper is a man named Mr Bernick. He lives next door to the church and can let you inside if you ask. The church is what you'd expect, a quiet space of worship complete with a grand altar built in the capital city, but the views are really what you're up here for. There's an old, stone wall that encircles the whole church where you can get a full, panoramic view of the town below you, and the rolling countryside.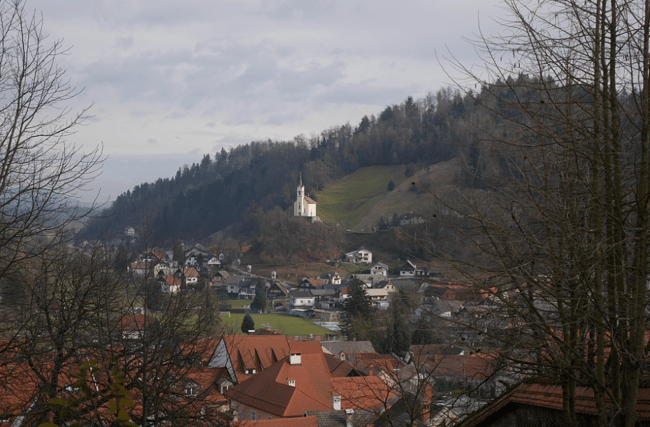 Getting To Škofja Loka
It's a short bus ride from a couple of other places you probably already want to visit in Slovenia, making Škofja Loka an ideal day trip. You can easily hit the highlights in just a few hours.
From Ljubljana, Slovenia
Visiting Škofja Loka is a cinch if you're already in the country's capital. Ljubljana is one of our favorite cities in Europe for a few reasons, but we particularly love the fact that you can see the Old Town by Stand Up Paddleboard (magical, right?). Plus, the castle there is also home to a bomb escape-room style game, which is crazy fun. Get your Ljubljana guide here.
Anyways, you can easily reach Škofja Loka by bus. Just head to the main bus station in the city and hang out at stand number 28 (it's directly in front of the ticket office). You can book a ticket in advance or just pay the driver once you get on the bus. Tickets are 3.10 euro, per way. Plan on being at the station around 20 - 40 minutes early if you're traveling in a shoulder season or off season. Best to book your tickets in advance if you're traveling in the busier, summer season.

It's about a 30 minute ride (though some are closer to an hour long), and you can check the bus schedule here. Once you arrive, the entire city is walkable from the bus station.
From Lake Bled, Slovenia
Lake Bled is probably Slovenia's most famous place to visit, and it's easy to see why. Surrounded by the towering Julin Alps, Lake Bled is just stunning. I mean, a few pictures gives you an idea of how pretty this place is. In the summer months, the lake's water takes on an almost Caribbean appearance, with pockets of baby blue that melt into a bright turquoise that will transport you to more tropical getaways ... until you glimpse the island. Get all the details about visiting Lake Bled here.
Check schedules here. The ride is about an hour long, and prices are around 5€. Look for routes from Mlino Bled to Škofja Loka.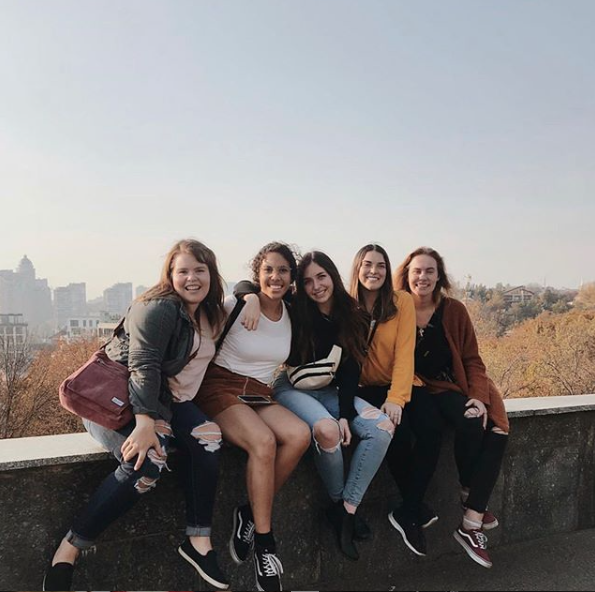 Come to Europe with us!
ILP's a non-profit organization based in Utah, USA who sends college-aged volunteers abroad. You'll spend part of your time teaching English or helping in an orphanage, and part of your time exploring and traveling. You're set up with a group of volunteers to live, teach, travel, and volunteer with so you're never alone on your adventures!