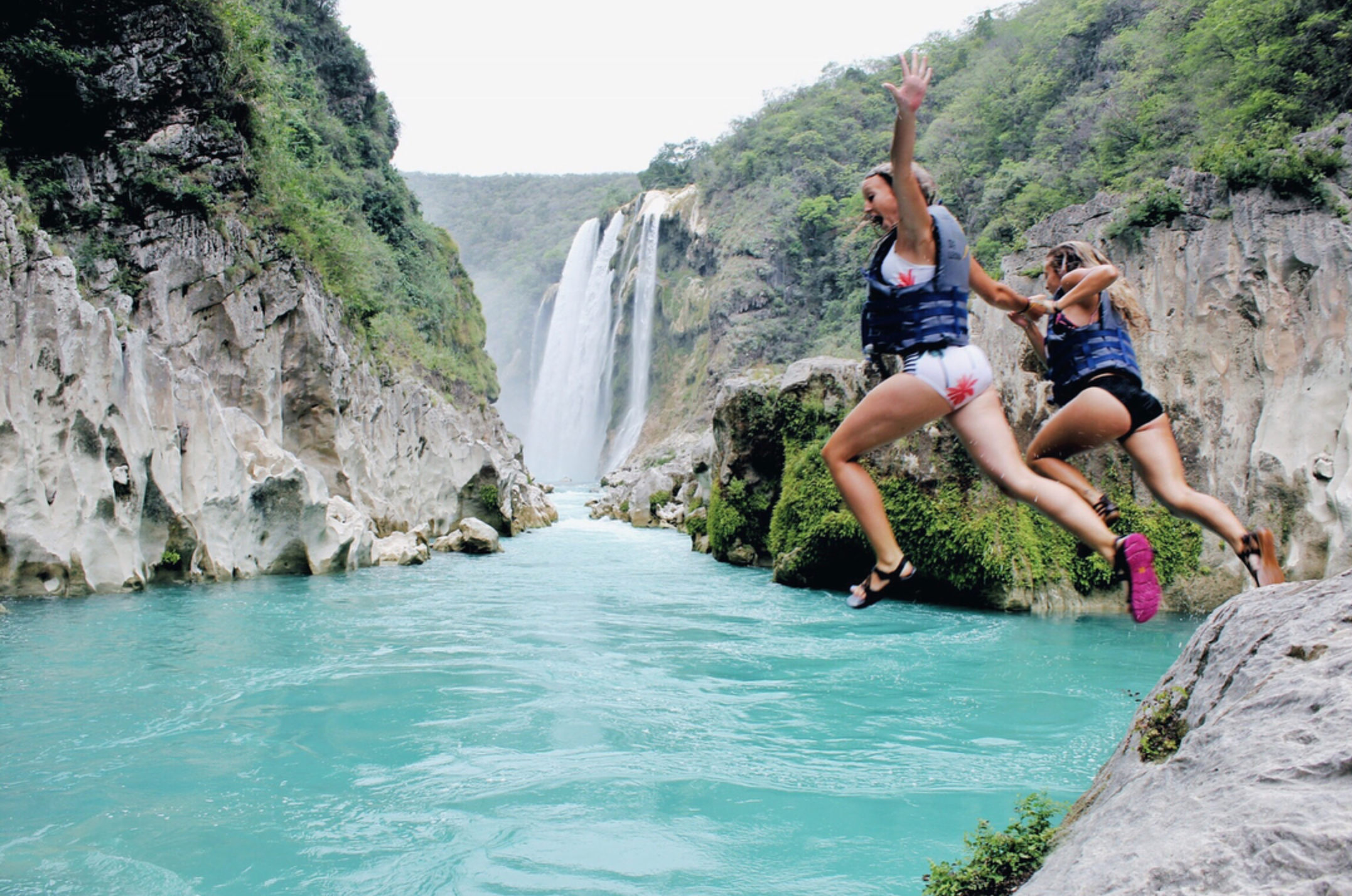 As if you needed another reason to come volunteer in Mexico, these waterfalls will seal the deal.
A semester abroad in Mexico is kind of like a dream come true. You'll get jungle adventures, dreamy beaches, a class of the cutest kids, arguably the best food because tacos, plus the fact that some of the coolest getaways are just a weekend away (and couldn't be cheaper). All this in just one rad country.


---
Coming to adventure in Mexico?
We have this Mexico Destination Guide you might be interested in
---
If you scroll the ILP blog, you can get a taste of all the things there are to do (and eat) in this country but we're here to talk all about some blue, blue, blue waterfalls in a place called Huasteca Potosini in Ciudad Valles — a sprawling mountain range crammed full of waterfalls, caves and jungles. Here's the info you need to know before you visit:
Our Favorite Waterfalls
Where Should I Stay?
How Do I Get Around To All The Waterfalls?
Is This A Weekend Trip Or Not?
How Much Will This All Cost?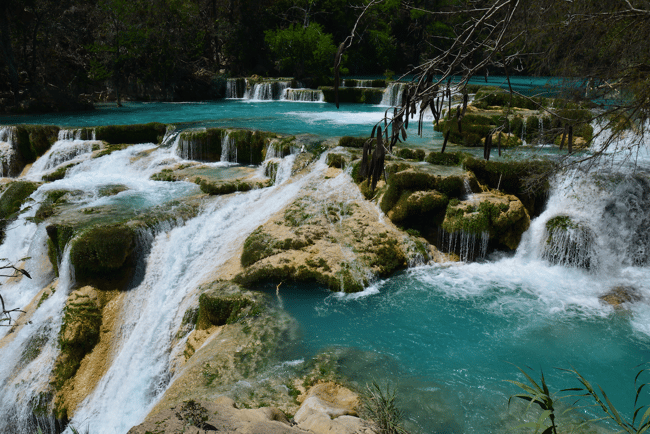 Our Favorite Waterfalls
The Ciudad Valles is a huge area (about 200 miles long) so there is a lot to see and a lot of waterfalls to explore, but here are a few of our favorites:
Cascadas de Micos
Here, you'll rent a life jacket and jump right into the first waterfall, only to realize that a pounding, 80-foot waterfall is right next to you. That waterfall pools into a series of smaller waterfalls you can climb up and jump off of, plus a few rope swings and deep pools to swim in. So. Fun.
Cost: 30 pesos + 30 pesos for a life jacket (life jacket is required).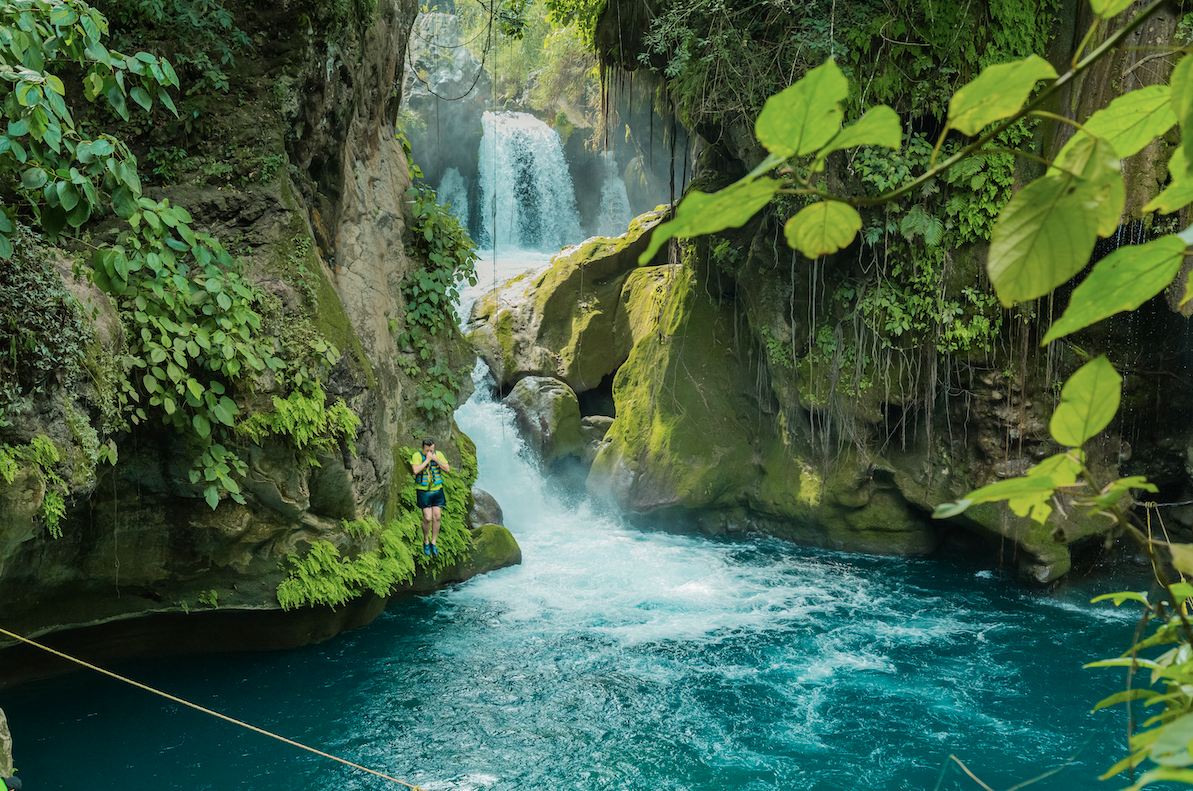 Tamul
Tamul Waterfall is probably the most famous in the area. A guide will take you down to a series of boats where you can snag a life jacket and a paddle, where a 2-mile boat road takes you through a deep green canyon. Pack up your waterproof cameras because other boats love to splash you, but you'll for sure want pictures because this place is stunning … and the boat ride is definitely the way to see this impressive waterfall. On the way back, there's a cenote (underwater cave) that's perfect to swim in.

Tips for travelers — go before noon before too many boats are on the water.
Cost: Around 150 pesos per person for 8 people.
Get a bit more about the Tamul waterfall here.
Puente de Dios
This spot is in Tamasopo, a small town with two beautiful waterfalls. According to a couple of ILP volunteers, Puente de Dios is so amazing, it's worth doing twice (plus there is tons to do). We're sure the other waterfall is also amazing, we just love Puente de Dios. You can climb up to a few jumping offf points to dive into these turquoise waters, or climb up the impressive waterfall itself. Oh, and of course there's also a cave you can swim in.
Tips for travelers — go before noon before it gets to crowded and take goggles if you can find them! The water is crystal clear and gorgeous.
Cost: 40 peso entry fee, plus 30-40 for a life jacket (which is required).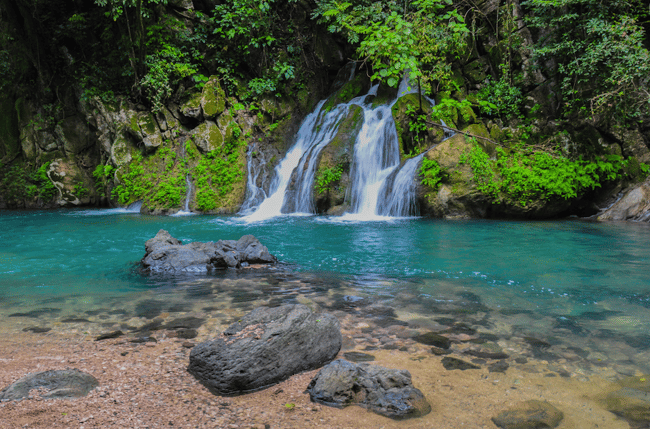 Sótano de las Huahuas
This is a cave, not a waterfall, but is still rad. This is really a hidden gem, deep in the jungle — a cave is so big it can fit the entire Empire State Building inside. If you're into caves you can also head to the Sotano de las Golindrinas. If you can go at sunrise or sunset because thousands and thousands of birds leave and enter the cave.
Cost: 40 pesos.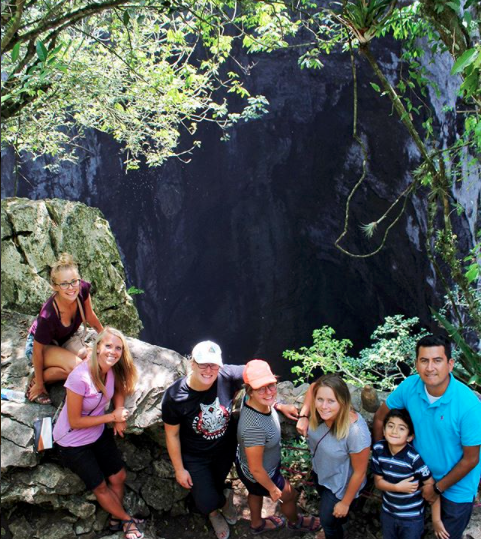 How Do I Get Around To All The Waterfalls?
Hire a driver
Traveling around is a bit tricky — we recommend hiring a bus or car to help take you around for the day. Your hotel and hostel can probably help you out with that. There are some public buses that can take you to the more popular posts (like Puente de Dios and the Cascadas De Micos) but a driver will be able to take you to more places, in less time.
You can also taxi to some waterfalls (like the Tamul) but just know it'll be a bit pricey. If you split the cost of a driver and or a taxi with your ILP group, it should cut down on the cost, so keep that in mind.
Join a tour group
There are also tour group options that you can look into. It will probably cost more than a taxi driver, but the benefits are that they know all the best spots to take you to, plus you don't have to plan a thing ... some even include hotels and meals. Here's a couple you might want to check out:
Huaxteca offer tons of tour options and has wonderful reviews. They offer day tours which include waterfall jumping, repelling, hiking, stand up paddle boarding, white water rafting, and more. You'll have plenty to choose from when deciding what you want to do!
Prices will depend on what tour you choose and if you choose to do a package with the company. The repelling trip costs about $75 USD, while stand up paddle boarding is about $50 USD. Check the prices and excursions here for more details. Packages will include the excursion, meals, hotels, and sometimes a few other things. They range from about $145 USD to $245 USD depending on what package you choose. Here are the details for the packages.
Ruta Huasteca is similar to the Huaxteca in the fact that they both offer individual excursions or packages. They have a lot of options, and even some different ones like cave exploring and the Edward James architectural garden (which is amazing!). And, you can stay on their property in cool little huts while you are doing tours with them!
They vary depending on what you are doing. Rafting is about $61 USD and an excursion where you visit the architectural garden and caves is about $51. You can find a full list of prices under the "activities" tab on their website. Packages are more because they include lodging and food, as well as excursions. They vary but start at around $180 USD for a a two day package, then go up to eight day packages. Here are the prices for those.
Where Should I Stay?
When it comes to accommodations, it's best to book a place that is near the center and close to the most attractions — ILP volunteers suggest booking in either Aquismon or Ciudad Valles. Ciudad Valles has plenty of hotels (and hostels) for a good price (6 people can share a big hotel room for 400 pesos at Hotel Galeana).
The center has a market every day with fruit and other goodies which is fun, place an amazing ice cream place called Michoacana (it's near the bus station) which is worth visiting more than once.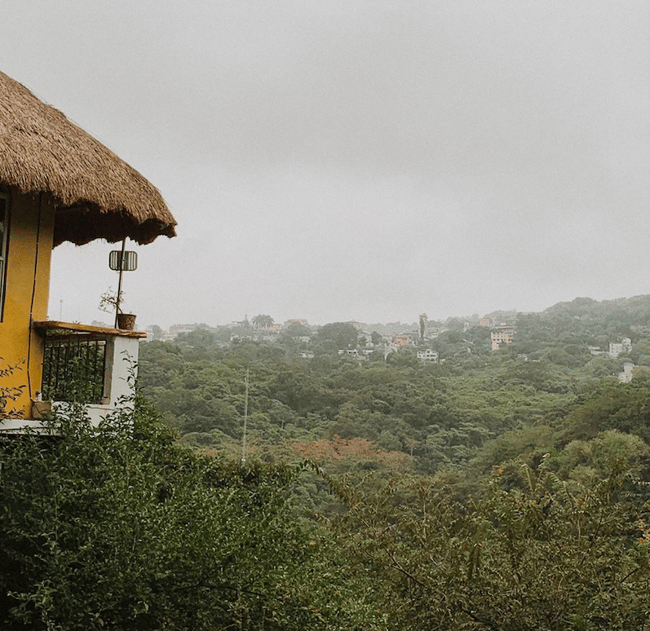 Is This A Weekend Trip Or Not?
It can be done on a weekend but be prepared to not sleep very much. The area is so large that a 3-4 day trip is probably best. One group of ILP volunteers loved this part of Mexico so much they went back 3 times; once on a vacation, and 2 weekend trips!
Getting here via bus:
To get there from your ILP school, head to Querétaro and book a bus to San Luis Potosí. Then take a Vencedor bus to Ciudad Valles.
Get more info about getting to Querétaro here.
As a head's up, you can only bus Vencedor buses once you get to San Luis Potosí, and can't book anything in advance, so you may have to wait a few hours for tickets to become available.
How Much Will This All Cost?
It depends on a few factors, like how much you spend on food and how much you spend on somewhere to stay, but plan on $50 - $100 for a weekend here.
There are lots of little street food carts to order from (we love street tacos and gorditas) so you can help keep food costs low. Like we mentioned before, we have the prices of the waterfalls up there, and splitting a cab or hired driver with your ILP group should also help anyone who wants to travel on a budget.
You can also do all these activities through a few tour groups (Huasteca Potosini is one of the more popular ones) but it will be very expensive (but you won't have to figure out bus routes or transportation, so be sure to weigh the pros and cons).
From the volunteers themselves, Puñete De Dios is the favorite waterfall. Here is what ILP Mexico volunteer Joe W. said,
"There are of course other waterfalls, caves and places to see, but all of it can't be seen in a weekend and would take a week or two to truly see it all. We were the only white people there every time and it isn't even well known by Mexicans. The entire area is a hidden gem and we totally recommend everyone who goes to Mexico to go there!"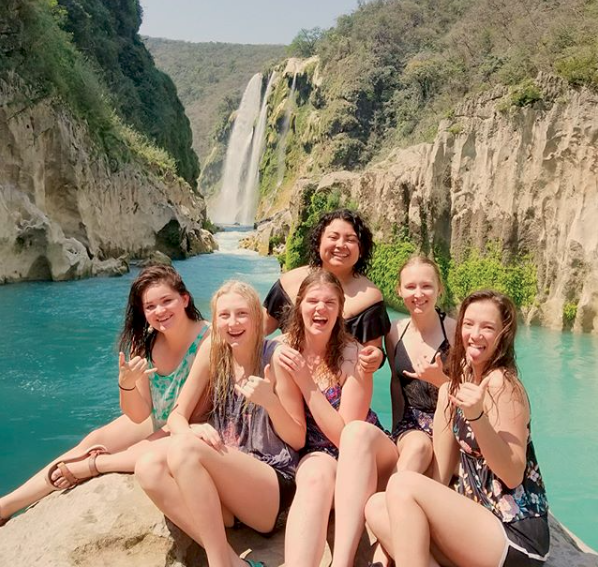 What are you waiting for?
Learn more about Mexico right here!