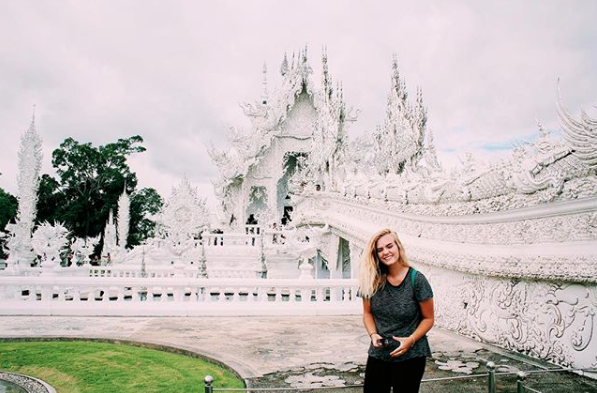 Perhaps you've heard of the White Temple in Thailand, or maybe you're just looking for awesome places to go during your trip to Asia. Either way, we recommend you spend a day exploring Chiang Rai (it's even a place we suggest in our Thailand Destination Guide). We're serious about a semester in Thailand — imagine actually living there! Start by filling out an application and start planning your adventure.
Chiang Rai is a smaller city in northern Thailand. It's pretty small and most of the city's sites can be seen in a single day, which is good because this city is close to another ILP volunteer favorite, Chiang Mai. But Chiang Rai is worth seeing too! Here's what you should check out:
Wat Rong Khun
The Night Market
Ride an Ostrich
The old Chiang Rai Airport
The Golden Clock Tower
Wat Rong Khun
Also known as the White Temple, this is the top tourist attraction in Chiang Rai. Chances are this will be your number one stop once you get here. Wat Rong Khun is small in size but has over the top architectural design with intricate details. Spend a couple minutes admiring and then head inside and be amazed at just how over the top this Buddhist temple really is.
Everything about this temple is very symbolic. You're passing through hell and making your way to heaven, so you'll see that symbolism all along the path you're led through. Just wait until you get into "heaven". Thailand's version of what heaven looks like is definitely going to make your jaw drop, but I can't tell you what's inside — Cliff hanger.
Sorry, but you just gotta go see it for yourself since cameras aren't allowed in Thai heaven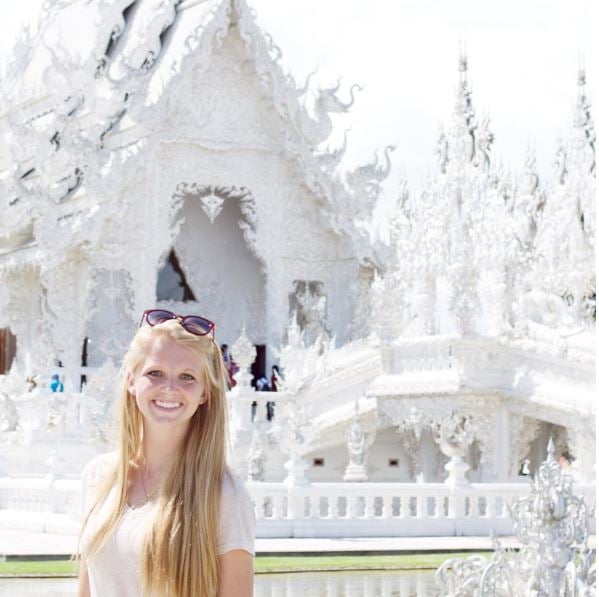 Ride an Ostrich
We know you probably want to be riding elephants in Thailand but how about something a tad more unusual?
Head over to Wana Horse and Ostrich farm and you can ride an ostrich! There are plenty of ostriches to choose from along with many other animals to pet and see. Definitely worth checking out while traveling Chiang Rai.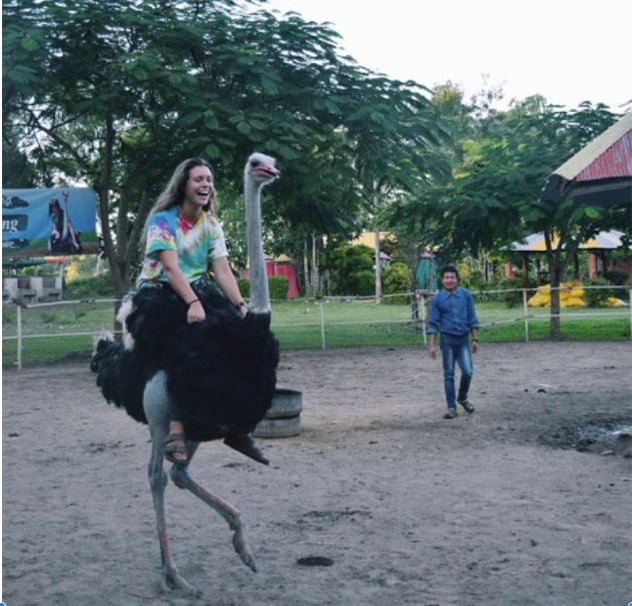 The Old Chiang Rai Airport
Into exploring abandoned places? (Maybe you'd be better off living in Ukraine so you can check out Chernobyl!).
The Old Chiang Rai Airport was constructed back during WWII and then closed in the late 1990's. The buildings are completely abandoned and are waiting for you to explore. The old runway is now a park and is a great place to have a picnic and interact with some of the locals.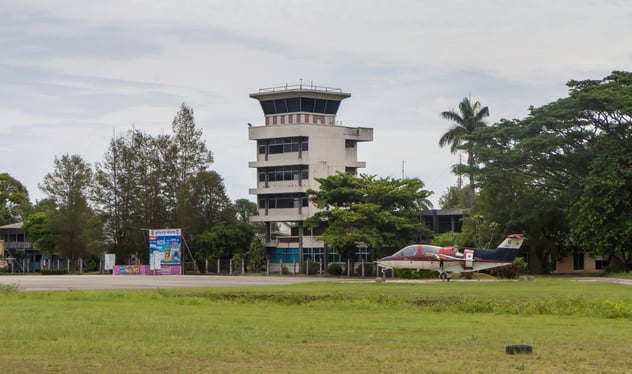 The Golden Clock Tower
Unveiled in 2008 to celebrate the King, the Golden Clock Tower is an incredible piece of art that serves as a traffic circle where Thanon Jet Yot street meets Thanon Baanpa Pragarn street .
Visit from 7pm-9pm and you'll be treated to a light and sound show as the clock chimes the hour. It is a surreal experience watching tuk-tuks, cars and motorbikes continue to drive around the clock tower as it changes color from gold to green to pink and blue.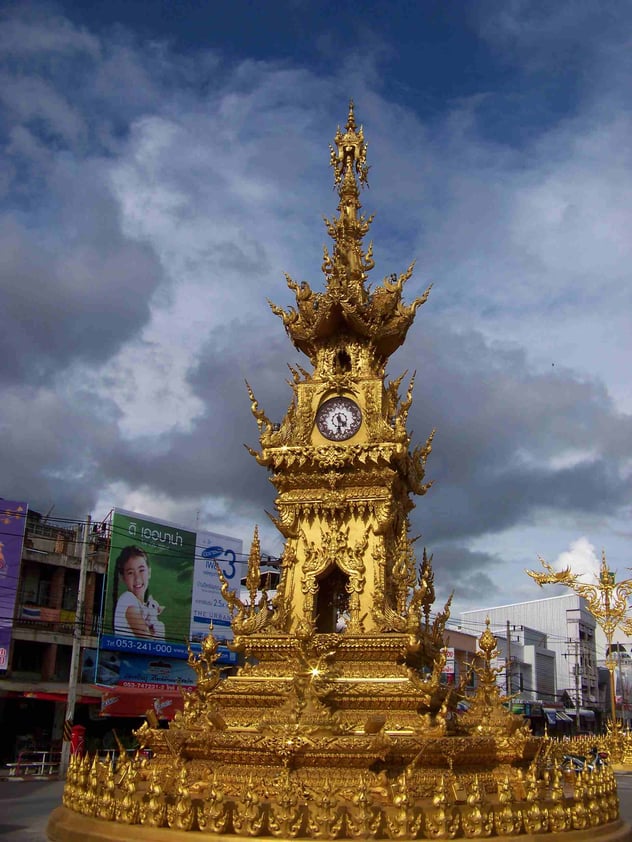 The Night Market
No trip to Chiang Rai is complete without a visit to the local night market. Open from 6pm-midnight, the night market is a great place to go and grab some of those souvenirs you've been waiting to get. It's definitely the place to get the cheapest things to buy in Thailand, like clothing, spices, art and more.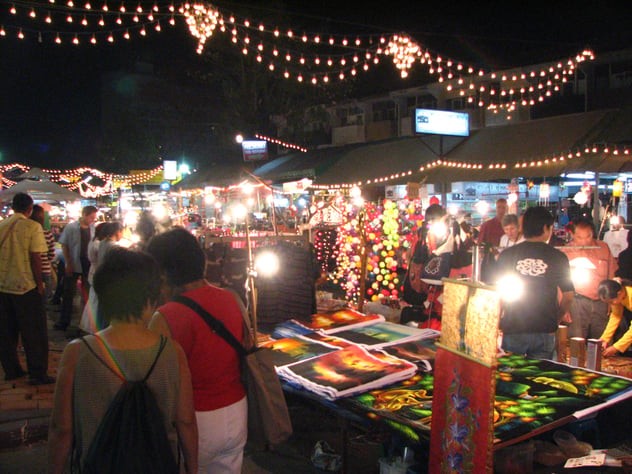 Then, when you're done exploring Chiang Rai, take a short 1 1/2 hour bus ride down to Chiang Mai and have the opportunity to ride an elephant, do some zip lining, get up close and personal with tigers or even go to the Lantern Festival if you're here during the fall! You can easily fit in these two adventures on an single vacation when you're an ILP volunteer.
Still set on living in Thailand? We don't blame you — it's a dream! Come check out International Language Programs; we're a non-profit organization who sends college-aged volunteers to countries like Thailand to teach English part time, but you'll also have free time, vacation days and every weekend off to explore places like Chiang Rai.

Check out what current ILP volunteers are up to on the ILP Instagram (search #ilpthailand), or read up on the ILP blog. Click that button to learn even more: