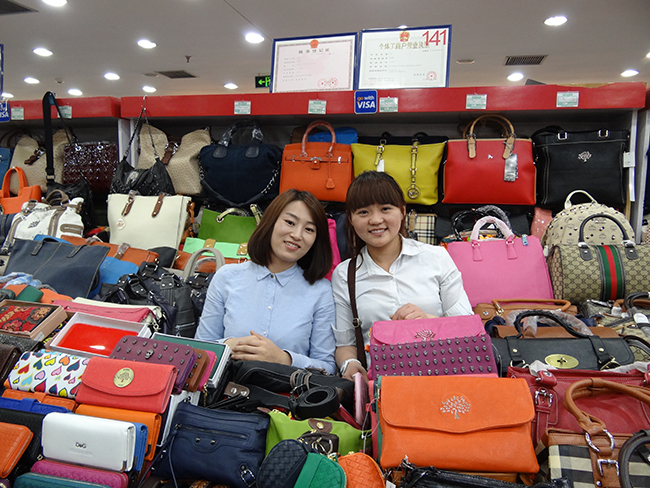 Yay! You're going to teach English in China with ILP! Just one thing....be prepared for bartering and buying gifts, souvenirs, and actual things you will use (shoes, clothes, scarves etc.) when you are there! I mean really...it's ridiculous how inexpensive things are in China, as well as how awesomely fun it is to go do a day of bartering and talking with the salespeople! But where do you do that?
Obviously in pretty much every city there is some sort of big market where you can go shopping at. Keep an eye out on some cheap souvenirs and snacks in your city (and other ways to pay less for your semester) However, one of the best places (besides the Science and Technology Museum and the Pearl Market in Shanghai of course) is the Pearl Market in Beijing, also known as the Hongqiao Market. To get here, just ask your hostel in Beijing for directions...or just read our post about Beijing here. Once you arrive, here are our insider tips for shopping at Beijing's Pearl Market:

Know how to barter before you go

Scope the place out first

Ask for quality

Buy in groups

Always have small bills

Hide your money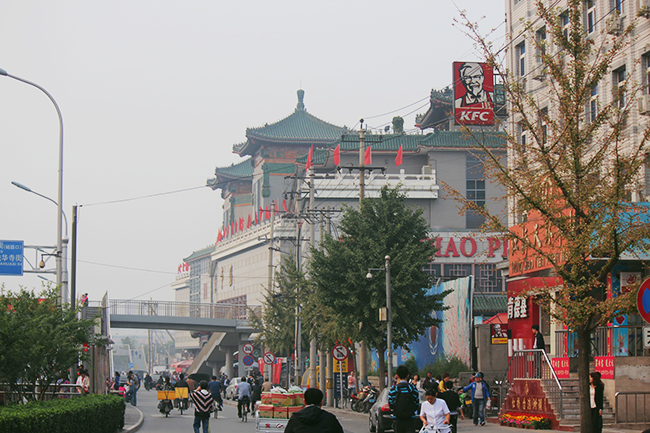 Know how to barter BEFORE you go.
These people start with their prices extremely high. Chances are that even if the price you settle on is 10% of the asking cost, it will still be more than they will have paid for it originally. So make sure you know how to barter! Don't be the one who unknowingly paid 3 times as much as someone else in your group for the same item! Know the prices and don't back down. Even though this is a different city than you are used to, the bartering rules are pretty much the same.
When you are first stating the price you want to pay, go EXTREMELY LOW. You can't go lower than the first thing you say. The vendors will be mad at you, take it from someone who has been yelled at before! So state your price even lower than the 10% price. That way you will be able to get the best price because even if you go up to 10% of THEIR asking price, it will still be LOW.
If something costs 100, offer 10. Offering a price that is SO much lower than their asking price might feel unfair for them, but it's not! That's the way this game works at the market. Don't worry, they're not going to settle on a price that makes them lose money so there's nothing for you to lose.
If you state a price and the venders immediately agree, you said a price too high. It's all trial and error, but if you want to buy that backpack for lower than what you said and you accidentally quoted a higher price, try adding things on for just one or two quai more. Then you and your seller will both be happy and they will keep asking you to come back. If you leave and walk around and they see you later in the day they will quote you at a lower price than before!
If they won't go for your asking price, then walk away. If they let you go, you're probably going too low. Use that information for the next shop because you WILL see the same item again somewhere else.
Scope the place out first
When you walk in, you will see vendor after vendor after vendor. The first floor when you walk in is filled with watches, shoes, perfumes, scarves, jewelry, etc. It's overwhelming at first, but as soon as you look around for a bit, it's easier to figure out. There is an entire floor filled with purses and jeans and coats and tailor shops.
Then there is a floor with pearls...this is the most popular because in addition to the pearls and such there are a lot of other 'Chinese' souvenirs like teapots and figurines, and scrolls and such. Our advice? Before buying anything, look around and figure out where things are and see what your options are. You don't want to spend all your money on the first level before you even get to the purses and clothes and pearls and souvenirs!
Ask for quality
There are a lot of tourists that come through this place. Many just buy things and don't really care about the price because even though they are paying WAY more than any of you will pay, they are getting a deal. However, we are poor travelers who are volunteer teachers in a foreign country. So....make sure that while you are getting things for cheap, that you will still be getting quality. For purses, have them get the leather wet, check the zippers, look at the details for glue or stitches missing or something like that. For shoes, check the heels and the arches. Electronics are always iffy in China and many volunteers just don't risk it. If they don't work, then don't get them. They will most likely work when the venders show you, but don't be fooled. Those speakers and headphones don't last long.
Buy in groups
This has three excellent outcomes:
1) You will ALL get cheaper prices (TOMs and Nikes for 70 quai...yes please!).
2) The vender will be happy they are selling to so many people so everyone's happy.
3) You can tell them you have more friends coming and get better deals than you would have gotten before. Or you can pull the whole, "I got ____ price from her, what can you give me?" Then when someone says "that's impossible!" just keep telling them the truth!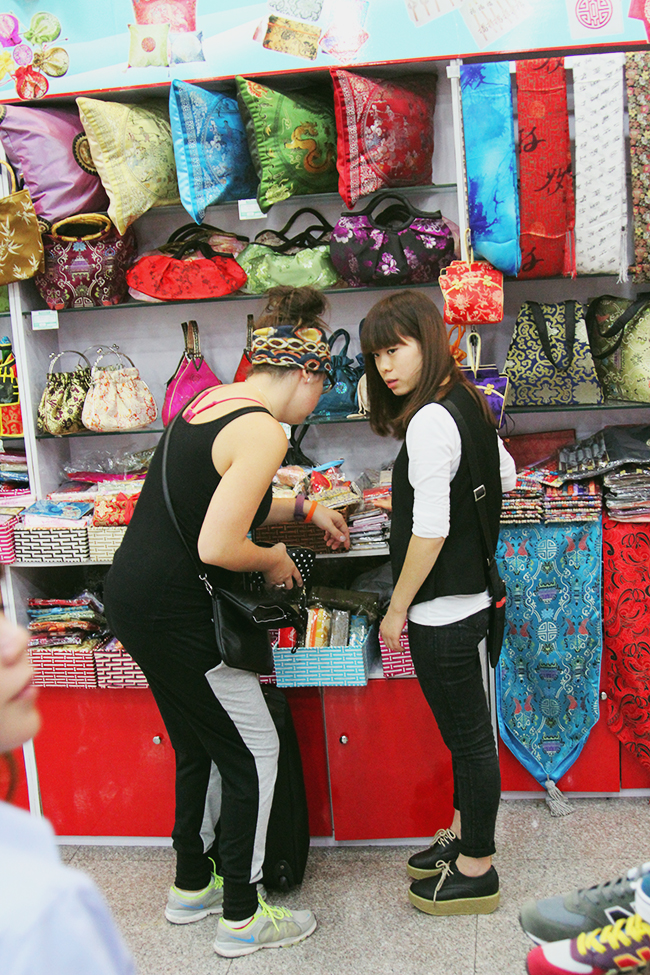 Always have small bills
If you only have a 50, it's going to be very hard to convince them to lower the price to 40 and give you back change. They're going to laugh at you when you barter way low and then need change back. Don't be that person! This also goes along with the next tip...
Hide your money, honey
Last but definitely not least, while you are shopping keep the bulk of your money in your money belt, your shirt, a secret pocket, etc. When they are quoting you at a price which is ridiculously high and they won't come down, you can show them that in your wallet you can't afford to pay that much since you just have a few 20s and a couple 10s and 5s. Maybe a 50. They almost always go down after that to whatever price you wanted. Sneaky? Yes. Does it work? Almost always. Do the venders know what you are doing? Most likely. Have we all made friends by doing that? Of course! I still talk with a couple of friends I made when I was in China and bartering with them at the Pearl Market.
Also..
HAVE FUN!
Don't get in fights or heated arguments. It's not fun for you or the people you are buying from. In addition, the salespeople work with each other all day, every day and most of them have family members in other booths. If you are mean to one, then you will be most likely lose out on business with the rest of them! They won't sell to you or go for lower prices if you are rude or make them upset. And bartering is supposed to be FUN!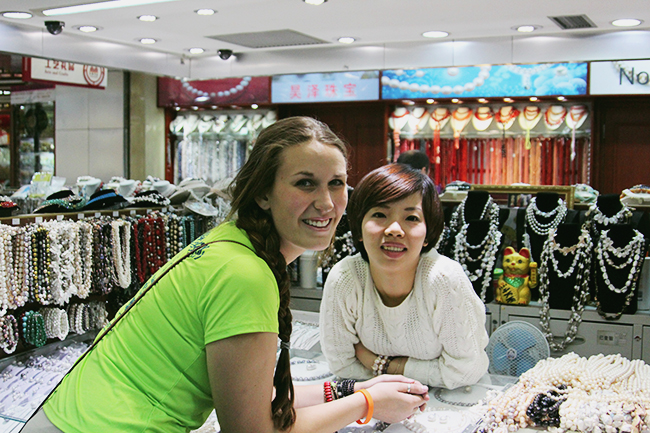 Oh, and a last little tip, tell the venders that you live in China and that you have lived there for a long time...and that you are a teacher! Those three things will automatically guarantee you a better price!
---
We hope that these tips helped! The Pearl Market is amazing and SO fun. We would recommend it to anyone.
Interested in being an ILP volunteer in China? Get a glimpse of what life is like by downloading our free guide book.