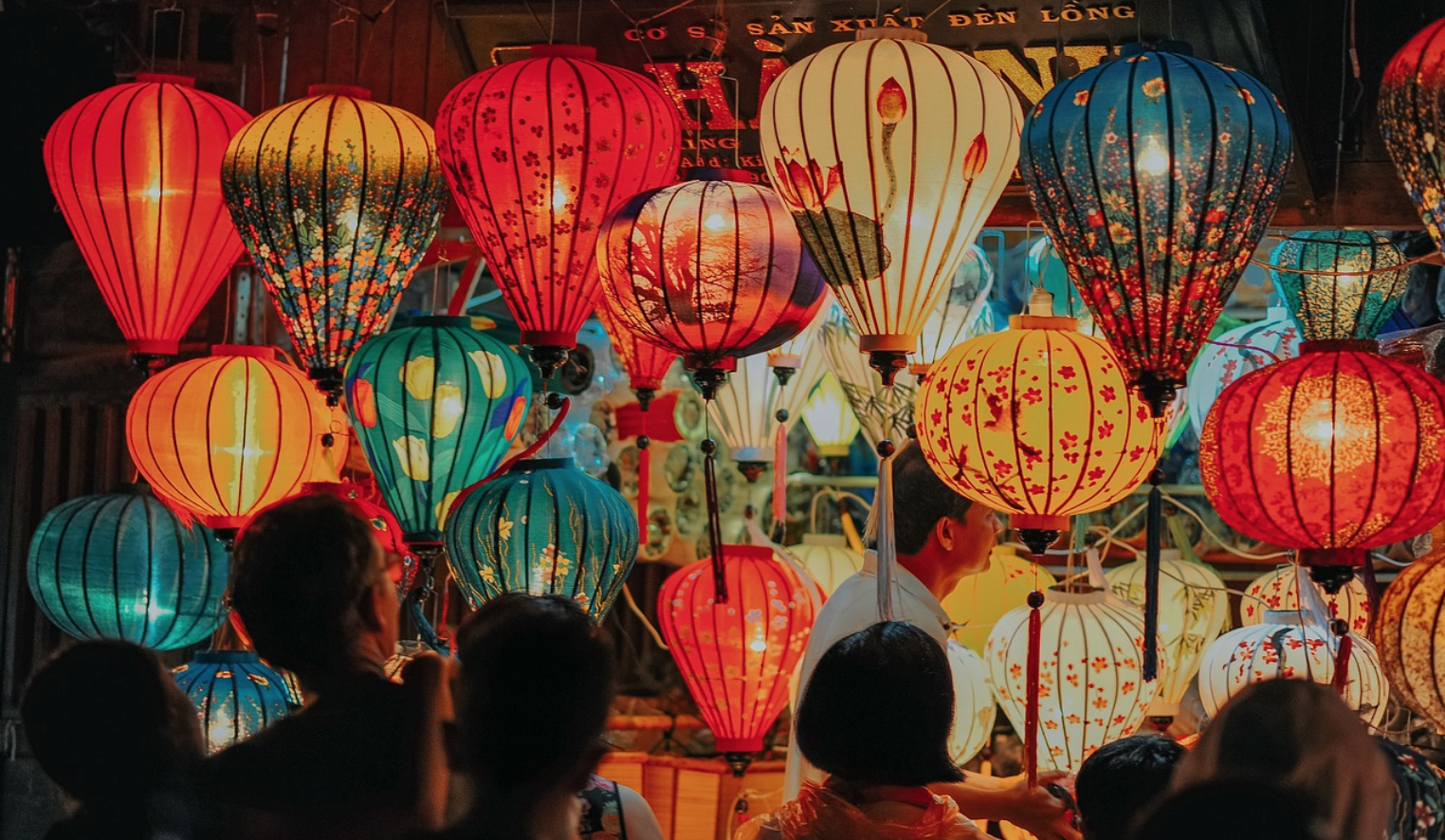 Oh, China. An amazing country filled with ancient history, beautiful buildings, the cutest kids, and the greatest shopping! Here's our list of the best knock-offs and souvenirs to get in China for cheaper than cheap.
---
*Quick ILP Update — we have closed our semester abroad program in China and are not updating info found in this post. We're keeping this post live as it may be a helpful resource for you, but know that information was last up to date at the time this post was published.
---
China is an ideal place to find not only unique souvenirs to display on your bedroom shelves, but also trendy items for your wardrobe, especially if you're interested in getting really great deals on knockoffs. Before you start shopping, know where to get the best deals so you can decide where to visit.

Then, you can make a list of the most popular items — below, we have the favs purchased by our volunteers. Keep in mind that all prices are totally subject to your bargaining skills because are not set in most markets here. Haven't had much practice convincing vendors to lower their prices? Make sure you check out all the do's and don'ts of bargaining in China!
Also, keep in mind that the price often reflects the quality of whatever you're buying. You'll find some amazing deals in China, but that doesn't mean that what you're buying is going to last forever (or even a week).
The Best Things To Buy In China
To Wear
Tailored Clothes
Is a wedding in your near future? For your dream dress, totally customized, you'll be spending about $200-$500, which is so cheap compared to the thousands you can expect to pay at home. Just make sure you are very specific about the details, or you may end up with something a lot more extravagant than you were hoping for. Remember that styles in different parts of the world are going to be different, so you'll need to be very clear about what you're looking for. Photos help with the language barrier.
You can get also get a tailored, classy suit in China for about $80...that includes pants, jacket, and a few shirts. In America, these same items would be at least $350.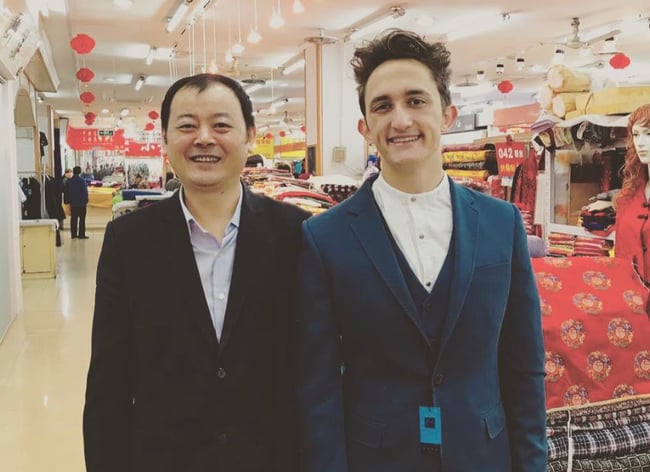 T-shirts
Find the classic China souvenir shirts with dancing pandas and scenes of the Great Wall. You'll also stumble across knockoffs of so many of your favorite brands. Instead of the $30 you'll be charged at home, expect to pay $5, or even less, if you're able to get others in your group to get a few t-shirts too. When you're buying in bulk, the vendors are always more willing to give you a great deal!
Shoes
Have a go-to favorite brand from home? Keep an eye out for them at the markets because you'll either be able to find the real deal, or a very realistic knock-off. Either way a pair of any shoes will be a lot cheaper than what you're paying at home. Plan on about $15, although as always this will depend on your bargaining skills. It is not uncommon for our volunteers to go home with twice as many pairs of shoes as they started their semester with.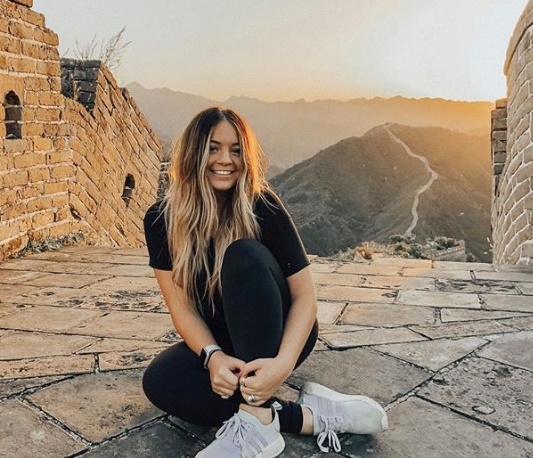 To Accessorize

Pearls
Earrings. Necklaces. Bracelets. Want a long strand? Plan on paying about $8 if you're able to get other members of your group to buy something from the same vendor too.
Watches
Double and triple check your watch to make sure it works before purchasing it, especially if it's unwrapped. A watch of decent quality could be anywhere from $5 to $15.
Jade
China is known for its beautiful jade products. Read this article to learn how to spot the differences between green glass and jade if you want something authentic. Once you know what to look for, you'll really be able to find some stunning pieces for such good prices. We're not positive on the authenticity for all places, but some volunteers paid $60-80 for a jade bracelet, about $8 for jade pendants, and $4-6 for jade earrings. The little jade rings are also a popular purchase.
Scarves
All the fabrics. All the styles. And all for about $2. If you're a scarf-hog like some of us, keep an eye out for these beauties. There are sure to be a few you'll fall in love with.
Sunglasses
Into aviators? The classy cat eye? Reflectors? They've got them all. You'll see hundreds and hundreds of pairs to choose from. As always, buy more than one pair to get an even better deal! We're talking $1, folks. Hey, they may not be the best quality but if it breaks or you loose em ... it was cheap anyways right? Stock up.
To Carry
Purses and Wallets
You'll find a huge array of knockoffs in the purse department. These range in price, but generally they will be anywhere from $5-$20. Of course the cheaper the purse, the cheaper the quality, so shop around at different vendors to see all of your options.
Backpacks
You know the cutie, colorful backpacks that everyone and their sister has at college? Well in the USA these are selling for around $80+. In China? You'll probably pay about $15 or even less if you bargain it right and buy more than one. Keep in mind these are not the real thing, so the quality is not as good and the backpacks will not last as long. But still! So many color combos to choose from, and as you can see, wearing them with your groupies makes for some pretty awesome pics.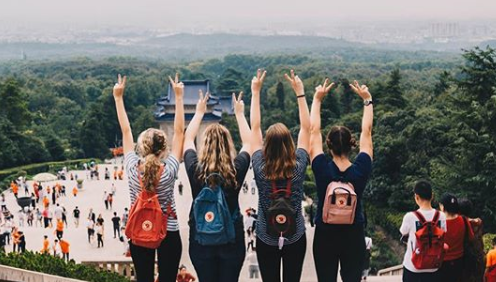 Miscellaneous
Souvenirs
These are the trinkets that will remind you of your China trip forever and ever. Chopsticks, fans, paintings, key chains with the red Chinese knot, calligraphy sets, umbrellas, panda paraphernalia, masks, and paper lanterns are sold all over the place! Bring them home for you, your family, your friends, your friends' friends, and everyone else.
Leather Goods
You can find real leather for a killer deal if you know what to look for. Many vendors will hold a lighter under a piece of their merchandise to prove to you that it doesn't melt in the heat. That is the item you want to buy! Don't let them hand you a prepackaged one that may be a different quality. And make sure you check all the zippers. Belts will cost less than $2 and bags are usually sold for less than $5.
Tea Sets
If you're visiting China for the first time, you absolutely need to come home with one of these decorative and totally usable tea sets. Whether you want an entire set (about $20), or just a pot (about $5), there will be hundreds of designs to choose from. Keep an eye out for some yummy local tea to enjoy with your pot.
Silk

Silk can be expensive, but China is the place to get silk shirts, bags, table cloths, pillow cases, napkins, decorations, and everything else you can imagine. You may even be able to find places where you can buy the silk straight from the people who made it. So lovely.
Headphones and Speakers
You're always taking a risk with buying electronics abroad, so try it out to make sure it works while still standing in front of the vendor. Plan on spending about $15-20 for headphones and only $5-10 for speakers.
Accessories for Electronics
If you're looking for cutie cases, stickers, screen covers, or any other kind of decorations for your laptops, tablets, or phones, China is THE place to get them.
And these are overall some of the cheapest things you'll find.
Make Up and Nail Polish
You know those gorgeous eye shadow pallets that sell for about $30 in the USA? Find them at these markets for about $5. Just make sure you open the pallet to check the quality of the shadows before purchasing. Interested in getting an entire set of makeup and brushes? You'll spend less than $10. And the nail polish will be as cheap as $1 per bottle. Time to stock up!
Where To Get The Best Deals
China loves a good market. I wasn't even a big shopper, then I went to China and came home with so. much. stuff. Basically it's all thanks to this huge market in Beijing, known as the Pearl Market. Get ready to buy whatever your little heart desires, this is definitely the place to shop in China.
Now it's worth mentioning that the Science and Technology Museum in Shanghai is another place to do a lot of shopping. But if you're in Beijing, the Pearl Market is absolutely the best place to be if you're looking for souvenirs and other items.
To help you out, here's the info for the Hongqiao Pearl Market:
Name in Chinese: 红桥珍珠市场,
Address: No. 9 Tiantan Road, Dongcheng District

The market is easily reached by public transport. My favorite way is by hopping on the metro. You'll want to get on Line 5, and get off at Tiantan East Gate. Use Exit B (or Exit A). From there, it's just a short walk north to the market itself.
It's near the Temple Of Heaven so be sure to check that out while you're in the neighborhood.
The market is open from 10:00 AM to 7:30 PM. Some vendors will be packing up earlier, just as a heads up. Some say the hours are more like 9:00 AM to 7:00 PM — they seem to fluctuate depending on who you ask.
Basically, think of this market as a mall, with multiple levels. Each level sells a category of things. I had always heard the word "market" and had this picture of different stalls piled up with different souvenirs. Not so much! It's really official, and looks much more like a mall. The market is broken up into four floors which helps you get around and organize where you want to shop: The ground floor is all seafood and snacks, 1st floor is all about electronics and watches, 2nd floor is for silks, clothing, purses, and backpacks. 3rd floor is for pearls and souvenirs.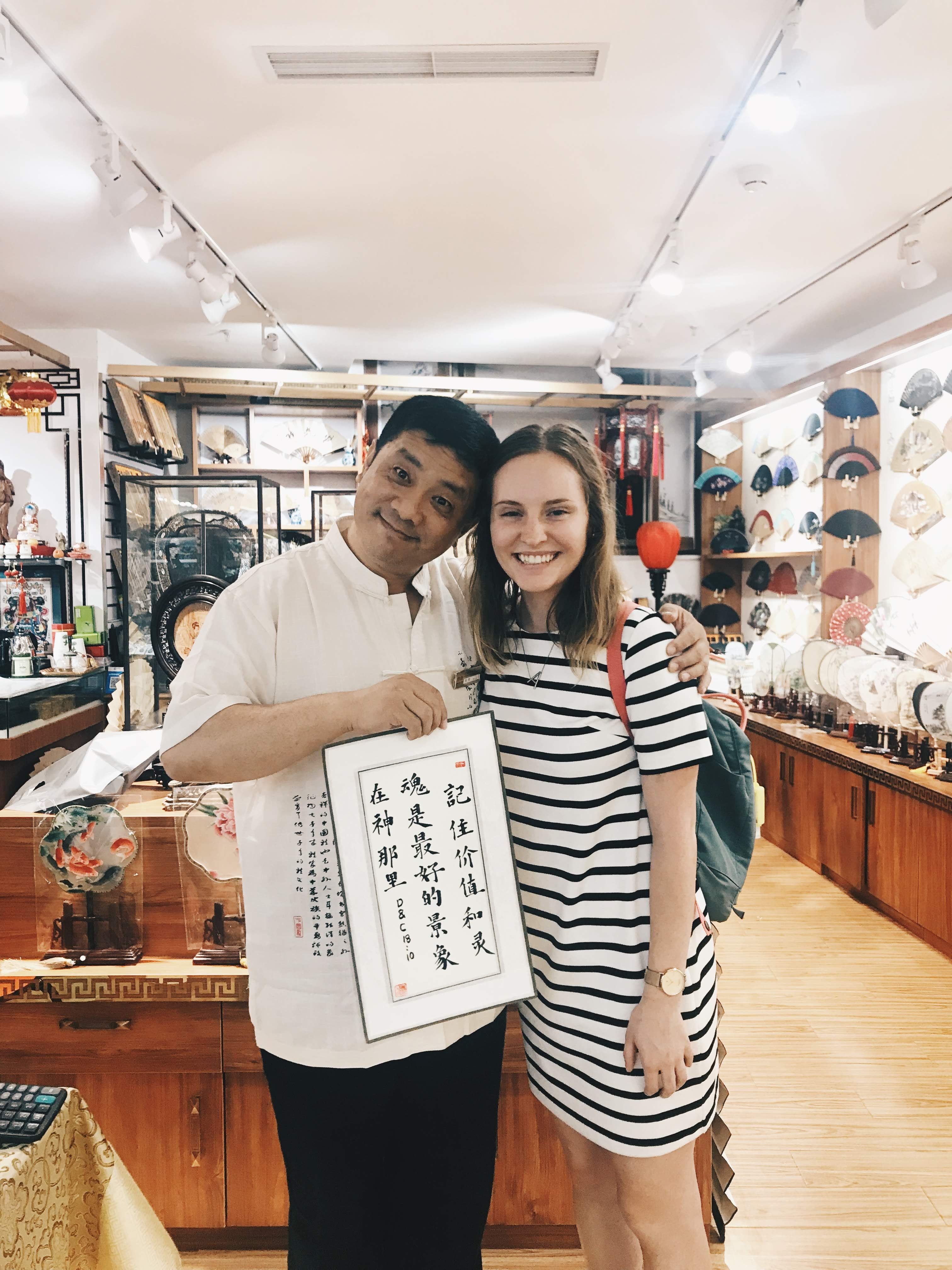 The Do's + Don'ts Of Bargain Shopping In China
Where Can You Bargain?
Do: Bargain in markets. China has a plethora of markets (we love the Pearl Market in Beijing) that are perfect for bargaining. If you're in a situation where there aren't sticker prices and when you ask about the price, and the vendor pulls out a calculator, you can totally bargain the price. Any price that's mentioned to you vocally is also typically fair game — if you ask about a purse and the vendor says something like "for you, only ____" you're good to start negotiating.

Don't: It is never acceptable to bargain at eating places or bigger businesses. If you go into Walmart (yes, China does have Walmart in some cities), don't expect them to bargain with you. It won't happen. If you see a set price in a nicer establishment, don't offend by bargaining.
Have Some Fun!
Do: Have fun. It is meant to be fun and light-hearted! They want to have fun with you, and make new friends. Treat finding a price as a little contest between you and the vendor. You'll both want to settle on a price that's good for the both of you, so make friends, and joke back and forth until you settle on something agreeable.

Don't: Take it too seriously, and don't be rude. If you offend someone you will not get a good deal (and won't score points for being a good person). The better friends you make with the merchant, the better the deal you will get.
Learn A Few Tricks
Do: Tell them you're teaching English in China and you have lived there for a long time. They will give you "the locals" price, which is about half of what the original starting price was.

Don't: Act like a tourist. Don't wear your camera around your neck or do the typical tourist thing. The more touristy you look, the less of a deal you will get (remember, you're an English teacher in China — practically a local).
Be Respectful
Do: Learn some basic Chinese. Learn the numbers, how to say "thank you" or "it's too expensive". It'll help you get a better deal (and make friends). You don't need to know any Chinese to live there, but it's fun to pick up a few helpful phrases especially if you want to make some friends with the people selling to you.

Don't: Whistle, snap or use one finger to point — it's considered rude. If you need to point at something, use an opened hand.
One Last Tip — Student Discounts In China
mentioning that you're a student can also be a way to get a discount.
You'll likely save money while buying souvenirs, but also for major attractions like discounted entrances on museums, parks, festivals, events, and other top tourist sites! Showing your student ID can mean 50% off tickets and entrances (or even free entrances) to a lot of the sites on your to do lists. Anytime you're at an entrance gate, ask for a student discount, and show your ID.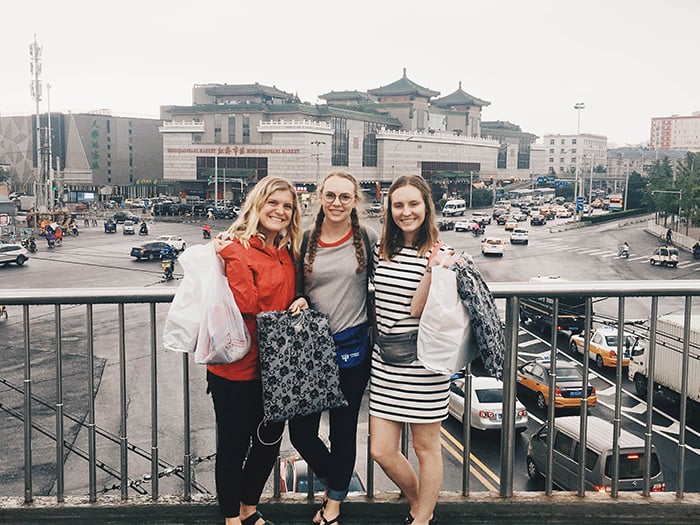 Ready to start your own adventure of volunteering abroad for a semester?
Serving abroad with International Language Programs is a unique and wonderful experience. You will not only get to travel, but will also make an impact while teaching English to some of the cutest kids. Click the button below to learn more about the process of becoming a volunteer!