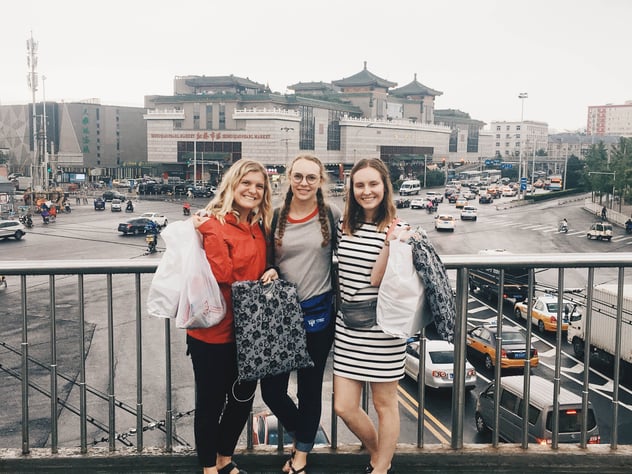 Get ready to do some serious shopping.

China loves a good market. I wasn't even a big shopper, then I went to China and came home with so. much. stuff. Basically it's all thanks to this huge market in Beijing, known as the Pearl Market. Get ready to buy whatever your little heart desires, this is definitely the place to shop in China.


---
I lived in China for a semester and absolutely loved it.
All about volunteering in China
---


Now it's worth mentioning that the Science and Technology Museum in Shanghai is another place to do a lot of shopping. But if you're in Beijing, the Pearl Market is absolutely the best place to be if you're looking for souvenirs and other items. Here are our insider tips to getting the best deals:
How To Get To The Market
What To Expect
How To Get The Best Deals
How To Get To The Market
To help you out, here's the info for the Hongqiao Pearl Market:
Name in Chinese: 红桥珍珠市场,
Address: No. 9 Tiantan Road, Dongcheng District

The market is easily reached by public transport. My favorite way is by hopping on the metro. You'll want to get on Line 5, and get off at Tiantan East Gate. Use Exit B (or Exit A). From there, it's just a short walk north to the market itself.
It's near the Temple Of Heaven so be sure to check that out while you're in the neighborhood.
One helpful hint? The Metroman App is an absolute lifesaver for navigating the metros in China. You can download the app for Android here and Apple here, but basically you can type in the metro stop you're at, and the one you're trying to get to, and it will tell you your route, how much it costs, how to long it will take to get there, etc. Very handy.
Opening Hours
The market is open from 10:00 AM to 7:30 PM. Some vendors will be packing up earlier, just as a heads up. Some say the hours are more like 9:00 AM to 7:00 PM — they seem to fluctuate depending on who you ask.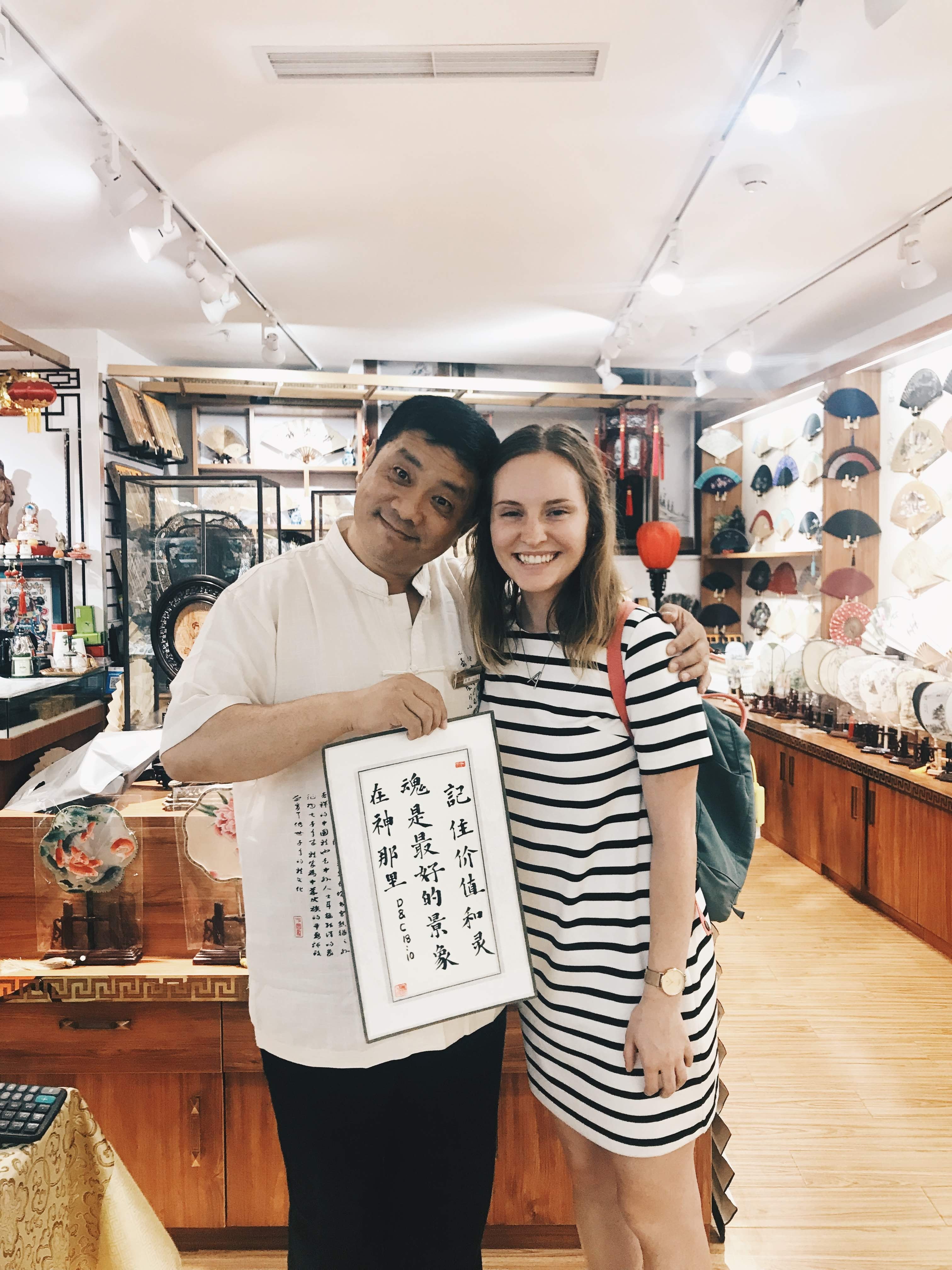 What To Expect
Basically, think of this market as a mall, with multiple levels. Each level sells a category of things. I had always heard the word "market" and had this picture of different stalls piled up with different souvenirs. Not so much! It's really official, and looks much more like a mall. The market is broken up into four floors which helps you get around and organize where you want to shop:
Ground Floor: Seafood + Snacks
While you probably won't be doing much shopping on the ground floor, it's interacting all the same. There are huge fish tanks full of fresh seafood, selling to local restaurants and hotels in the area. You'll find crabs, eels, other types of fish, along with some medicinal herbs, loads of loose leaf tea. dried mushrooms, grains, rice, etc. It's a unique grocery store to be sure.
1st Floor: Electronics + Watches
You'll find all kinds of tech on this level: camera gear, videos, cameras, headphones, speakers, phone chargers, webcams, memory card, external hard drives, projectors, DVD players, and other electronics. Just so you know, I wouldn't spend my money on the electronics at these markets. They tend to either not work in the first place, or will end up not working within a few days (tops).
You'll also find a huge selection of watches, too.
2nd Floor: Silk + Clothes + Shoes + Purses + Backpacks
This is probably where you'll spend most of your money. There are so many things up on this level. China's known for silk, so you'll find ties, dresses, skirts, shirts, and more made out of the silky fabric, but you'll also find so many shoes, imitating brands you love. You can also find socks, jeans, coats, boots, dresses, shirts, tailors who'll take your measurements and make you a suit, sport jerseys, and more.
Oh, and the bags. If one vendor doesn't have the bag you're looking for, keep walking — there are tons selling all different sizes, colors, and brands.

This floor also has a small section of Arts and Crafts and supposed Antiques where you can find posters from China's Cultural Revolution and other propaganda material. There are also imitations of pins, traditional art, ceramic swords, uniforms, and other relics from the Qing Dynasty.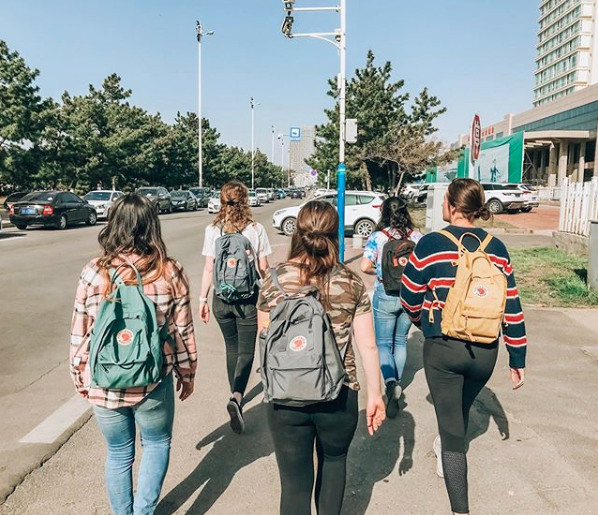 3rd Floor: Souvenirs + Pearls
The third floor is split into two sections, one for tradition souvenirs, and the other for pearls.
The souvenir section has what you may want to bring home to friends and family. You'll find chopsticks, painted fans, little figurines, silk brocades, ornaments, porcelain, tea sets, lanterns, etc.
Into jewelry? You'll love the pearl section of the third floor. This market is arguably the best place to purchase fresh water pearls. You'll find dozens of traders sporting necklaces, earrings, bracelets and more, all made out of pearls. They have black pearls, ones as large as a penny, others lined up in tiny rows — it's pretty mesmerizing. The bulk of the vendors are selling pearls but you can also find other precious stones like amber, jade, and diamond.


How To Get The Best Deals
Know How To Bargain
So the prices here are completely negotiable. The vendors know that some tourists waltz in here and pay full price or just get a 10% discount, but as an ILP volunteer, you can get way lower prices if you have a couple of tricks up your sleeve.

First off, you're going to want to know how to bargain. Letting the vendor know you're living in China is a big plus so don't be afraid to mention it. Most vendors will speak quite a bit of English which makes it easy to have a little conversation and get friendly with who you're trying to buy from.

If something costs 100 yuan, offer 10. You can always go up on your initial offer, but you can't ever go lower. Offering a price that is so much lower than the asking price might feel unfair, but it's not — it's how the bargaining game works. They are starting with a high price because they're assuming you will ask them for a lower one. The idea is that you'll go back and forth but eventually meet in the middle at a price that's fair for everyone. Don't worry, no one will settle on a price that makes them lose money, so it doesn't hurt to ask for a lower price (a much, much lower price). If you're anything like me, you'll be really surprised by how much lower they're actually willing to go.
If you state a price and the vendors immediately agree, you said a price that is too high. It's all trial and error, so just keep practicing. You can add on another item (like two backpacks ... or three backpacks) for that "high" price, or walk away and test out a lower price with another vendor.
If a vendor won't go for your asking price, then walk away. If they let you go, you're probably going too low. Use that information for the next shop because you absolutely will see the same item again somewhere else.
Buy In Groups
You'll get cheaper prices when you're buying multiple items from the same vendor. So, it works to your advantage to be shopping with friends who are also buying something. The vendors will be happy to be selling to so many people and you can get better deals by mentioning that you have others in your group who will also buy from a particular vendor for a good price.
Ask About The Quality (But Don't Expect Quality)
First, we should make this clear. You're going to run into knock off after knock off at this market — You're not going to be buying the real thing, even though it may look like the real thing. Some products aren't as well made as other though, so you'll want to shop around.
Because items are most likely made as cheaply as possible, don't have high expectations. My rule of thumb was always, if this breaks tomorrow will I be devastated that I paid as much as I did? That worked well for me because half the things I bought actually didn't last for more than a week. But other things lasted for years, so just know that going into it.
That being said, some items are more of a rip-off than others. For purses, ask for the vendor to get the leather wet, check the zippers, look at the details like missing stitches and other flaws. If there are flaws that you don't mind, you can likely get a cheaper price by mentioning it. For shoes, check the heels and the arches. Electronics are always a gamble and might work at first, but won't really last long. I basically just avoided electronics altogether because the prices are typically higher and personally I wasn't willing to risk that much money.
I also like to do my research on an item I'm really interested in. I went to China wanting to buy this really cute backpack that comes in all sorts of colors. I found them in Beijing, and made sure the the zippers worked, and there was a semi-water resistant lining on the inside. I also made sure the emblem on the front was reflective. I ended up finding a pretty good backpack for a fraction of what I have seen other places.
My suggestion? Don't pay a high price for something thinking that that equals better quality. There's not a return policy here, so just remember the motto "if the zipper breaks or this shirt stretches out, I got it for such a low price that it's not really that big of a deal".
Always Have Small Change
Pro tip! If you only have a 100 yuan note, it's going to be very hard to convince a vendor to lower the price to 40 yuan ... and give you back change. Have small bills so you can pay the exact amount and not worry about change. It's a technique to pull out the exact amount (let's say 40 yuan) and show it to the vendor to let them know that's all you have for this product.
Have Fun!
Don't get offended or stressed that you're getting a bad deal. It's not fun for you or the people you are buying from! In addition, the salespeople work with each other all day, every day and most of them have family members and good friends in other booths.
If you're rude, don't expect good business from that vendor or any of their friends or family. It's common for tourists to come in defensive because they're expecting that the vendor is trying to rip them off. Not so! They're trying to get the best deal they can, yes ... but that doesn't mean every vendor is out to get you. Bargaining is supposed to be fun — be direct, confident, kind and don't let it get heated!
Want to live in China and shop till you drop?
Come volunteer with ILP! International Language Programs sends college-aged volunteers abroad to teach English in places like China, plus you'll get weekends and vacation time to see even more of this country.