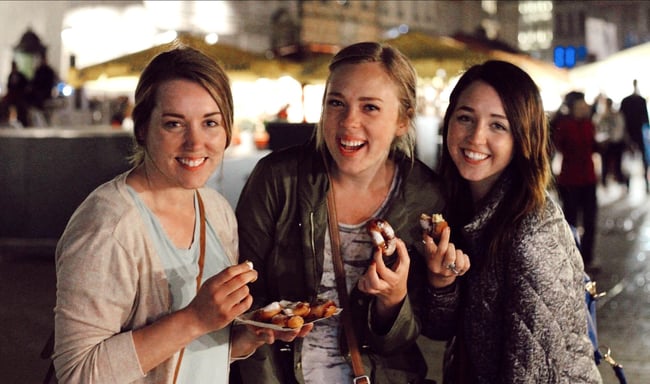 It's no secret that one of the highlights of traveling is food. So this guide to Montenegrin dishes is for all the foodies out there! Here's what you can expect to eat while visiting this beautiful country.
There are so many things about Montenegro to fall in love with — which is why we're all smitten! But the food? Now that might be near the top of the list. And whether you're visiting the Bay of Kotor, or Budva, or anywhere else in this country, you'll be able to enjoy our favorite treats while exploring as many of Montenegro's streets and hidden gems as you can!


---
Want to volunteer abroad?
See what volunteering in Montenegro is all about.
---

Montenegrin cuisine has been largely influenced by the traditional dishes of many neighboring countries. As you browse the shops, cafes, food stands, and restaurants, you'll see a lot of dishes from Greece, Italy, the other countries in the Balkans, and even the Middle East. Many of Montenegro's specialties are very fresh and simple, cooked with lots of olive oil, while others are so decadent and rich, your tongue will be tingling after just a few bites.
If you're one of our volunteers who is living in Montenegro for a semester, then you can plan on eating lots of Russian food as well since you'll be teaching in a Russian school. Check out some of those traditional dishes! But outside of the school, you'll also get to enjoy the local fare. Here are some of our favorites:
Popular Montenegrin Food You'll Eat
Savory
Sweet
Popular Breakfasts
Savory
Seafood
If you love seafood, then Montenegro will be paradise! If you're anywhere on the coastline (like in Budva where our volunteers get to live), then any seafood you eat was probably caught that day. It's so fresh you'll still be able to smell (and taste) the sea!
Calamari is especially popular here, and is served in many different ways: grilled, fried, hot, or cold. No matter how they're prepared, the calamari pieces are always very flavorful. Octopus is also a staple, and you can even find places that serve the whole thing—all eight tentacles. Other popular dishes include prawns, lobster, tuna, etc. You really can't go wrong in the seafood department, no matter what you order!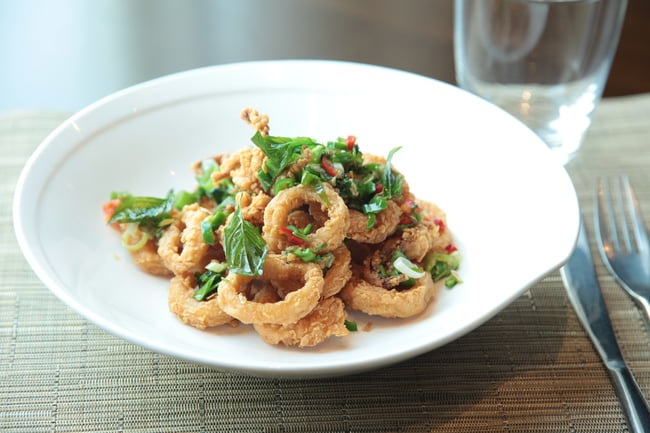 Black Risotto
This yummy dish is served all over the Dalmatian Coast! Get this — the risotto is totally normal, but the black color comes from cooking it in squid ink. If you're up for the experience of tasting this deliciously creamy risotto, it's definitely worth a try. But, if it scares you a little, then get the seafood risotto that's cooked in tomato sauce instead!
Pljeskavica
If you don't love seafood, don't worry! You'll also find plenty of red meat here too. Most often it's minced and served like a burger patty, but without a bun. Often you can order them with fries and even pita bread!
Adjvar
Speaking from personal experience, this might be one of the best local specialties you'll find! It's a tomato and red pepper paste that is meticulously prepared, then served as a savory spread on bread and crackers. The perfect snack or appetizer!
Prosciutto
Although tourists tend to think of these thin slices of ham as an Italian specialty, they're listed on almost every menu in Montenegro. Prosciutto ham is smoked in a mountain villiage, Njeguski, about 30 minutes from Budva, giving it a unique flavor.
You know the charcuterie boards that are becoming more popular in the United States? Well, Montenegrins love them! And since their cheeses are just as much of a delicious specialty as their prosciutto, you can imagine how amazing these are together! On these platters they also include nuts, grapes, olives, dried fruits, and bread to create a mouth-watering mix of flavors.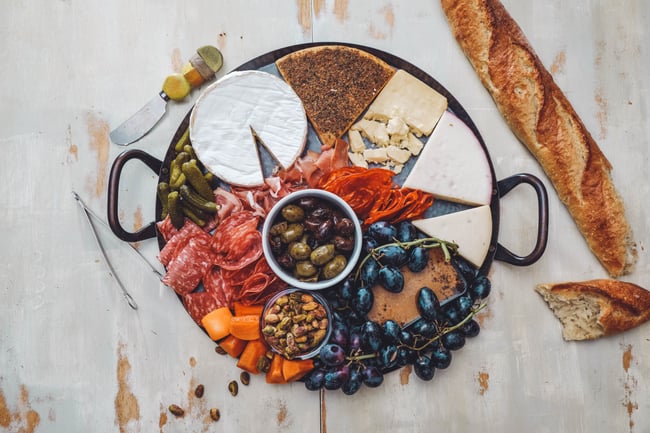 Njeguski Steak
Kind of like the Montenegrin version of France's chicken cordon bleu, but with pork steak! The inside is stuffed with cheese and ham, while the outside is often breaded and fried. It's usually served with fries and veggies. So delicious!
Sopska Salad
Made with diced cucumbers, tomatoes, onions, peppers, and cheese, this salad is so fresh and yummy! In Greece and Albania, they serve the same thing with crumbled feta on top, but in Montenegro they use a stringy, shredded, white cheese.
Sweet
Baklava
This sticky, flaky, gooey, oh-so-heavenly pastry is very popular in Turkey and other Middle Eastern countries, but we are so grateful the people of Montenegro love it too! With paper-thin layers of crispy pastry dough, chopped nuts, honey, cinnamon, and syrup, this is one of the sweetest desserts you'll ever taste!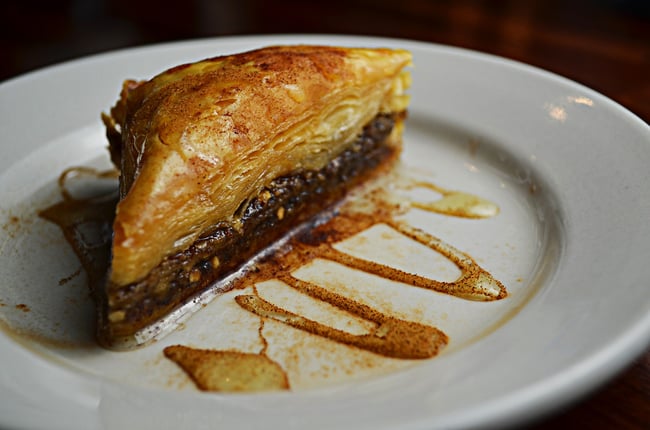 Gelato
Can't forget about one of our favorite European treats! And the quality of the gelato in Montenegro will leave you feeling like you're actually in Italy. Some of the gelato makers have even gone to Italy to learn exactly how to make the authentic stuff, and then return home to recreate it. Maybe you need to have a scoop every day? No judgement here.
Palačinke
Every country needs their version of a traditional crepe, and this is Montenegro's! No need to fly all the way to Paris when you can get them right here, filled with Nutella or jam. Of course you can find savory ones as well, filled with sour cream, veggies, ham, and/or cheese. The biggest difference is that while the French fold their crepes into signature triangles, the ones in Montenegro are rolled up tight like cigars.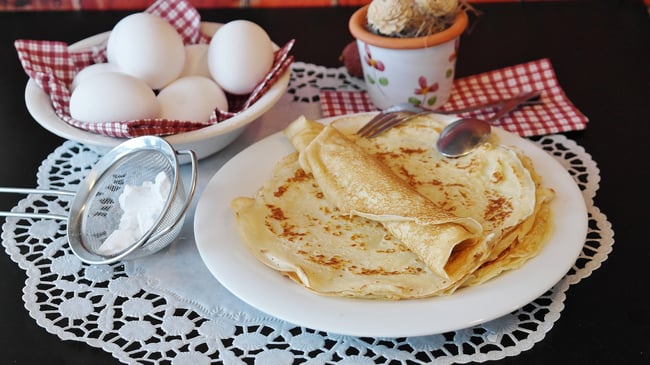 Krofne
These big, airy buns are a lot like donuts, filled with Nutella, jam, cream, or custard. It's like Montenegro knows everything we love! Not mad. Might have to get a whole basket full.
Pomegranate Juice
Ever had this before? Well, it's a staple in Montenegro. The locals wait for the fruit to get really ripe, then they make a sticky syrup with the little kernels. When ready for a glass of fresh, sweet, and somewhat tart juice, just add water!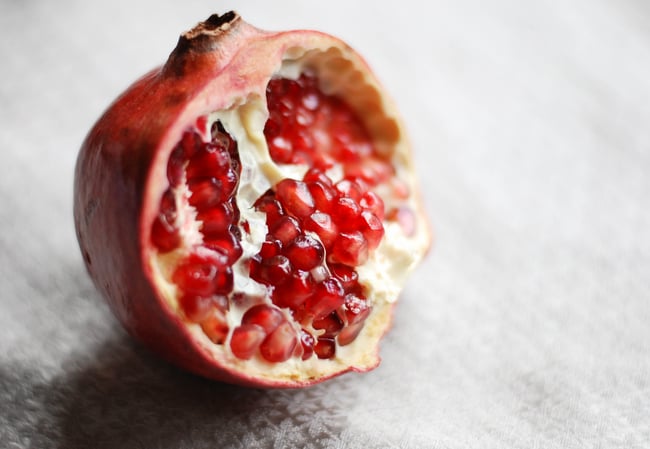 Popular Breakfasts
Burek
This is a very popular pastry, usually filled with cheese, spinach, and minced meat. They come in all different shapes and sizes, and you can purchase them at food stalls, restaurants, and bakeries. They're basically Montenegro's version of "fast food." Although they are usually eaten for breakfast, they make the perfect snack for any time of day!
Hemendeks and Bekendeks
You'll see these two menu items all over the country, and the trick to knowing what they are is to say the name nice and slow. Hem-end-eks is actually just ham and eggs! And you guessed it—the bek-end-eks is just bacon and eggs!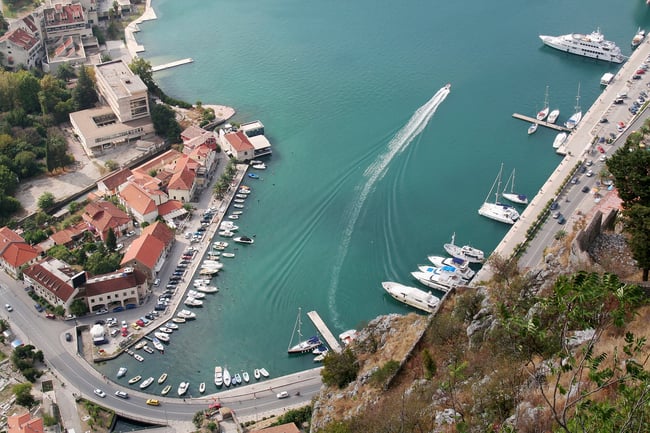 Want to know more about what a semester volunteering with ILP will be like?
You probably have a lot of questions, and we get it! So did we!
Click the button below to learn about some of the basics you can expect
during your semester abroad.