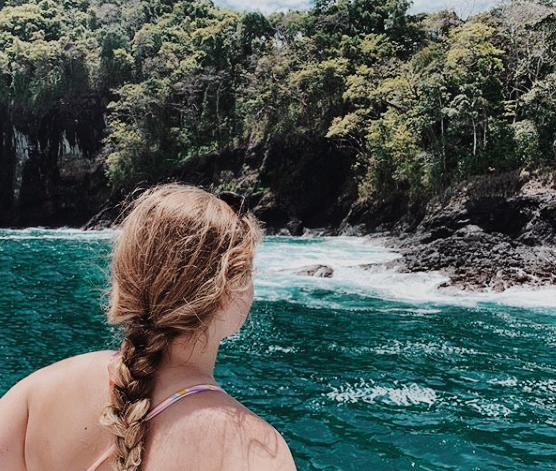 Seeing these big beauties up close is something everyone headed to Central America needs to add to their bucket list.
The first time I went whale watching, I was kind of going along just for the ride. I was mostly there for the snorkeling part of our excursion but didn't think I would love the whale watching … but turns out, it was my favorite part of the whole day. Our guide scouted out a small pod of whales and watching the waves slowly rock our boat I realized I was holding my breath, just waiting for one of these whales to crest to the surface.
The minute I saw a huge fin, then an enormous tale suddenly slide out of the water and back down again, was mesmerizing. I was completely hooked on the suspense and the idea of these enormous whales just swimming around below the ocean's surface, glad that I could see a peek at how huge and beautiful they are.


---
What other adventures are waiting for you?
Central America Destination Guide
---
For our volunteers living in Costa Rica and Nicaragua, whale watching is a huge part of the pull of why you'd want to visit these countries. Some of the greatest whale watching around happens right there making it easy to take a trip out and see these giants for yourself. To help make your trip a success, here's some info you should know:
Where To Go Whale Watching?
Nicaragua
The best place for a whale-watching tour is out of San Juan Del Sur, a popular beach found on the western side of the country (and one our ILP volunteers already love visiting on a weekend!).
Every year, Humpback whales migrate past this part of the world to breed (traveling over 5,000 miles!), letting you get a good glimpse at these huge giants and their babies if you get lucky. Humpback whales are known for "tail lobbing" which gets you that iconic picture of whale watching, with a huge whale tail peeking out above the ocean waves to smack the surface of the water. Pretty lucky that one of the best whale-watching spots ever is just a bus ride away to a favorite beach.
Costa Rica
Out of all the beaches in Costa Rica, Uvita is hands down one fo the best places for whale watching.
The Marino Ballena National Park was created to protect the waters around Uvita to help the whales (and other marine animals) who live there. Whales are kind of what Uvita is famous for — how fun for our volunteers living in Uvita! Read more about the Ballena Coast here. The most popular whale to see in Uvita are Humpback whales.

Best Times Of The Year + Booking A Tour
Nicaragua
November to April is your best bet, but the peak whale-watching season is typically from December/January to March (perfect for our ILP Spring volunteers). While Humpback whales are the most frequent type of whales around San Juan Del Sur, sometimes you can also see Blue whales.
+ Booking A Tour
For booking a tour, our ILP volunteers in Nicaragua are at a total advantage. Whale watching is a huge industry in neighboring Costa Rica, but it's still a bit of a local secret in Nicaragua. What that means for you is you'll be able to book tours with lower prices if you come whale-watching in San Juan Del Sur. A few companies have tours advertised online (Surf Camp is one, with 4-hour whale watching packages for $40, for eight people during December to March) to give you an idea.

You can also talk to your hostel. Hola Ola hostel is a favorite place volunteers like to stay at, and they offer a whale watching excursion on a 12 foot boat, for $40 (it's a three hour trip). Other hostels in the area often have connections with fishermen and captains who can take you out whale watching.

During peak whale watching season, you'll be able to find vendors along the boardwalk advertising a trip out on their boat, or talking with your hostel about booking options is also very common.
Costa Rica
December to March/April, then from July to November/December (so most of the year in Costa Rica).

In Uvita, the peak whale watching season is in August and September (sometimes part of October) where there's actually a whale watching festival that has daily tours at multiple times to take tourists and locals out for some whale watching (Perfect for our ILP Fall volunteers). You can check this Facebook Page for updates.
+Booking A Tour
Our ILP volunteers in Uvita have done whale watching a couple of different ways. A Fall semester group talked with their Local Coordinator to get discounted tickets for a 2-hour whale watching tour in September, for about $35 a person. Another group went on a whale watching and snorkel tour out to Cano Island, just off the coast of Uvita (their Local Coordinator also helped them out with that, helping to get the cost to $70 per person). The tour included snorkeling and swimming as well, and that group of volunteers saw whales, sea turtles, flying fish, sting rays, and dolphins on their excursion.
There are loads of tour operators you can also book with. Bahia adventures has whale-watching packages ranging from $78 - $90, Villas Rio Mar has a nice $80 package that includes snorkel gear along with fruit and water, just to give you an idea of what prices are like.

A Few Suggestions
Bring Anti-Nausea Medicine
Even those who said they don't get seasick got seasick on a whale watching trip. Best to pack up some anti-nausea medicine or take along a seasickness pack (or ginger chews) to help in case you start to feel nauseous on your boat ride. Even when the waters are calm, the boat can rock back and forth with the waves — especially if you're looking straight and trying to focus your camera, it can make you nauseous even on calmer days. This is something volunteers pointed out especially if you're taking a boat trip to Cano Island, in Costa Rica. The waves tend to be bumpier out there, so you'll want something to settle your stomach.
Keep An Eye Out For Dolphins
Your boat tour will help point out any other animals they see while traveling out into the ocean to find whales, but keep an eye out for dolphins! They often like to hang around the whales and swim alongside your boat.
Nature Is Unpredictable
Since this isn't a zoo, there's not a 100% guarantee you will see whales (or any other animal) on your whale watching adventure. Your chances are much higher if you go during the peak season, but our advice is just to go into your boat trip with no expectations. Because Nicaragua and Costa Rica are countries where Humpback whales migrate to to breed, you have a high chance, but just know it's not a guarantee. Some volunteers opt to go with a tour company who also visits a beach or a snorkel spot along the way, so just in case no whales show up for your boat excursion, you also get the chance to see some other things in the waves.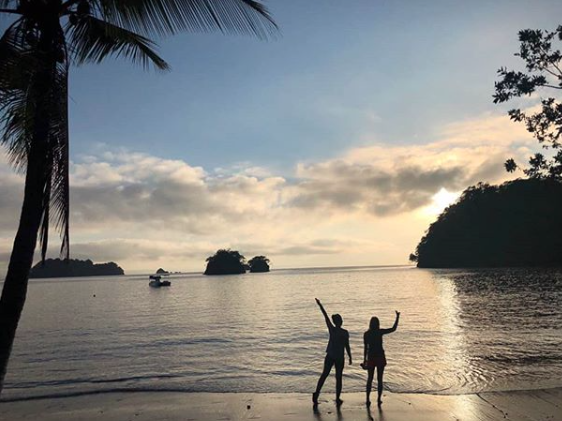 Central America's adventures are waiting for you
Come live in Nicaragua or Costa Rica for a semester! ILP's a service based travel program where volunteers live abroad for a semester of teaching English and exploring all the adventures found in this part of the world. You'll be teaching part time and exploring part time, with weekends off and vacation days to make sure you have time for whale watching.