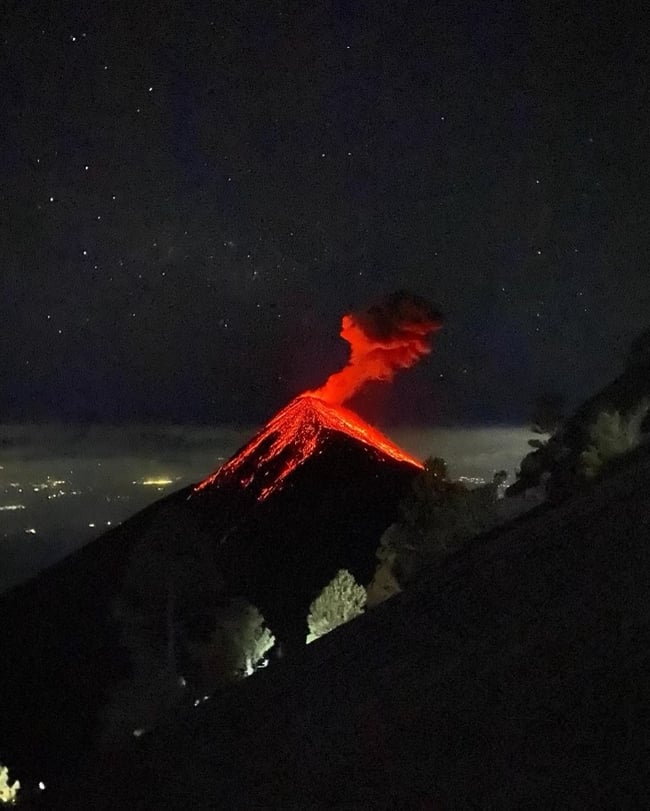 Seeing lava erupt out of Volcán de Fuego may be the most epic hike you can take on an ILP vacation!
Okay, so we've been seeing some pretty incredible vacations from our ILP volunteers in Central America. Not only are they soaking up day-to-day life in places like Costa Rica, Nicaragua, and Mexico, but they're also taking vacations to places like Guatemala.
Since ILP volunteers are living abroad with a part-time schedule teaching English, that leaves weekends and vacation days to country hop, to tackle things like hiking the Fuego Volcano on an epic overnight hike. This is a very popular addition to your Guatemala itinerary, which is why we've pulled together some hints and info so you can easily add it to your trip!


---
Wondering how that's all possible?
All about volunteering with ILP
---

Alright, we're doing a deep dive into this popular hike but feel free to use the little mini menu below to hop around the topics: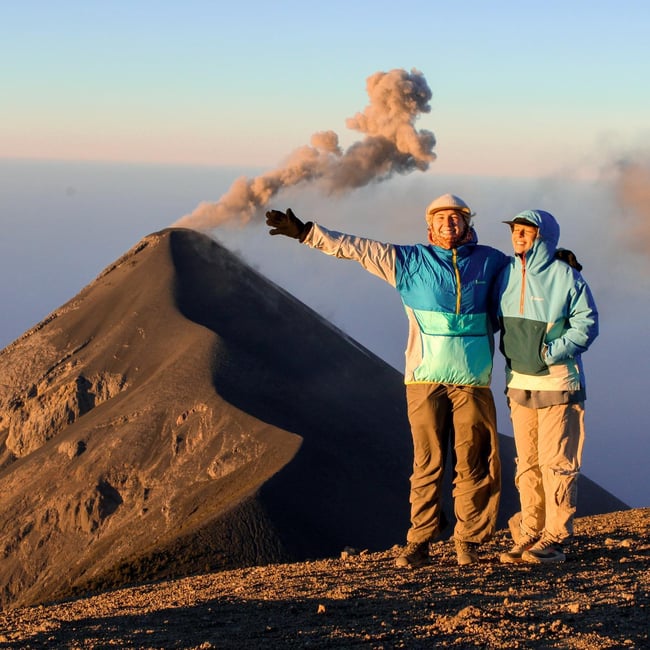 A Bit About The Fuego + Acatenango Volcanos
First off, understand that there are several volcanos in Guatemala. We're focusing on Fuego, the country's most active volcano. Due to the spewing lava and shooting flames, it's not this volcano you're hiking. Instead, hiking a nearby volcano (the inactive Acatenango volcano) is the way to get the best views of the stunning Fuego volcano, and the small eruptions that can happen as frequently as every 15-30 minutes. Due to the eruptions, hiking to the summit of Volcan De Fuego isn't an option (though you can hike to the saddle if conditions are right — more on that later).
Both volcanoes are located west of the capital (Guatemala City), close to the colorful town of Antigua. Antigua serves as a great base for this hike (more on that later).
We have more details about what the Acatenango volcano hike is like so you can set proper expectations, as well as some tour connections ILP volunteers have used in the past.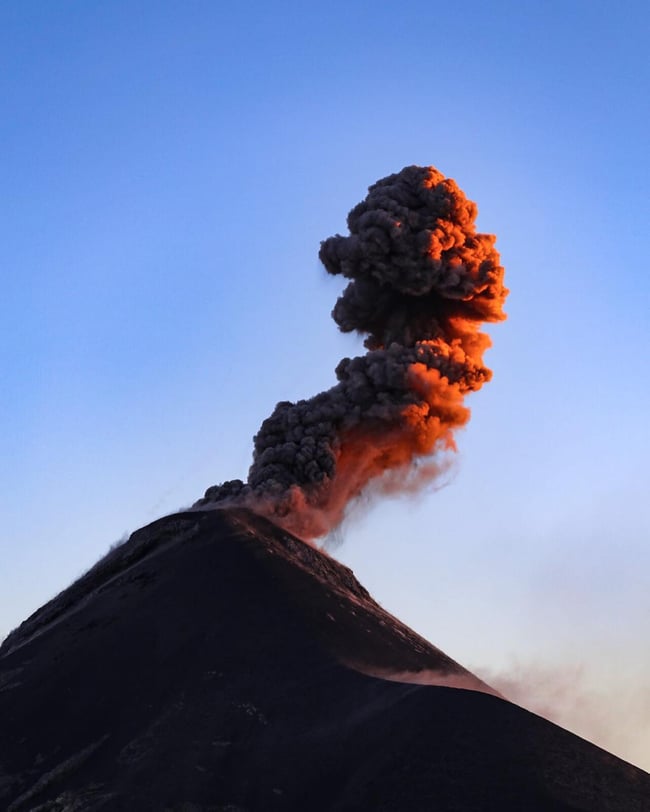 Hiking Options
A Little Intro
There are several hike options for hiking Acatenango to get views of Volcan De Fuego. Some hikers opt for a longer hike to get the best chance of seeing an epic explosion — sometimes, eruptions are as frequent as every 15 minutes, but sometimes are more spaced out (every 30 - 60+ minutes). The most dramatic lighting is at night, when there's an eruption that shoots red hot lava into the inky black sky. A friend of mine preferred a 2-night trek so there were two opportunities for pictures like this on the hike.
However, most ILP groups are going with a 2-day, 1-day hike, though there are day trip options if you're looking to squeeze this into a shorter trip. If you're going on an overnight option, you will likely stay at the base camp for the night and make a sunrise summit (the views are amazing). The Acatenango has the best, most direct views of the Fuego volcano so it's a good place to camp out and watch the eruptions.
Going With A Guide
Going with a guide is mandatory, which means it's a popular option for local tour companies in Antigua. ILP volunteers in the past have hiked Acatenango with tour companies like OX Expeditions, Soy Tours, and Antigua Tours.
Prices range depending on if it's a 1-3+ day excursion and how many people are in your group (some tour companies give group rates which works great with your ILP group). If you're staying overnight, some tour companies supply camping gear (tents) while others have basic cabins at the base camp for you to stay in. There is a 100 Quetzales entrance fee for hiking Acatenango, which may or may not be included in your trekking package (that's something to ask about so you're prepared either way).
What Is The Hike Like?
This is a challenging hike, but there are some options to consider if you're wondering about the overall distance, challenge, and your fitness personal level. As outlined, you have the option to hike just to base camp or summit. There may also be an option to hike to the Volcan de Fuego saddle — all of that ends up being 10-13+ hours of hiking and is the most challenging option.
For the easiest route, just hike to the base camp (this is by far the easiest, most achievable option), or skip the Fuego saddle and push yourself to the summit. Remember, the base camp has the best views of the erupting volcano, so some say you're seeing the best part even if you just do this part. On your hike, plan on hiking uphill on dirt paths with a pretty steep grade. You're first hiking through local farmlands and the jungle (with hot and humid temperatures). Things level out a little bit and there are some local stands where you can purchase a drink or little snack while you hike. That pretty much describes the hike to base camp.
Adding on the Fuego saddle and sunrise summit do come recommended.
The Fuego saddle is steep and sandy (and comes after you already hiked all the way to base camp, but being so close to the eruptions means you can feel the earth rumbling below you). The Acatenango summit is uphill with some sandy, slippery trails (again, done after hiking to base camp) but boasts incredible views.
In any case on this hike, you're tackling a lot of elevation. Acatenango tops out at 12,262 feet (even base camp is around 11,000 feet). The altitude means steep inclines while hiking with the added challenges of breathing in less oxygen with every breath. Some hikers recommend acclimating for 48 hours in Antigua (especially if you're coming from sea level) before hiking to help you adjust to the change in altitude.
Your tour company may have alternative options if you're worried about your strength and stamina on the hike. Sometimes, porters are available to hire who can help carry your gear (around 150 Quetzales).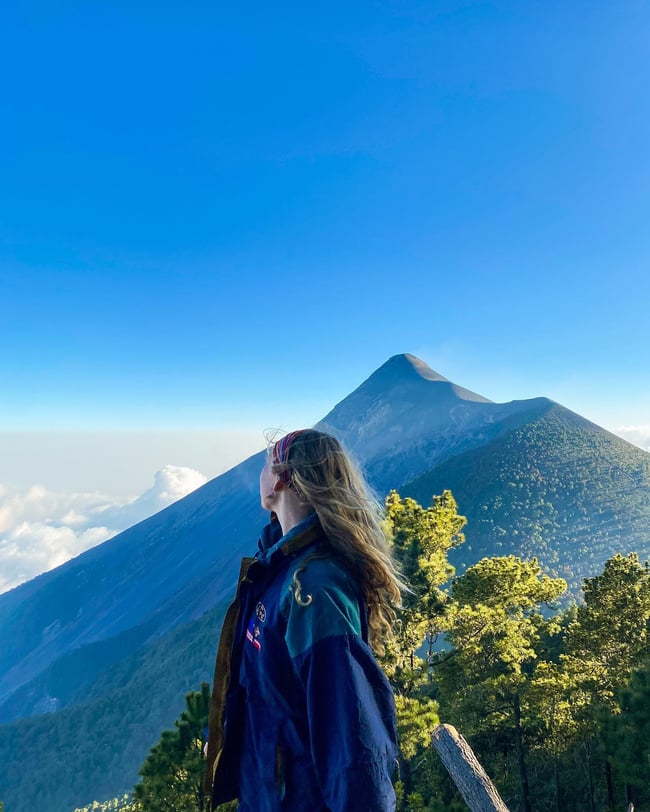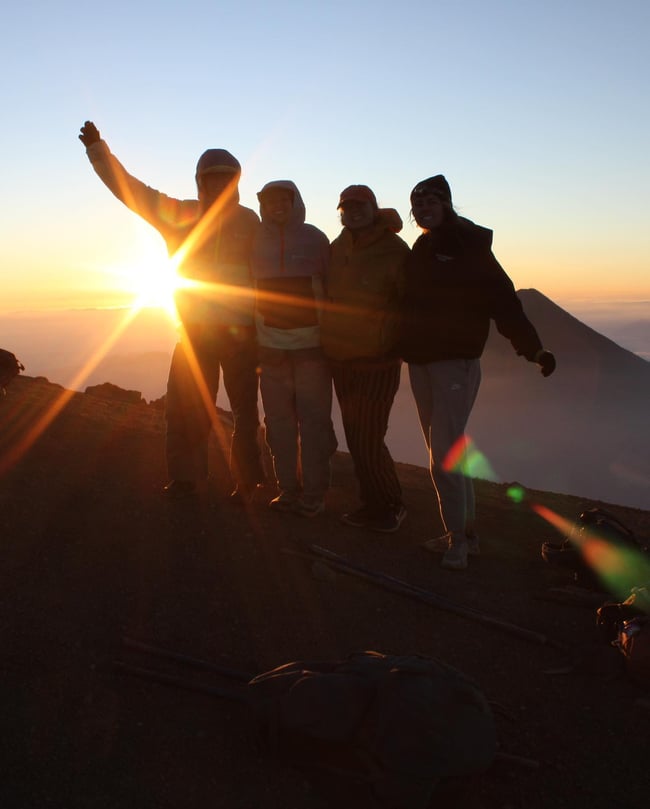 Some Things To Consider
Start In Antigua
Both volcanoes are easily accessed by Antigua, a popular vacation spot for ILP volunteers. There's a ton to see in Guatemala, but most volunteers spend a couple of colorful days in the bright and vibrant city of Antigua and some time at the nearby Lake Atitlán, a glittering retreat you won't want to leave. Here's a guide to that kind of trip to Antigua and Lake Atitlán.
Fitting This Into Your Itinerary
Most ILP volunteers spend at least 3 days in Antigua to explore the city and make the hike, and then tack on a day or two for an excursion, like Lake Atitlán. Spending 3 days here is going to be the shortest timeframe to make this possible, but most recommend at least 4 days for the hike and time in Antigua, and more like 5 or 6 days to explore Antigua, do a volcano hike, and then head to Lake Atitlán. That's especially true if you're considering the 2-day, 1-night option (or longer options).
Pack (Or Rent) The Right Gear
We touched a bit on the climate conditions on this hike but you'll want to have all the gear to make this hike as comfortable as possible. Many tour operators have access to the proper gear, whether it's included in your package or available for rent or purchase. Hikers recommend having the following gear:
Layers: Temperatures can dip below freezing and sections of the hike are very cold and windy.
Raincoat: If you're hiking in the rainy season (June through September), packing a raincoat or poncho is recommended.
Snacks, a power bank, and plenty of water: Meals are typically included in your tour package, but groups recommend having extra snacks to eat while hiking to keep your energy up. Bring a power bank for your phone and plenty of water.
Headlight: A few ILP volunteers recommended bringing your own if you think about it (some provided by tour companies weren't particularly strong or sometimes had weak batteries).
Shoes: You'll want to bring sturdy hiking shoes that can handle the terrain.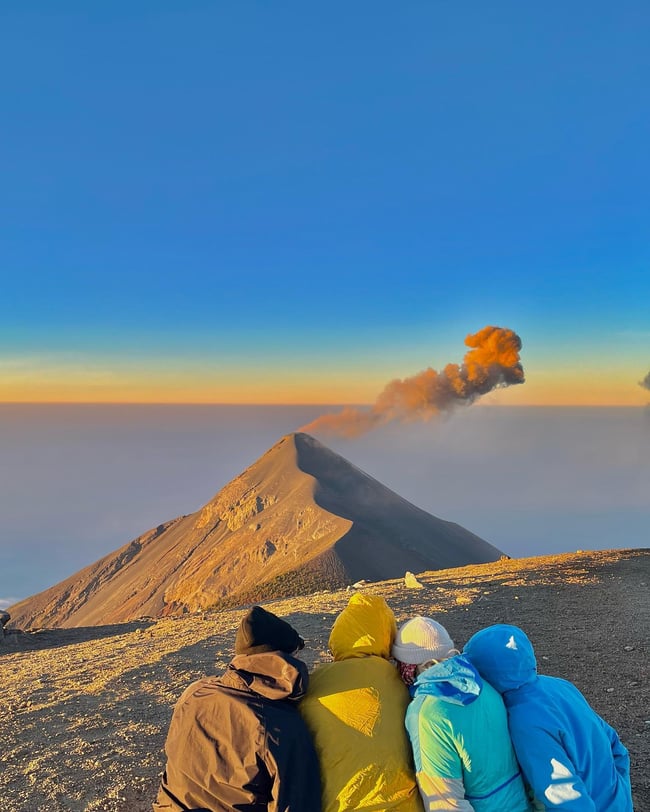 This might be what you're looking for
If you're into a semester full of adventures and the opportunity to make a difference, ILP might be perfect for you! Come join a group of volunteers, plan fun vacations, and make a difference by teaching English. There's no experience necessary, with tons of support and help along the way. Get more info, right here: