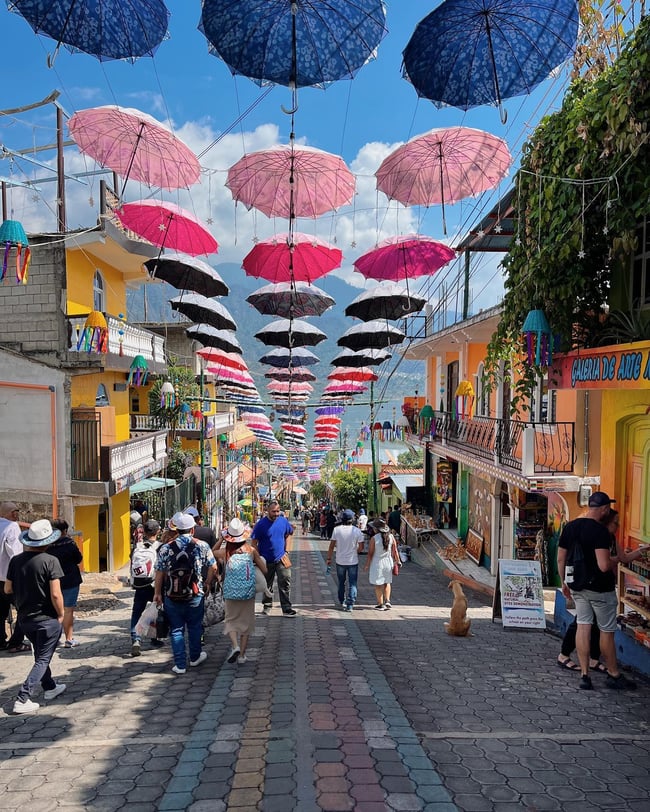 Stay in a lakeside bungalow, admire the candy-colored city, and soak in the vibes of this whirlwind weekend trip.
Are you ready for a semester of traveling? You can pack so much into your ILP semester abroad — just look at this group from Mexico! After spending vacation time and weekends seeing all the highlights in Mexico, they also made time to hop over to see another country, too. They took a short flight from Mexico City to Guatemala and had the most perfect little long weekend trip.
When you're an ILP volunteer, you're only spending part of your time teaching English or helping in the orphanage program, then the rest of that time is yours. You also get every weekend off, plus vacation time to really see it all ... including Antigua + Lake Atitlán in Guatemala.


---
What's this about a semester traveling and teaching English in Mexico?
---

There's a ton to see in Guatemala, but this post is about spending a couple of colorful days in the bright and vibrant city of Antigua and some time at the nearby Lake Atitlán, a glittering retreat you won't want to leave. Here are the details for planning your own trip here:
Don't Miss This In Antigua
A Little History
The history of this place is fascinating — just hear me out. The city of Antigua (or La Antigua) used to be the hub of Guatemala, serving as one of the splendid capital cities the Spanish set up in the 16th century. This used to be named "Santiago de los Caballeros de Guatemala", aka, the original Guatemala City until a massive earthquake decimated most of the city in 1773. The capital was then moved to what is now Guatemala City, with orders to abandon the earthquake-destroyed city. Many people left, but some stayed, turning this once-bustling city into a quiet town in the ruins. It slowly gained more residents and attention (partly due to an interest in restoring the colonial architecture found here) and in the 20th century, was renamed Antigua Guatemala, or Old Guatemala ... it's now just referred to as Antigua. In 1979, the city was established as a UNESCO site and is the bright, colorful, city you see today.
Take A Walking Tour
I bet you can guess there are some buildings to admire while in Antigua, right? Much of the architecture dates back to the 17th and 18th centuries, with a heavy lean into the style of the Italian Renaissance. The city is very walkable (most of the sites tourists see are in a small radius you can walk across in about 20 minutes). The sidewalks are narrow, with busy streets whizzing by you in some areas, so watch your footing and surroundings as you photograph the bright colors of Antigua.
We've pulled out some of the city's most impressive highlights below to see if you're just here for a day or two:
Catedral de Santiago — Though the church was heavily damaged during the 1773 earthquake, portions have been rebuilt, letting visitors admire from the outside (or inside, after paying a small fee). It's one of the most impressive in the area. Find it here.
Iglesia de La Merced and La Merced Convent — Bright yellow and covered in decorative molding, this landmark is hard to miss. Find the ruins of the Merced Convent next door. Find both here.
The Santa Catalina Arch — This iconic yellow archway frames a view of the Angua volcano and is a must-stop on your mini tour of Antigua. As a fun aside, this archway was constructed for cloistered nuns to travel between the convent and nearby school, without being seen. Find it here.
The Views From Cerro de la Cruz — Found just outside of the city, this hilltop viewpoint gives you a gorgeous look at the city of Antigua (and the nearby volcanos). This view is blocked on rainy or hazy days, so keep the weather in mind before heading out. Find it here.
Want to see more? You can find walking tours in the city, and several resources online. Here's a free walking tour that highlights a few more areas than listed above, though there are others around!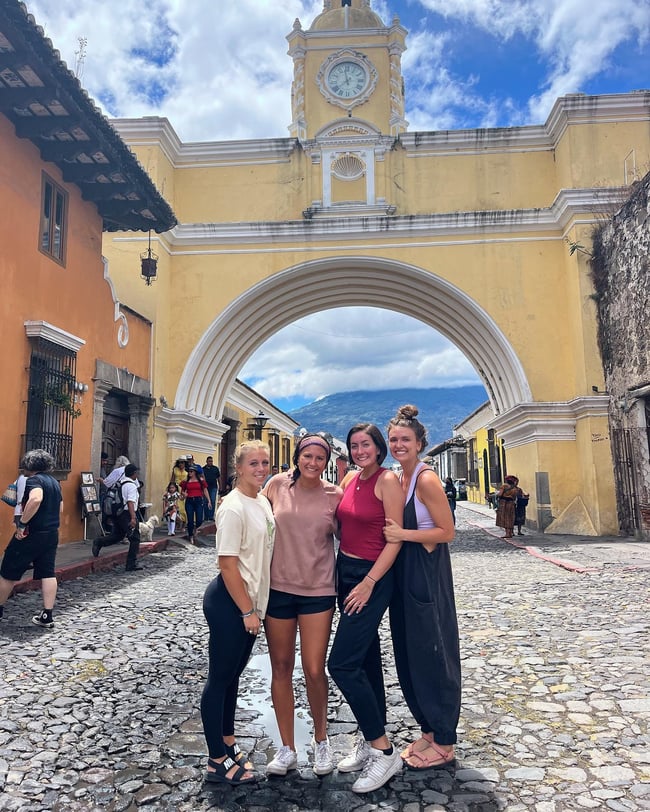 Hike Volcan Pacaya (Or Another Volcano)
Any trip to Guatemala is a tad incomplete if you don't spend time on one of the country's many volcanos. Volcan Pacaya is the closest to Antigua, with tour operators in town who offer half-day treks (or overnight options if you're interested). OX Expeditions is one to look into with good reviews, with day tours and overnight tours to other nearby volcanos, like Acatenango and the Feugo Volcano. If you have the time and are into stunning views as you hike, it's something to add to your itinerary. Antigua Tours is another one to check out (with better rates if you go with a group).

Eat Your Heart Out
The food here is so good — you're going to want to eat breakfast, lunch, and dinner in some of the most popular cafes in the city (some have excellent vegan and vegetarian options). Here are a few to check out:
Rainbow Cafe — A great breakfast spot, often with live music.
Ta'Cool Taco Shop — Come for tacos, burittos, and enchiladas.
Toko Baru — Find a menu full of falafel, kabos, and curry.
Cafe Sky — Great food (especially breakfast) with rooftop views of the city + nearby volcanos.
ChocoMuseo — This museum teaches you all about the process of making chocolate (and has some taste tests along the way, as well as chocolate available for purchase).
Somewhere To Stay?
Like most popular tourist towns, you have tons of places to stay ... but this blog is all about recommendations. We've heard good things from ILP groups who have stayed at the Hotel La Villa Serena during their time in Antigua.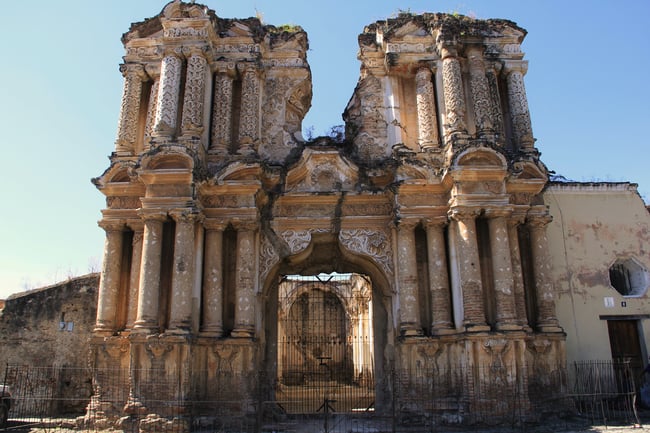 All About Lake Atitlán
A Little Intro
Some people call this place the Lake Como of Central America, after the famous lake found in Italy. And honestly? The comparison isn't just surface level. Lake Atitlán is a huge glittering lake, peppered with beach towns and villas along its shoreline, with temperatures that are almost always around 70° or 80°. It's just as picturesque and idyllic as its twin found in Europe.
A whole host of tourists come for just a day or two, primarily staying in the town of Panajachel. A day here is better than nothing, but more time lets you explore the dozens of villages and communities that call this place home. There's a large spread of indigenous people who have lived by the lake for centuries (with areas of strong Mayan heritage still found here today).
Sites To See
A lot depends on where you are staying around Lake Atitlán — most stay in Panajachel, visit Santa Cruz and or San Marcos on a day trip and maybe see another spot if they're here for longer than 3-4 days.
We'll start off with Panajachel, which is the most popular hub, so we're focusing most of the recommendations around those areas. First off, find a shopper's paradise on the main street, Calle Santander — it's crammed full of crowded shops selling colorful bags, painted canvases, jewelry, and more. There are also plenty of vendors offering boat trips if you're interested. It's also popular to see the area via bike, where you can rent a bike for the day and coast downhill, admiring the sweeping views around you.
Visiting Santa Cruz? This popular hillside town makes for a fun day trip from Panajachel, with taco shops, eateries, white churches, and more stacked into the steep hills around the lake. Make sure to visit the scenic docks and take a walk to the tippy top if you have the leg muscles for it.
As a heads up, this lake is perfectly swimmable, though some recommend jumping in near San Marcos, where the water is typically cleaner than other areas of the lake. San Marcos is another charming day trip, full of hippie indie shops, yoga studios, stunning scenery, and several tasty vegetarian restaurants.
See why you'd want to spend more than just a day here?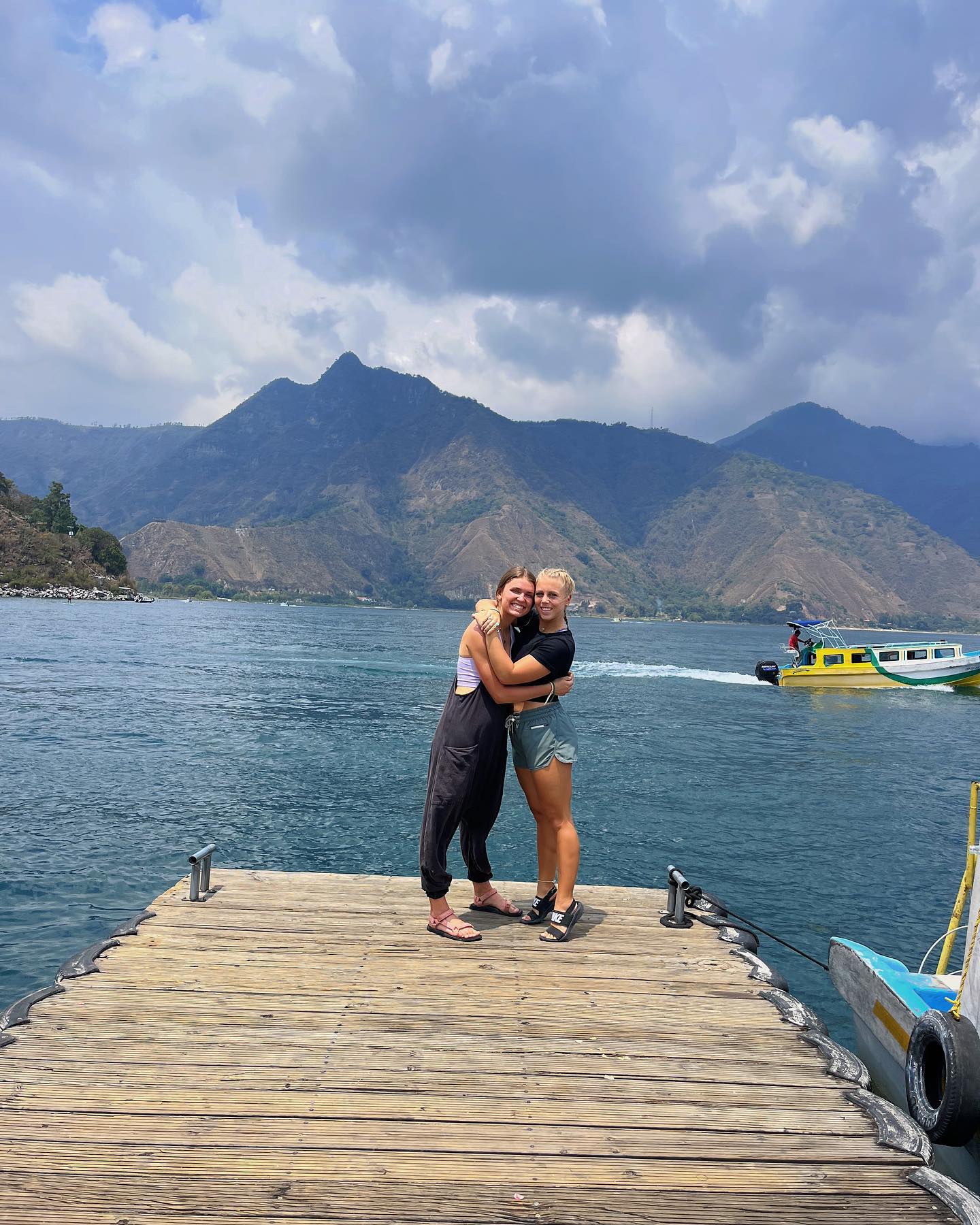 Getting Here From Antigua
It's about a 3-hour journey, so build that into your timing (which may convince you to stay overnight at least one night, unless you want to spend 6ish hours of your day traveling to and from the lake).
There are a few different options available to get here from Antigua. You can book a private shuttle (your hotel will have info on this) but rides are around $200 for a group of 3 or so, so it's expensive. I'd vote to take the shuttle — there are routes from Antigua to Panajachel, San Marcos La Laguna, or Santiago Atitlán. From where you are dropped off, you can take a boat transfer/ferry to the other cities where your hotel is. The Antiqua shuttle is about $25 US per person, depending on your route.
The chicken bus is another option for budget-conscious and adventurous travelers. The bus leaves daily at 7:00 AM and takes longer than 3 hours, but you'll get there for about $6. These buses can be crowded and a little uncomfortable but are the most affordable option.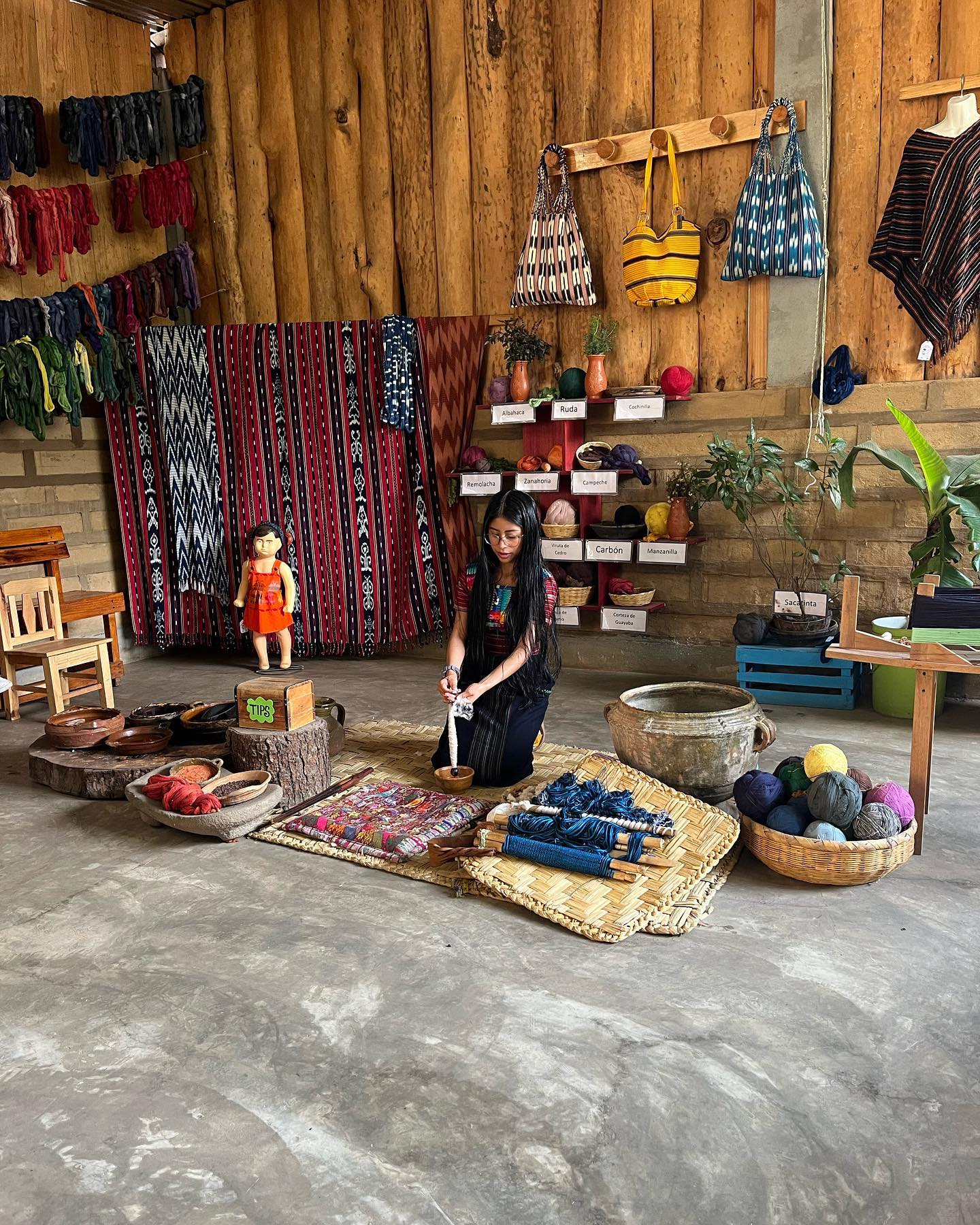 Getting From Guatemala City To Antigua
There isn't a direct flight into Antigua, so most travelers arrive in Guatemala City, which is about an hour's drive from Antigua, depending on the traffic. You have a few different options, explained below:
It's a popular and efficient choice to pre-book a shared shuttle via Guatego (it's about $20 per person). There are airport shuttles that leave regularly until about 8:00 PM, but they get busy and can often fill up with pre-bought tickets, meaning you'll have to wait until a seat is available.
Prices for a taxi are around $30-$40+ you can split with your ILP group (per taxi). Uber is around the same price range (sometimes it's less, sometimes it's more) but these two forms of transport tend to get stuck in the most traffic, turning that that 1-hour drive to be double or triple that.
A Little Itinerary Help
This post was inspired by the trip a group in Mexico took, who travel via bus from the city they were volunteering to the nearest flight hub, which was Mexico City. They flew to Guatemala City (just a 2-hour flight) and took a taxi to Antiqua before taking a day trip to Lake Atitlán and traveling home via Guatemala City.
This group spent a 3-day weekend here, though you could spend lots more time in and around Guatemala. If it helps, here's a more visual breakdown of what your itinerary could look like —
Day 1, Saturday — Fly into Guatemala City in the morning (this group arrived around 10:30 AM). Taxi/Bus to Antigua. Drop bags off at the hotel (this group stayed here), and explore Antigua.
Day 2, Sunday — Day trip to Lake Atitlán. Option to spend the night if you want longer here (that's my vote!).
Day 3, Monday— Travel back to Antigua, and explore until your flight (this group left in the evening, with time to see a little more in Antigua before traveling back to Guatemala City for their flight).
An itinerary like this is a tight trip (you'll feel a little rushed), but if that's the only way you can make it fit it's definitely doable. Especially if this is your only chance to see Guatemala during your ILP semester.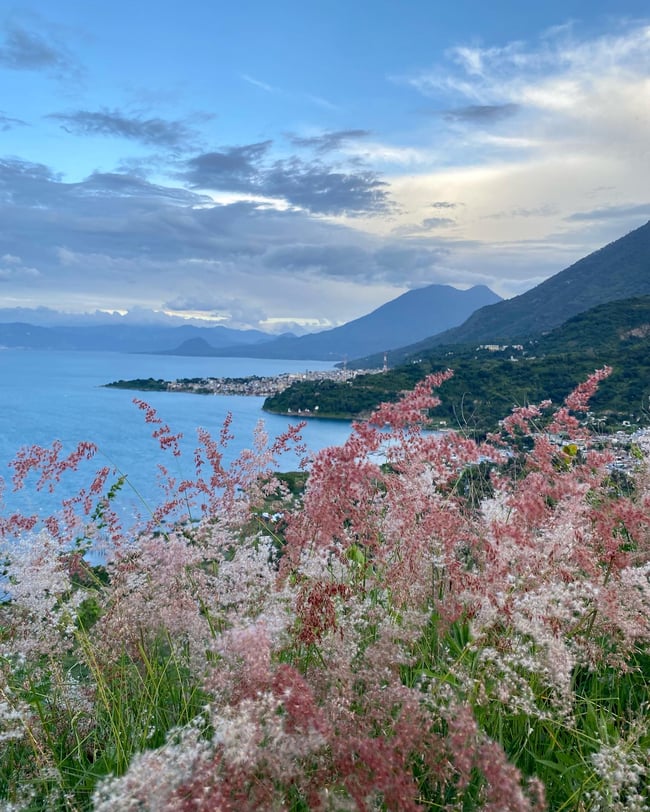 Have you been dreaming about the chance to travel the world
with a group of friends?
We might have what you're looking for — volunteering with International Language Programs means a semester full of grand adventures with new friends, plus the chance to give back. We send groups of volunteers for a semester of teaching English or other humanitarian service projects, to countries all over the world. Come check out our locations (and see which spot is a perfect fit).