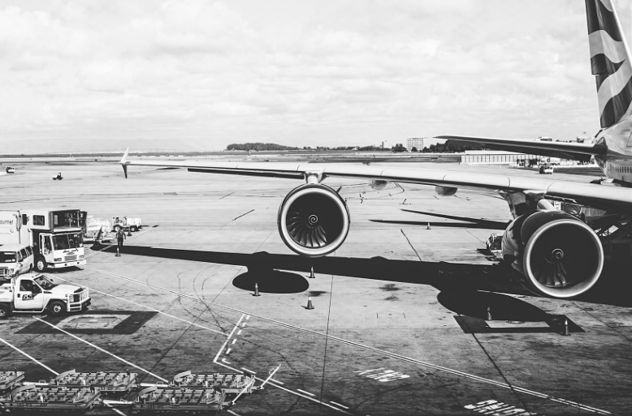 If you can find a cheap flight, then that means you'll have more money to spend on adventures and food! Snag a cheap flight (or 10) with this hack.
We're not into spending too much money on our vacations, and we know you probably aren't either. So how can you still get the full experience of a beautiful city without completely emptying your pockets? It starts with finding good deals on your flight tickets—which is why we're in love with this new price-conscious way to book your flights.


---
Want some more money-saving travel tips? We wrote an entire guide!
Traveling On A Budget
---

Keep reading for a handful of things you should keep in mind to find the best flights available for your European vacation!
You have to be flexible
First things first, this hack requires you to be open about where you're traveling to. If you're dead set on seeing Paris to do all the Paris things, then you're only going to be looking to flights to France (or other locations in Europe and taking another flight/bus/train/etc to arrive in Paris).
If you are dead set on a certain country, this hack isn't for you.
If you've got a vacation coming up but you're still having a hard time deciding where to go, this hack is perfect for you!
Our ILP volunteers are often given their vacation dates (so they can't be flexible there) but they get to choose where they're traveling to. If you're doing a semester abroad in Europe, you can travel to so many countries so it's hard to choose where you go ... sometimes price can be a big factor in determining where you're going to on vacation.
Here's how to save some money on your vacation flight:
Go to this search engine site: www.skyscanner.com


In the from section of the search bar, put the airport you'll be leaving from. So if you're volunteering in Ukraine, you'll put Kiev here.


In the to section type "everywhere". Skyscanner has a feature that will pull up multiple city options and then list destinations starting with the cheapest options.
Below you can see that Poland is your cheapest country option if you're looking for flights from Ukraine, but have you ever considered the UK for one of your ILP vacations? I have a feeling it's on your bucket list and it's only a little over $20 more...so probably worth it to you.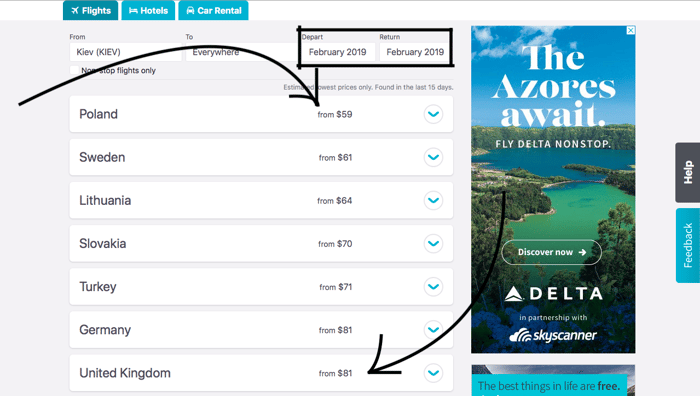 If you're open to your vacation desination choose places that will fit in your budget. It's kind of cool to plan a random trip like that and go somewhere completely new!


Some things to keep in mind:
These are prices per country: when you click the little blue arrows to the right of the country, a drop down menu will review what the cities are. It looks like for Poland, it's cheaper to fly into Poznan than it is to Krakow.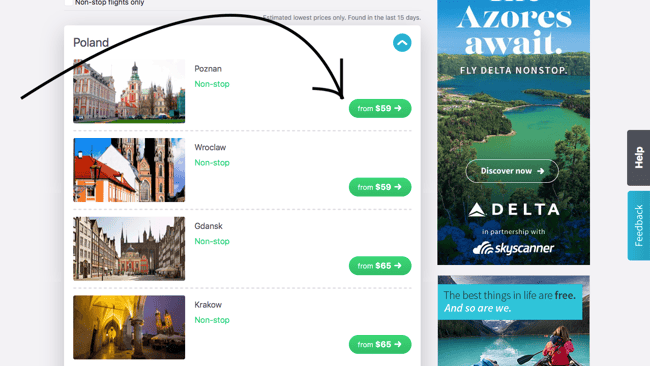 These prices also depend on the dates ... sometimes you can only get that $59 airfare if you're in Poznan for two weeks, not four days. When you click on that green button with the price, you'll get a calendar of prices — the farther you look at this in advance, the less details you'll get.

All the prices are color coordinated; green means it's the best rate, yellow is decent, and red is most expensive. The best case-scenario would be flying in and flying out on two "green" dates but that may not work with your travel plans.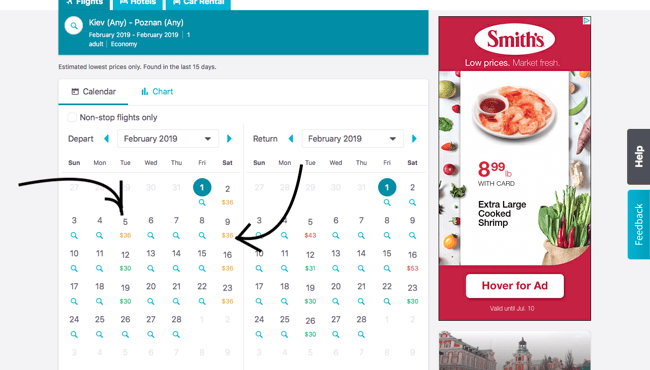 Want to have a unique experience that lets you stay abroad longer than a week or two? International Language Programs (ILP) sends volunteers abroad for a semester where they get the opportunity to serve the cutest kids, vacation and see incredible things! You will LOVE your semester living abroad.
Click the button below to learn more about the ILP experience!