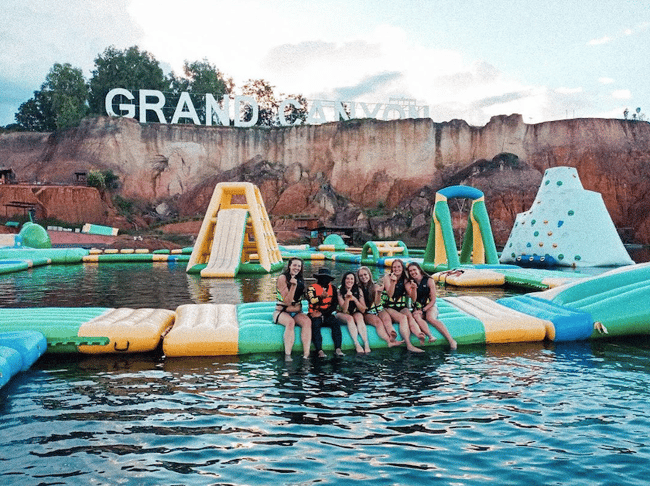 Turns out Chiang Mai is more than markets, lantern festivals and elephants — this city in Thailand also has one rad water theme park.
We love Chiang Mai and think it has got to be on anybody's list of places to see if you're visiting the dreamy country of Thailand. There is also tons to do up there, easily enough to keep you busy for at least 3-4 days, if not more. That makes it a bit tough if you're only in Thailand for a week, right? Good thing ILP volunteers live in this country for a few months and get free time and vacations to check everything off their Thailand bucket list.


---
Want to live in Thailand with ILP?
Get more info about volunteering in Thailand.
---

Now that you're set for a visit to Chiang Mai and this Grand Canyon, here are the details you need to know.
All About The Park
Unlike the Grand Canyon in America, the one in Thailand is the spot for water sports and adventure in Northern Thailand — you'll see red rocks and emerald pools you can jump into (aka, the ideal way to cool off after a hot day in the Thai sun).
Things To Do
That's up to you — you can lounge on bamboo rafts and catch some sun, take a dip in the clear waters, or rent an inner tube and float the afternoon away. There's also a zipline you can do, and for any thrill seekers, you can take a jump off the canyon into the water. Slide down water slides, get some rock climbing in and play on the blow-up obstacle courses. Sometimes, there's a huge inflatable "pillow" on the little lake you can jump on and launch your friends off of. So fun.
We suggest getting there a bit early and staking out a spot in the shade (those spots go the quickest). There are also little bamboo platforms that make for a good place to make camp, but again, they get grabbed up quickly if you're not there early.
Are There Changing Rooms?
Yep, you can change in the provided changing rooms, or there are also restrooms that you can slip in and change in if you're not already wearing your swimming suit, or don't want to wear a wet swimming suit on the drive back to the city.
Is There Food There?
Just so you know, there are a few little restaurants you can eat at (outside food and drinks are technically prohibited but we recommend bringing in your own water because it gets hot!!).
Head to the Carmelo cafe for fresh fruit smoothies, juice, rice and noodle dishes and BBQ chicken skewers with peanut sauce, Thai sandwiches and more. Or, soak up the tropical vibe with a fresh coconut. Prices are around 100 Baht and up (plan on spending 129 Baht for a lemon chicken dish, and 189 Baht for their famous Bingsu Strawberry Dessert — it's like an ice cream and snow cone dream.)


How Much Does It Cost?
There are a couple different prices, but you want the 300-350 Baht price (just under $10 USD … seriously!) There will be less expensive entrance fees but they only allow you to look at the park, or don't let you get into the water, which is no fun at all. Make sure you grab the right ticket so you can really enjoy the entire park.
Additionally, life jackets and inner tubes are available to rent (anywhere from $0.80 to $1.50). It's smart to pack your own towel and to wear sandals that can get wet — the grounds are pretty rocky so you'll want shoes to wear around the park.
You can also rent a private locker ( big enough to hold a small bag) for 50 baht, with a refundable 100 baht deposit.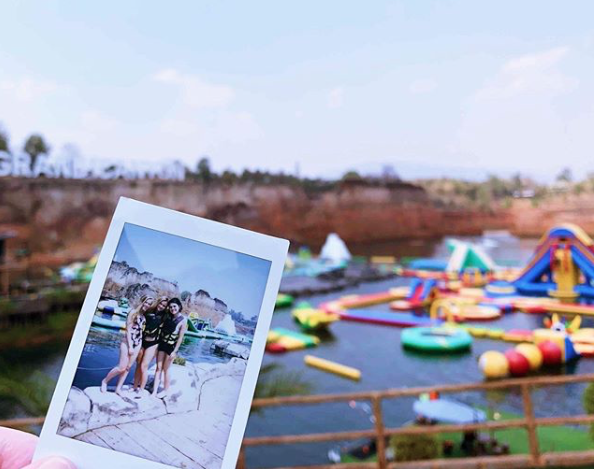 Getting To The Park
The Hang Dong Canyon (aka the Chiang Man Grand Canyon) is less than an hour drive from the busy city center of Chiang Mai. Here's the name in Thai so you can show a tuk-tuk, Song-teow or taxi driver to take you there for the day:
หางดงแคนยอน
It usually costs anywhere from 500 - 1000 Baht per ride via Song-Teow (not per person) up to the park, so make sure you haggle to get a good price. Also, it's worth it to arrange a return trip back by paying your driver to hang out for 3-4 hours while you swim, then driving you back to the city.
The park is open from 9:00 AM to 6:00 PM .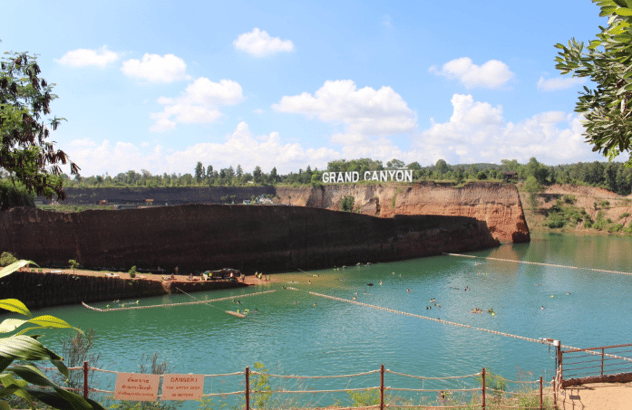 Come live in Thailand for a semester
.. or longer! We also have positions where you can get paid to teach in Thailand! We have programs where you can live there as a volunteer or in a paid position, with vacation time to travel all around this country. Yep, it's as perfect as it sounds.