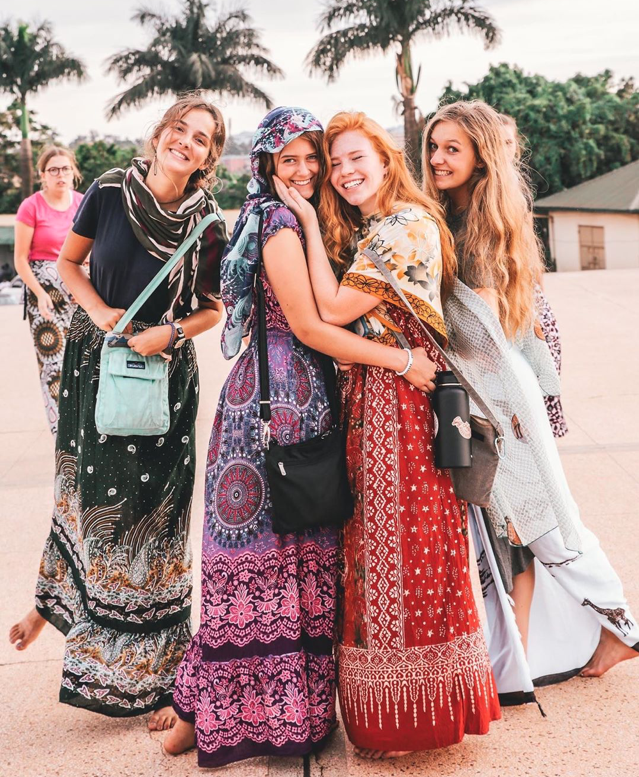 Woven baskets, carved nativity sets, and the brightest dresses you can imagine — we love the shopping here!
Souvenirs are a big part of any trip. Personally, my favorite take-homes from a trip are things that I'll actually use and I love when I can buy souvenirs from shops that support local businesses. I've come back from trips with a gorgeous leather backpack I use all of the time, painted bowls that "wow" every little dessert night, and a few other things. If you're into souvenirs that you'll want to show off right away, you're totally set with a trip to a few African markets.


---
Thinking a trip to Africa is just what you need?
Here's how to afford your dream trip to Africa.
---
We've talked to a few ILP volunteers who have spent a semester in Uganda about their favorite things to get at their local markets (and some tips on getting the best price). It's your go-to guide for all things shopping-wise once you're down here on your own semester.
Souvenirs To Hunt For (+ Prices)
Where To Shop
A Few Tips To Keep In Mind
Souvenirs To Hunt For
Colorfully Custom Clothes
One ILP volunteer said don't overpack too many skirts and dresses when you first come because you'll want to buy some here in Africa! These brightly colored fabrics are to die for (and help you keep cool in the hot, humid weather). Here's what one ILP volunteer said about wrap skirts: "I have LIVED in wrap skirts. Wrap skirts are AMAZING. Easy to throw on when you need to go out, and they're pretty comfortable. Definitely a fan." Sounds like you'll want a few.

You'll find a rainbow of options, ranging from bright blue patterned with black giraffes, cherry-red printed with zebras, turquoise decorated with a sherbet orange fringe, and more. You'll love it.

Several items are already made so they're ready to go. But some things you can get custom made. You'll pick out your fabrics, get your measurements taken, and hang out or come back later to pick up your tailor-made dress.

Price wise, you're looking at dresses between 25,000 to 40,000 shillings (which is about $6.50 to just under $10 USD) and the wraps are around 20,000 - 35,000 shillings (which is about $5 USD to $9.50 USD).
Those flowy pants are typically 20,000 shillings ($5.40 USD). If you're looking for t-shirts, plan on paying 15,000 to 30,000 shillings ($4.00 USD to $8.00 USD).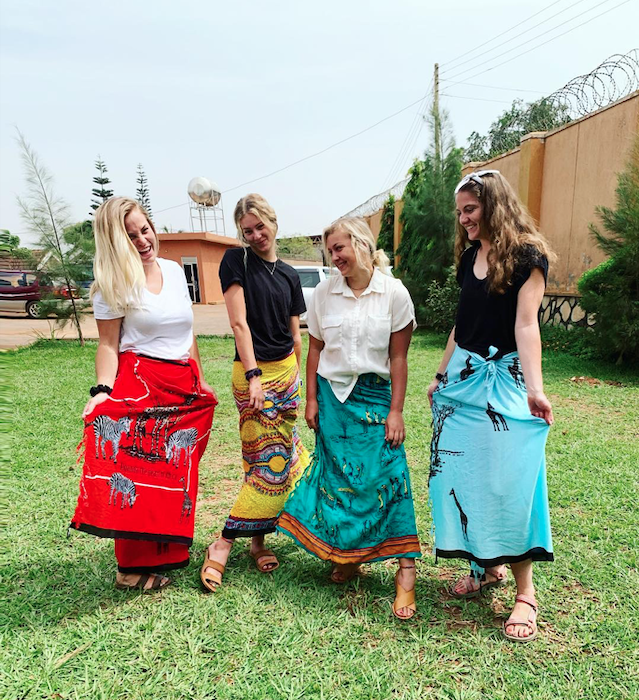 Carved Nativity Sets
Whether you're coming home before Christmas or not, snag a nativity set while you're shopping around. They're gorgeous — carved from stone or local wood, and come in a huge range of styles and designs. Others are made out of woven fabrics and sticks. They have big ones, small ones, simple ones, ornately decorated ones, and more. Size and style affect the price, but you can shop around to find one that fits your budget and your style.

Plan on paying around 10,000 - 20,000 schillings for a smaller nativity (that's about $2.70 to $5.40 USD). The one pictured here was around $10-$15 USD and is carved out of stone.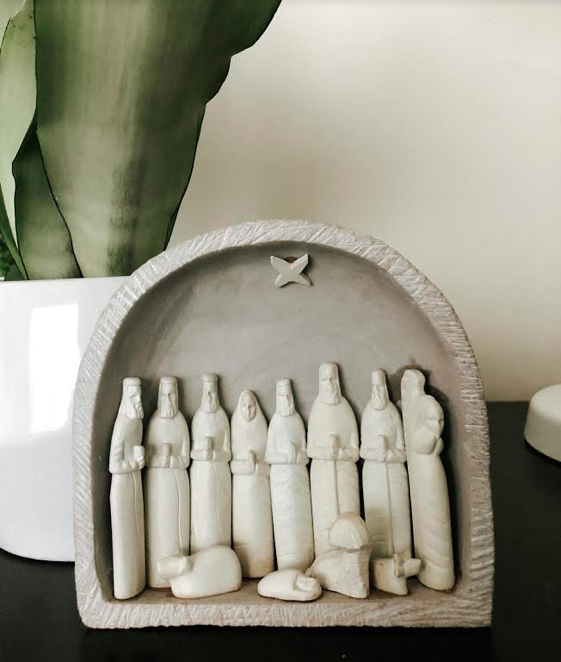 Art Galleries Galore
The art here is to die for, you're going to want to buy enough to make your home or apartment like an art gallery (if you do, totally don't blame you). It's bright and original, with some of the vendors painting right in front of you. You'll find scenes of your favorite African animals, sunsets painted with creamy pastel colors, self portraits — you name it.

Pricing for art depends on the vendor, the size, and a few other factors. Small paintings are typically 15,000 ($4.00 USD).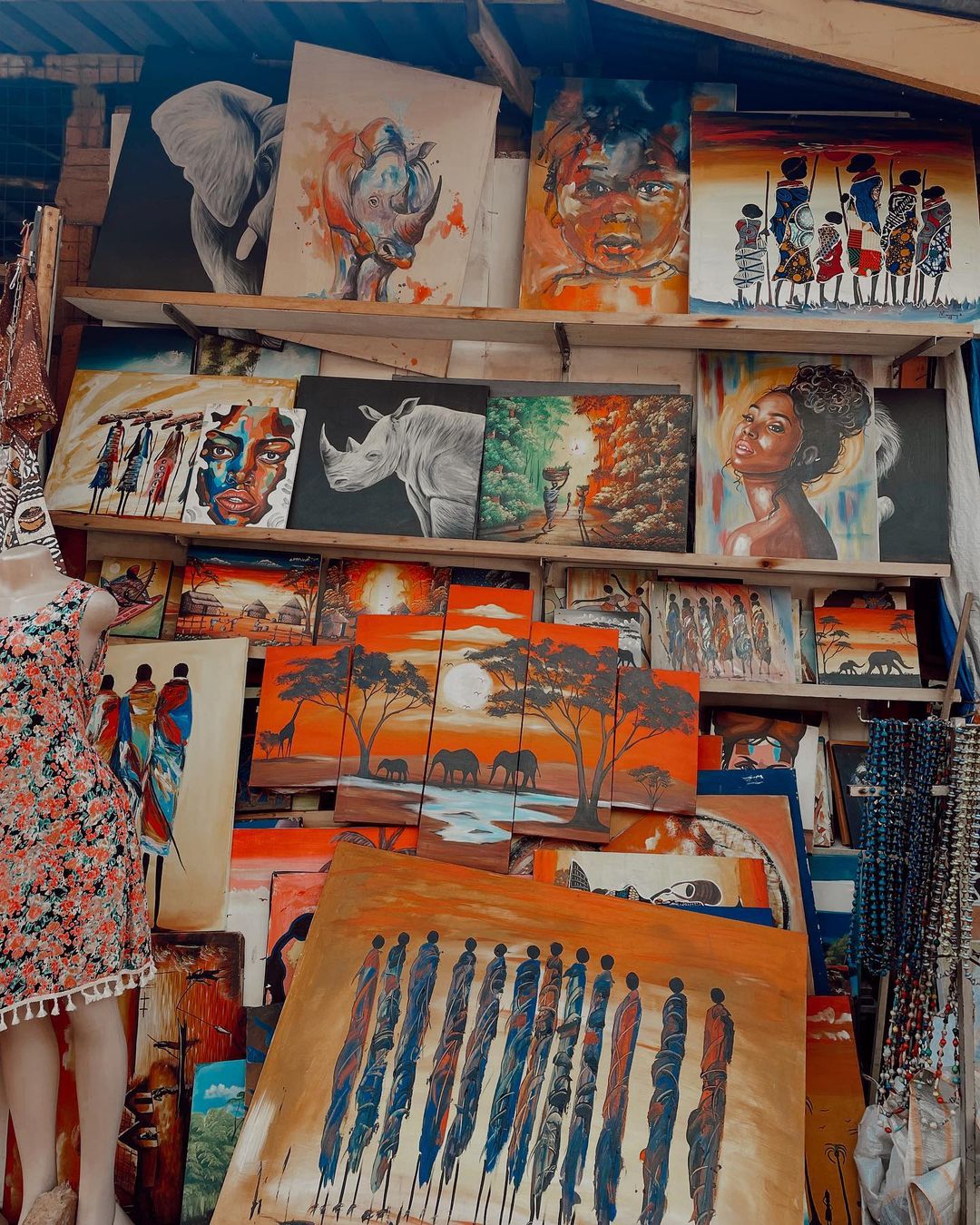 Drums
A classic souvenir for anyone visiting Africa. Like the artwork, these come in a huge variety. If you want a couple of smaller drums to stash in your suitcase, you'll find those, along with huge ones that you'll need to ship home separately. These drums can come elaborately carved, with animal skin stretched over the top to give a distinct sound when you tap the taunt surface. Or, opt for a simpler design with braided netting over the sides. You'll find lots of styles and sizes.
Prices are around $3-5 USD for styles and sizes similar to the one pictured below.
Woven Bowls + Baskets
Are you in love yet? These patterned bowls and baskets are to die for. Not sure how you'll choose just one, so plan on getting a few. These bowls are gorgeous, hand woven and intricately designed (and come in a rainbow of colors). Think about a few of these where you put your keys, a decorative placement for some potted plants, or hung up on your walls. Hi, I'll take all of 'em.
Price wise, the small baskets are typically around 10,000 ($2.70 USD) and the larger ones are 15,000 to 20,000 shillings (about $4.00 USD to $5.40 USD).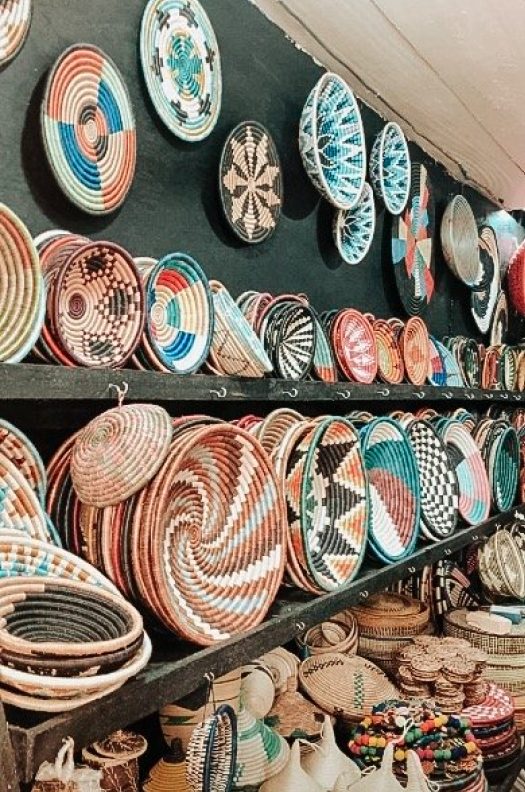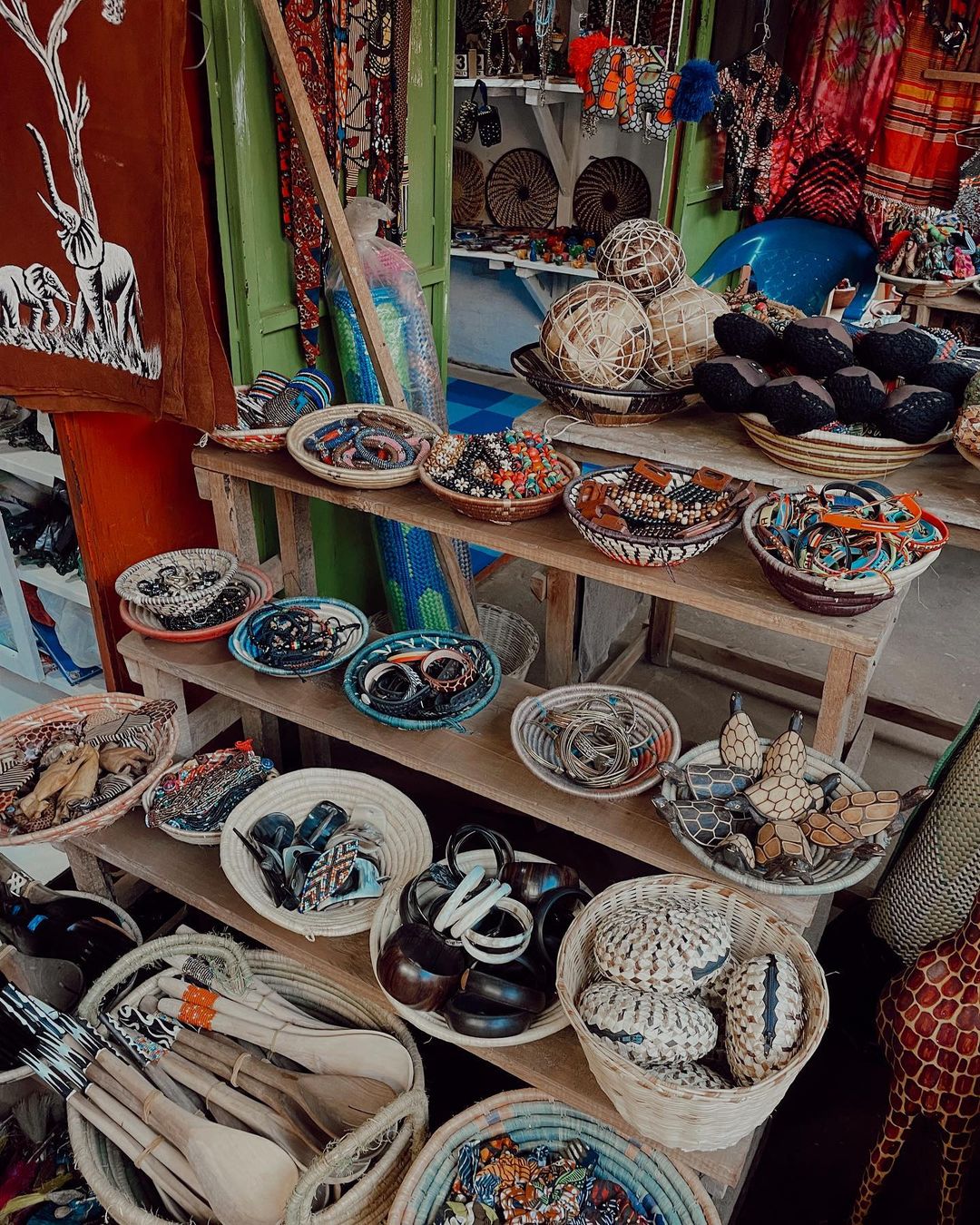 Jewelry, Masks, And More

We've pulled out some of the more popular things to shop for above, but don't be fooled: there are so many things hiding in these craft markets.

There's jewelry, woven bracelets, carved wooden masks, fabric coin purses, woven elephants + other safari animals, handmade dolls, purses, and so much more.
Malachite is a popular stone here, and you can get it made into lots of different jewelry items. Some vendors will try and tell you that it's an expensive stone (but it's not). You can get a malachite ring for about $2 USD — you'll love that green color.
Some ILP groups suggest going to our favorite market (more on that below) just to hunt around and get an idea of what there is to buy (and get an idea of prices). Even if you don't buy anything, these markets are so fun to just walk around in.
To give you an idea on price, here's a rough outline:
Earrings: 2,000 to 10,000 ($0.50 to $2.70 USD)

Rings: 2,000-10,000

($0.50 to $2.70 USD)

Bracelets: 3,000-10,000 (If you buy a lot, you can get them for 1,000)

Game boards: 15,000 -25,000 ($4.00 to $6.75 USD)

Knives: 15,000 -20,000 ($4.00 to $5.40 USD)

Serving spoons: 7,000-10,000 ($1.80 to $2.70 USD)

Apron: 15,000 ($4.00 USD)

Guitar: 15,000 ($4.00 USD)

Glass hippos: 3,000 (under $1 USD)

Stuffed giraffe: 3,000-8,000 (Under $1 to about $2.00 USD)

Christmas Ornaments: 6,000 to 10,000 ($1.60 to $2.70 USD)
*These typically only come out Fall Semester, but are so fun. One girl got a Santa riding a Zebra. So fun.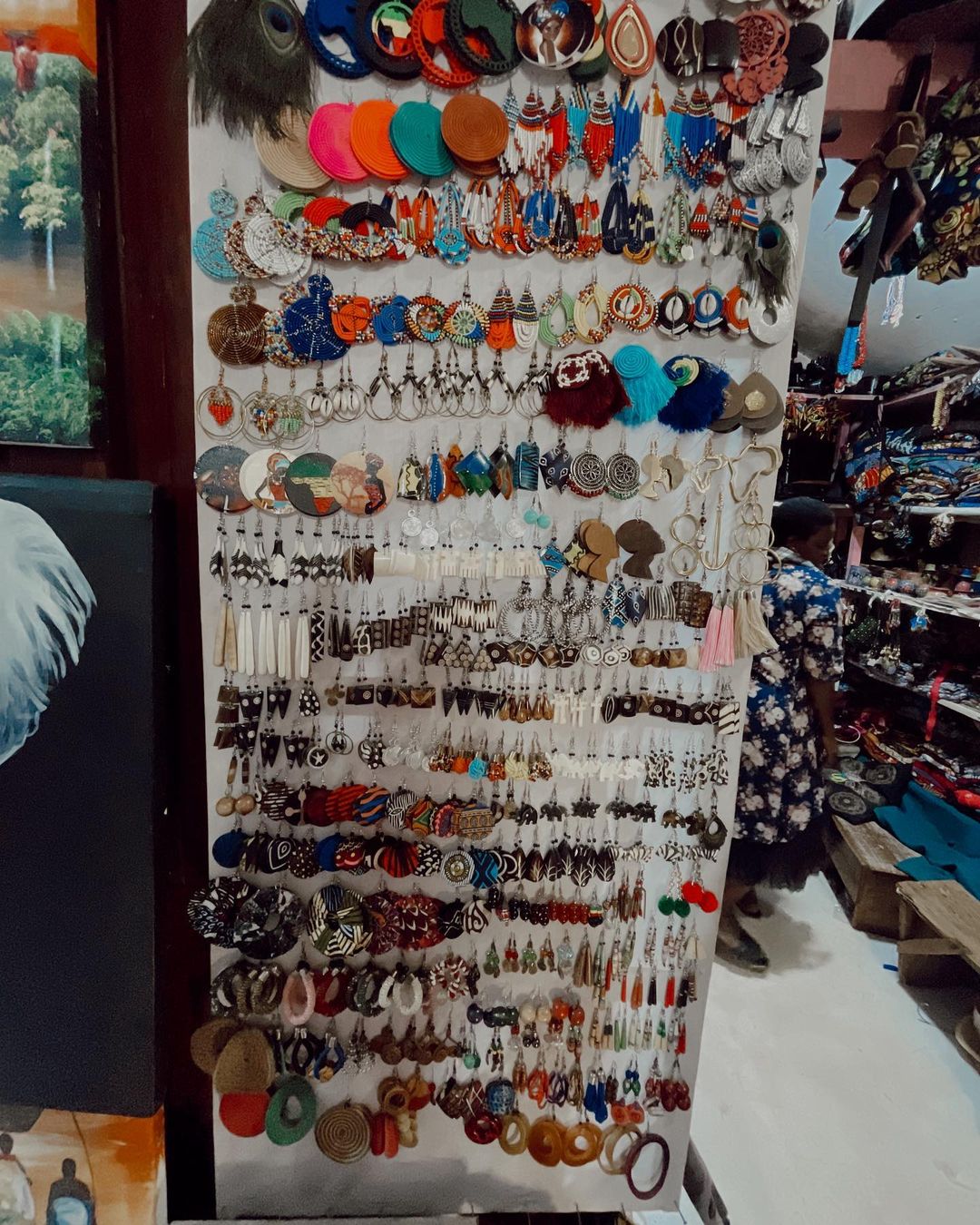 Where To Shop
The Africa Craft Market (Near Kampala)
Sometimes called the African Village, this is THE place to shop ... Definitely our top pick if you're going for a shopping spree. We've had ILP groups who would go multiple times in their semester (multiple Saturdays in a row!), and brought home souvenirs every time they went. This market has what you're looking for: dresses, wrap skirts, purses, artwork, nativity sets, woven mats, baskets, jewelry and more.
If you go a few times, you can get to know the vendors who set up here. It's really fun to make friends with the shop owners (and maybe get a better deal). The shop owners here are so friendly — they'll say "hello sister" or "hello brother" and invite you into their shop, but not in an aggressive way that makes you feel pressured to buy something.
Our favorite part about this market (other than the vendors that we love and the items they're selling) ... it's so quiet compared to other markets! Obviously this can change depending on the time of day you go, but when we went in the evening we only ran into a handful of other shoppers. It's so much easier to shop when there's not huge crowds.
Get a little more info on the market here.
On Vacation
Our volunteers love hopping around Uganda on vacation and visiting a couple of nearby countries as well. And if you want to vacation in Zanzibar, leave some space in your suitcase for some shopping in Stone Town (we love the idea of coming home with some henna as a souvenir).


A Few Tips To Keep In Mind
Shop Local
One of our favorite things about our Africa program in Uganda is how you'll be helping. Besides being in the classroom to teach English, volunteers have the chance to help with a handful of other humanitarian projects (like building wells to provide clean drinking water). Another huge way you can help? Shopping local. Some markets are importing other souvenirs from nearby countries like Kenya and the Democratic Republic of the Congo, but we love purchasing from vendors who live and work in Uganda. You can ask around for places who make local souvenirs, so the money goes back to the people who made your favorite souvenir.
When It Comes To Bargaining
It's a big part of the culture. Negotiating a price can be a bit uncomfortable at first if you've never done it before, but know it's totally normal (and a bit expected). We've listed a few prices above for some items to give you a ballpark but I also wanted to leave you with this: If you can give a little more, do. Spending an extra dollar or two is a small way to help out.
Wait To Price Things Out
Since there's so much to buy, some ILP volunteers suggest waiting to check it all out, then buy towards the end of your semester. That way, you have a good grasp on pricing, and you've seen what's available at the markets by where you live, and can compare those to what you can find on vacation. There have been groups in the past who have visited the markets so often (and done so much shopping) they run outta cash for a weekend trip or vacation towards the end of their semester.
Prices cited above were for the African Craft Market, just FYI.
Cash Is King
You'll want to bring along plenty of cash when you do your shopping trips. Some markets are more established and will be able to run your credit cards, but don't count on it. And whenever you're bargaining, it's a good idea to have lots of smaller bills so you can pay the exact price is best.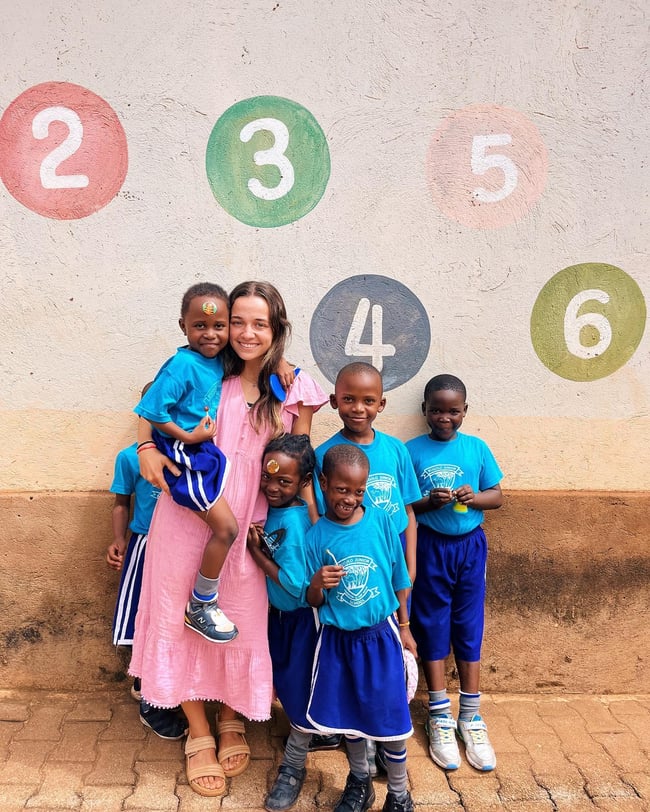 Lucky you!
You can come to Africa with us! We're now accepting applications for a semester of safaris and giving back. You'll be set up with a group of volunteers (so you're never alone), complete with vacation time and weekends off. Get more info here: