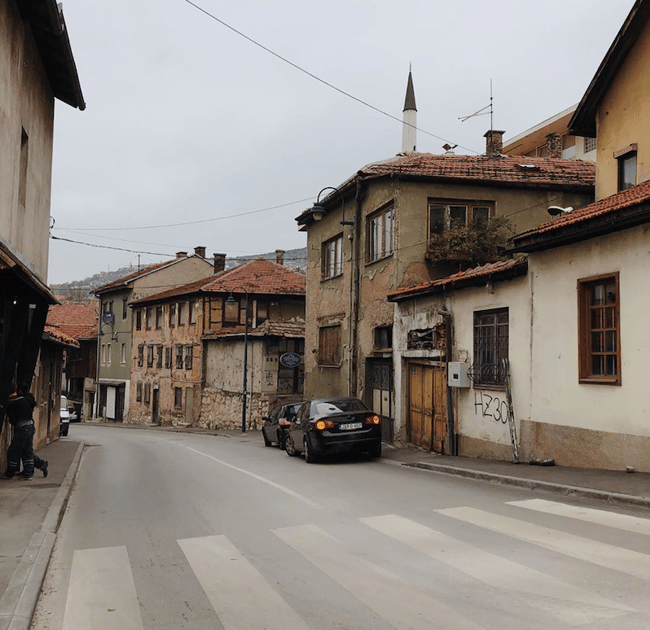 We've had a handful of ILP volunteers venture out to Sarajevo … and the result? "Bosnia is such an underrated country … such an Old Town Gem" or how about "Never expected to fall in love with Sarajevo Bosnia, but things just happen sometimes I guess". Either way, couldn't agree more.
Europe's a tricky place. The minute you get over there, it's so easy to travel between countries and it's just hard to resist the pull of making your childhood dreams come true. Trust me, I'm a sucker for gelato in Italy and don't get me started on visiting France.
But when people ask about my favorite spots in Europe, it's all too often cities and countries they've never even heard about. Living in Europe for a semester certainly let me visit countries on my bucket list, but gave me enough time to also explore gems I didn't think I'd love so much.


---
Live in Europe for a semester!
Come apply to volunteer with ILP.
---
Take Bosnia for example — a spot that most likely isn't on your bucket list of countries (not even close!) but one that's home to frothing waterfalls, beyond picture-perfect Old Towns, and tiny villages that give places like Tuscany a run for their money. Our newest obsession is the city of Sarajevo, a mix of eastern influences that'll feel like you're visiting Turkey, then turning the corner to the red-tile-roofs you know and love in places like Prague. It may not be on your travel list yet, but we think you're absolutely going to love it.
Don't Leave Without Seeing + Doing These Things

Places To Stay + Eat
A Nearby Adventure
Getting To Sarajevo
Don't Leave Without Seeing + Doing These Things
The Old Bazaar Of Baščaršija
What used to be an old bazaar boasting the sale of items from all over the Ottoman Empire is now one of the can't miss things to see for yourself while visiting Sarajevo. The street is pretty young in the grand scheme of Balkan history, first mentioned back in 1462 (!). It's in the oldest section of the city, and has quite the history. In the 17th century, the bazaar was a sprawling center of trading and markets, and was planned to be demolished but the local people stood behind the market which is why you can visit it today.
Now, it's a narrow alley with little tables set up with shiny Turkish silver and ornate copper, delicate tea sets, and decorated daggers, with several winding pathways that split off from the main drag. Plan on doing lots of shopping, and taking tons of pictures. You'll notice a handful of cobblestoned squares that branch off under shady trees supporting restaurants and cafes, too.
Oh and while you're in the neighborhood, you may want to visit Kazandžiluk, a street that's found at the eastern end of Baščaršija. Kazandžiluk is another shopping street, but one that's focused on copper work. The name of the street is a nod to the metalworkers who have lined the streets from centuries ago. In the 1500's this section of the street was a vital point for the army, with local craftsmen creating tools and equipment for the soldiers.
Find it: Baščaršija 1, Sarajevo 71000, Bosnia & Herzegovina
Hours: 8:00 AM to 8:00 PM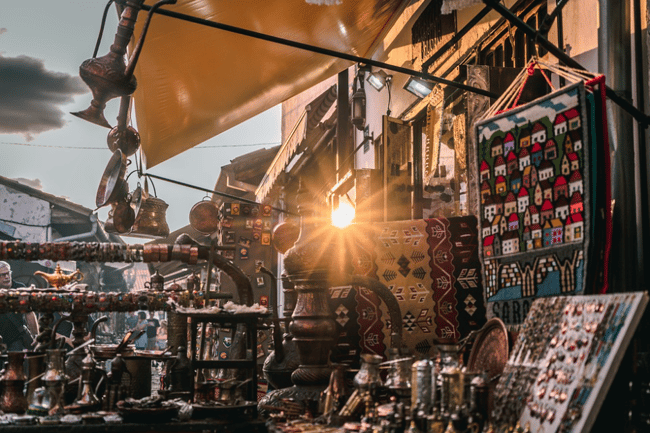 See A Few Mosques
Though this capital city is diverse, a combination of several cultures, races, and religions, a large majority of the population is Muslim, dotting the city of mosques that'll truly take your breath away. I remember the first time I visited a mosque, staring up at the domed ceilings decorated with ornate Islamic script. Luckily for you Sarajevo has a few mosques where you're allowed to visit whether you're Muslim or not.
Gazi Husrev Bey's Mosque is one of the most impressive and popular with tourists. It's supposedly the biggest historical mosque in the Balkan region, a collection of intricately designed tile work above, and thick Oriental rugs covering the floor.
Emperor's Mosque is another one tourists are allowed to visit, built after the Ottoman conquest of Bosnia. It's the oldest in the city, and the only mosque nearby that's built with a single dome — which stands out even more thanks to the creamy teal color.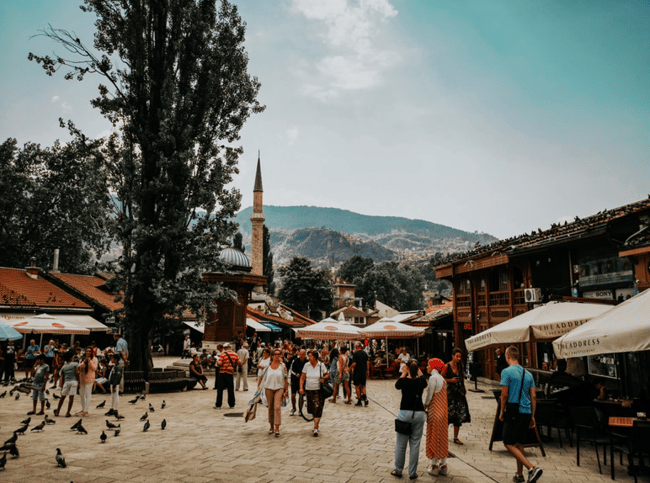 Trek Up To Mount Trebevič
If you're looking to get out of the city and do some hiking, you've found the right space. Sarajevo is encircled by mountains which means a short walk from certain points in the city leads you up winding trails into dense forests. Mount Trebeič is one of the most popular trails, taking hikers past a rusted and now abandoned bobsled track, a remnant of the 1984 Olympic games. The trail winds ever higher, eventually leading you to the Napredak Mountain Lodge (a 10 KM trail if you're up for it) but you're welcomed to just hike as long as you'd like before trekking back down. This blogger has a mapped outline of the trails as well as some info about the cable car that you can ride up and down if you'd rather cut down on your hiking.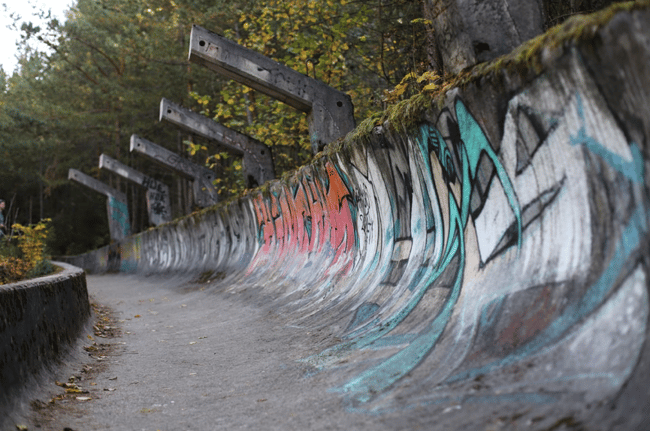 The War Childhood Museum
If you have more time, there are a smattering of Sarajevo Museums to visit to help understand the history in this city. Though there are many (here's a list of Sarajevo museums to check out) one that comes recommended from ILP volunteers is the War Childhood Museum. Opened in January 2017, exhibits portray personal stories from the children who lived through the atrocities of war. Though dealing with a dark stain of history and human suffering, the museum and the stories are hopeful, set next to various toys, diaries, photographs, clothing items and other items that have graciously been donated by survivors. The museum owes its existence to a book, written by the author(and Bosnian war child himself) Jasminko Halilovic. Halilovic collected stories and memories from over 1,000 survivors to compile this book, which subsequently led to the museum you can visit today.
Address: 30-32, Logavina, Sarajevo, Bosnia & Herzegovina
Hours: 11:00 AM to 7:00 PM
Cost: 8 KM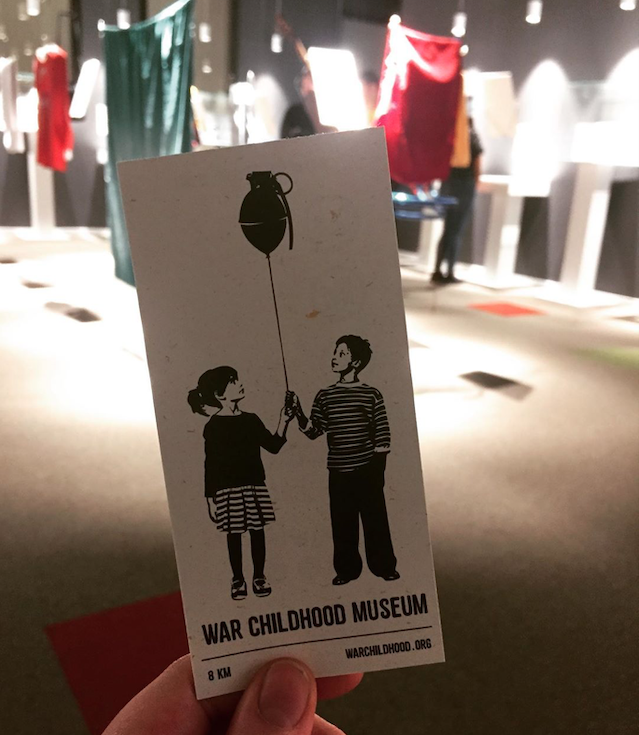 Take A Walking Tour (Seriously Don't Skip This)
It's something that's offered in most cities in Europe, but in Sarajevo, a walking tour is basically a must. So much of this country and this city is lost if you don't understand the history. The buildings which still stand after being riddled with hundreds of thousands of bullets only remind tourists that the happy, friendly, and helpful people you'll encounter had to live through war to get to where they are now. There are a handful of buildings who literally tell the story of what happened in Sarajevo and a walking tour is absolutely the best way to see the city's history.
There are several different walking tour options (talking to your hostel is a good way to find some) but you can also do your own research. This option focuses on the city's war history or an "East meets West Tour" which is a 90 minute to 2 hour tour that doesn't have a price, it's just tip based.
Literally Step Over History
The war-torn city of Sarajevo is home to the site where Franz Ferdinand was shot, which kickstarted WWI. Latin Bridge is an Ottoman style crossing, a gorgeous 3-curved stone bridge that connects two sides of the city over the calm river. On June 28, 1914, the Archduke was shot here which is often cited as the last straw that caused WWI.
You may also notice sections of the sidewalk which are covered in splatters of red resin, a way to remember a life that was lost in that exact spot. Between 1992 and 1995, huge sections of the city were under siege, so you'll also see remnants of that destruction. The odd bullet hole in the side of an older building — a reminder of the bombings and shootings and lives that were lost.
Places To Stay + Eat
Stay At Hostel City Center Sarajevo
With superb reviews and a free breakfast too, this hostel also has a friendly and helpful staff which we love in any place we stay. It's also has a bomb location in the Old Town which is an another perk. Dorms are around $9, book here.
Stay At Balkan Han Hostel
Found next to the main street, this hostel also boasts a bit of a garden which helps you step away from the urban aspect of Sarajevo. In the summer, they sometimes host an open-air cinema in the garden which is a nice touch. Dorm rooms are affordable in the $10 range. Book here.
Stay At Travellers Home Hostel
Found in the city of town in a restored Austro-Hungarian building, this hostel is a popular place to stay on a budget. There's access to kitchen which is a handy extra, with a free city map that can help you plan out what to see and do while in Sarajevo. Dorm rooms are inexpensive, in the $6 range (but you kinda get what you pay for — this hostel had a couple more off reviews than the others on the list, but you save a few bucks) . Book here.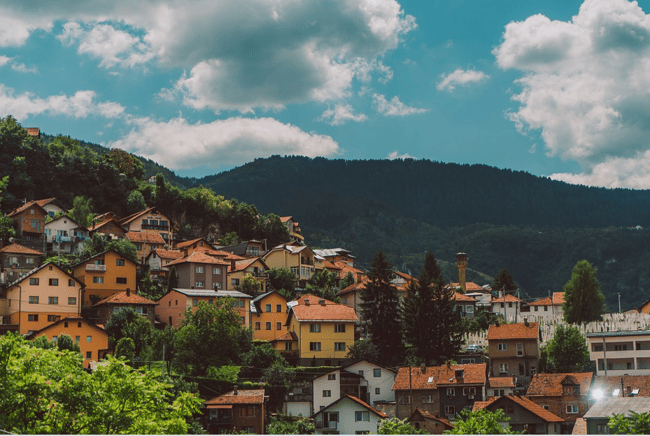 Eat Cevapi At Ćevabdžinica Željo
Cevapi is the national dish, so do not leave Bosnia without trying it at least once. It's yummy, made up of ground meat that's mixed and grilled up into little kabobs. All of this is paired with sour cream and chopped onions, and served with warm bread. It's a fast food restaurant that has generous portions where you can also get fresh salads with a crumbly salty cheese that tops cucumbers and tomatoes.
Hours: 8:00 AM to 10:00 PM
Address: Kundurdžiluk 19, Sarajevo 71000
Get A Drink At This Rooftop Cafe
Head to the Avaz Twist Tower that climbs over 500 feet in the air to reach the cafe found on the 35th floor. It's a winning spot to grab a drink or a slice of cake while you peek down and see the orange-topped roofs covering rolling green hills below you. If you want a higher view, you can visit the outdoor deck for about 1 KM.

Hours: 7:00 AM to 9:00 PM Monday - Thursday (open 9:00 AM to 11:00 PM on Friday, Saturday and Sunday).
Address: Tešanjska 24A, Sarajevo 71000, Bosnia & Herzegovina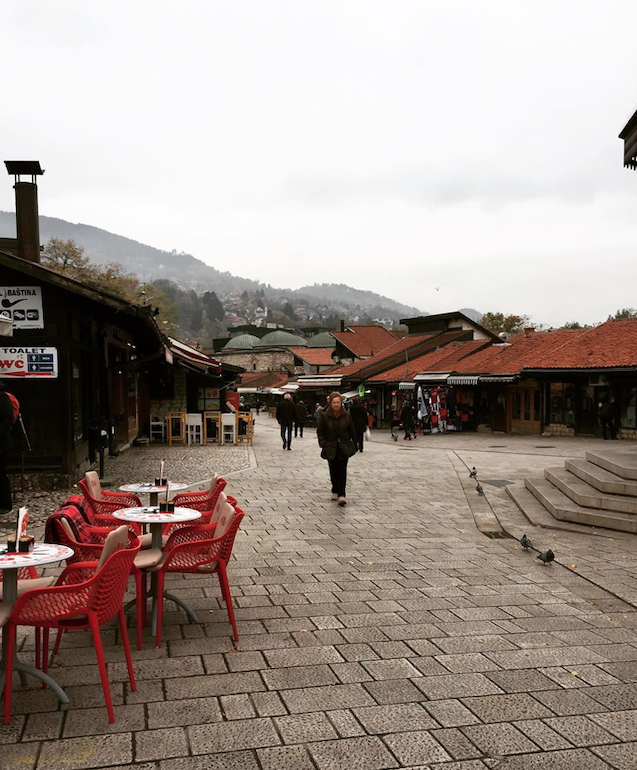 A Nearby Adventure
Fall In Love With Mostar
Our other favorite spot in Bosnia. The city of Mostar is full of the best kind of European adventures, like a beyond picturesque Old Town supporting a bridge that some photographers think is the prettiest in all the world. And nearby Mostar is a set of waterfalls that tumble into a turquoise pool you can swim in. Don't leave this place without visiting the Kravice Falls! Our guide to Mostar has all the tips for your trip.
From Sarajevo, it's about a 2.5 hour bus ride, with tickets in the five to 10 euro range. Check out potential routes and prices here.


Getting To Sarajevo
Since we have volunteers all over Europe, we're not exactly sure where you'll be when you head to Sarajevo — luckily for you, there are tons of ways to get to Bosnia's capital city, so we've listed those out below to find the best route for you (no matter where you're at).
By Plane
You're going to want to book flights into SJJ, which is the capital city's airport. It's about 3ish miles outside of the city. We love booking flights on skyscanner.com — keep an eye out for airlines like Lufthansa, Austrian Airlines, Croatia Airlines, Adria Airlines, and a few others.

Once you land, you can grab a bus into the city center. It's a 5KM charge for a one-way ticket. Here's the timetable.
By Bus
There are a couple of bus stations in Sarajevo, both have international and domestic routes. Our go to for booking buses are GetByBus for this part of Europe, but you may find other routes on a popular site called Omio (they typically pull up routes for more of Western Europe but do pull up some routes to Sarajevo).
There are regular routes to Sarajevo from jumping off points like Mostar, Bosnia, Split + Dubrovnik in Croatia, as well as popular route to and from Vienna, Austria. You can also find buses from Budapest, Hungary.These just give you an idea of where you could go after your visit to Sarajevo, or how easy it would be to add a couple of days here while vacationing nearby.
If you get tickets into Autobuska stanica (which is the main bus station) there is a tram line (number one) that can take you into the Old Town, or you can just walk. It's about a mile walk. There's another bus station (Autobuska stanica Istočno Sarajevo, 'Lukavica') that has common routes from Croatia and Montenegro. There's a bus/trolleybus station about 200 meters away from the actual bus station which can take you into town. This bus station is west of the main station and tucked away in the city's suburbs. Taxi is also an option.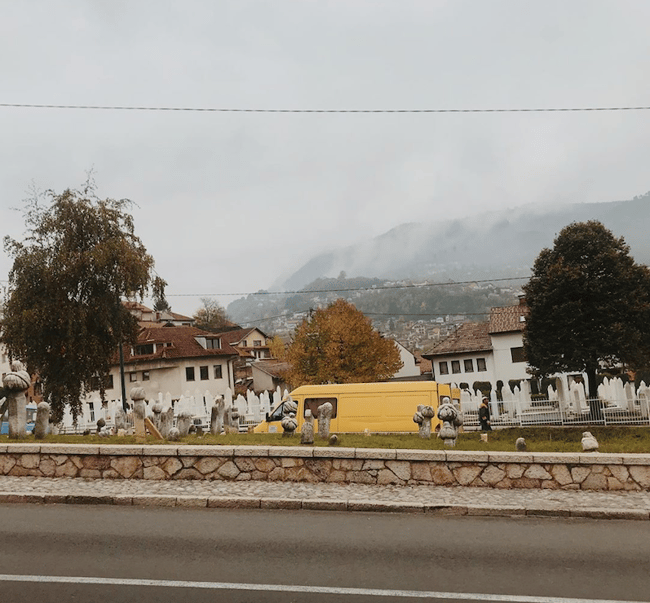 You're thinking about a trip to Europe now, aren't you?
And I can't blame you! I spent a semester volunteering with ILP which meant I was living in Europe for a whole semester — time off during the day to explore my city, with every weekend off and vacation days to hop over to tons of different cities and countries. Come see what we're all about!