Visit colorful monasteries, bluer-than-blue lakes, and tiny villages tucked high up in the Himalayas — I can't believe how pretty this road trip is.
I'm not sure about you, but the idea of visiting India for just a week seems like no time at all ... not when you think of all the places to visit in this huge country!
One thing I'm just a little bit jealous of are the ILP volunteers in India who are living here for a whole semester. With weekends off and vacation days, that means tons of time to explore all the corners of this country you'll call home.


---
READ NEXT: All Our Favorite Destinations In India
---

One vacation that I'm still dreaming about is the most amazing tour of the Himalayas. Sure, you have to fit in the classics like a trip to Jaipur and Agra to see the Taj Mahal, but if you're already living at the foothills of these incredible mountains, why not take the time to truly explore this part of your new home?
This is the road trip you are looking for, the chance to explore mystic villages and experiences that the vast majority of casual tourists completely miss out on. It's the kind of trip you'll only take if you call this country home for a while, a chance to connect to the mountains and history that define northern India.
If you still need a little convincing, the pictures of the thundering waterfalls, peaceful monasteries, high roadside passes, and dizzying drops from that high up will convince you to hop in the car and take the road trip of a lifetime.
The Itinerary
This is just an outline to help you visualize what's possible — we're jotting down the details of what past ILP groups have done in the Himalayas in case you'd like to do the same, but know there are options! We have more info about how vacations work in India below, just know there are tons of possible variations to this plan:
Jibhi

Rampur

Kalpa

Reckong Peo

Nako

Tabo

Kaza (2)

Komic

Chandertaal

Kullu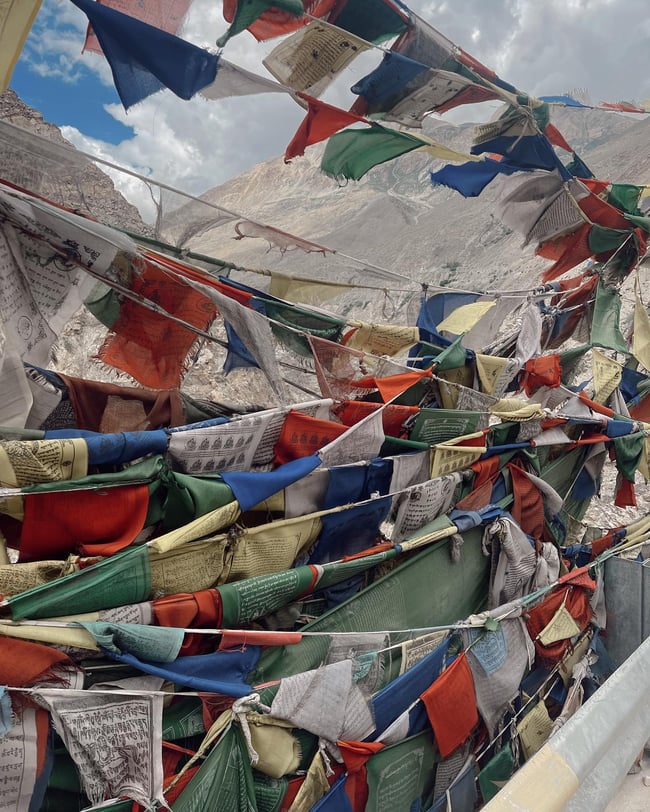 Travel Day + Day 1 — Jibhi
Depending on where you've started, you could have just a couple of hours on the road or much longer before you reach your first destination. The drive to Jibhi is instantly captivating, don't worry — on your way, you'll stop by at the ancient lookout post, Chaini Kothi. Legends swirl around this watchtower (and have) for some 500 to 1,500 years ... the age of this place is contested, but all can agree it's at least a few hundred years old, and very stunning. Once used as an outpost, the tower and surrounding temple are now one of the best ways to admire the panoramic views.
If you're like to spend a bit more time here, feel free to hike up to the 17th-century skyscraper. You'll start about 4 miles away at the Shringha Rishi Temple and hike (while surrounded by the sprawling acres of peach and apple orchards). Time your hike or your visit to see this view right at sunset for the best pictures. You'll settle into your hotel and call it a night, ready to travel to your next destination tomorrow.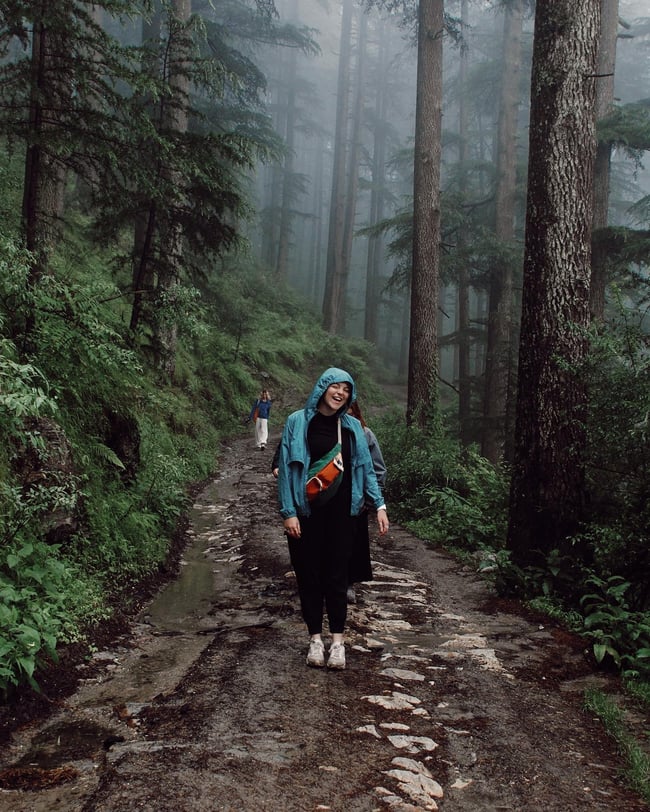 Day 2 — Jibhi to Rampur
Today, your drive takes you through the golden Tirthan Valley, which some say is India's best-kept secret. This valley gets its name from the winding Tirthan River which starts in the snow-capped mountains and travels through the valley to eventually reach the thundering Beas River. The valley is the place for hiking, wildlife spotting, and under-explored hilltop villages (along with spectacular views). Plan on sweeping views of lush valleys and thick cedar forests, all surrounded by a ring of mountains. Your drive takes you up to the Jalori Pass until you reach Rampur.
In Rampur, come explore the stunning Padam Singh Palace — a total highlight of the area. I mean, just the intricate details of the gazebo on the grassy lawns are enough to convince me to visit, but that's just the start of this place. Built almost 100 years again, the Padam Palace is a two-story masterpiece adorned with glass from Belgium and ceilings adorned with wooden patterns. A tour gives you just a glimpse into the lavish lifestyle of the current king of the palace.
While in Rampur, you can also explore the local market. Plan on exploring a busy spread of rich spices, glittering jewelry, stacks of richly colored fabric and clothes, and a chance to taste some local foods.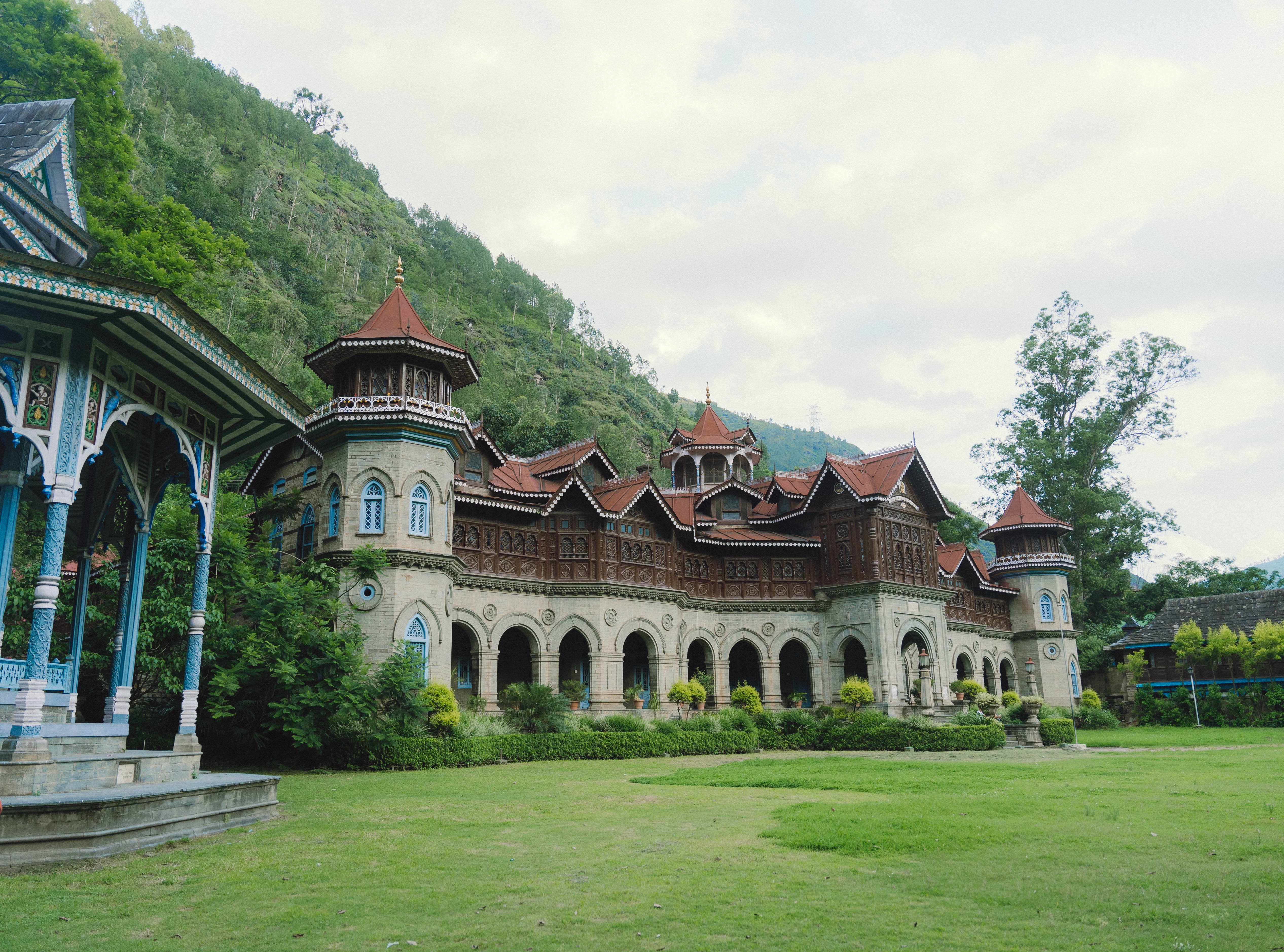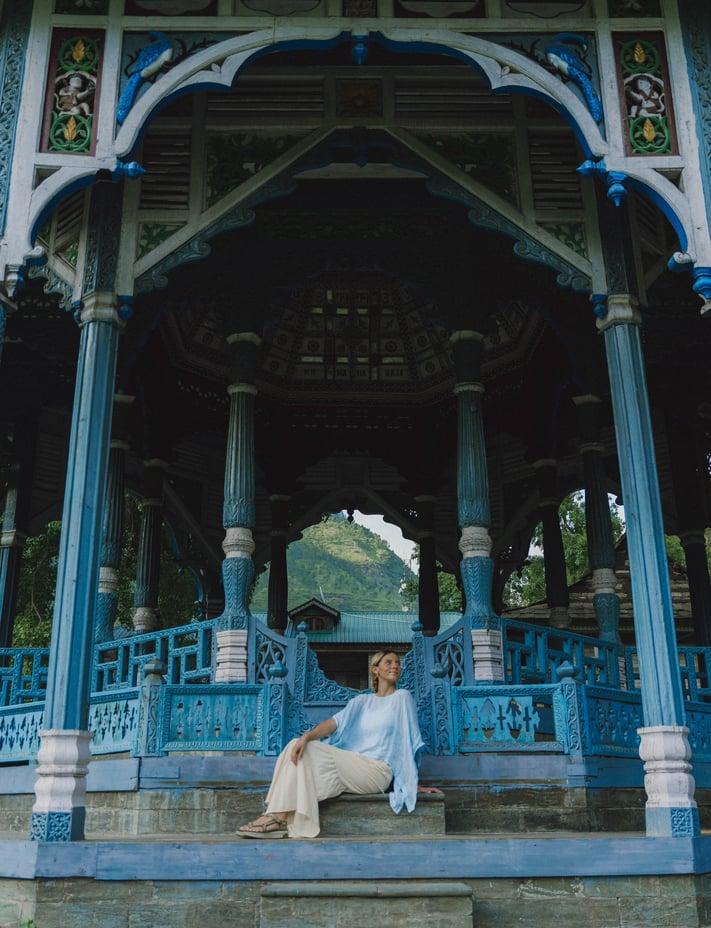 Day 3 — Rampur to Saharan to Reckong Peo To Kalpa
Wake up and travel to Saharan to experience the museum, festivals, and detailed architecture of the Bheema Kali Temple (also spelled Bhimakali Temple). Believed to be over 800 years old, the historical and religious significance of this temple is only slightly outweighed by the architecture ... the entire structure is built with interlocking wooden slats, interwoven with stones, all topped with a black tile roof. Picture this surrounded by lush green valleys, and it's easy to see why people take pilgrimages here.
You'll learn a bit more about the various temples that dot the ground as well as the rituals and sacrifices that once took place here. There may also be the chance to meet with a temple priest, who offers a protective blessing and a prayer on your travel by tying a protective thread on your wrist.
The next part of your drive is just as much of an attraction, as you'll be traveling the NH5 road, which has quite the reputation. Not only does this highway connect remote villages in the Himalayas, the hundreds of miles are sometimes peppered with steep gradients and hairpin turns. It takes an expert driver to navigate the narrow highway in this stretch, but as a passenger, you get to admire the curling turquoise river below the road and the dramatic cliffs that hang over sections of the road.
If you're up for it, you can get an extra thrill by heading towards Roghi Dhank, a famous 1,000 food drop, found just outside of Kalpa. Don't leave without exploring the colorful Kalpa Village by taking a hike to the nearby orchards.
Day 4 — Kalpa to Tabo
You'll need a permit to visit the next locations on our list, but don't worry, our travel team in India handles that all for you. You'll start today by traveling through the Kinnaur District, all on adventurous roads boasting stunning views through the Himalayan range. You'll need to show permits in Alkpa, before taking the road to Spiti (peer down to see the Satluj and Spiti rivers). Traveling from Khabo to Nako follows the winding Spiti River as the road rises (you'll be gaining almost 12,000 feet on this high-altitude drive!). You'll need to show permits again in Sumdo before reaching Tabo.
If you'd like to stretch your legs after a day of road tripping, explore the monastery in Tabo and the accompanying caves. You'll notice peaceful meditation grounds, rock carvings, and prayer flags tied on the hillside to bring positive energy and blessings to the serene and remote village.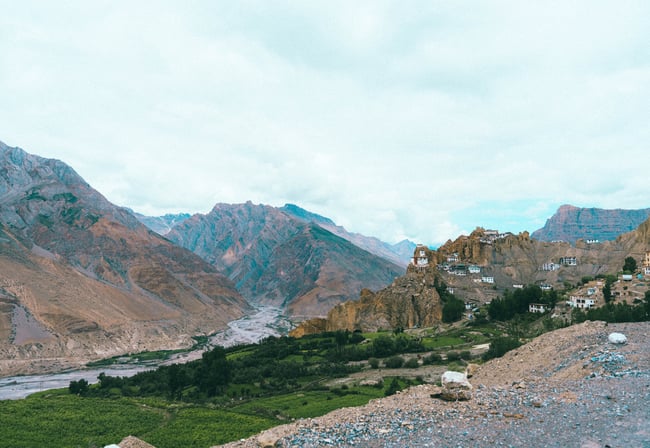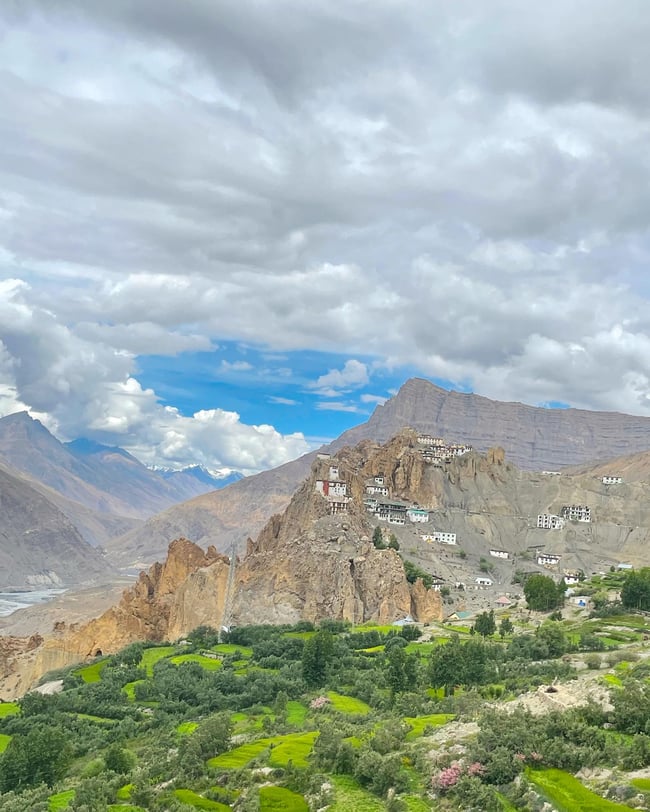 Day 5 — Tabo To Dhankar To Kaza
Today, start early to have breakfast before you wander around the massive Tabo Monastery. This sprawling UNESCO complex isn't just situated at the foothills of this towering mountain range but is made up of nine temples and various stupas that are more than 1,000 years old. Wow.
After lunch, you'll travel a winding road that travels upwards to the 16th-century monastery of Dhankar. This is another ancient fort, believed to be at least 1,000 years old (and is only recently connected by a motorable road). Inside, notice some unique details, like steep hallways and small windows that create a dim and mystical interior in the prayer halls. Dhankar Monastery also boasts some stunning views of the Spiti Valley (which gives some context to the attitude you've driven the past few days!).
Today's final stop is Kaza, known for the stark desert, mountain streams, and splashes of color from high-altitude meadows. Depending on the time of the day, the surrounding mountains look blue, dark russet, or even golden. You can get a closer look by mountain biking to the world's highest inhabited village, or the famous Kaza Buddha statue.
The star gazing here is also amazing — with little light pollution, this remote village often displays views of the Milky Way.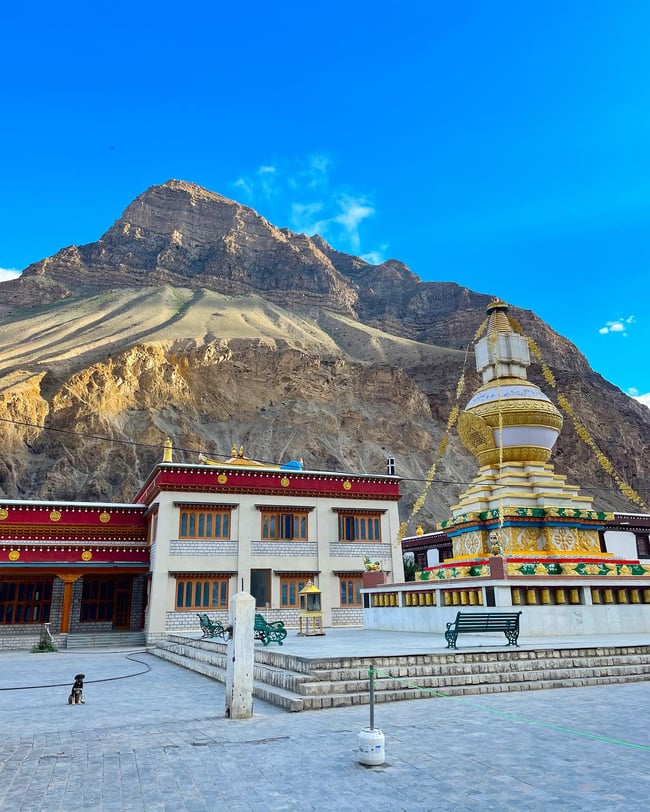 Day 6 — Kaza To Komic-Langza-Key Monastery
Are you ready to cross off several "world records" today? You'll start by traveling through one of the world's highest motorable villages along the Himalayan highways — you'll zoom past a mix of stark deserts, plunging gorges, and mountain peaks. The Komic Monastery is where you're headed, known for being the highest village in the world (topping out at 15,027 feet above sea level!). The village is also known for the Lundupi Tsemo Gompa Buddhist Monastery, which is the highest motorable Buddhist monastery in the world. Oh, and you can also send a postcard at the world's highest post office in nearby Hikkim.
Travel next to Lagnza, where you'll tour the largest center of Buddhist learning. It's famous for its architecture and history, and for Tangyur paintings, rare Buddhist paintings, and ancient weapons. Some are more than 1,000 years old.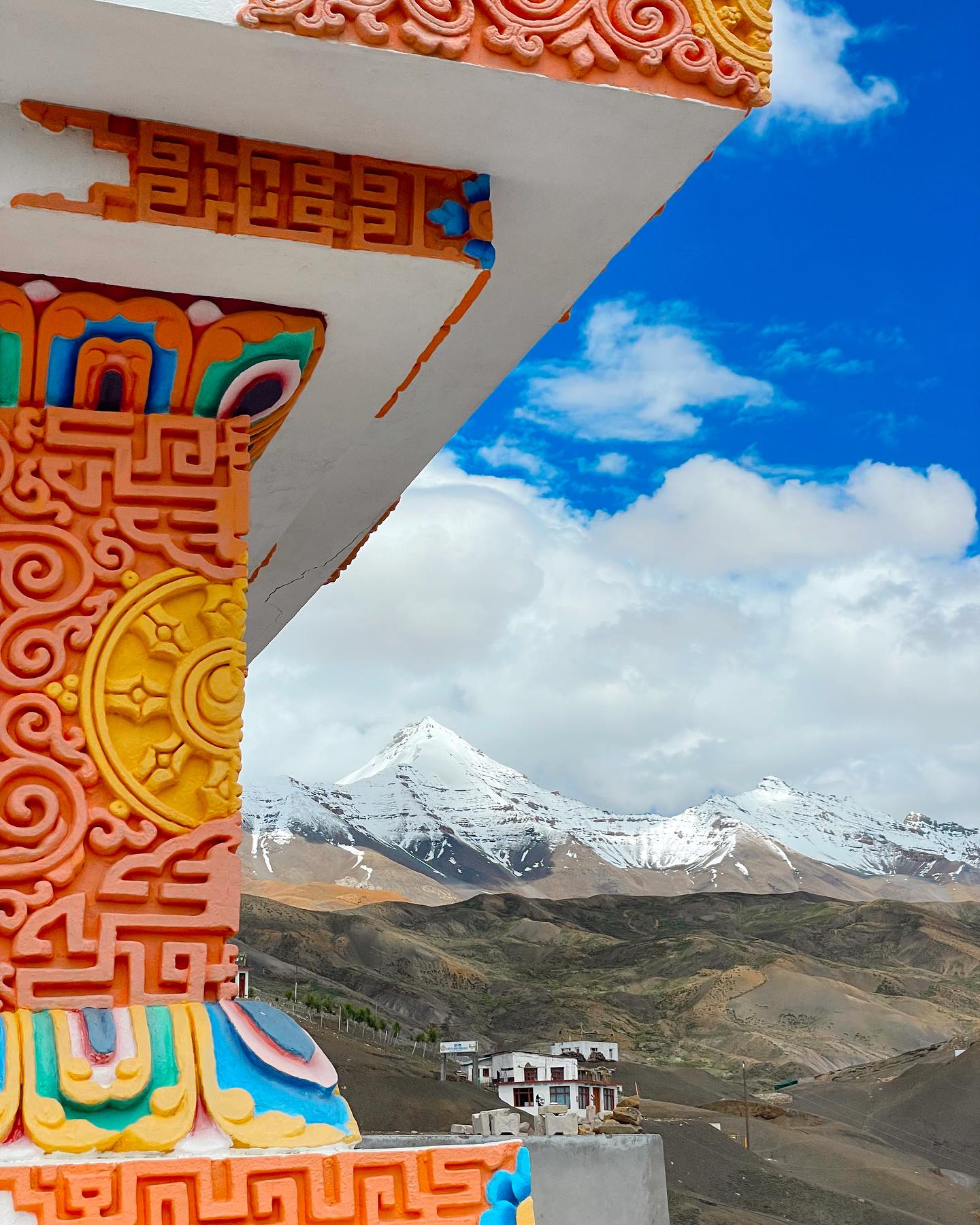 Day 7 — Kaza To Chicham Khas To Chandertaal
After breakfast, buckle up (literally) for 15-hairpin turns on the road to Chandertaal — you'll first stop off at Tso Chigma or Chandra Taal, a rugged blue lake that is one of the most stunning sites on the itinerary. It's desperately remote and boasts unbelievable views. The deep, blue lake is often still enough to reflect the snow-capped mountains almost perfectly.
Next, travel from Kaza to Chicham Khas, to admire Asia's highest bridge, before making it to Chandertaal. This remote area is filled with scenic views and some of the country's most elusive wildlife. Snow leopards, red foxes, Himalayan blue sheep, and more.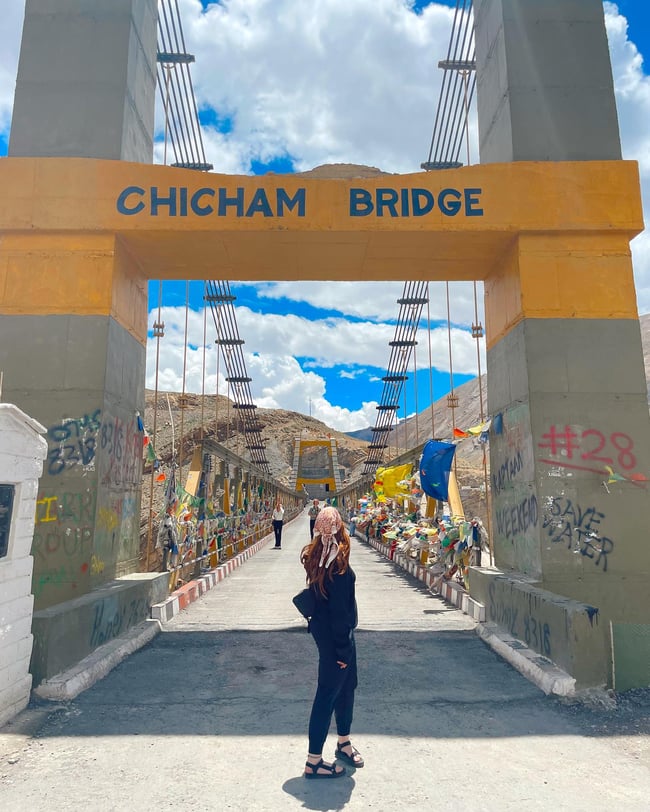 Day 8 — Chandertaal To Sissu To Home
From Chandertaal, you'll head to Sissu, but not before traveling through the Atal Tunnel, another world record for this road trip. The tunnel burrows into the mountain, 9.02 kilomeers long (to make that a bit more relatable now, it'll take you a whole 8-9 minutes to drive through!). It's officially the highest highway single-tube tunnel, found above 10,000 feet. The pass was first talked about way back in 1860, but construction wasn't officially announced until 2000 (it took 2 years to build, and was completed in 2012). The winding road takes you back to your starting point, near Kullu, India.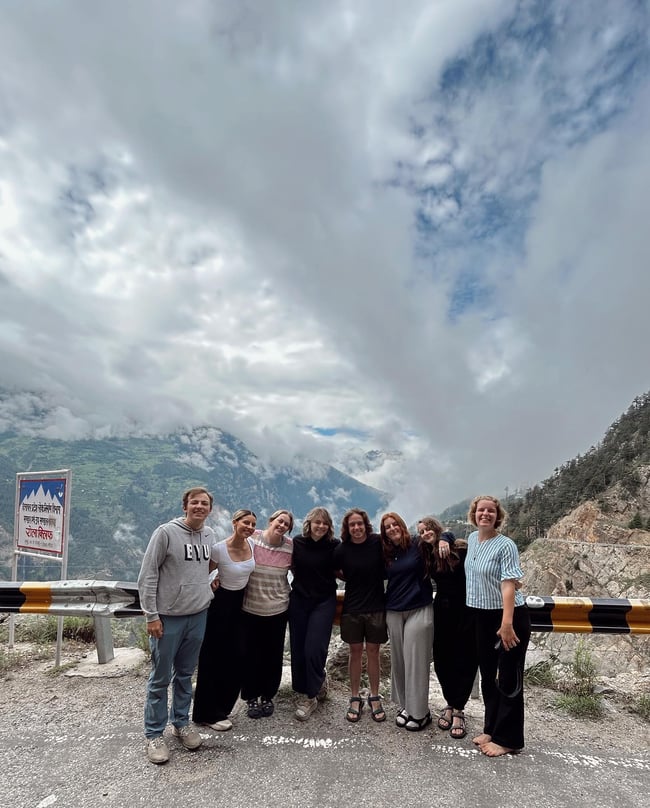 Things Are A Little Different In India For ILP Volunteers
Spending your semester abroad in India with us? This particular program is a bit unique because we've set up our ILP India volunteers with a whole list of vacation opportunities that's all been put together by our travel team in-country. Traditionally ILP volunteers are responsible for planning out all of their vacation details on their own (everything from deciding where you're going to how to get there and where to stay), but that's not the case for India! Our India travel team figures out all the transportation and accommodations and other details for a range of vacation packages. You get to choose from vacations on India's coastlines, jetting over to Nepal, adventuring in the tropical south, and of course, hitting all the highlights in the Himalayas ... and that's just a few of your vacay options in this country!
Especially when it comes to transportation options when jumping between these high-altitude destinations, having a customizable trip and private driver means you can shape your itinerary, ask to stop off to see that really pretty viewpoint or waterfall that's not "officially" in your itinerary, and other major perks. This is the kind of vacation that isn't an option unless you have this type of connection.
Because your vacations are all put together, your ILP group will just need to pick which ones sound best to you! These trips are also open to some customization too, so the trip can totally be what you are looking for. Though there are quite a few to choose from, we cannot stop gushing about the unexpected experiences in the Himalayas.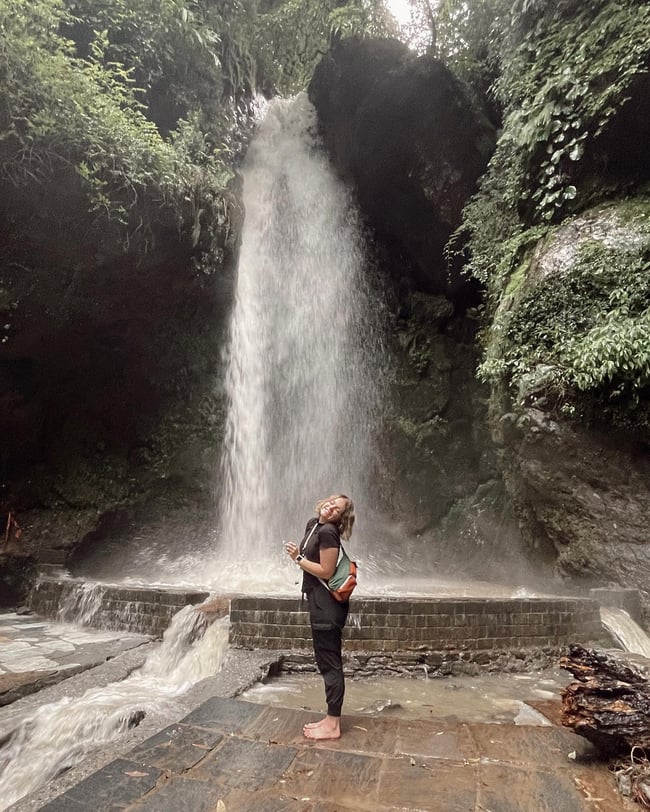 We'll let you in a little secret
Volunteering with ILP is the best way to see India. First, you're living in a quiet city where you can really connect with the culture and the people, then you have a whole spread of vacations to choose from that have been prepped and planned for you ... all you need to do is pick your favorites! Plus, ILP handles all sorts of things like your flight, visa, housing, training, meals, and other details.
Come teach English in India with ILP!