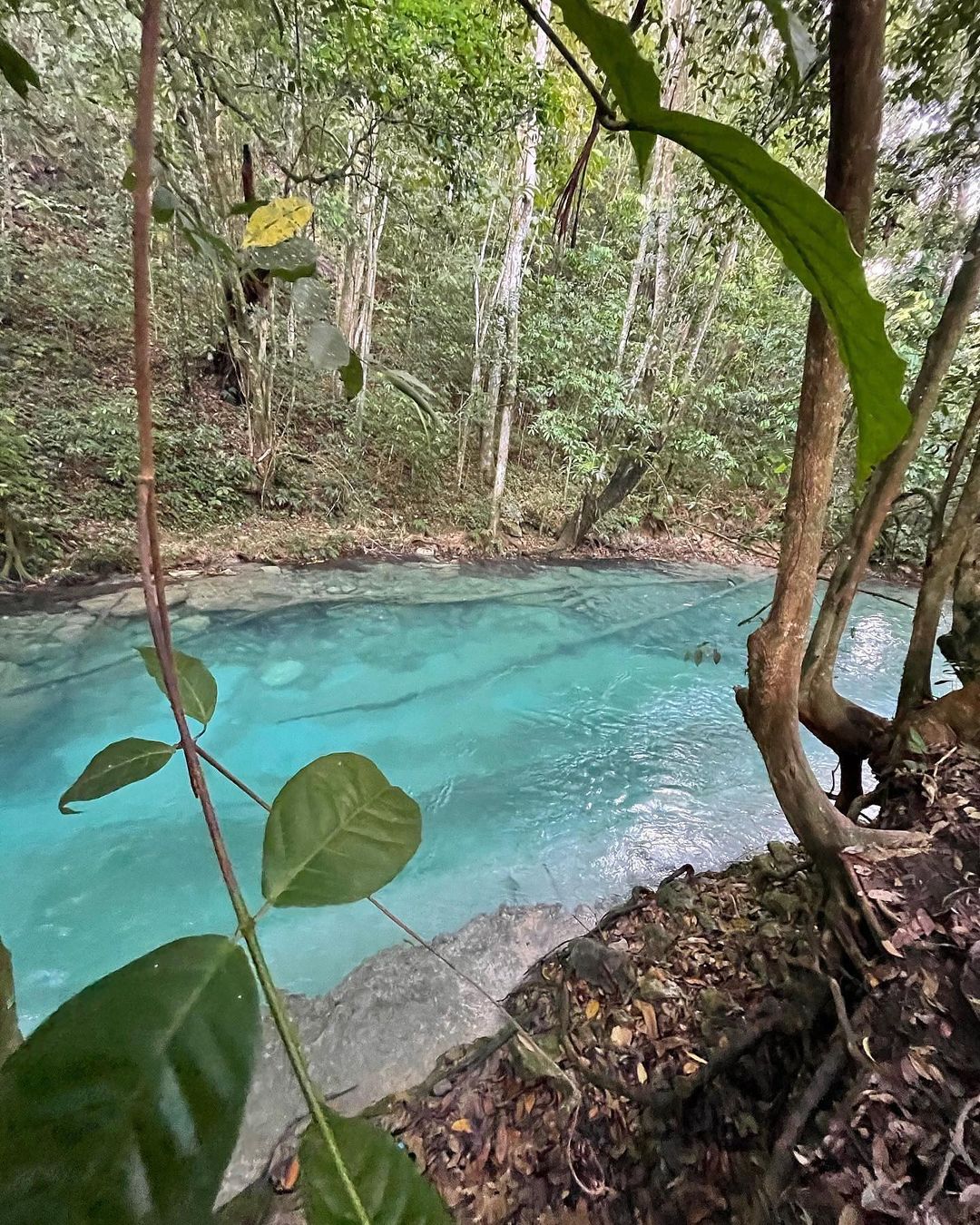 Photo via @Aquaventuresos

If you're a sucker for places that look too pretty to be real (and want an adventure that's off the beaten path), taking a day or two to get to know Rio Sonador is the place your Dominican Republic vacation is missing.
There's a lot to do in the Dominican Republic — most of our volunteers spending an entire semester on the island don't even leave the country because they stay plenty busy with all of the adventures this place has to offer!


---
Spend time in the Dominican Republic as a volunteer, not a tourist!
All about volunteering with ILP
---

But the more we learn about the DR, the more we want to head away from the busy beaches the tourists know about, and find more captivating (and quieter) adventures not many people know about.
Our latest find? Rio Sonador — a winding river that's colored the most impossible shade of blue. This place is a bit secluded, not well-known, and definitely a bit rough around the edges (if you don't go with a tour), but sounds well worth the time for the adventurous! To help you plan your own visit to these magical waters, we have the details below: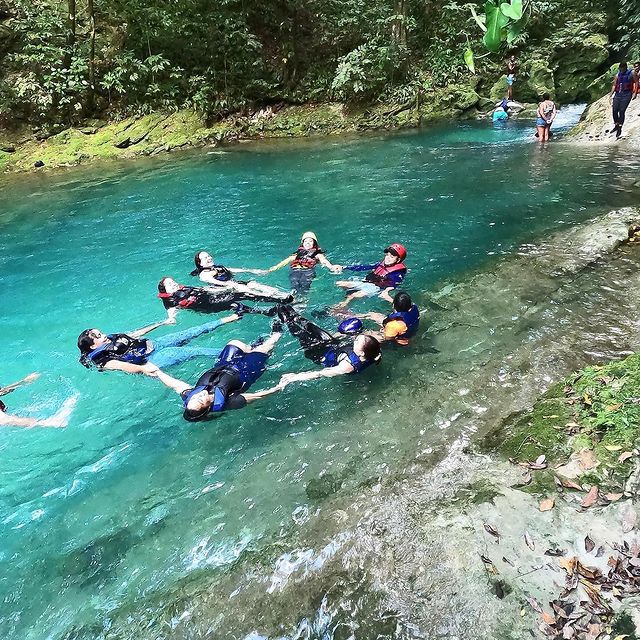 Photo via @Aquaventuresos
What Is Rio Sonador?
One look at this place and I was hooked ... I've added it to my itinerary the next time I'm in the DR! Rio Sonador is the name of the DR's secret gem, a beautiful blue river that pools into different sections, giving you quite the spot to take a swim. Sometimes, the river has formed holes in the rock, sort of like natural little hot tubs or something, carved straight into the rock. Such a fun swimming spot!
Rio Sanador is found not too far from other places we already love (like Playa Alicia and Sosua), making it a fun little add-on to your beach-filled weekends.
While the beaches in Sosua tend to be overcrowded with tourists enjoying the sun, the waters of Rio Sonador are more of a local's spot. You'll find families on the weekends hiking in with portable stoves for a family BBQ at different points in the river. But other spots are only accessible with a tour company who can set you up with gear to go swimming over waterfalls and see other parts of the river.
In essence, you can have a couple of different ways to explore this river, depending on the type of experience you're looking for.
A Couple Of Options To Consider
Going With A Tour
Thinking you want more of an "already figured out" type of visit to this dreamy spot? Go with a tour! This is the option you will want to look into if you don't want to go through the hassle of figuring out the details yourself, and instead let someone else handle the transportation, meals, all of the best points in the river, and a few other perks (like overnight accommodations if you're staying more than one night).
There are a few out there with different price points, and lists of what's included, as well as time: some offer a day excursion while others also have accommodation options if you want to spread this out over a couple of days. Essentially, you're paying for the know-how (transportation and other details are handled for you), included meal(s) and snacks, as well as accommodation if you'd like to stay longer, rather than just one day.
Here are some we found with research, though we'd invite you to ask around in addition to doing your own research to see if there are other options you might like to take:
2-day camping adventure — this tour offers a guided tour of the river, hiking along to spot waterfalls and swimming spots, and a place to camp. All meals are handled. Looks like transportation is from Puerto Plata, but maybe something can be arranged if you're already nearby in Sosua.

2-day camping excursion — this tour company has a few different options, one is a Rio Sonador camping experience that looks amazing. Check the highlights on their Instagram Page.

Another tour option visits another branch of the river called Rio Partido, so you won't be visiting Rio Sonador, but will still get that same experience of swimming and exploring in that amazingly blue water. Find the Partido tour, here.
In either case, you can find more information on their Instagram page, or their Facebook page here, (yep, it's the same company, just a different name). They're very responsive on Facebook.

1-day excursion — this Instagram tour company has done trips here in the past and may be worth reaching out to.
1-day excursion — another tour that will arrange pick up and take you to the river, complete with guides and lunch provided.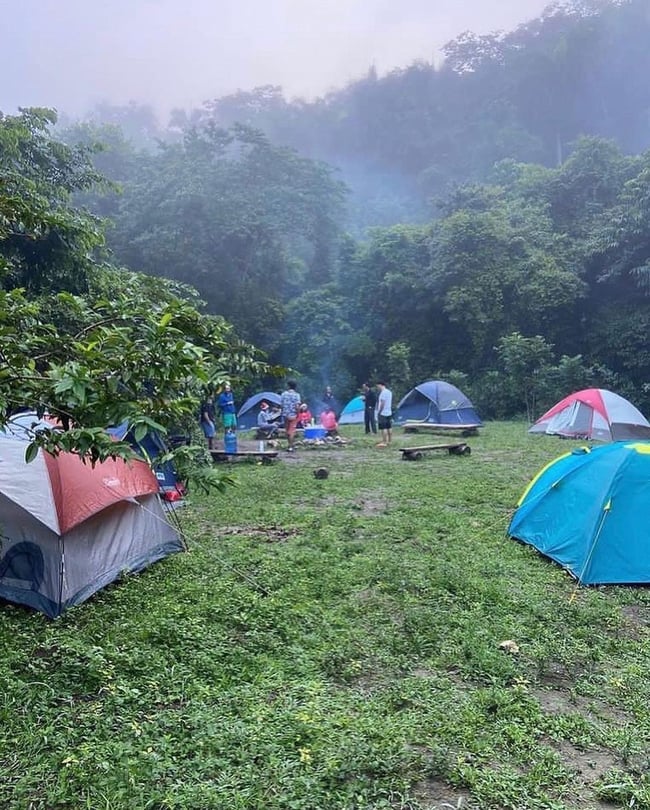 Photo via @Aquaventuresos
Or, Do DIY
As we mentioned, this river is accessible to the public without a tour — you just need to find a car that can handle the roads to get you there, pay a small fee at the "entry point" and make your way down to the river bank. If you're wanting a chill afternoon of just swimming and a picnic you packed yourself on the side of the river, this is your option. Here's a bit more to help you plan your visit:
Finding The River: The road to get to the "entrance/entry point" is cited as rather rough, better suited for cars with 4-wheel drive. If you are hiring a driver for the day, you'll want to let them know your plans so they can help you find someone with the proper vehicle (the same goes with taxis).
Once you're driven to the entry point, you'll pay a small fee (more on that later) and maybe get a wristband before you can make the 15-ish minute walk through the jungle on a dirt road. The walk is rough, so pack good shoes that can handle a rough and sometimes muddy terrain. Some mention there are horses or mules you can rent for 100 pesos to take you up and down, but that's up to you.
Just know that there are areas in the river that aren't safe for swimming. Supposedly, the locals have named checkpoints in the river (El Palo, Corina I, and Cortina II), and past that, the water gets terribly deep and isn't recommended for swimming. As a guideline, stick to where you see local families with kids swimming and take a dip there if you're unsure where a good spot to swim is — El Palo is a good place for that if you want to ask around.
Cost: The river is located on private land, so there's a small fee to enter (100 pesos).
Getting Here: This is the main caveat with the DIY option. The river's entry point is out of the way (about an hour drive from Sosua) and the roads are kinda rough, so you'll need a car that can handle that. Public transport isn't likely to be an option. You will need to arrange for your driver/taxi to wait while you swim, and take you back. It sounds doable but will take some figuring out.
If you do DIY, some cite that the entry is near this place to stay: Casita Antonio y Sarita, Unnamed Road, 57000, Dominican Republic. You may be able to get a bit more info by asking around this location, as well.
Ready to really experience the Dominican Republic?
Come see what living on this island is all about — ILP (International Language Programs) sends college-aged volunteers abroad to places like the DR to make a difference by teaching English. Volunteers teach part-time, and have the rest of their day, weekends, and vacation time to experience what this country has to offer. Get more info here: