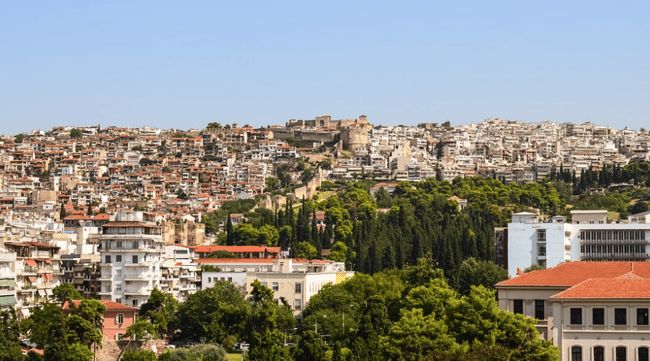 Full of lakeside adventures, a charming Turkish old town, towering churches, and other surprises are waiting for you in Ohrid.
If you didn't know already, Macedonia's the newest country we're currently jazzed about adding to every single travel bucket list out there — full of glittering lakeside coastlines, towering churches crammed with years of history, and a tumble of Turkish-inspired bazaars, this country is bursting with secrets only a few tourists know about. Ohrid is one of those gems we think you're going to be more than stoked to see yourself.


---
Europe's still hiding a few gems
This European Destination Guide has the best of the best, all in one spot.
---
In the city of Ohrid, you'll spend sunshine-filled days peeking between narrow streets to view spice-filled bazaars, photograph one of the most stunning churches tucked away in Southern Europe, and take a swim in the Caribbean-blue waters of Lake Ohrid — here's all you need to know about a little vacay in this secret spot:
What You Can't Miss

Places To Stay

Places To Eat

Getting To Ohrid
What You Can't Miss
Day Trip To Sveti Naum Monastery
This Macedonian Orthodox church is the country's architectural celebrity. Technically found outside of the city, it's been referenced as one of the most beautiful in the area, partly due to the incredible views from the top … and the fact that sometimes there are peacocks just strutting around the grounds. It's been around since the 10th century with multiple restorations, and stands as one of the most impressive pieces of architecture in the Balkans.
If you have the time for just a quick visit, you absolutely have to, but if you have more time, you can walk down to the nearby beaches around this side of the lake, or grab lunch in one of the nearby restaurants. There are also the Springs of St. Naum right by the church where you can hire a boat to take you out for a tour (prices are around 500- 600 dinars or about $9-11). There are also boat trips across Lake Ohrid for the same price if you walk down to the sandy shores below the church. There are chairs to rent on the beach, about 140 MKD for the day. With the church, the sprawling promenade and grounds around the church, plus the beaches below, you can easily make a half day adventure out of this visit (or longer).
Getting Here: Easily reached by bus (the ride is 110-150 dinars [about $2ish dollars], and takes about an hour). Buses leave from the Ohrid bus station about 6 or 7 times a day (but has a pretty flexible time table … aka, they don't leave at predictable intervals all of the time). It's also a similar price to arrive by taxi: taxi drivers will split the fare with multiple passengers, so it shakes out to be about the same price as the bus. You can also arrive by boat in the summer months: From Ohrid, the boat Aleksandrija leaves from the main pier at 10:00 AM and arrives at St. Naum at 3:30 PM. It's a 90 minute ride, for about $20 USD total.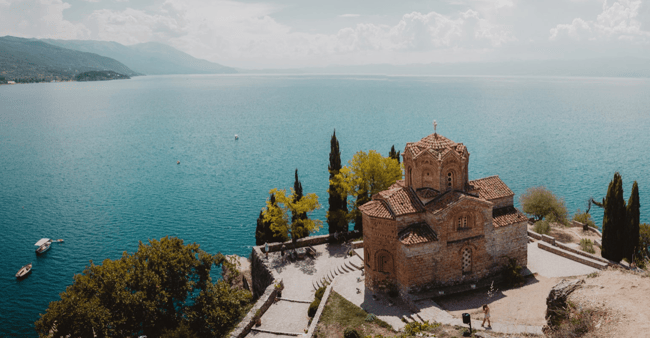 Swim In Lake Ohrid
One of the main reasons this little sleepy city lights up in the summer time … who can resist the Caribbean-colored shores of Lake Ohrid on a hot day? The shores of this lake are calm, pebble-strewn jumping off points in the clear, blue water (which is the ideal way to cool off in the Macedonian heat). Some "beach space" is lined with some folding plastic lounge chairs you can rent for the day. The water is chilly (so best not to swim if you're visiting in shoulder seasons) but in the summer months it's ideal. The water here is so clear there are multiple companies who organize scuba diving and snorkeling tours in the lake. Amfora is a popular diving company who offered both options. Since the beaches aren't sandy, you'll want waterproof shoes (we love adventure sandals like Chacos or Tevas for this) to help protect your feet as you walk into the lake.
Getting here: Walk the winding, narrow road down from Old Town (it's about a 20 minute stroll). There are multiple places along the shore to camp out for the day, but people do have their favorite beaches. Kaneo beach is a popular hang out, backed by a handful of restaurants serving up everything from salads with melty sheep's cheese to pancakes and coffee. Another perk? This beach has sandbags laid out as stepping stones so you don't have to step on the rocky beach to get into the water, and a nearby dock provides a stellar jumping in point.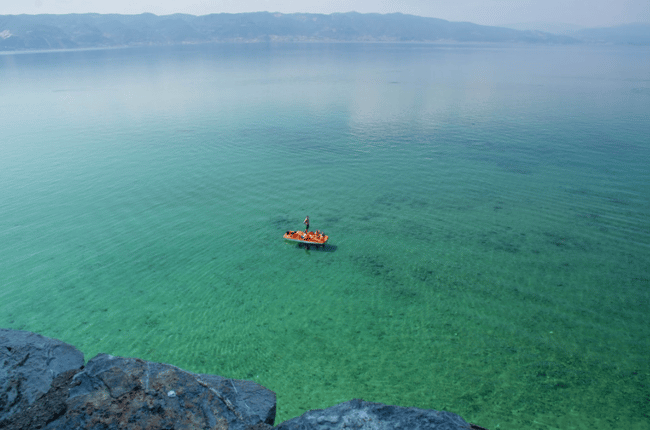 Tour The Ottoman Old Town
On the outskirts, you'll see gray, towering apartments as a reminder of the country's Communist past, but that melts away as soon as you get close to the Old Town, which transforms in a charming, tightly packed collection of red-tile roof Ottoman homes and storefronts. While quiet and quaint, it's unlike any of the Old Towns you'll find in Europe. Houses here are mostly painted white to help keep the city cool in the warm months, and with such tight space, you'll find stacked homes hanging over the stoney streets. Check out the homes along Car Samoil and Ilindenska streets, they are particularly pretty.
Little shops, bazaars, cafes, restaurants, and stores create a network of streets that wind in and out of the main square (look out for crumbling stone walls that once formed the main gate of the city). Walk on the outside of the city, towards the lake and you'll find a curving boardwalk that takes around to the harbor. From the harbor, you can get a rad view of the coral-and-white buildings all stacked up into the green hills.
Experience St. John Kaneo Church
This impressive building clings to the cliffs just above Kaneo beach and has some unbelievable views of the area. Once you reach the church, don't forget to peek over at the view before you head inside where you'll see pale frescoes spread across the ceilings. After your visit, there is a rocky path that takes you up even higher, giving you a look of the church from above, surrounded by the glittering lake. It's easily reached on foot from Old Town and a must-see.
Cost: 30 dinars for students (about $0.50), 100 regular price ($1.80).
Hike Tsar Samuel's Fortress
Head up the impressive stone walls of this fortress for a panoramic view of the city below you. Ohrid was the capital city under the Bulgarian empire, ruled by Tsar Samuel in the 10th century. It's a steep climb up the slippery stone steps (wear comfortable shoes) and it does get windy up at the top (good to know if you're in a skirt or dress). You can hike up the cobblestone streets to get to the entrance of the fortress, or a taxi will run you about 250 MKD from Old Town.
Cost: 60 MKD for foreigners (Just over $1 USD)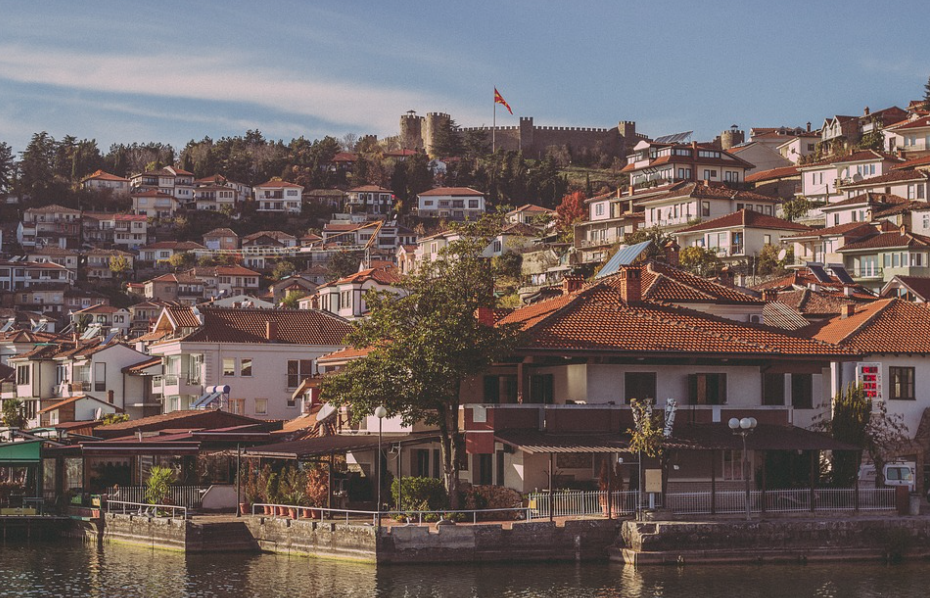 Places To Stay
Sunny Lake Hostel
The location is the real gem of this hostel, though free breakfast is also a pretty great perk. The staff is all about helping you figure things out on the city, and have a few organized activities like a bike around the lake (no small feat!) and a boat trip out on the water. Shared rooms are around $11 a night, book on Hostelworld.
Villa Saraj
A Bed and Breakfast rather than a hostel, Villa Saraj is tucked 10 minutes away from the city center and just minutes away from the nearest beach (which makes for a grand terraced view). Room prices depending on a 2-bed room ($25 a night) or a 4-bed suite ($47 a night), book on Hostelworld.
Villa Old Town
Another Bed and Breakfast option, Villa Old Town is right in the center of things, with a helpful staff stocked with maps and insider tidbits to help you out while in Ohrid. Rooms are set up with 1-4 beds, with prices in the $30-45 range, book on Hostelworld.

Places To Eat
With strong Middle Eastern, Italian, and Mediterranean influences, there are loads and loads of restaurants to choose from. Things tend to be more affordable in the city center and get more expensive as you get closer to the lake, but even then, things in Macedonia are very affordable.
Dr. Falafel
A classic staple that I can't get enough of. Find Dr. Falafel in the main square to get a lunch or dinner of falafel served with a side of creamy hummus. The menu is simple and very affordable, with a variety of sandwiches (falafel + hummus, all tucked into a soft and fluffy pita), and platters (falafel and hummus paired with pickled cabbage and carrots, plus fresh cucumbers) for under $3-4.
Address: 7mi Noemvri br.8, Ohrid 6000, North Macedonia
Hours: 9:30 AM to 10:00 PM, 10:00 AM to 10:00 PM on Sunday
Restaurant Damar
A tasty sit-down place with quite the menu, spotting dishes like grilled lamb, fried fish, and hearty stews. There is also a bomb vegetarian platter on the menu, complete with little bowls of olives, creamy yogurt, fried zucchini, roasted eggplant and variety of sauces all for under $6. The restaurant has a good view of St. Sophia's church which is also a perk.
Address: Коста Абраш, Ohrid 6000, North Macedonia
Hours: 8:30 AM to 11:30 PM
Pizza Via Sacra
In the mood for pizza? With Italy just a stone's throw away from Macedonia, the pizza at this restaurant is yum (and has a view of St. Sophia's church from the terrace if you sit outside). Find classics like pizza, pasta, lasagna, plus more traditional dishes like cheese plates, and veggie pies. (You'll find lots and lots of pizza restaurants here in Ohrid: Leonardo's Pizza and Di Angolo Pizzaria are other popular options).
Address: Tsar Samoil, Ohrid 6000, North Macedonia
Hours: 10:00 AM to 12:00 AM
Getting To Ohrid
From Skopje
The easiest way to get to Ohrid is to start from the country's capital city, Skopje. We have a mini city guide to Skopje that outlines all the things to see and do there before you take a bus down to Ohrid. Not only are there ancient fortresses to explore, a maze of spice-filled bazaars, and a few other gems, this city is the birthplace of both Alexander the Great and Mother Theresa.
Anyways, from Skopje, it's just a 3-hour bus ride for about $10 USD. There are multiple departures each day: get the times and prices on Get By Bus. The ride is gorgeous, cutting through the Macedonian countryside. It does get a little windy when you're driving through the Mavrovo National Park so make sure to take something for your motion sickness if you tend to get car sick.
Arriving In Ohrid
From the bus station in Ohrid, it's a 30ish minute walk to the Old Town (where you'll probably be staying). It's a pleasant walk that's mostly flat, but if you have lots of luggage or are arriving in the evening, we suggest taking a taxi. You'll see cabs waiting to take you into the city for about $2-$4 USD — don't pay more than that.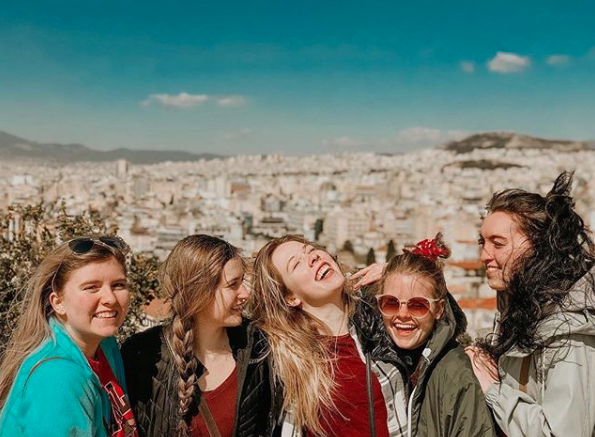 Ready for more world adventures?
We (International Language Programs) host volunteer programs in a handful of different parts of the world. Our volunteers are college-aged individuals who teach English part-time and have weekends plus vacation days off to travel. This means that you get to teach the cutest kids during the week, then hop on a train, plane, or bus to explore everything that country has to offer! Learn more on our Instagram: