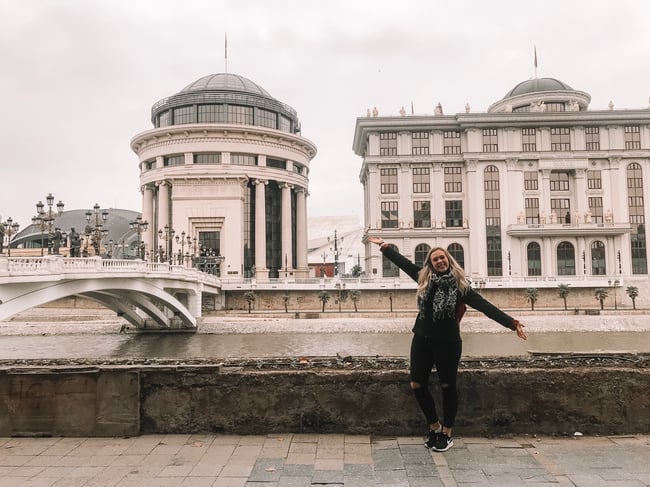 Ready to spend a weekend in a city that is far off the beaten tourist path? Check out Skopje—the capital of North Macedonia! These are the things you won't want to miss.
Ever heard of North Macedonia? Don't worry, most people outside of Europe haven't. But that's what makes it such an awesome hidden gem! And its history is so fascinating! Skopje itself is the birthplace of both Alexander the Great and Mother Theresa. The country has been passed around a lot, and was most recently part of communist Yugoslavia before declaring its independence in 1993. You'll probably be surprised by how much you'll end up loving its unique capital city!


---
Want to travel and volunteer abroad but not sure how to fit it in your life plan?
What About Taking A Gap Year?
---
First of all, let's go over the pronunciation of this city so you can say it with confidence! Don't let that "j" throw you off. It's "Skope-ee-yeh!" Another thing you should know is that since 2014, the government has really been trying to build up the city to make it more appealing to tourists. So you'll see things that look like they belong in Paris, Las Vegas, Greece, and so many other places. It's a bit ridiculous. But also really cool! So take pictures of everything!
What To See And Do In Skopje
Skopje Fortress
Old Bazaar
Macedonian Opera and Ballet
Stone Bridge
Saint Clement of Ohrid Church
Alexander the Great Statue
Macedonian Gate
Woman Warrior Park
Mother Teresa Memorial House
Vodno Mountain
Restaurants
If you want to see the most and get to know the history, a free walking tour is the perfect option! This one starts every single day at 10 am outside of Mother Theresa's house and lasts about 3 hours. But if you want to explore just with your own group, you'll need the map below. All the places that are must-sees are marked with a little green flag. Since everything is so close to the town center, this really does make for a perfect weekend trip! So, starting at the top: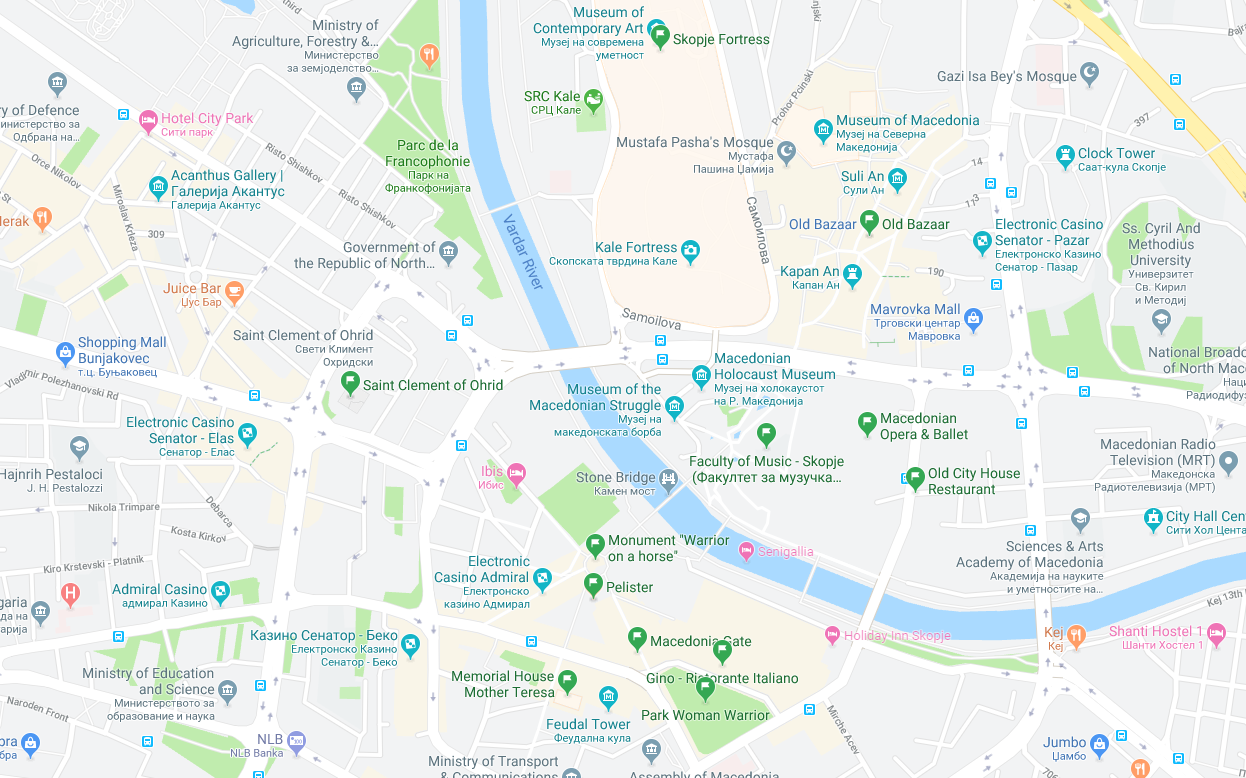 Skopje Fortress
Also known as Kale Fortress, it sits at the highest point of the city, overlooking the Vardar River. These walls have such a fascinating and far-reaching history. Archaeological research has shown that civilizations have lived on this hill since prehistoric times, but the walls themselves have crumbled due to disrepair and earthquakes several times. A restoration was completed in 2010, but sadly only 3 of the original 70 towers were included in that. You can see pictures and learn more about it here! It provides great views of the city and is free to visit.
Old Bazaar
Skopje's old town has been around for over 700 years, and it will give you a real taste of the Balkan flavor. It's been burned down by conquering armies, and destroyed in a couple of earthquakes, but is back to being one of the most popular shopping areas in the Balkans! A walk down these traditional-looking streets will be well worth it, as this is also the best place to purchase souvenirs and there are no cars. It's the soul of Skopje, so if you're going to skip out on anything, don't let it be this!
And a heads up, you'll see a lot of Roma children playing instruments and begging for money here. They can be really cute, but just make sure you watch your bags.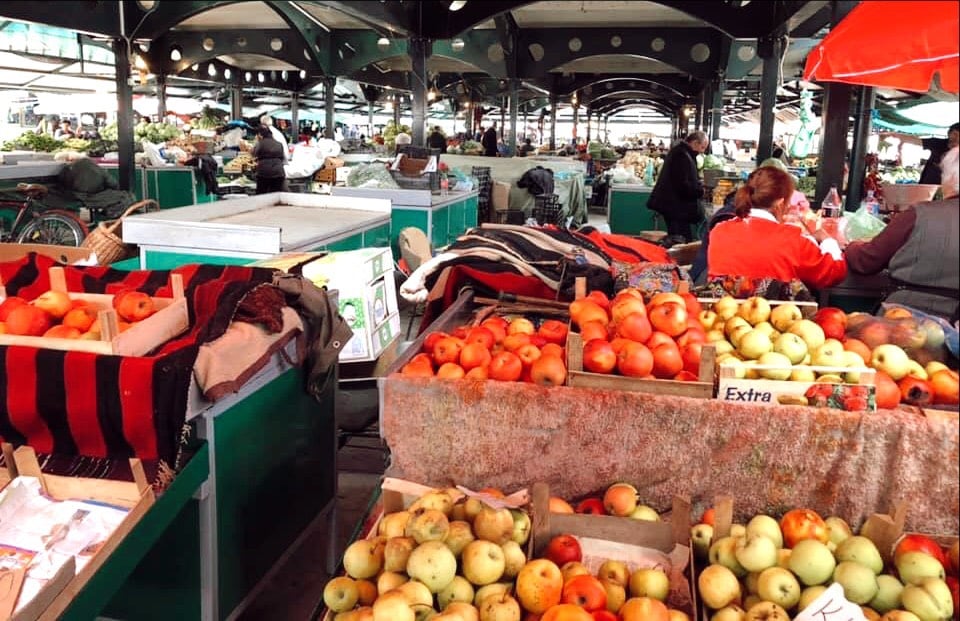 Macedonian Opera and Ballet
The building isn't anything too special (although it's pretty funky), but if you want to experience the arts of Skopje, this is the place! They regularly have opera and ballet performances here, especially on the weekends. Check out the official website to see what's happening during your visit! A standard ticket to a show will cost you less that $6.
Saint Clement of Ohrid Church
This chapel is very unique since the entire roof is composed only of domes and arches. The inside is covered in floor-to-ceiling art pieces and the interior is illuminated by a huge chandelier. And the best part? Jesus' face is painted on the very center of the largest dome. The benches near the fountain at the front are the perfect place to rest your feet in the middle of the day.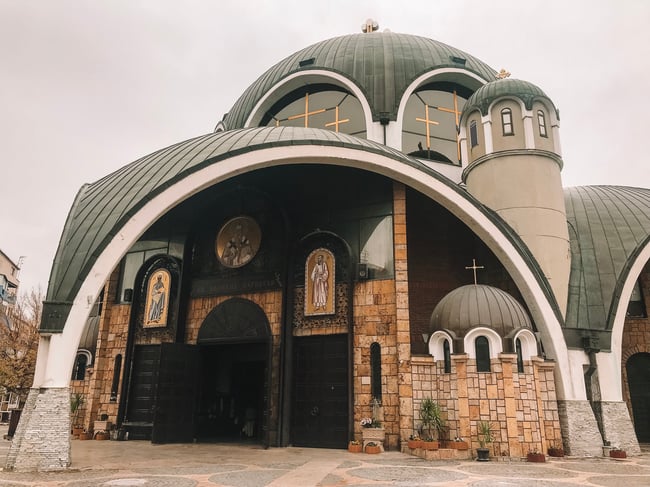 Macedonian Gate
This huge arch cost over $4 million to construct, and although it does celebrate 20 years of freedom for North Macedonia, it was also built to attract tourists. The scenes carved in marble depict the country's history. Inside the arch is a souvenir shop, plus stairs and elevators that will take you right up to the roof!
Alexander the Great Statue
It's officially called "Warrior On A Horse", but every person in North Macedonia knows it's a memorial to Alexander the Great. Remember how this was his birthplace? Just in case you forgot who he was, by the age of 30, Alexander was undefeated in battle and had one of the largest empires in the ancient world. It stretched from the edge of Egypt, over almost all of the Middle East, and even into part of India. Even though he died when he was only 32, he's still considered one of history's most successful military leaders. If you look through the center of the gate in the picture above, you can see the statue on the other side. It's huge!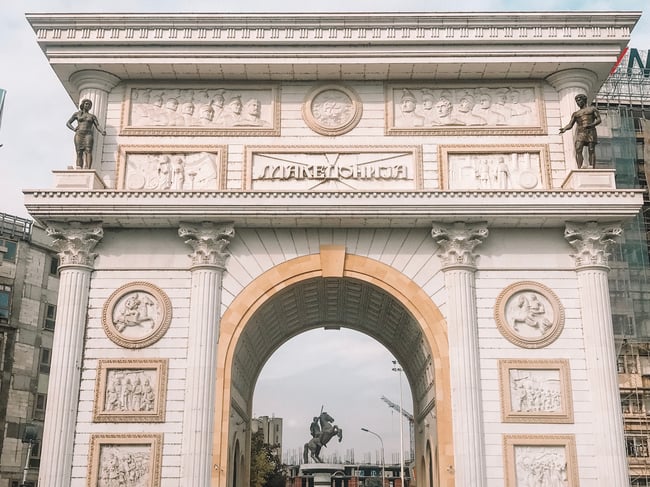 Stone Bridge
This is really the symbol for the whole city, and for good reason. It's beautiful! The Nazi's were planning to bomb it during WW II, but the demolition was prevented after the liberation of the city. It still stands as a literal connection between the old and new, ancient and modern sides of the city.
Woman Warrior Park
As you'll notice, there are statues and memorials and more statues all over the city. It's part of the government's effort to reclaim their history from the Greeks. This little park right behind the giant arch has a cluster of some of Skopje's best statues. But we're not exactly sure why it has the name it does? Most of the statues are of men. Definitely worth a walk-through since you'll already be in the area!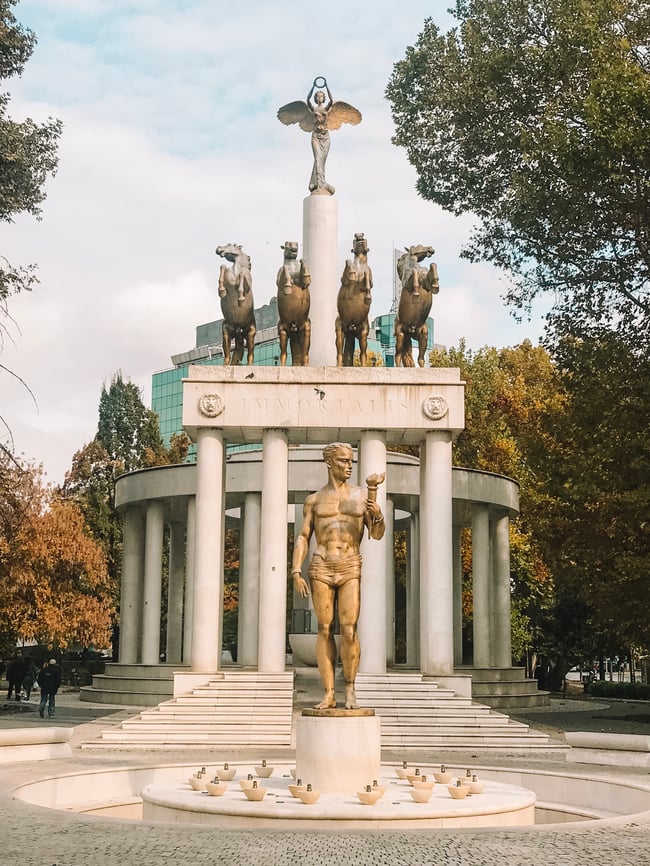 Mother Teresa Memorial Home
So technically Mother Teresa is Albanian and she's well known for her life's work while living in India for most of her life. But she was born in Skopje, back when it was part of Albania. Remember, this neck of the woods was passed around a lot. This home is not actually the one she once lived in, but it's built on the original location of the church where she was baptized. The home is full of interesting memorabilia and personal items from her life and service abroad.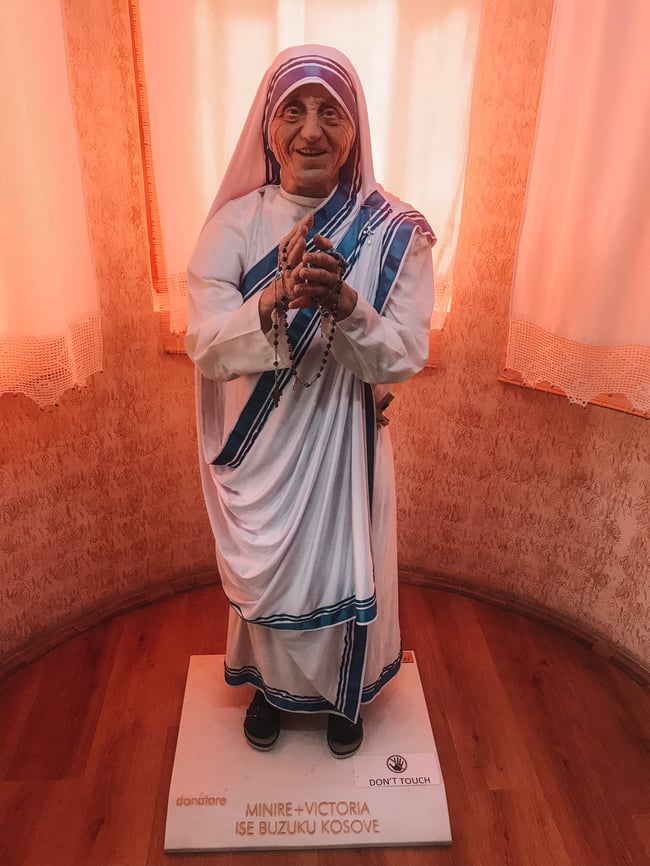 Vodno Mountain
If you're in Skopje at night, you'll see a gigantic cross shining over the city. It's actually the world's largest! During the day if you have time, you can hike up Vodno Mountain to the standing place of the Millennial Cross for beautiful views! The trailhead is not far from the city center, and the hike itself will take a couple of hours.
If you're not ready for more walking, there is a bus that can take you to the bottom of the mountain, and then a gondola lift that will take you to the cross. Worth the couple dollars it will cost you. Read this blog post for all the trail details and bus info!
Restaurants
Old City House Restaurant
This is THE place for traditional, delicious cuisine. It's similar to Greek food, but mixed with a bit of Eastern European dishes. Lots of meats, rice, potatoes, breads, and veggies. They even cook the food in a wood stove! Check out the pictures of the cutie interior and make sure this is one of your stops in the city. A full meal here will cost you about $8-10.
Hours: Daily from 9 am to midnight. Closes at 11 pm on Sundays.
Address: Boulevard Phillip the Second of Macedon 14, Skopje 1000, North Macedonia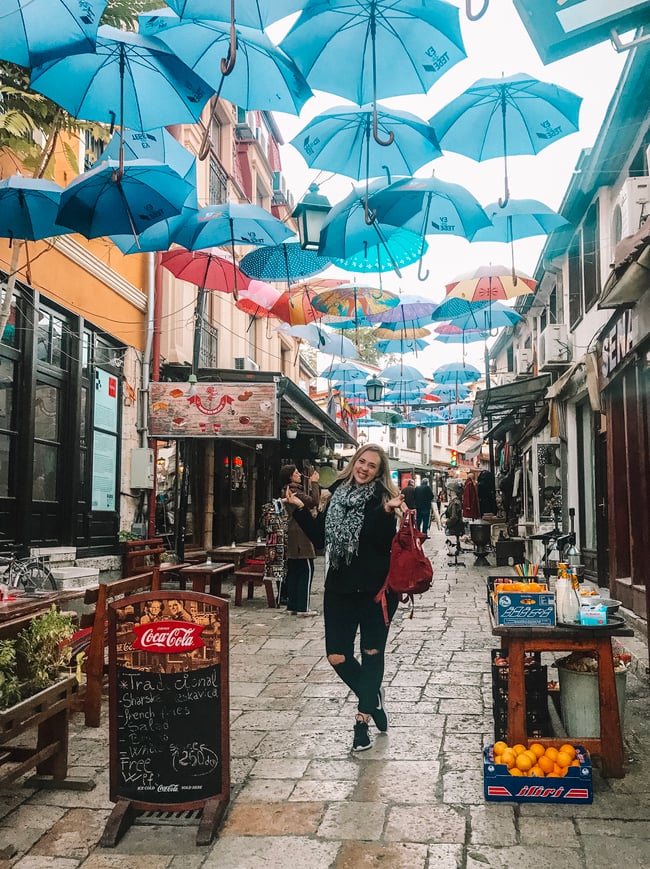 Pelister
Great place if you're feeling pizza, pasta, and lots of meat! The perfect combo of European, Italian, and Mediterranean cuisines. Yum! Since it's right by the Stone Bridge, the location is also very convenient. A full meal will be about $10, but the portions are pretty big!
Hours: Daily from 7 am to midnight.
Address: Boulevard Macedonia, Skopje 1000, North Macedonia
Gino
This was the first Italian restaurant in Skopje, and is still arguably the BEST Italian place in the city. They serve every type of noodle and pasta you can imagine. Pizza, pastries, fresh seafood, and soups are also available. It's one of those places that everyone in your group will be happy with!
Hours: Daily from 9 am to midnight. Open til 1 am on weekends.
Address: GTC floor 1 loc. 205, Skopje 1000, North Macedonia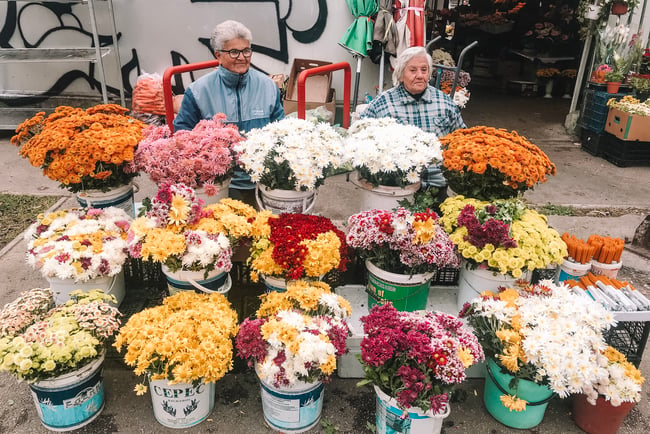 Wondering what to expect when volunteering with ILP?
We know you probably have a lot of questions. . .which is why
we're here to answer them! Click the button below to chat with one of our reps in the office who has actually spent a semester volunteering abroad.