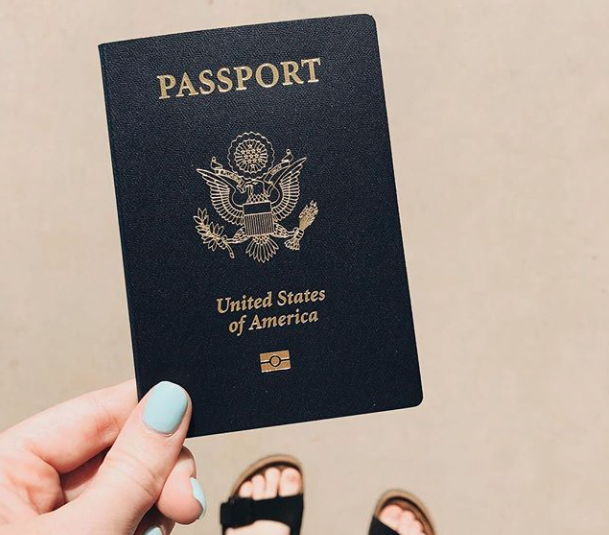 Just a couple of hours away from Hanoi is Ninh Bình, home to whimsically lush mountains, monastery hikes, a winding river cruise through deep caves, and riding bikes to rice fields. I loved my time in Vietnam. My sister and I both spent a semester volunteering in Asia with ILP and wanted to go back to that part of the world, so when spring break came, we grabbed our other sister and headed to Vietnam for a couple of weeks ... and we all loved it.


---
Spend a semester teaching and traveling in Asia
All about volunteering with ILP
---

One of my favorite parts was when we took a bus up to

Ninh Bình

. Picture a tropical paradise complete with huge fields of jungley-mountains, bike rentals, and river adventures.

Ninh Bình

is incredibly scenic and a nice break from the bustle of Hanoi. Don't miss it! I feel like we planned the perfect itinerary, and wanted to share all the details with you for your own trip:
Where To Stay

A Few Tips

Getting To Nihn Bihn
What To See + Do In Nihn Bihn
Trang An Boat Tour
This boat tour is an absolute highlight, don't skip it! It's easily the most touristy thing to do in the area, but the views are amazing. This whole region is a spread of green rice terraces, interrupted by a curling river and massive limestone mountains that jut out from the landscape. One of the best ways to see it all is through a river cruise where you wind between the mountains and through massive caves, stopping off to admire pagodas and the famous film site of the King Kong franchise, depending on what boat route you take.
There are three routes to choose from, each taking you to different points of interest and caves. You can get an outline of what each tour covers here — you'll choose your tour, pay for your ticket, and get in line to board your boat (your boat is paddled for you), then you'll be off! The tour lengths vary a bit but plan on around 2-2.5 hours (slightly more for the longer tours).
You'll be out in the sun, so it's helpful to wear sunscreen and pack plenty of water in your bag for the duration of your tour.
Price: 200,000 VND. Each boat holds four people. (A small tip, even just 20,000 dong is appreciated for those who row your boats).
Getting Here: Easily reached by bike from Tam Coc. Here's the address to help you out: số 6 Tràng An, Tân Thành, Hoa Lư, Ninh Bình, Vietnam.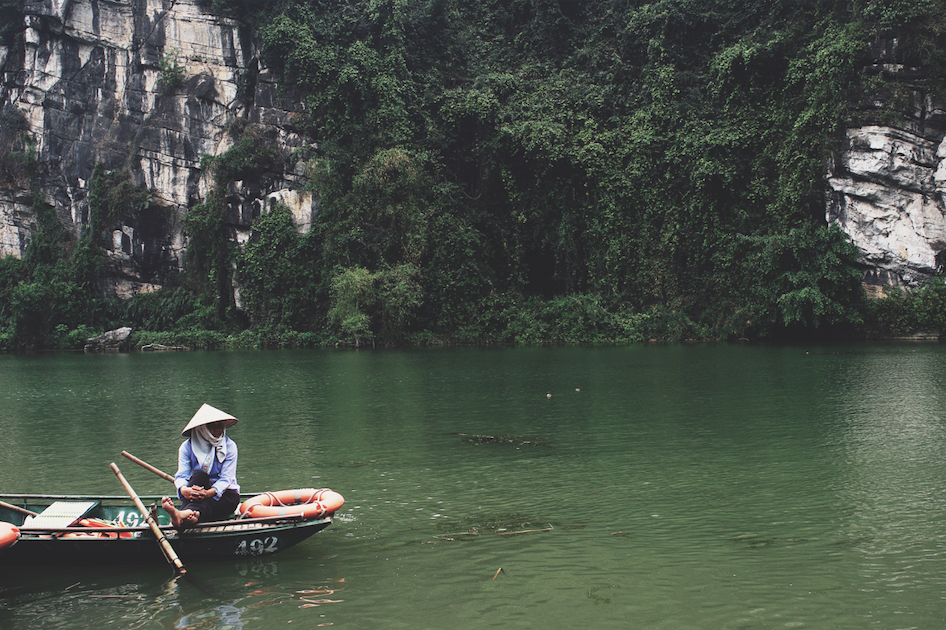 Hua Loa Ancient Capital
This complex used to house the nation's ancient capital, a remnant of the Dai Co Viet Kingdom which was the epicenter of culture and political power of Northern Vietnam in the 10th and 11th centuries. The whole complex gives you a lot to explore, home to a smattering of pagodas, pavilions, and palaces that were built by a collection of different centuries. It's all surrounded by those limestone mountains and a few lakes, making the whole area rather picturesque.
The whole space is made up of two sections: the Inner Citadel and the Outer Citadel (which is where most of the sites are that are visited by tourists). You're welcome to wander around and explore the sites, but I'd recommend reading a little about the history because not much is labeled in English. I particularly enjoyed touring the temple of Đinh Tiên Hoàng and the Nhật Trụ Pagoda if you're looking for a few recommendations.
Hours: 7:00 AM to 5:00 PM
Address: Trường Yên, Hoa Lư District, Ninh Bình Province, Vietnam
Good to Know: You'll need to cover up with a Sarong if you're not dressed properly. Shoulders, chest, and legs need to be covered.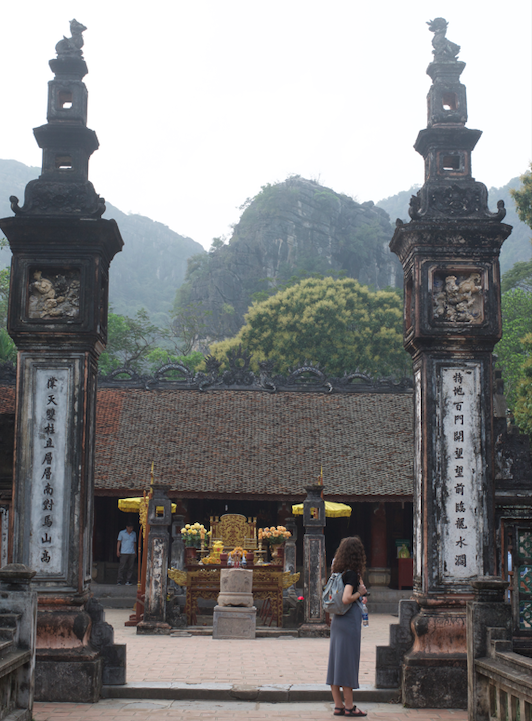 Biking To The Tam Coc Rice Fields
There isn't an exact location for this (there are some pretty rice fields located around the Bich Dong Pagoda), but you absolutely need to take time to bike around the rice fields, particularly around sunset or sunrise. We have some details on renting bikes below, but biking around the rice fields was a highlight of my trip.
Bich Dong Pagoda
This area of Vietnam is known for hiking, so don't leave without trekking up to a pagoda or two. This particular pagoda is three-tiered and nestled right into the mountains. The first pagoda has five rooms, the second pagoda is partially built in a cave, and the third gives you views of the rice fields and villages spilling out below you. The entrance to the pagoda is a massive archway surrounded by a lake which is sometimes dotted with these huge lily pads. The whole area is just gorgeous — we caught it at the end of the evening when the sun was setting which was beautiful. Don't miss the surrounding rice fields in the area, either (they're gorgeous).
Hours: 9:00 AM to 6:00 PM
Address: Ninh Hải, Hoa Lư District, Ninh Bình Province 430000, Vietnam
Good To Know: You'll need to be dressed appropriately, or you might be denied entrance.
Price: No admission fee, however, you may need to pay around 10,000 dong to park your bicycle).
Hiking Hung Mua
If you're up for more of a hike, time to tackle Hung Mua. The steps are steep (and there are tons of them!) but the views are pretty unbeatable. You know the winding Trang An river cruise you took? Imagine seeing everything on that tour, just from above. It's some 500+ stairs total to reach the top, but partway through, you'll reach a split in the pathway and can choose between the right ( leading to one of the pagodas) and the left (leading to the stone statue of Quan Am, or The Goddess of Mercy). You'll want to visit both, so plan on a few more than 500 stairs!
From either side, you can peer down and see golden rice fields and seemingly unending layers of those jungle-topped limestone mountains in front of you.
At the base of all of this hiking, you'll find a little seating area (cool off with a coconut drink) and the entrance to the Mua Cave ... another place to cool off from the high humidity and heat in Vietnam.
Cost: 100,000 VND
Address: thôn Khê Đầu Hạ, Hoa Lư District, Ninh Bình Province, Vietnam
Hours: 6:00 AM to 7:00 PM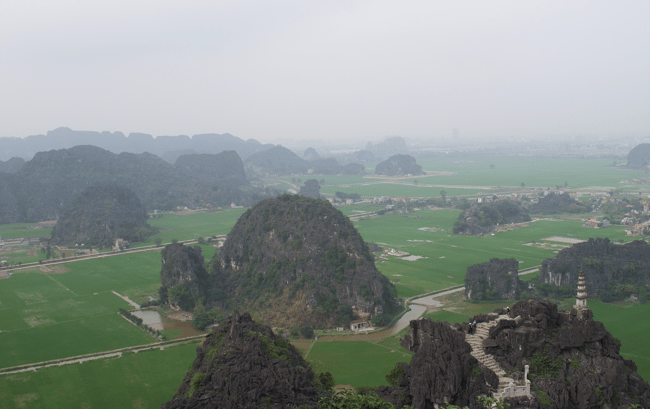 The Bai Dinh Pagoda
While you're in town, try to fit in a visit to the largest Buddhist complex in southeast Asia. It's also full of over 500 statues of Buddha, a massive prayer hall, pagodas galore, temples and bell towers plus nearby limestone grottoes, and some pretty breathtaking views. You can get a peek at a map of what's waiting for you, here.
Cost: Free, but you pay 80,000 VDN to a 2-way ride via electric vehicle if you want to save yourself some walking.
Address: Xã, Gia Sinh, Gia Viễn, Ninh Bình, Vietnam (You'll want to take a taxi here).
Hours: 6:00 AM to 10:00 PM

Where To Stay
You have a couple of choices when looking for hostels and places to say:Ninh Bình itself, or Tam Coc. I suggest Tam Coc. It's a tiny little cluster of buildings deep in the countryside, giving you a more idyllic, relaxing experience. You can always call a taxi to get you into Ninh Bình, but I liked the more remote, rural experience. You'll find quite a few options, but here's where we stayed if you'd like a recommendation.
We stayed at the Trang Anh River View Homestay Hotel and loved it. It was situated past spreads of rice fields, nestled between rolling mountains and a little river, so you had quite the view when you woke up. They also did bike rentals and had a pretty good restaurant for dinners (and provided free breakfast). Book on Hostelworld here.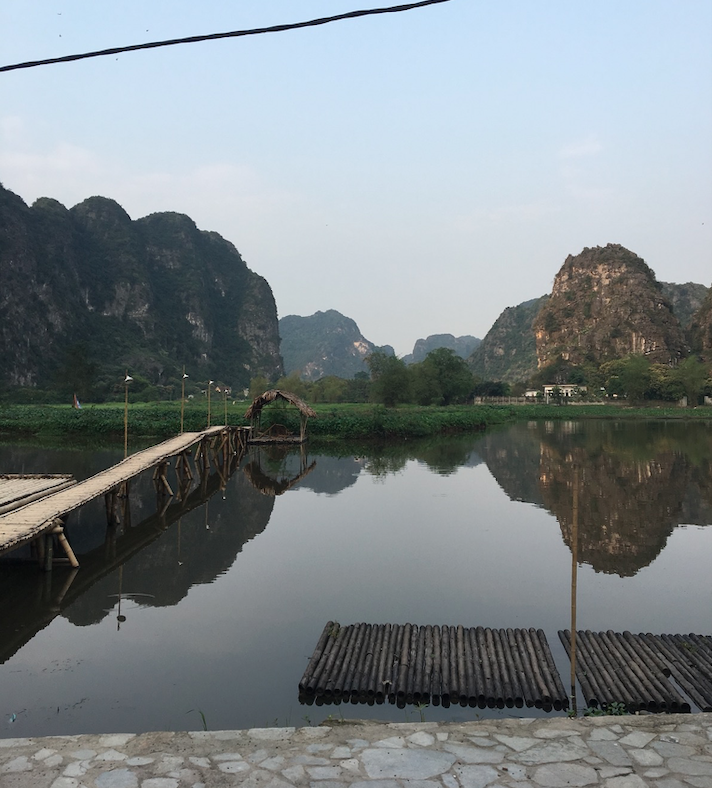 A Few Tips
How Long Should I Stay?
We heard 2-2.5 days here was perfect and I agree. We spent 2.5 days hitting all the top sites and thought it was ideal. The overall pace of the trip was pretty low key, just riding bikes around and exploring the sites at our leisure. That amount of time let us relax and get to see everything on the list above. You can spend more time and see more (or take it slower) but I wouldn't recommend less than 2 days.
Getting Around The Area
As hinted above, Ninh Bình is the main little city in the area, which is around a 15-minute car ride away from Tam Coc, the quieter, more rural section of the area. You can get around to many places by bike from your Tam Coc hostel. We biked to explore the Hua Loa Ancient Complex, the Tam Coc rice fields, Bich Dong Pagoda, Hung Mua, and the Trang An boat ride. Just plan on bringing along plenty of water and biking a lot, but the views are so gorgeous, I didn't mind one bit.
For places too far to bike (like the Bai Dinh Pagoda), you can have your hostel or homestay call a taxi for you.
Parking Your Bike
Most places to visit have a little parking lot by the entrance where you need to pay to park your bike. The fees are inexpensive, typically around 5,000 or 10,000 dong. Prices are sometimes posted, sometimes not, but make sure you have cash on hand for that. Typically we'd park our bikes, then we'd walk up the entrance, pay for parking and then pay the entrance fee before being allowed inside.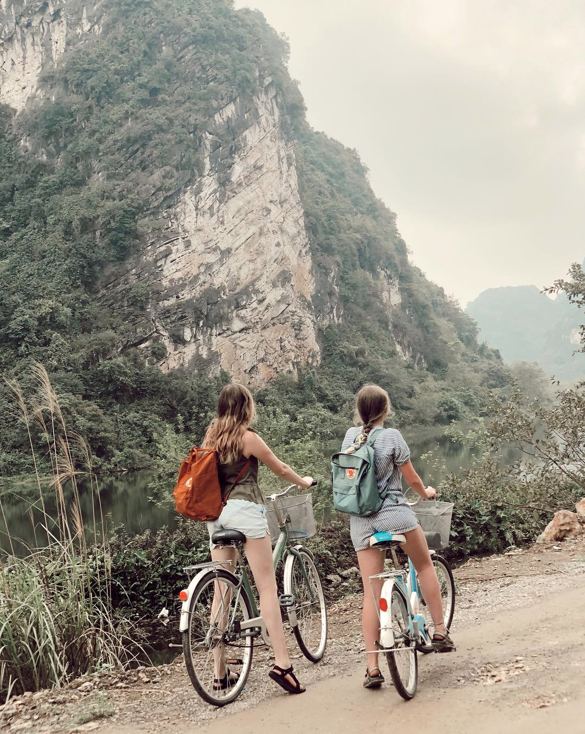 Getting To Ninh Bình
From Hanoi
Hanoi is the best jumping-off point, and you can get to Ninh Bình from there via bus, train, or taxi. Plan on the ride taking 2-2.5 hours. We talked to our hostel in Hanoi who arranged a shuttle bus with others headed there for about $10 USD, but there are a few other options if your hostel doesn't help you make arrangements.
Check train tickets

here

.

Check bus/shuttle tickets

here

Private taxis are expensive, typically around $60 USD for 4-5 people.
Taxi To Tam Coc
Once you arrive in Nihn Binh, snag a taxi (around 10-15 minute ride) to your homestay or hostel in Tam Coc.
A Reminder About Your Visa!
American citizens MUST have a visa to visit Vietnam. As of now, Vietnam has a Visa-On-Arrival for tourists visiting just a short amount of time, but you have to apply before you leave. Once you apply and are accepted, there are certain documents you have to bring with you to the airport — you won't be allowed on the plane to get to Vietnam without the right paperwork.
Then, once you land in Vietnam, you'll hand over that paperwork (and a couple of other things) to get your visa, right before going through immigration and customs. This post outlines the whole process.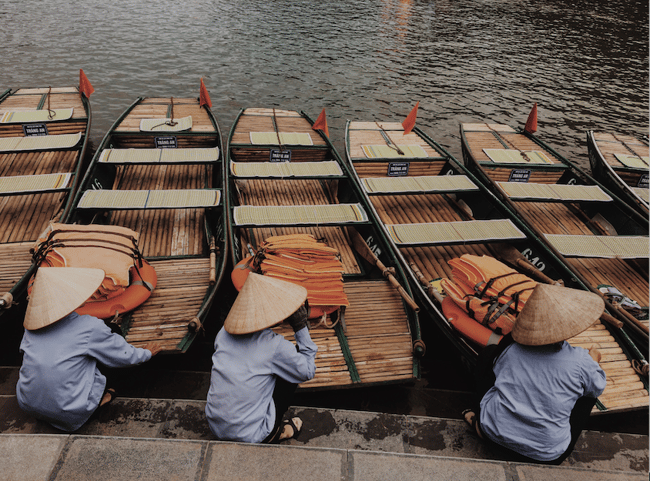 Come spend a whole semester in Asia!
I got to spend a whole semester teaching English and traveling around this part of the world when I was volunteering with ILP.