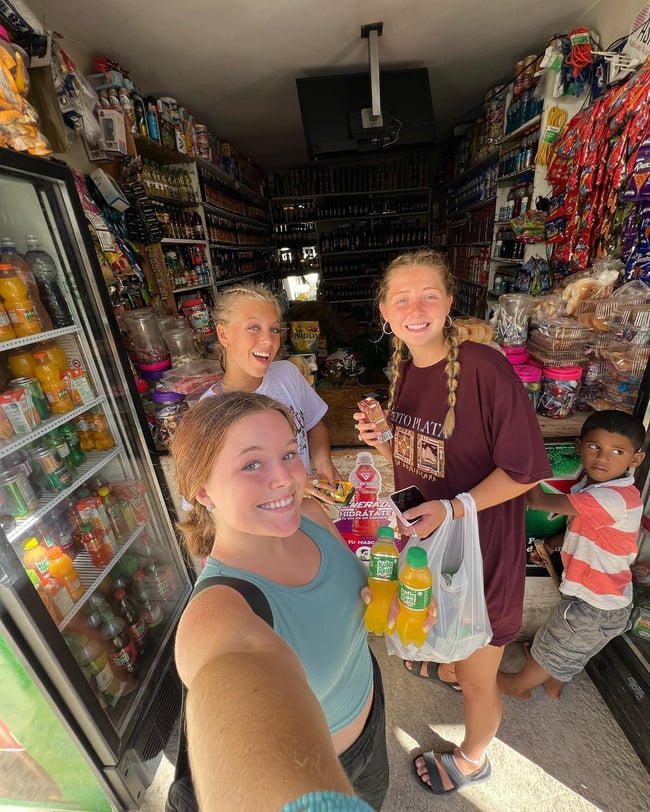 The Dominican Republic is known for some of the world's most beautiful beaches, amazing scenery, and friendly people — but if you're traveling (or volunteering there!) you can't miss out on trying lots of new and delicious foods.
---
Get way more out of this country by living here
All about volunteering in the Dominican Republic
---

Luckily for you, we have about as many favorite dishes as favorite beaches when it comes to this country. From little snacks to buy at the local markets after a day of teaching, our favorite restaurants, and roadside stands plus the local dishes you can't leave without trying, you're in really good shape when it comes to the food in the Dominican Republic!
Classic And Authentic Foods To Try
While you're in the Dominican Republic, you have to try the local food – It's all part of the (yummy) experience! ILP volunteers will get the chance to eat like a local for most of their meals, with a cook who will serve up delicious Dominican dishes. Here are a few of the local dishes and foods that our volunteers love:
Tostones
Plantains (basically a savory banana) are a massive staple in the Dominican diet and one of the most popular ways to eat them are as tostones. Tostones are made by flattening slices of plantains, deep frying them, and serving them with a mayo sauce- yum! This is such a popular Dominican dish — ILP volunteers might be lucky enough to have them at home, prepared by their cook, or it's easy to find them at nearly every restaurant in the country.
Morir Sonado
Morir Sonado basically translates to "to die dreaming" and we think this sums up our favorite traditional Dominican drink pretty well. This drink is made out of a combination of evaporated milk, sugar, and orange juice, and tastes a bit like a melted orange creamsicle. One sip of this drink and it will make you feel like… well… you're going to die dreaming.
Arepas (or Tortas) de Maiz
This is a very popular dessert in the Dominican Republic made out of cornmeal, coconut milk, and sometimes raisins! It is baked in the shape of a big round cake and you can buy a slice from a street vendor for less than $1 USD.
Bizcocho Dominicano
Bizcocho is another widely popular dessert in the DR — no Dominican celebration is complete without Bizcocho and many volunteers call it 'the best cake we've ever had'. So how do we describe this famed cake? It's a light and airy sponge cake filled with a fruit filling (usually pineapple) and covered with fluffy white frosting. After a few weeks in the DR, you'll find yourself grabbing one of these at the local market to celebrate every birthday and holiday! Many ice cream stands sell bizcocho flavored ice cream and we think it's definitely worth a try too!
Empanadas
Trying all the different kinds of empanadas is reason alone to visit the DR. If you're an ILP volunteer, this is another dish that your cook might put on the menu for lunch from time to time, but there are also tons of empanada stands for when your empanada craving hits after a long day of teaching or relaxing at the beach — just keep your eyes peeled for 'empanada' signs while you're walking around the neighborhood. Our volunteers especially love the cheese, egg, and pizza flavors and the best part is that they only cost about $0.30 each!
If you're part of the ILP group that spends time in Javillar (or will be in the Costambar area), there's one empanada stand in particular that volunteers have been loving for years. If you want to check out this stand and continue the support, all the info is found here.

Jugo
Fresh tropical fruit means fresh tropical juice! Personally, I couldn't help but order some juice anytime I was at a restaurant. You'll find flavors like tamarindo, mango, chinola (passion fruit), and guanábana (which is this spiky green fruit with a white center). Sometimes you'll get juice made with "avena" which is oatmeal — the oatmeal is there to supposedly cool you down from the inside, but don't worry, it gets strained out so the juice isn't chunky or anything.
Rice and Beans
I'm sure you're already familiar with rice and beans, but we just want to prepare you for what a staple it truly is here. If you're eating local (like ILP volunteers do) you'll have it most days — there's even a dish with meat, beans, rice, juice, and a salad called "La Bandera" (which translates to "the Flag") because it's such a classic dish.
You'll get your fill of rice and beans that's for sure, but in the words of one ILP volunteer: "Rice is definitely repetitive but it's always so so yummy!" There is also a local saying that if you didn't have rice, you didn't eat: It's usually part of every meal.
This Treat
Honestly, we're not quite sure what this yummy treat is called ... we just know it was oh so good! They're frequently sold on the beach, so if you're hanging out or see it sold by a street vendor we say give it a try. They're usually $1 USD for about 4. So good!
Favorite Places To Eat
These are our favorite things our volunteers are getting after a day of teaching or on the weekends because they are absolute favorites. Find these spots near Puerto Plata.
Bon + Yogen Fruz
These two places share the same storefront, so we've put them together. Bon is a delicious ice cream place and Yogen Fruz has fresh frozen yogurt you can get piled high with fruit. It's been really popular with ILP volunteers and we have a feeling you might stop by more than once or twice during your semester here.
There are several locations, usually found in areas with more foot traffic like Puerto Plata, Sosua, and Santo Domingo. They've gotten so popular that they have even expanded into other Caribbean islands! Just type in "Helados Bon" into your phone's GPS to find locations closest to you.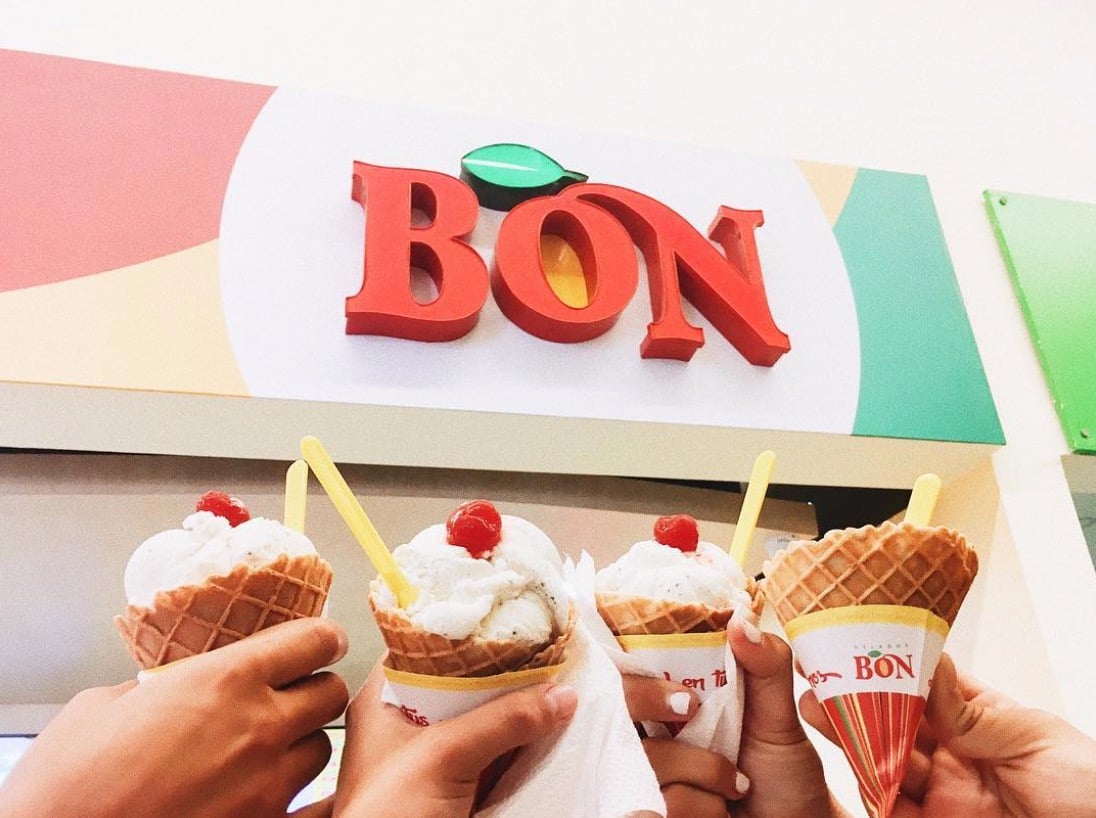 Mariposa Gelato
Located inside Puerto Plata's ADORABLE city center, Mariposa Gelato (officially called Heladería Mariposa Repostería Austriaca) is a favorite among volunteers. Mariposa sells a wide variety of gelato flavors like chocolate chip, cherry, and pistachio. If gelato isn't your thing, Mariposa also sells a variety of gourmet cakes and pastries – yum! Oh, and did we mention that Mariposa is possibly the most aesthetic gelato shop we've ever seen?
Address: Calle Beller, Puerto Plata 57000, Dominican Republic
Hours: 7am-10pm
Kaffe
A cute, bistro-style restaurant (with the prettiest tile floors), this is another favorite spot our volunteers love. All of your meals at home will be covered as a part of your ILP Program Fee, but sometimes it's nice to go out for breakfast on the weekend or have a special celebration dinner — Kaffee is the spot for all of that! Volunteers like to get ranch chicken bacon wraps, BBQ burgers, fries, and chinola juice which is "the best juice ever".
Address: Calle Prof Juan Bosch no 42, Puerto Plata 57091, Dominican Republic
Hours: Closed Mondays, Open 8:30 AM to 11:00 PM
Herdman's Chocolate Bakery + Cafe
Also located in the Puerto Plata city center, Chocolate Bakery & Cafe is a volunteer favorite for celebratory birthday dinners or weekend escapes to the city center. Despite the name, Chocolate Cafe serves much more than just chocolate (though there are lots of chocolate desserts to choose from). With a menu ranging from pizza to burgers to sandwiches, there is something for everyone! Pro Tip: Get a table on the balcony for a prime people-watching view over the city center.
Address: Puerto Plata República Dominicana, 57000, Dominican Republic
Hours: 8:30 AM to 11:00 PM (Sunday hours: 4:00 PM to Midnight)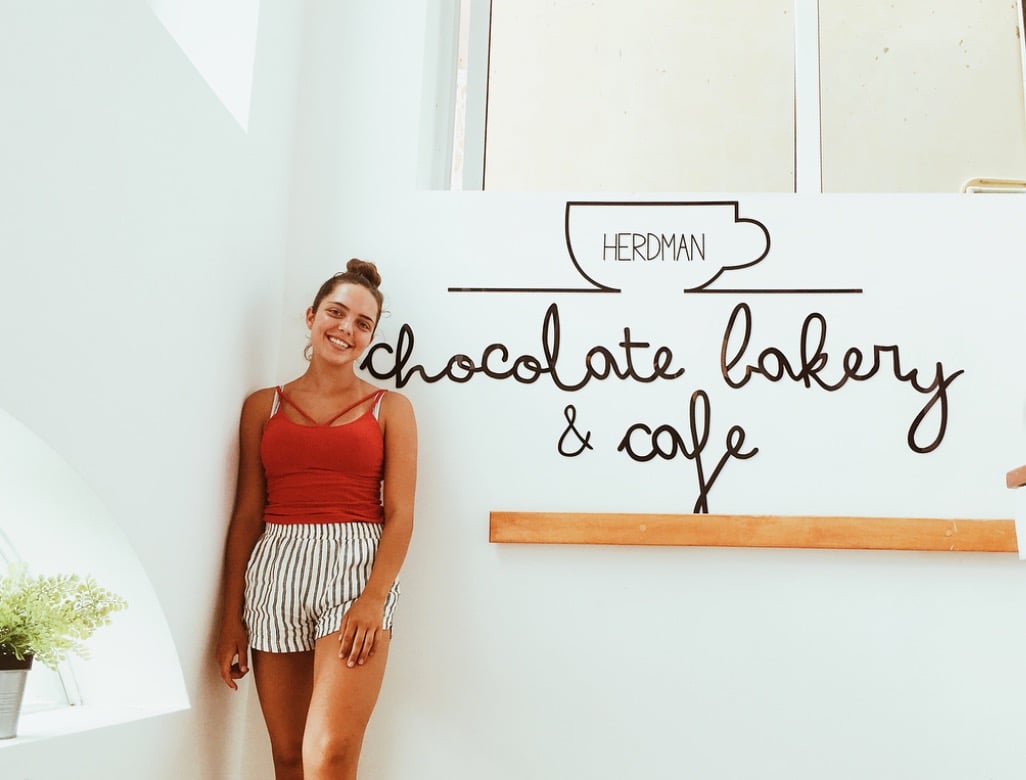 Sole Mio
Forget peanut butter and jelly, is there any better combination than beach days and authentic Italian food? We think not! Sole Mio is an adorable thatched roof Italian restaurant located right by the beach in Costombar (a place volunteers will become very familiar with during their semester). The restaurant is run by the sweetest Italian woman and her son who whip up all kinds of Italian cuisine from pizza to carbonara.
Address: Calle Anacaona 1, Puerto Plata 57000, Dominican Republic
Hours: 4 PM - Midnight
Treats To Get At The Market
We are big fans of the little snacks and drinks you can get at the markets and shops around the Dominican Republic. We have a few of our favorite things to try below, but seriously, there are tons of little chips, cookies, crackers, ice creams, etc for you to test out yourself.
If you find yourself in Puerto Plata (and nearby), our volunteers get their favorite treats at a grocery store called La Sirena and a smaller spot called Jenny's Market near Costambar, but you can also stop at your closest Colmados.
First: All About Colmados
These are little "corner shops" that are all over where ILP volunteers are living (and the country as a whole). They have all kinds of things like bread, chips, drinks, water, and other little snacks and staples.
You can go here for almost all your snack and beverage needs and most of our favorites can be found at your local Colmados.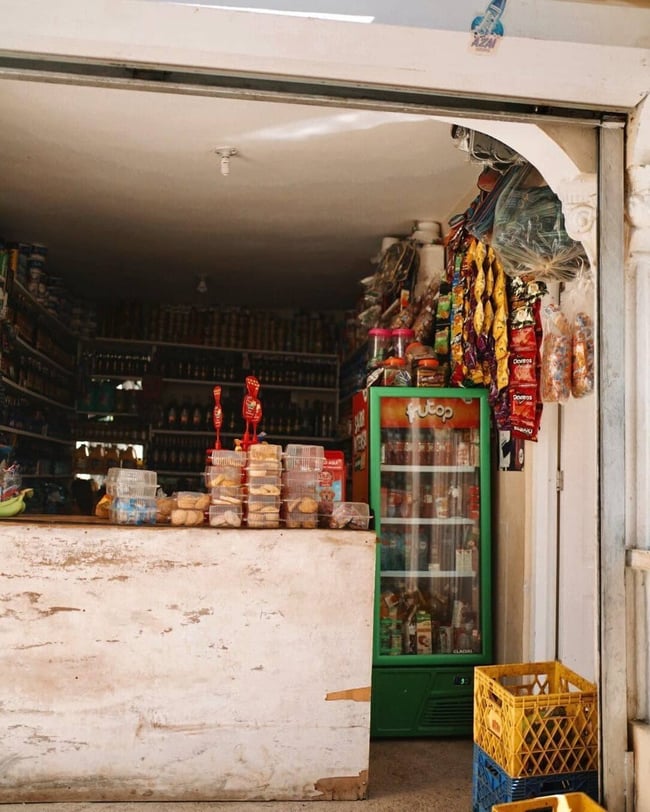 Drinks
Choco Rica
"This is the chocolate milk that I fell in love with". Hard to argue with that, right? Choco Rica isn't overly sweet but it is delicious: you can find it at most markets and Colmados. Pro tip: You can get hot bread from the bakery (instead of the colmados) for about 50 pesos, and warm bread with Choco Rica is amazing.
Kola Real
Almost every country in the world has its own version of a cola soda and in the Dominican Republic, their version is called Kola Real ('Royal Kola'). This widely popular soda can be found in pretty much every single grocery store or colmado across the whole country. Not only does it come in the classic cola flavor, but you can find it in many other flavors like pineapple, orange, and strawberry. Plus, one bottle only costs about $0.25, so it's a great everyday treat!
Cookies
Dinos
All the colmados and grocery stores in the DR will sell lots of different brands and flavors of packaged cookies but the most popular kind of cookies among the volunteers by far is the Dino cookies! They're kind of like Oreos and come in flavors like chocolate, strawberry, and vanilla. The cookies are sold in a bright yellow package covered in cartoon dinosaurs, so you can't miss them!
Gullón and Emperador
We also hear rave reviews about these two brands that are a biscuit with a creamy frosting in the middle. There are usually different flavors, but volunteers typically think chocolate is the best option (but test out vanilla, pecan, or the lemon/lime ones to find your favorite).
Find them at the local colmados, or at somewhere like Jenny's or La Sirena.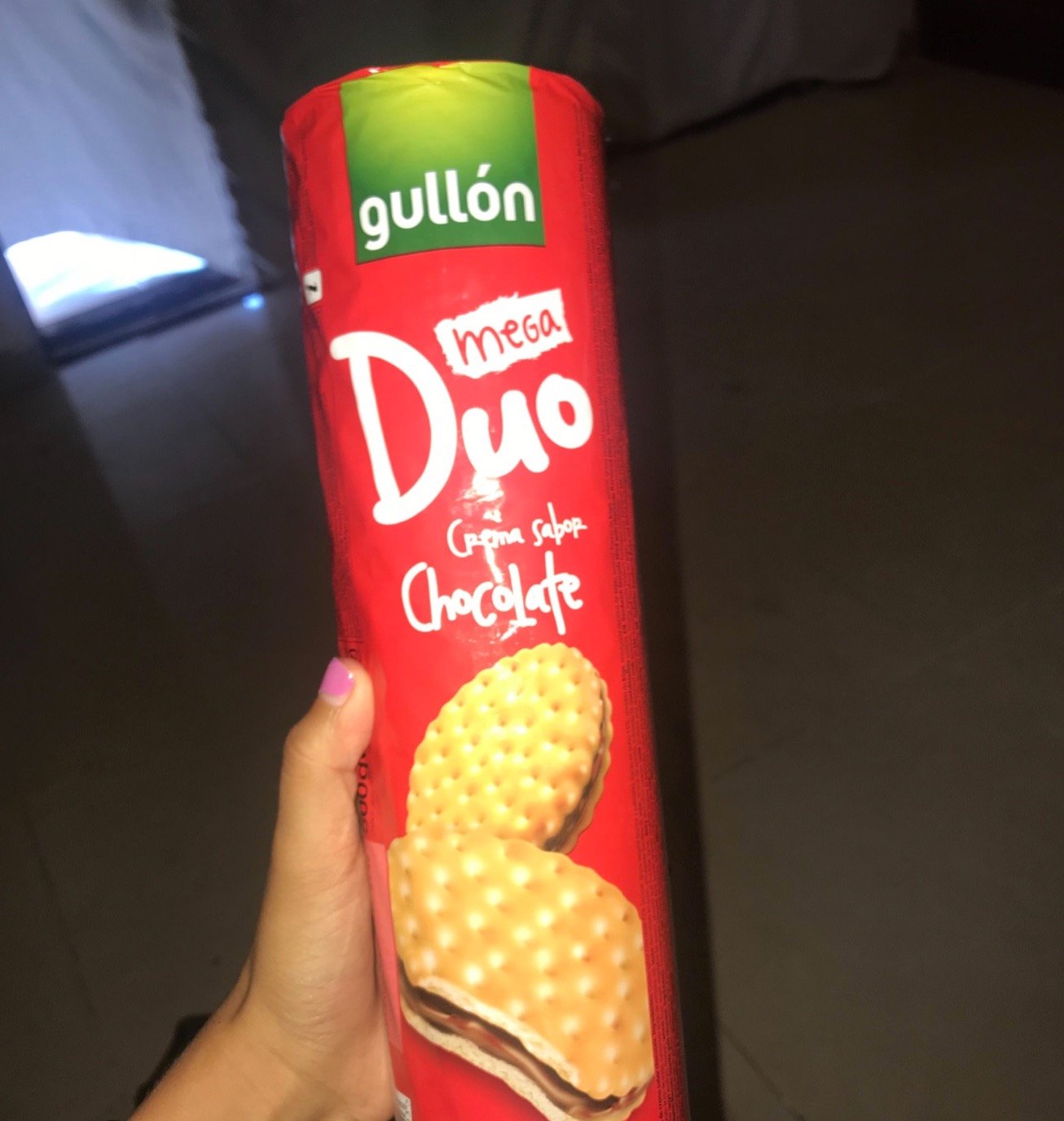 Ice Cream + Popsicles
In case you didn't know, the Dominican Republic is very hot and humid all year round. Since air conditioning is a rare luxury, volunteers turn to ice cream and popsicles to cool them down in the heat. Chinola (or passionfruit) popsicles have always been a huge hit among volunteers and can be bought at stores like Jennys or La Sirena.
Volunteers exploring their neighborhoods will soon discover that several of their neighbors sell ice cream straight out of their houses for an amazing price. One neighborhood lady sells strawberry, bizcocho, and chocolate chip ice cream – 3 giant scoops in a waffle cone for about $0.45!
Chips + Crackers
You'll find several options throughout the DR, and even brands you're familiar with like Lays.
Hojuelitas
This is one in particular we think you should try. Just take it from the volunteers who said, "We LOVE these chips that are lime or cheese called Hojuelitas. They are SO bomb". Grab these goodies at just about any colmados and you're set.
All The Tropical Fruits!
When living on a tropical island, there is really no better time to try all the different kinds of tropical fruits that you've never heard of before. All over your neighborhood, you can find cute little stands selling all varieties of fruits. Some volunteers find themselves addicted to limoncillos which are a delicious (and very unique) fruit that taste like a chewy sour candy. Others can't get enough of guayaba, a fruit that tastes like a mix between strawberry and pear and is the prettiest pink color. You'll also always be able to find the classic tropical fruits like mangos, pineapples, and bananas!
Cajuiles
This is one of those fruits that might be new to you — we say give it a try! One cashew nut grows from each fruit which is why they're so expensive, but the fruit is so yummy! You might be able to find vendors selling it on the street, but if not it's also frequently found at the store.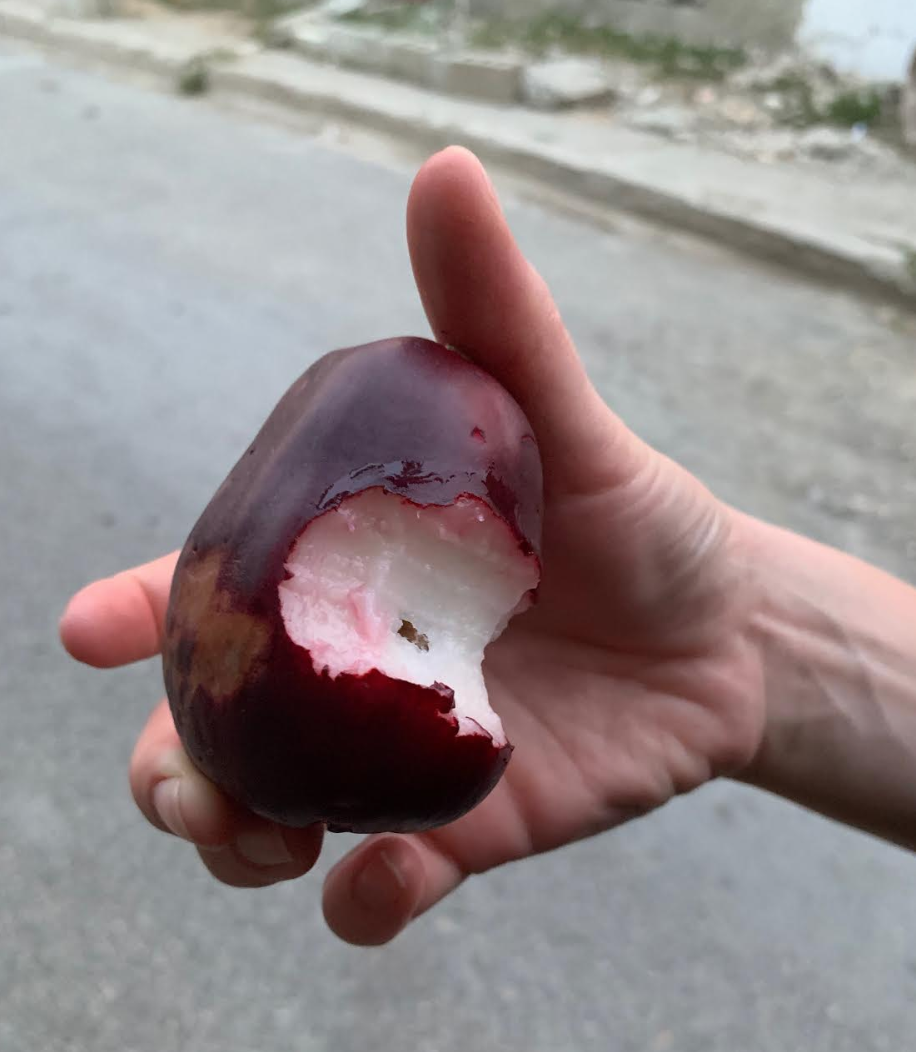 Limoncillos
These yummy green fruits have a texture that might be a little new for you, it's chewy and almost gooey-like (a bit like passion fruit's texture). You definitely must try it while you're in the Dominican because it's one of our favs. You can get a bushel of them for about .50 cents to $1 USD, so a super affordable snack!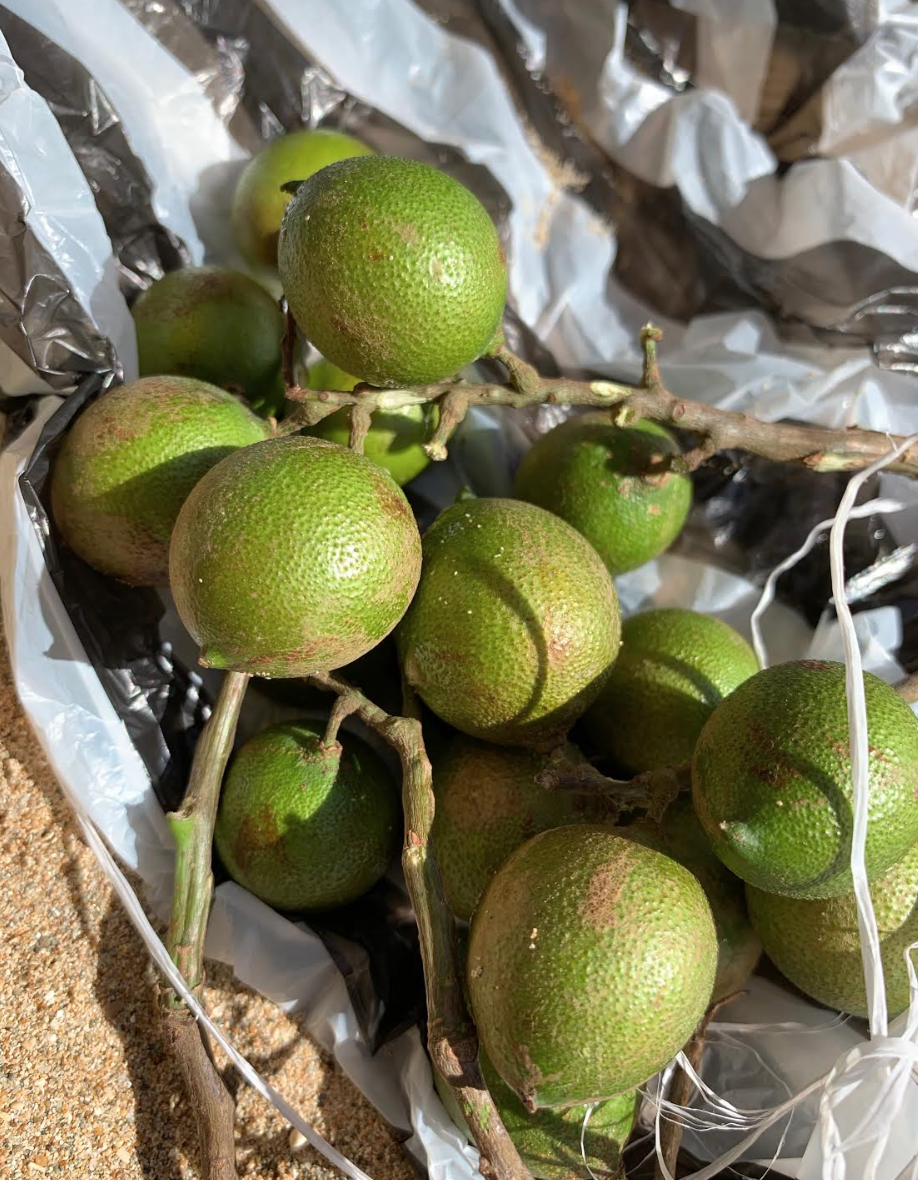 Come spend 3-4 months in the Dominican Republic with us!
ILP volunteers get to live in the DR, right next to the beach and spend time making a difference by teaching English to a class of local kiddos. Living here means you'll have time to get to know the culture, and of course that includes all of the yummy food the DR has to offer!