So, you just got home after spending some magical and memorable time abroad! But you want a special way to remember your experience? Here's a list of our favorite trinkets from small businesses that will do just that!
While we HIGHLY recommend snagging some souvenirs and taking all of the pictures while living and exploring abroad, sometimes having something a little extra to track and remember your international adventures is just fun! Especially if you've spent an entire semester exploring a new country (or several) like you'll get to do as a volunteer with International Language Programs!


---
Ever wanted to experience life abroad as more than a tourist?
Learn All About Volunteering With ILP
---

Finding the perfect travel memorabilia + supporting a small business is a double win for us! We've done some research and found products that we already love but that are sold by small companies. Most of them can only be found on Etsy, and we don't get any kind of commission if you purchase one. We just like supporting other small businesses!
These products also double as awesome gifts for any of the avid travelers in your life! If you're looking for pre-adventure or semester gifts, check out this blog post!
World Maps
We love this decorative way of keeping track of your travels while also familiarizing yourself with the geography of the world! A big, beautiful map is the perfect thing to hang above your desk, bed, or even couch as the focal point of a room. You can find bright and colorful ones, or more neutral and vintage maps.
This first scratch map comes in both black and white! We love that it also includes every country's flag at the bottom of the map. This other white one is similar, but we love the vibrant watercolors hiding under the gold foil.
This wooden world map is top quality (and the price tag reflects that) but have you ever seen a more beautiful piece of decor? You can also include a pack of push pins in your purchase so that you can keep track of what countries and states you've visited.
Even though it isn't technically a map, we also LOVE this world bucketlist scratch poster that features 80 different beautiful destinations!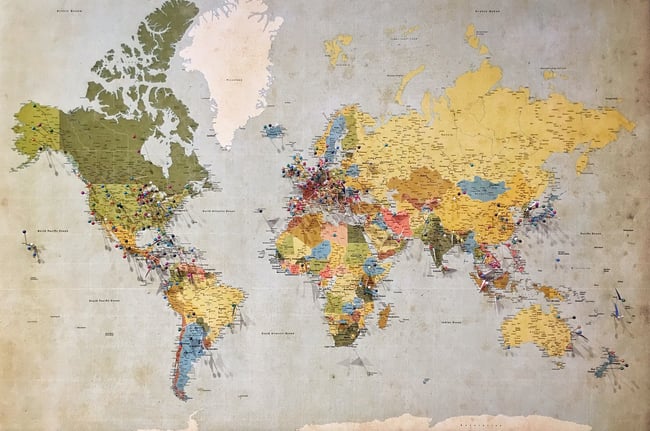 Necklace
This is easily one of our favorite ways to capture the meaning of international travel and time spent exploring the world. There are countless unique and beautiful options available, so you can find a necklace (or other piece of jewelry) that is very personalized or one that just symbolizes a love for the world and it's countries in general.
This gold world map medallion is breathtaking! And you can even put a customized message on the back for an additional cost.
We love this vintage-looking necklace that frames an actual map of a city or country. Such a perfect way to capture the memory of a home away from home.
There are many different options for a circular map of the world available so that you can get a necklace highlighting exactly the side of the globe that means the most to you. This dainty necklace features one side of the world and this silver necklace highlights the other.
If you're looking for a necklace with a complete map of the world, these flat-laying beauties in gold and silver are the perfect option!
If you want to get really personal, create and purchase a customized necklace through a company like Made By Mary. You can choose between gold, silver, or rose gold in a whole variety of different shapes and sizes. Include a word, phrase, or symbol on your necklace and you'll end up with a very special, meaningful piece of jewelry.
Travel Stickers
If you have a Hydroflask or other stainless steel water bottle, then chances are it's covered in colorful stickers. One of our favorite trends! Or maybe you need to start your sticker collection?
We found two different sticker packs that are perfect for laptops, water bottles, phones, and so much more! We're obsessed with the muted, vintage tones of this pack that features different cities and countries. But we also think this pack of super vibrant stickers is pretty rad! This is such a fun way to display your travels, while getting happy vibes every time you take a drink or are stuck doing homework.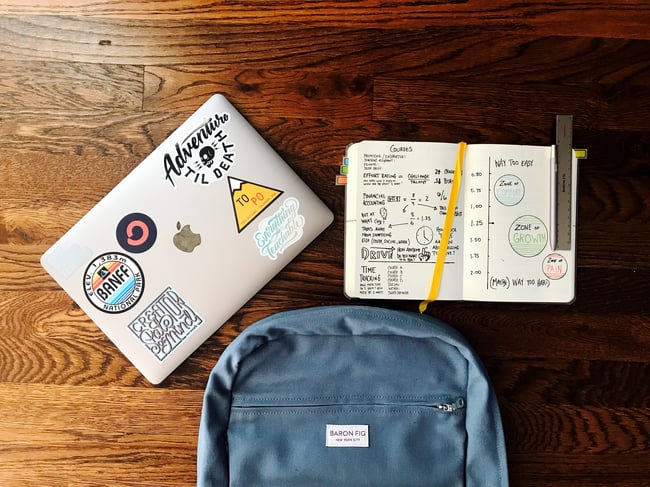 Keychain Tokens
House keys? Car keys? We all have keys. And this is the perfect, subtle way to keep your favorite memories in your hand every day. With The Wander Club, you purchase a leather loop keychain and then little engraved tokens to put on the loop. You can get country tokens, US state tokens, ocean and sea tokens, continent tokens, landmark tokens, or customize your own!
The keychains themselves are $25, the standard tokens are $5 (or $8 if you want to add a date on the back), and customized tokens are $8. The Wander Club also has a ton of other really cool merch to choose from! We're talking jewelry, t-shirts, puzzles, water bottles, etc. All of their products are made in the USA + for every order made, they donate a meal to a child in need.
ILP Travel Bottle
If you've been following along with ILP for even 2 hours, then you know how much we love our water bottles! They're the ideal way to remember your ILP semester specifically. And they aren't the kind of water bottles you'll want to put stickers on because the intricate engravings are the most stunning embellishment on their own. They are custom made for our volunteers and different ILP locations! They come in a handful of colors and you can order one for yourself on our website, and/or read about all of our other merch here!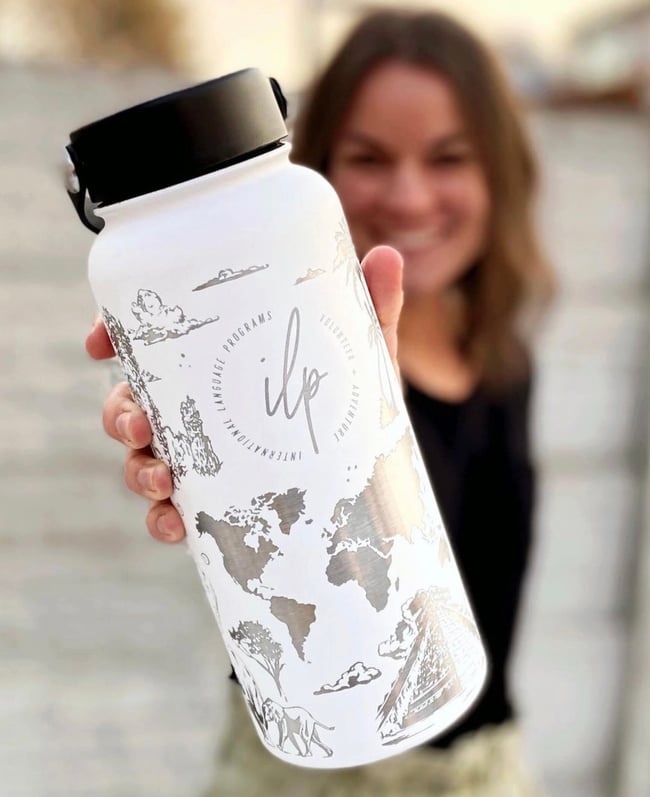 Curious to see what life is actually like as an ILP volunteer?
It includes getting immersed in a new culture, teaching for about 4 hours every weekday, and exploring this big world! To see some of the highlights of what our volunteers get to experience each semester, make sure you're following along on Instagram.