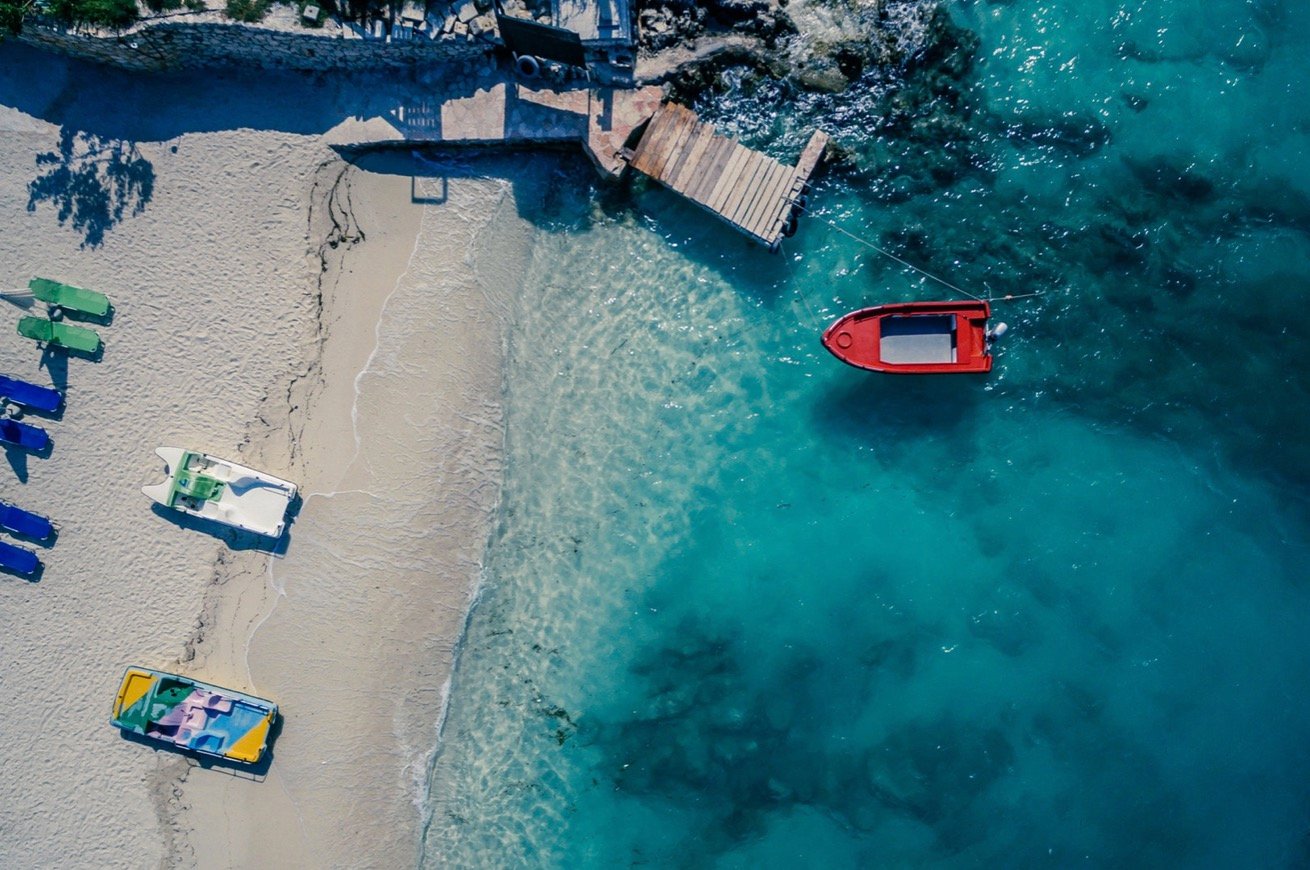 With better beaches than Greece (dare we say?), plus way lower prices, you'll be wanting to vacation in Albania instead.
If you've never ever thought of vacationing in Albania, get ready to have your mind changed. Albania is a small country tucked above Greece and right across from the "boot" of Italy, so that should give you a bit of an idea of what a vacation here is like. Mediterranean weather, gorgeous Ottoman and Turkish architecture, and smooth pebble beaches that are bluer than the Caribbean. Who knew?


---
Our volunteers living in Europe love vacationing in Albania
Learn more about volunteering with ILP here.
---

Basically, anyone interested in seeing gorgeous beaches but aren't that interested in paying the high prices of what you'd find in Greece, will feel right at home in Albania. While this country has a few beaches to brag about (more on that later), here's all about visiting a place called Ksamil.
What To So In Ksamil + Nearby Adventures
Sunbathe On The Shore
Ksamil is all about the beaches. Pulëbardha Beach is one of the most famous in the area, a stretch of delightfully white pebbles line the shores of baby blue water, and gentle waves. You'll find a similar vibe in Mirror (Pasqyra) Beach — a rocky cove hides a swimming spot that is as pretty as a postcard. These two beaches are rather close to each other, (up on the northern edge of Ksamil) but head down south and visit Lori Beach for fine white sand and great swimming. Monastery Beach is another spot to check out, with platforms and wooden decks that stretch into the Caribbean-esque sea, perfect for jumping right in.
Along with all the turquoise waters, you can find umbrellas and chairs to rent out for the day. Typically, you can find a sun bed for about approximately 800 - 1000 lek for the day ($7 - $9 USD).
Go Island Hopping
The mainland beaches on Ksamil are surrounded by a couple of islands that are close enough for you to swim to if you're a strong swimmer, but we're more of a fan of biking there.
Yep, you can bike to these islands. From the Bora Bora beach, you can rent a sea bicycle and just bike over to the pair of islands right next to the mainland. You can also rent a paddle boat if you'd like. You'll pay for your time with anywhere from a 15 minute rental to an hour rental (around $10 to $30 depending on how much time you want). Also, can you resist checking out a beach called "Bora Bora"?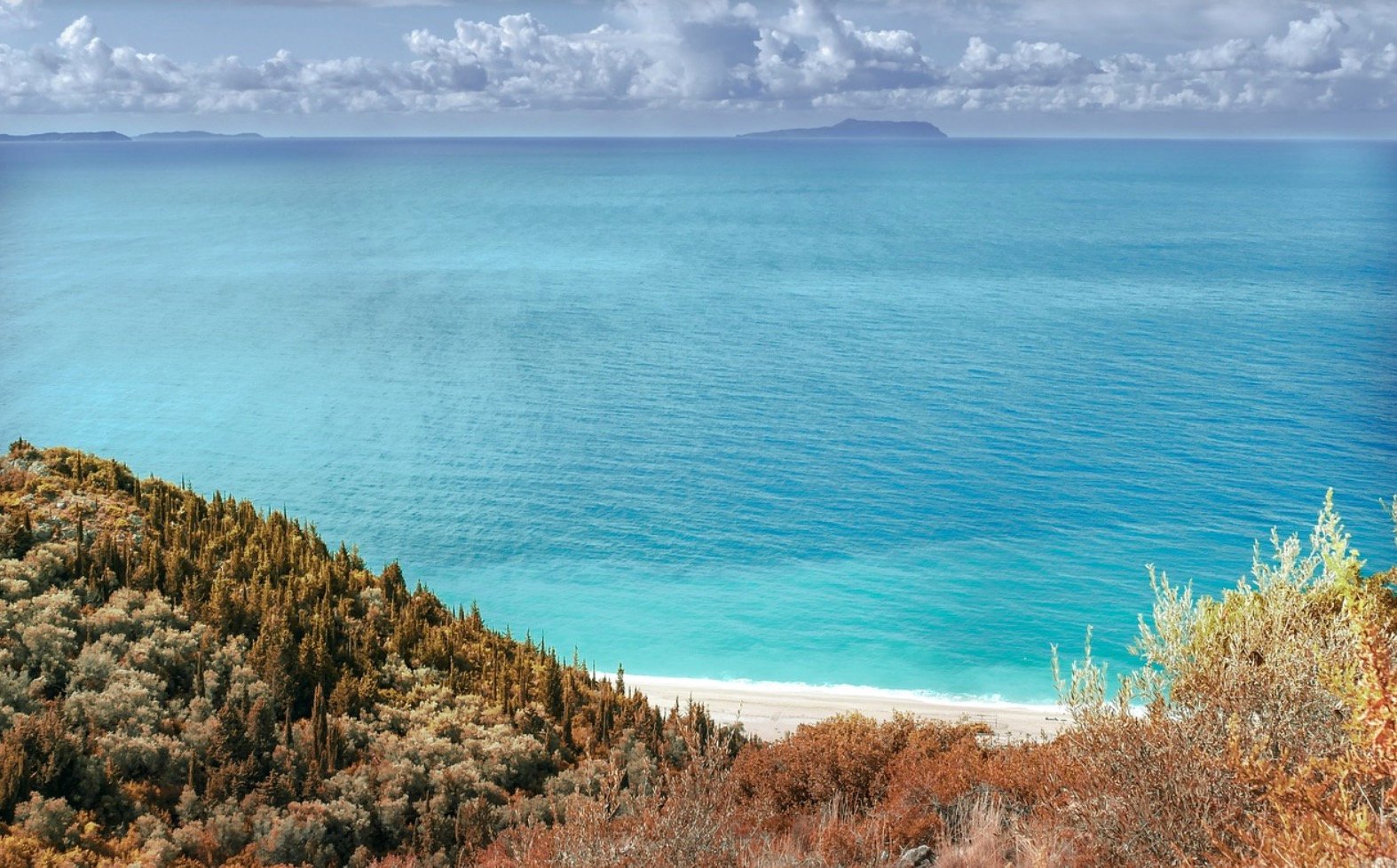 Visit The Rugged Ruins Of Butrint
Break up your beach day with a visit to this UNESCO World Heritage Site. Butrint is the ancient city situated on a hilltop so you'll find crumbling amphitheaters and Roman ruins to climb around. This spot is an ancient city that was first built by the Greeks, then over taken by the Romans, and finally belonged to the bishopric in Epirus — all dating back to the 8th century. Take two or three hours to wander around the mosaic floors of the Roman bath, or hang out in still-standing curved aqueducts tucked between groves of olive trees.
Getting Here: Best to take a taxi. From Ksamil or Sarande, it's a 10-15 minute drive and should cost about $9-15 USD depending on how well you can bargain down the price.

Hours + Cost: Open 8:00 AM to dusk (with the museum open at 9:00 AM and closing at 4:00). Your ticket is 700 lek ($6.5 USD) and includes a visit to the museum.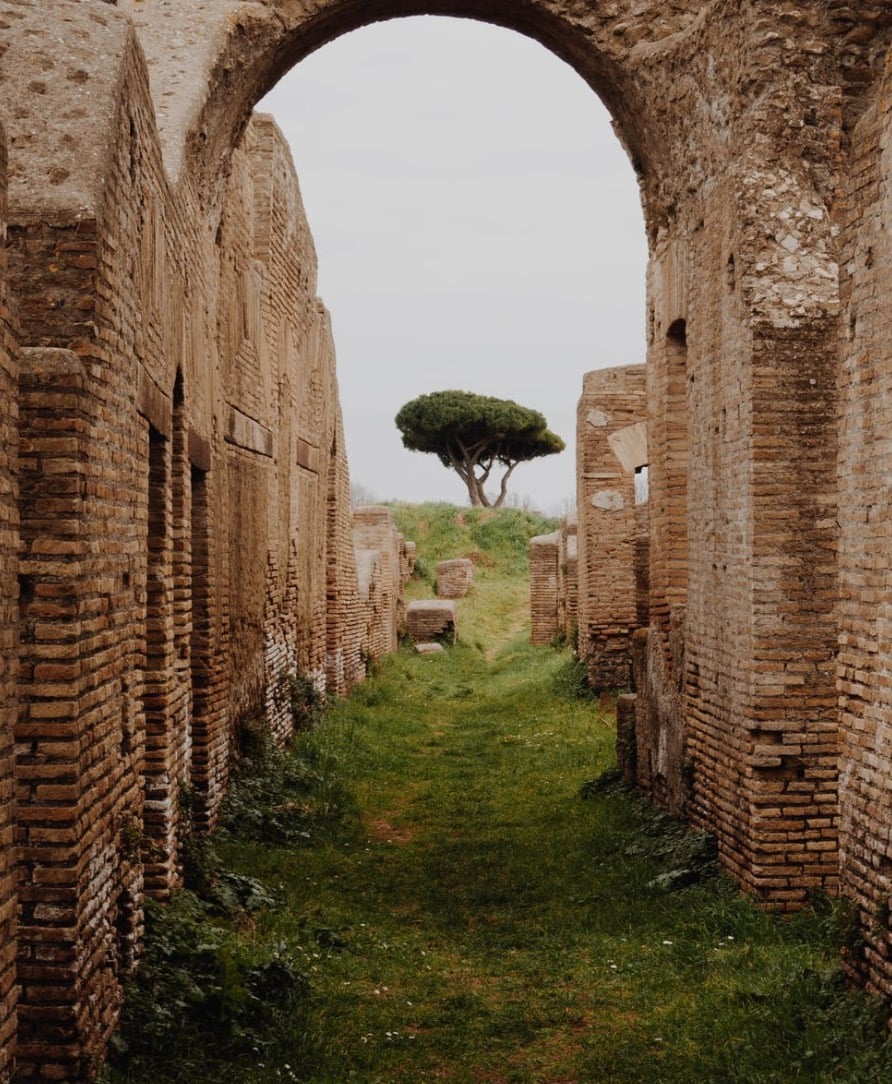 Peer Into Syri I Kalter (The Blue Eye)
About an hour away from Ksamil by car is the crystal clear, turquoise and green fresh water lake hiding in the hills. The most popular reason to visit is the second of the lake that drops off and is colored the most magical shade of blue, making it look like a human eye. The whole effect is stunning, and a very popular place to go hiking.
The video below shows you a little bit about what this place is all about (around the 20 second mark) but you'll also seen shots of the beaches just in case you needed another reminder of how pretty they are.
Getting Here: You'll be able to book day trips from Sarande if you don't want to figure it out yourself. Tours are typically around $20 USD and arrange transportation, but give you about an hour or less at the Blue Eye. if you'd like to DIY, you can hop on a bus headed to Gjirokastra. They leave every hour on the hour from the bus station outside of the city limits (your hostel/hotel/AirBnB host or anyone in the tourist business can help you find it).

It's about a 30 minute drive to get to the lake— just tell the driver you want to get off at Syri I Kalter or show them a picture (it's a popular place, your driver will know where to drop you off). Once you're dropped off, you'll just follow the signs and make the 2 kilometer hike to the blue eye.
Cost: Tickets for the bus are about $2 each way (pay the driver directly) and a 50 Lek entrance fee ( less than $1) for pedestrians to enter the park itself.
Places To Stay
Ksamil is a little peninsula-like extension off the mainland. It feels small, and is all about the beaches, cafes, seafood restaurants, you name it. Sarande is the bigger town you'll probably travel into and it's just about a 10 minute taxi ride away from Ksamil, or a 30 minute bus ride. More on that below, but here's a bit about staying on Ksamil or Sarande.

Basically, travelers visiting can choose between staying in Ksamil (a smaller, relaxed, beach vibe) or Sarande (a larger spot that'll have more options and a few more necessities like grocery stores, markets, restaurants, etc). Hostels are about $9-15 a night, with a couple of options on Ksamil and 27+ options in Sarande, similar prices. We love booking on Hostelworld.
Airbnbs are also a popular option, with whole apartments that can sleep four or five people with prices as low as $35 - $90 (super affordable when you split that with friends!).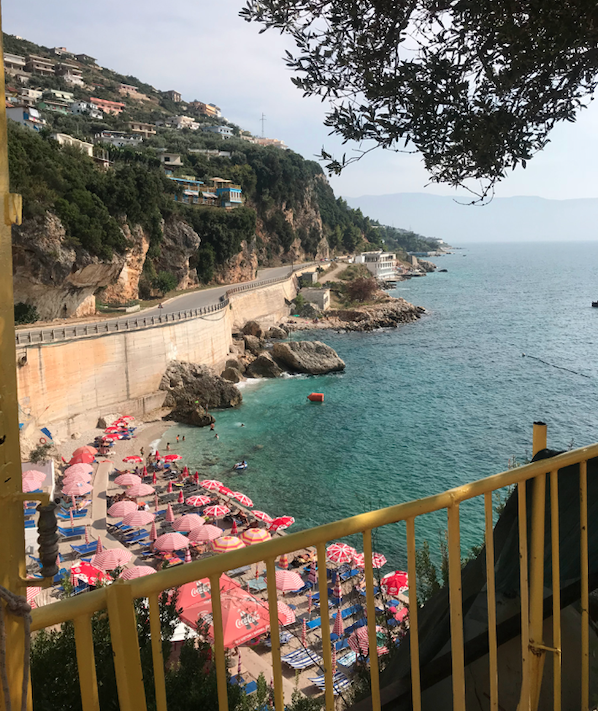 Tips For Your Visit
A Note On Beaches
Just know that most of the beaches in Ksamil are privately owned, so you'll need to pay about $2 to visit.
In the high season (June to August) you'll find the most popular beaches full of lounge-chairs to rent and families vacationing from nearby countries. If you want to have some beach time totally to yourself, get to the beaches early or visit right at sunset.
When To Visit?
You'll get great beach weather in the months of May to early October, with the months of May and September/October the ones to really shoot for if you have your pick.
Getting From Sarande To Ksamil
Whether you're arriving by bus from Sarande and want to head straight to Ksamil, or want to take a bus from your Airbnb in Sarande right to Ksamil, knowing how to travel between these two spots is helpful.

Taxi is your quickest option (about 5-10 minutes, and around $5-10 depending on where you're staying in Sarande) but you can also take a public bus. It's about $1 per ride to Ksamil: Buses run every 1-2 hours, so you'll want to talk to where you're staying to get the exact schedule ... and which bus stop is nearest to you. There is one bus that does leave from the old oak tree on the intersection of Rruga Mitat Hoxha and Rruga Jonianet. The bus schedules and times (and stops) are kind of public knowledge, so you'll want to get some help once you arrive to figure out the schedule.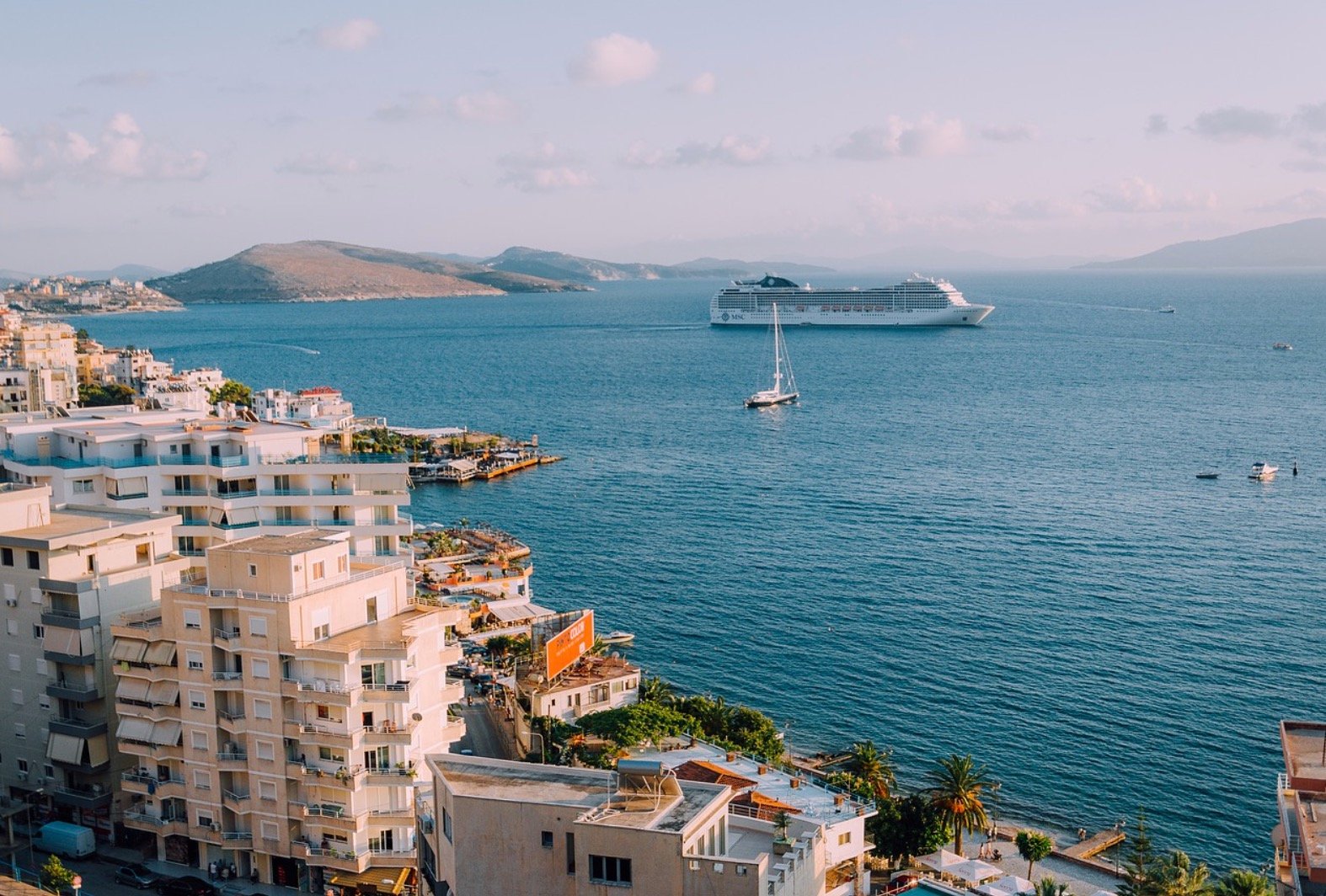 Getting Here
It's reached a few different ways, so pick whatever works best for you. If you want to fly, find a flight into Sarande or you can probably get a better airfare flying to Tirana and busing to Sarande. We've outlined a couple of potential itineraries if you find yourself in the cities below.
From Corfu, Greece
Sarande is an ideal jumping off point from nearby Corfu, Greece. It's a 1.5 hour ferry that'll cost about $20-$30 if you'd like to take a day trip or hang out in Greece for a couple of days.
From Budva, Montenegro
Take two bus rides, and you are there (if you have the time). From Budva, it's a 6ish hour bus ride to a city called Tirana in Albania (look at tickets here). From Tirana, it's a 4.5 bus ride to Sarande (look at tickets here). The whole journey should cost around $20 for the first bus ride, and $15 for the second, then the same prices for the way back.
Speaking of Tirana ... it's another beautiful destination, so depending on how much time you have, you might consider breaking up the trip a bit with a day exploring this colorful city.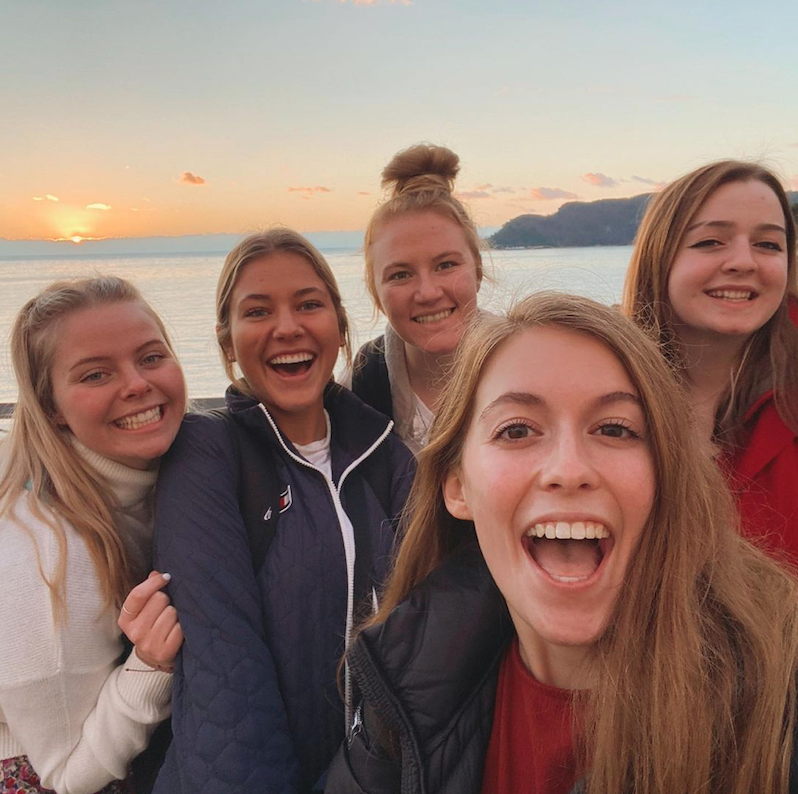 A Few Other Albanian Beaches To Visit
Well, since Albania has so many pretty pretty beaches, it's a shame to just focus on one beach when there are so many to visit. Here are a few around Albania that are worth your time:
Gjipe Beach Near Dhermi
This absolute stunner is is just a couple of miles outside of the city of Dhermi (another costal city we absolutely love). A narrow dirt road hugs the rugged coastline and leads you down to the beach itself: since it's a bit tricky to get to, you'll find a totally secluded white-sand cove with some of the bluest waters you can find in Europe.
Drymades Near Dhermi
Some may say that this is the most beautiful beach in the entire country. You'll see clear waters fading from deep turquoise into that delightfully clear baby blue all the way to the sandy shoreline.
Livadhi Beach Near Himara
Livadhi is one of the longest beaches in the country, split between a north and south shore, but both frame some of the deepest and darkest blue waters that are fringed with light blue sandbars. Nearby Jalë beach is also worth a visit: A little stretch of sand and umbrellas-for-rent with quiet waves and great snorkeling.
Grama Bay Near Vlorë
This gem is really tucked away, only accessible by boat, or you can make a seven hour hike to see the gem-like waters spreading out from this crescent shaped cove hugging rocky cliffs and scrubby desert hills.
Bunec Beach
One of the more "off the beaten track beaches", visits who make the trek out here will see white and tan pebble stores that flow into Caribbean blue waves. It's situated against the green and rocky shoreline, and never gets too crowded.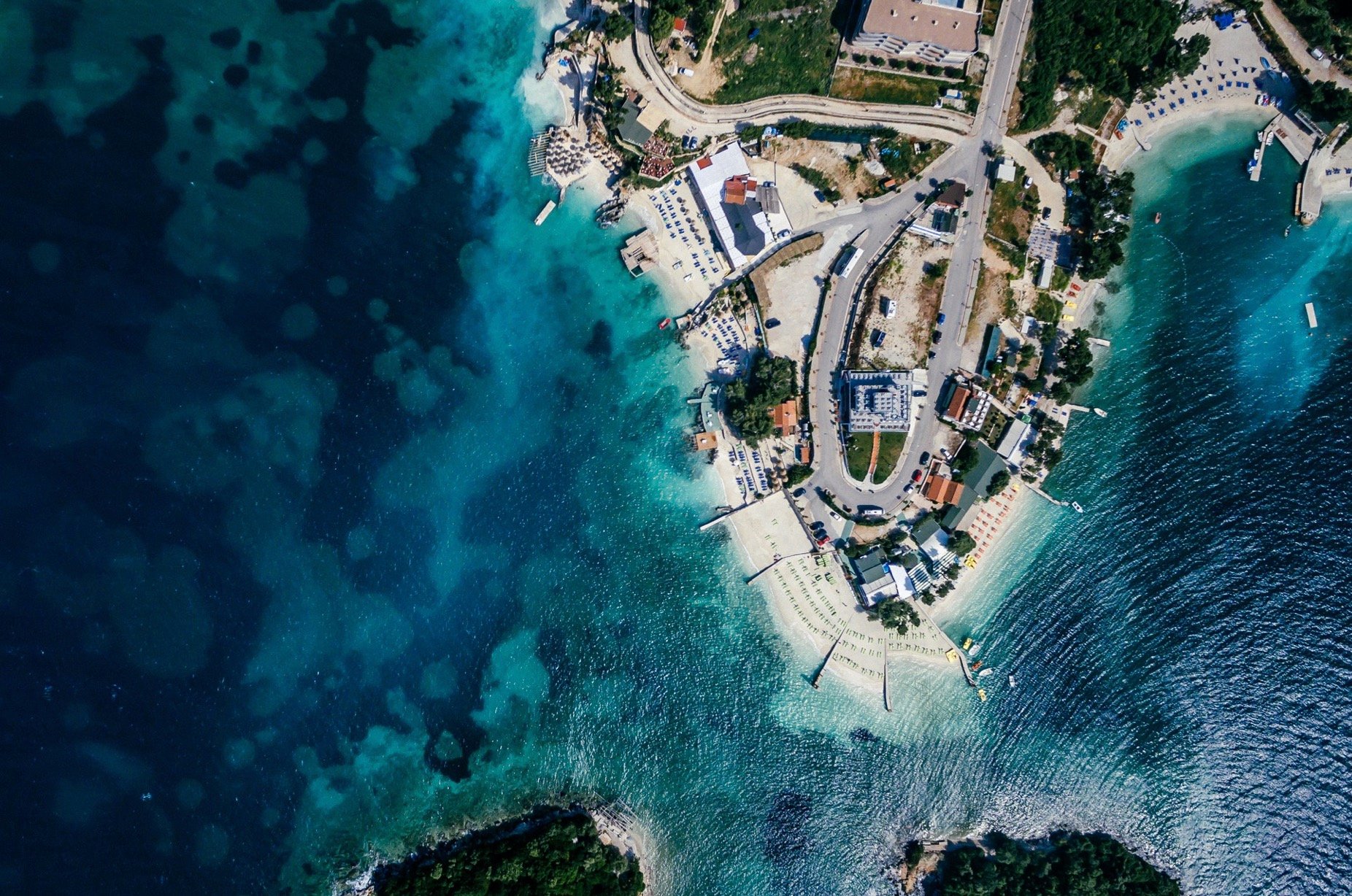 Can't believe there are beaches like this in the Balkans?
Come see all this for yourself — once you're living in Europe, it's a cinch to hop around to other countries by bus, train, or plane. Come call this part of the world home for a semester with ILP!