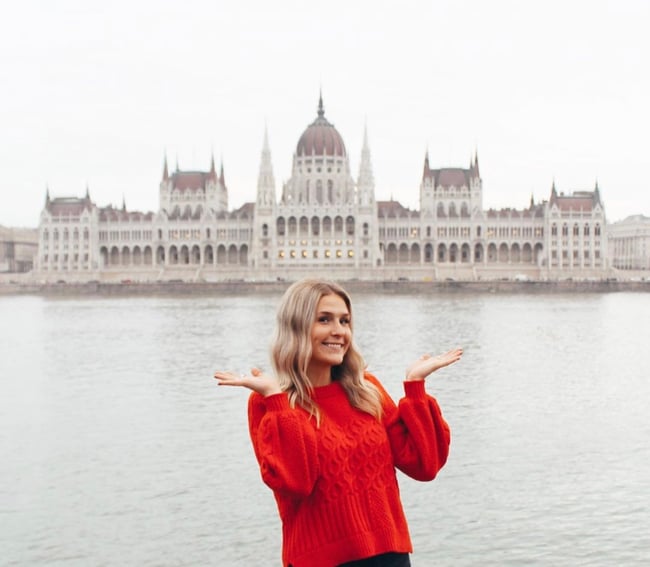 Thinking of heading to one of the best cities in Hungary? Follow how I spent my vacation days in Budapest to make sure you see (and taste) my favorite parts of this city.
Budapest, Hungary is one of those cities I still dream about. I spent a weekend here in the summertime and am pretty convinced I need to come back just to see Budapest in every other season. Out of all of the cities, I was able to visit while volunteering in Europe, it definitely was one of my favorites.


---
Come live in Europe like I did!
All about volunteering with ILP for a semester.
---
True to form, I did tons and tons of research to make sure I was hitting all of the top spots and didn't miss a thing. And not to brag, but I think I had a pretty stellar itinerary if you just want to follow along. I've broken things up by day, so you can see about how much time things take and how much you can fit in. As a note, you can definitely fit in way more if you take less time at these places, or less if you want to spend more time at these locations. Another perk? Quite a bit of these activity are totally free, so they work well for a budget. There are also loads of things to do in Budapest if you want to swap out an activity or two for something that fits your itinerary a bit better (we have more on that below)
Ready to dive right in?
A List Of All The Activities
You can get an idea of how things were blocked out in the sections below, but here's a list of all the activities covered in two days in Budapest.
Day 1
Visit Margret Island
Lunch On Zsilinszky út / Explore Szabadság tér
Gelato at Gelarto Rosa
Time in the Jewish Quarter
Chain Bridge
Buda Castle
Fisherman's Bastion
St Matthias Church
Dinner at Mandragora
Day 2
Breakfast at Budapest Bagels
Pálvölgy Cave
Lunch at Cafe Kara
Szechenyi Baths
Dinner At Hummus Bar
Central Market
Hiking Gellert Hill
Parliament At Night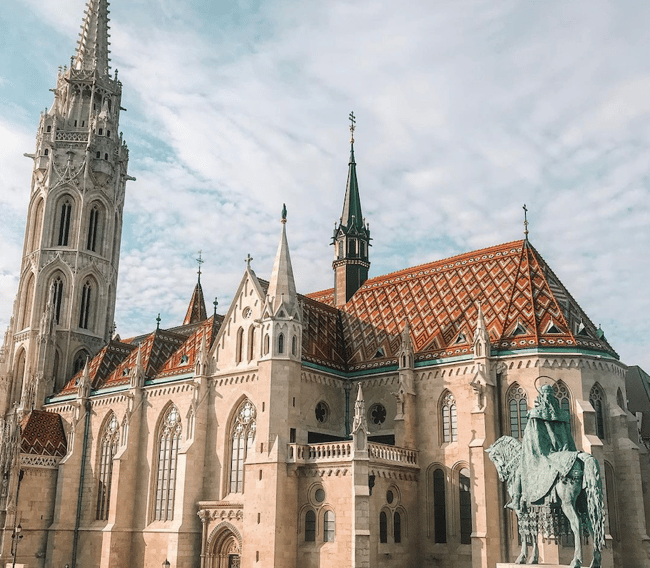 Day 1, All Spelled Out
Morning
Most of the morning was a travel day for me, so by the time we got into the city via bus from Slovakia and checked into our hostel to drop our bags, it was time for lunch. If I had a full day here (arrived in Budapest last night) I would have loved to visit Margret Island so think about fitting that in if you have time.
Afternoon
Time for lunch. We asked our hostel for a recommendation but it wasn't one of my favorite places, so I'm not going to pass that along (but typically I've had very very good luck with asking hostels for lunch spots, so ask your hostel for a spot!). We did have lunch at a spot along Bajcsy-Zsilinszky út which I would recommend — there are a smattering of restaurants plus a collection of beyond beautiful buildings housing museums, galleries, various shops, and stores. We also did quite a bit of wandering around and spent some time in Liberty Park (Szabadság tér) which had some sort of carnival going on which was neat to check out.
We were also in the neighborhood of Gelarto Rosa where we grabbed the prettiest cones that are shaped to look like roses (with flavors like avocado and mint, mango, and strawberry). Make sure to sit on the steps of the St Stephen's Basilica while you eat your gelato, then peek inside when you're finished— it's beautiful inside.
The rest of today was spent wandering around the Jewish Quarter, a total highlight if you ask me. This part of the city is a mix of design shops, towering synagogues, thrift stores, museums, stacks of apartments, hip restaurants, and more. It's a spot to just have a couple of unplanned hours, peeking into shops, stores, galleries, places of worship, and more. This blogger has an outline of a free walking tour you can do yourself, plus a map so you know where to go.
Evening / Night
The rest of the night was spent over across the Danube exploring Buda Castle (make sure to cross at the Chain Bridge, it's a famous icon of the city: read all about the bridges here.) You could really spend a full half-day around this part of Budapest if you have the time. The grounds of the castle are gorgeous, full of meandering paths that take you through rose gardens, porticos, fountains, etc. It's all free to visit unless you'd like to step inside Buda Castle, but admiring the imposing building is just a lovely from the outside.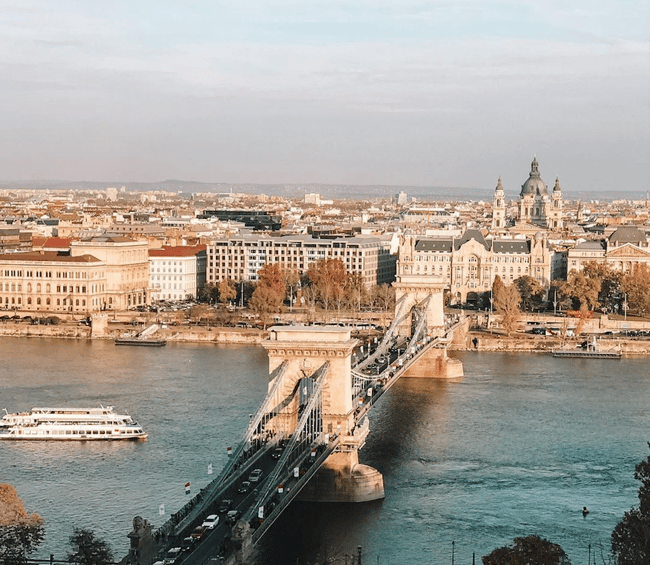 The pathways do lead you over to Fisherman's bastion which is where you'll want to take tons and tons of pictures — there are beautiful views of the river on the seven tours of the building, some you have to pay to access but others are free.
Across from this building is St Matthias church which is jaw-droppingly beautiful. The roof is detailed in a complicated pattern of different colored tiles, but head inside, and you'll find a dizzying mosaic of design spread between narrow stained glass windows. If you can time your visit right, there are often concerts inside and the acoustics are stunning.
It was getting late at this point, so we snagged dinner at Mandragora — it's incredibly delicious but definitely a little more upscale, so a good option if you can splurge a bit.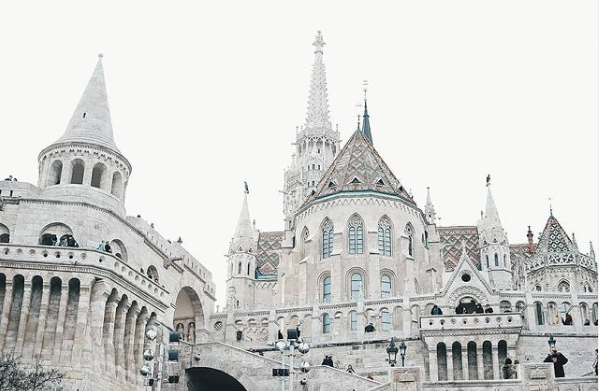 Day 2, All Spelled Out
Morning
Early morning today, trying to cram everything in that we could. From our hostel, it was about a mile walk to this highly recommended bagel place, so we walked over there and sat outside, munching the best bagels I've had to date. On the way, there were some cool stores selling prints, posters, art pieces, and other things that caught our attention. I was glad we started early to be able to stop and look around before the after breakfast.
Mid-Morning / Afternoon
Caught a bus over to the Pest side of the city for an afternoon in the Pálvölgy Caves. They have tours around every hour, and we hit the 10:15 tour giving us plenty of time to see what we wanted to see on our tour, then bus over for the main highlight of the day after stopping for lunch near Szechenyi at a place called Cafe Kara (which was near the Thermal Baths — You can find a couple of restaurants near the baths, and I'd recommend grabbing lunch before your soak). The elderflower lemonades were a hit if they have 'em on the menu.
Time for the Thermal Baths! Hungary is one of the only places in the world where you can experience true, traditional Turkish baths that date back to the 16th and 17th centuries, so make sure you visit at least one of the Thermal Baths in this city. We decided to visit the most popular, the Szechenyi Baths. I loved it here and was so happy to have a loose itinerary so we could d as much time here as we wanted. We got here around 12:30ish and spent 5.5 hours here, but I had friends that were finished in 2-3 hours.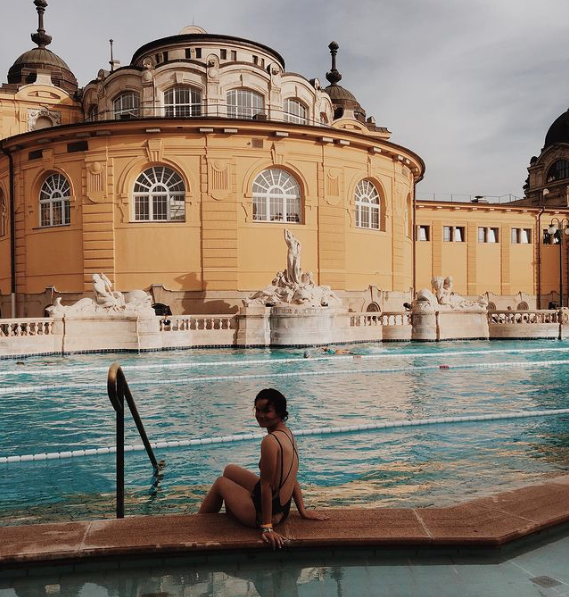 Evening
After a long soak, it was time for dinner. Again, tons of restaurants to choose from but we were craving hummus, so it was off to the Hummus Bar. They have several locations in the city, but we wanted more time in the Jewish Quarter, so it was a 30-minute stroll (or a 10-minute taxi) to the one on with this address: Nagymező u. 10, 1065 Hungary.
Night
Looking to work off all of the hummus and pita came easily when we headed to Gellert Hill (it's on the Buda side, so you'll need to cross the Danube). Gellert Hill is a collection of trails that wind their way up to the top where you can look over the city at the Citadella. It's a gorgeous overlook, letting you see the city spill out below you — peek the series of bridges crossing the Danube, the Parliament building all lit up, and the huge Ferris wheel (among others).
This viewpoint is gorgeous at all points of the day, but I particularly liked it at night, but feel free to fit this activity in whenever you have time. If you're on the other side of the river before it's too late, visit Central Market before crossing the bridge! It's a huge, airplane-hangar type market with local vendors selling piles of fruits, veggies, freshly baked breads and pastries, and little cloth bags full of paprika.
After our hike, we took a bus to get us closer to the Parliament building to get a closer look at night. This place is absolutely massive and isn't something you should miss. Admire from the Buda side or cross over to the Pest side to see the shoes sculpted out of iron as a memorial to thousands of Jewish people who were asked to remove their shoes before being shot at the banks of the Danube river. It's a harrowing reminder that shaped the history of the city.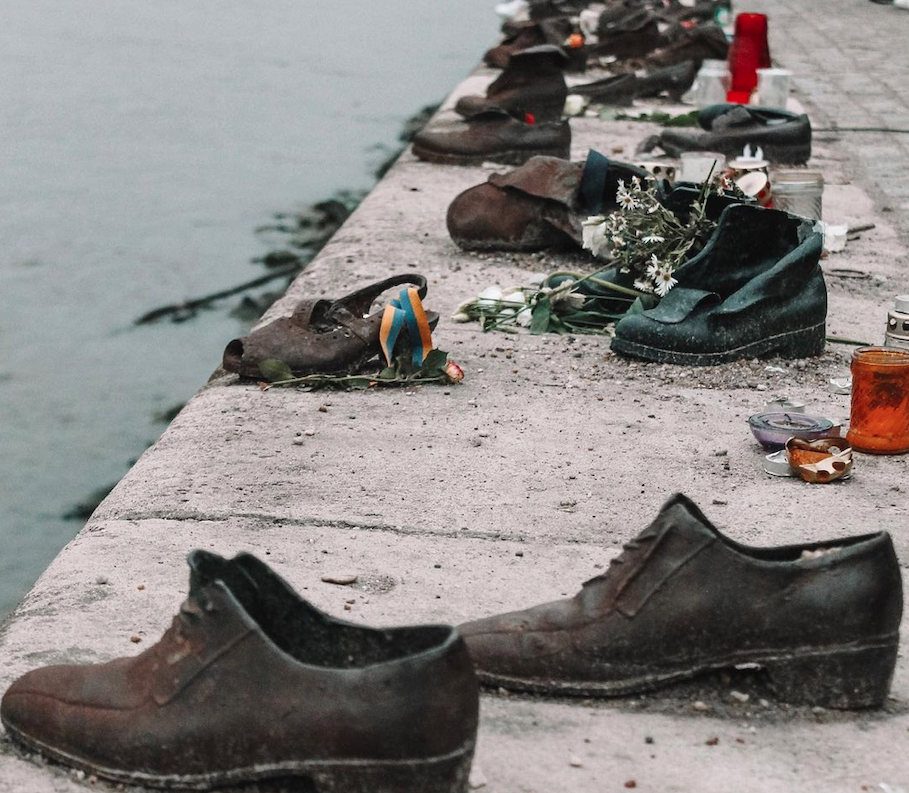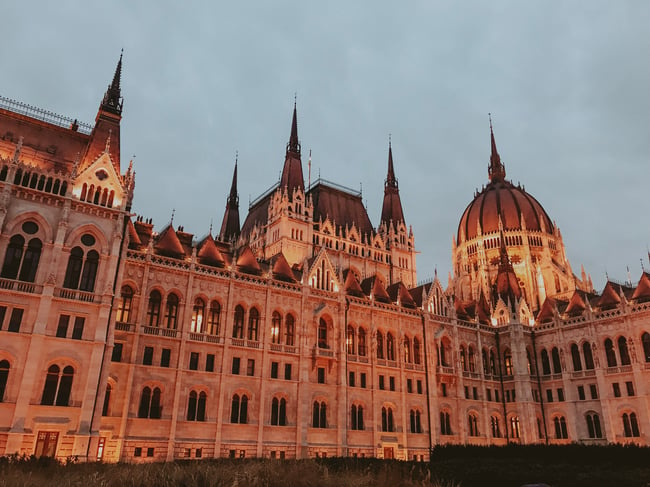 A Few Tips + Pointers
Get More About Budapest
This post is just a little glimpse at a possible itinerary, but there is way more to know about Budapest before you visit. I'd recommend checking out this post all about visiting Budapest to get details on places to stay, how to get around the city, a smidge of history, and other tidbits.
Swapping Things Out
The "day 1 and day 2 itinerary" above is just a peek at how you can spend your time in this city, but you can mix it up about a zillion different ways. There are tons and tons of things to do in Budapest, so if there are things that don't catch your fancy or you want to fit more time, be my guest.
Example? When I visited, it was swelteringly hot, so the idea of exploring the massive cave complex for some underground air conditioning was a well-worth part of my afternoon (however, it may not be as appealing if you're visiting in cooler weather). That post above has a handful of other recommendations, or you can check out a list like this.
Only Have One Day?
If you're country-hopping in Europe and just spending one day in Budapest, I'd make sure you hit a few things like the Szechenyi Baths, admiring Buda Castle, the Fisherman's Bastion, and St. Matthias' church. I also loved the Jewish Quarter, if you have time to fit that in.
If You Have The Time, Do Some Walking
My itinerary included a lot of walking because that's how I plan my trips. I love picking a handful of activities for the day but leaving time to stop for lunch or peek into a church or museum on the walk there if it catches my interest. This especially holds true in Budapest, where one of the major highlights for me was admiring the architecture and little pockets of apartments boasting trendy cafes, pop-up art galleries, and thrift stores. There are trams, buses, taxis, and metro routes galore here, but if you have the time and the energy, I'd recommend walking a fair bit to help you really see the city.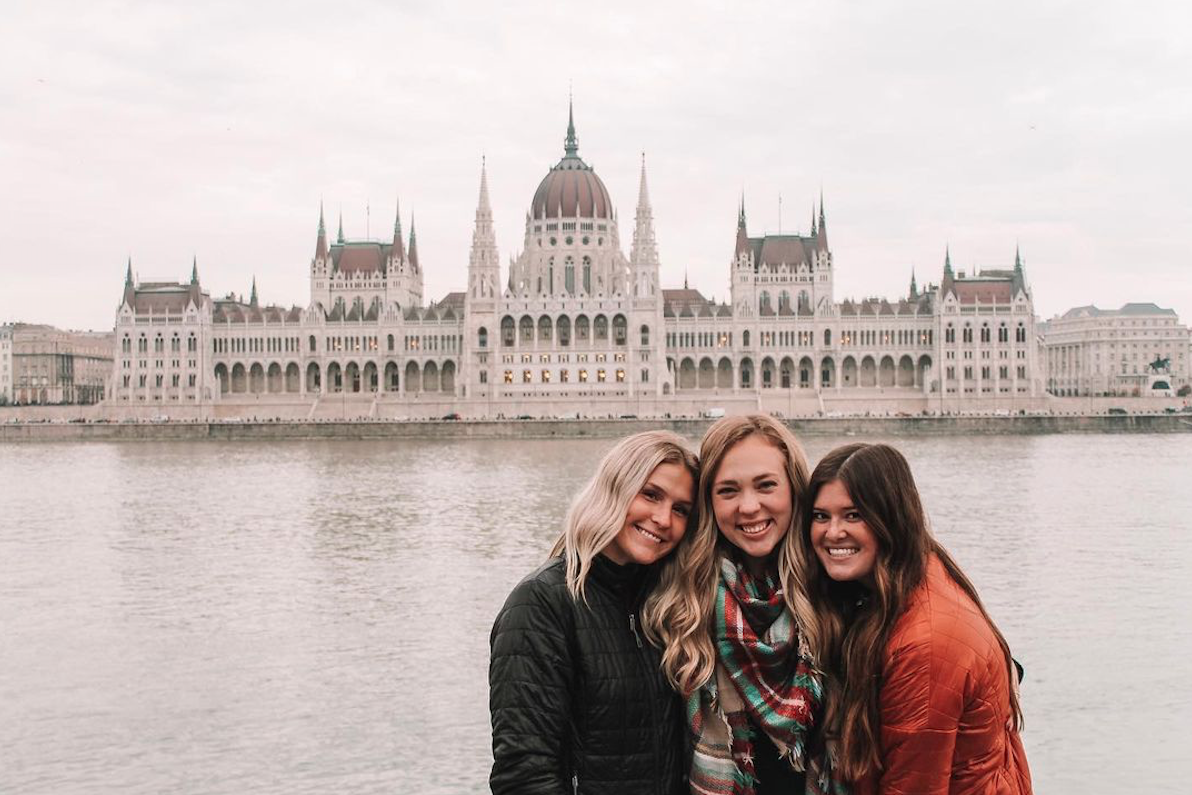 It's very easy to get over to Budapest if you're already living in Europe!
International Language Programs (ILP for short) has years of experience sending college-aged volunteers abroad to teach English or volunteer in an orphanage in Europe. Plus, you'll get weekends off and vacation days to hop over to see places like Hungary, and so many more.