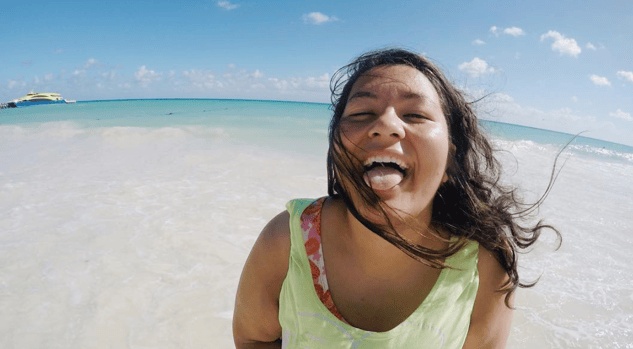 Skip out on the crowds and vacation on this absolutely dreamy island after a quick visit to Cancun.

Cancun is worth a visit — I mean, there's a reason why everyone vacations there, right? It's beautiful and there's lots to do ... But because everyone goes to Cancun you'll have to put up with things being more expensive, and a lot of crowds. Get a break from on all that and get a slice of the local life by vacationing in a little place called Isla Holbox.


---
See the real Mexico
Check out what volunteering in Mexico with ILP is all about
---
Isla Holbox is a real hidden gem that isn't built up with huge resorts and crowds of tourists, so all you get is pure Mexican island life. Seriously, the only way to get around here is by walking or by gold cart? Unreal. You are going to want to start planning your trip here right now, so here are some details to help you out:
Where Is It?
Isla Holbox sits just north of the Yucatan Peninsula, which basically means you get the amazing sea green ocean of the Caribbean plus the moody blues of the Gulf of Mexico. It's quiet, sleepy and has an almost endless stretch of beach. It's about three hours north of Cancun, if that helps you orient yourself.
What Can't I Miss?
Hang Out In Sea-Hammocks
Come here to relax! Laze on the beach, get some sun and take a dip in the water. After all, some serious beach time is just one of the things you have to do while living in Mexico. There's a shallow sandbar where you can see the pinky blur of the flamingoes that live there, or try kite surfing — the calm waters are perfect for beginners.
Another big thing on the island are hammocks, suspended over the waves. You'll find these Instagram spots all over, but you can head to Carolinda's Beach Club or outside of Flamingo's Hotel Villas.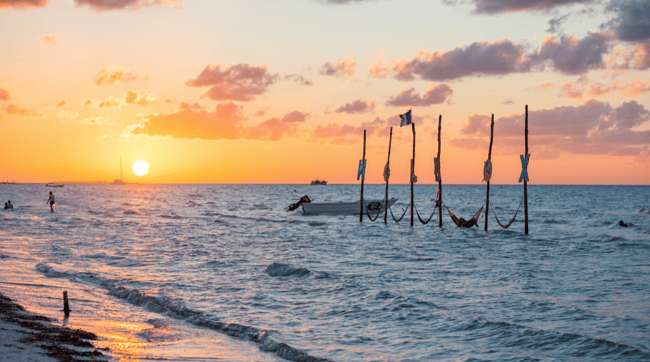 Swim With Whale Sharks
Our Summer and Fall volunteers could also spend a day hanging out with whale sharks; from June to September these 40-foot giants migrate right past this sleepy island and you can definitely book diving tours to get a closer look. July and August are the peak season if you're looking to have the best luck seeing these sharks.
Tours are around $120 USD which is absolutely worth it. VIP Holbox is one of the most reputable tour agencies around if you'd like to explore that option, but you'll find several on the island.
Take A 3-Island Tour
If you'd like to get off the island, this is the best way to do it. You'll find tour operators who'll take you to nearby spots for some bird watching, cenote swimming, and maybe some dolphins along the way if you get lucky. Keep an eye out for a swarm of bright pink flamingos who like to hang out on Passion Island.

VIP Holbox also does a 3-point tour. Other vendors had prices in the 450 peso range.
Bike All Around
You can find a lot of rental shops all around the little island, all for about 30 pesos for an hour, or around 150-200 pesos for the full day. Isla Holbox is really small and walkable, and makes for a great place for a day of bike riding (especially if you can ride with a popsicle or ice cream cone in one hand).

Oh, and don't forget to wander around the Caribbean inspired city square while you sip on Horchata or Pina Coladas ... and ice cream. Sounds pretty much perfect, right?
A Few Tips
Bring Cash
Bring enough cash for your trip. There are a few ATMs on the small island, but it's easier to bring your own in case the ATMs run out. Very few (if any) places will take cards.
Try Lobster Pizza
Island life meets this Italian favorite right here. You can find a handle of cafes and restaurants who serve up pizza topped with lobster. It's yum. Supposedly the Edelyn restaurant was the first to make it happen, but some say you can get the island's best lobster pizza at a place called Roots.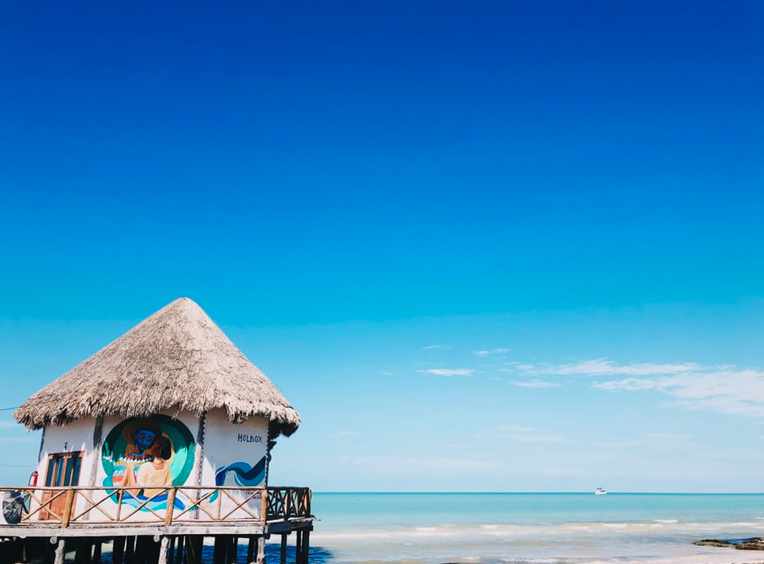 How Do I Get There?

From Cancun
Truly, the biggest pull to Cancun is how many day trips and weekend adventures you can reach from this tourist-mecca. It's easy to get to, but once you arrive in Cancun, I say hop on over to Isla Holbox. From Cancun, you can take a 3 hour shuttle ride to a place called Chiquila if you'd like a private drive.

Or, you can rock the bus system. From the Cancun Airport, you can hop on an ADO Bus to Chiquila (from 7:00 AM to 10:00 PM, leaving about every hour or so), or there is also a MAYAB line bus that can take you Chiquila (7:30 AM bus or a 12:30 PM bus). If you're already in the city of Cancun, there's a bus that departs at 7:30 AM, 12:30 PM, and 1:45 PM that leaves from the Main Bus Terminal in Cancun to Chiquila.
From Chiquila, ask around for the ferry port.
Take The Ferry Over
Once you're in Chiquillà, you'll take a 25 minute ferry (100 pesos) from the tiny little port. The ferries run daily at from 6:00 AM to 9:30 PM, leaving every half an hour. There are a couple of ferry operators, the 9 Hermanos [9 Brothers] and the Holbox Express.
Getting Around The Island
Once you're on the island, you can pretty much walk everywhere. There are hardly any cars so you get around by wandering around the very walkable and sandy island, or you can hail a golf cart "taxi" to take you around. It's also really pretty rad to rent golf carts to get yourself around and drive around the little island. You can rent from a couple of places, like Monkey's (here's their address: Calle Tiburón Ballena, Holbox, Q.R., Mexico) or Tours Glendy (Av. Morelos, Centro, 77310 Holbox, Q.R., Mexico). Prices are typically 150 pesos per hour.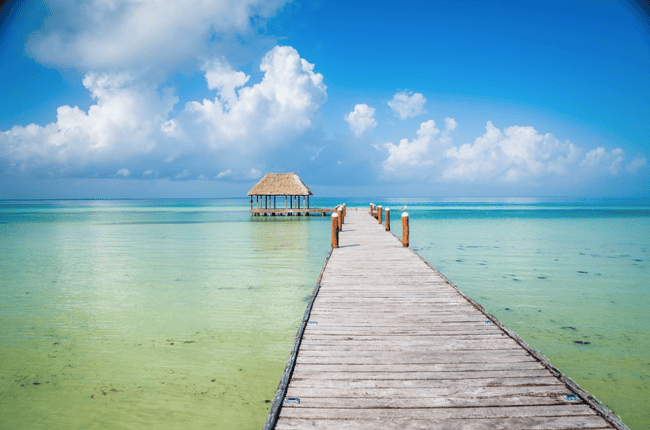 Fall head over heels with Mexico.
So yeah, pretty much Mexico has it all. You can get the hubbub of Cancun's tourists then hop over for some peace and quiet on Isla Holbox — it really is just perfect. You could do a day trip here from Cancun, but I have a feeling you are going to want to spend much longer here, just soaking it all in. Come spend a whole semester exploring the best of the best as an ILP volunteer here.