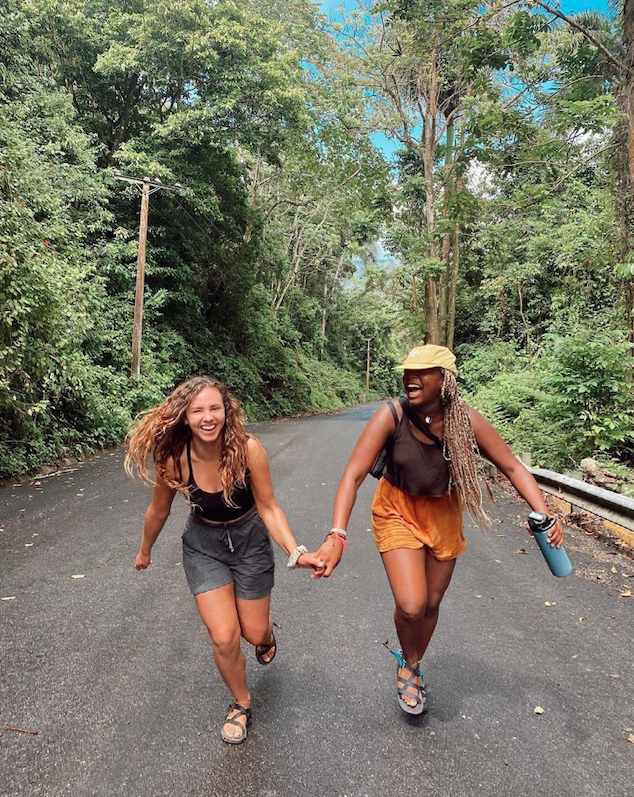 Just because you don't have a gym close by doesn't mean you can't workout during your semester abroad.
Not sure how to workout without a gym? Don't let that stop you! Some ILP locations actually do have gyms close by you can get a membership for, but if not, there are tons of other ways to workout. No matter where you are in the world, you can still get a great workout even if you don't have a gym.
Of course, there are ideas like "going for a run in the city center or to the closest beach", taking surfing lessons, doing a lot of walking around your city, and hiking to waterfalls or lookout points, but there are even more ways to get moving, thanks to Instagram accounts, YouTube channels, and more.


---
Need more advice on a few things?
All The Things To Do In Your Twenties is crammed full of it.
---

Just like at home, finding what you like is going to be key to working out on your semester abroad (especially if you're used to a gym, and that won't be an option when you're abroad). We've talked to our team at ILP and gotten ideas from actual volunteers abroad on how they are staying fit, so you can find something you love doing —
Fitness Apps
Whether they are free or require a fee, these fitness apps have ways to chart your progress, motivate your workout, and more, all from your phone or tablet.
Sadie Jane
We love her Instagram page, but the Sadie Jane app gives you so much more — this app is home to so many meditations, workouts, self love guides, and more, all focused on connecting your mind and body for a happier and more empowered you. Her program is great, just $1 for first month then $15/month after that.
Learn more about the app and download here.
Zombies, Run!
Alright, this app adds some serious motivation to get you running.
Basically, you are one of the last survivors of the zombie apocalypse and your help is needed to collect supplies for your base camp. There are several different missions you can complete which involve different lengths and different paces for your run. Fun music comes on when you need to walk, run, or jog a little faster because the zombies are coming (as you run, you collect different items for your base camp).
Another bonus? The app will log all of your runs so you can see your progress.
Get it here for iOS and here for Android.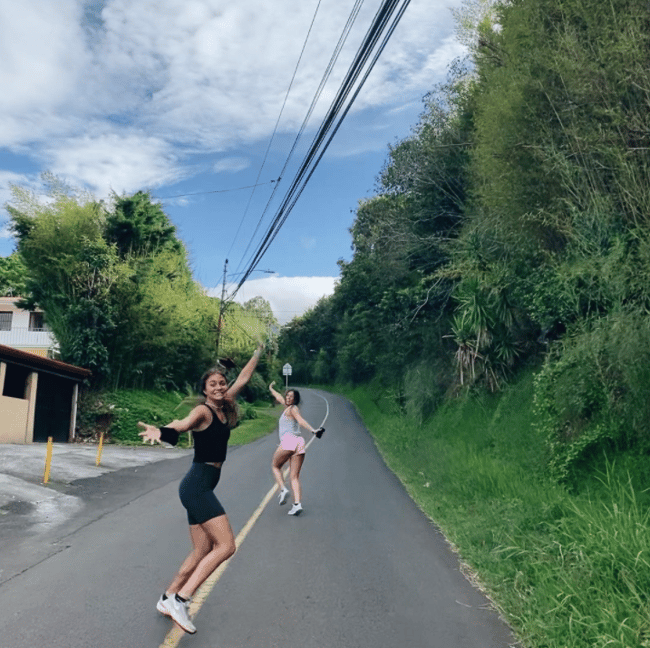 Kayla Itsines: Sweat
Kayla Itsines's fitness app, Sweat is a popular one, for a lot of reasons.
This app's goal is to help you "get your fitness back on track in just 28 days". When you log in, find tons of 28 minute workouts that you don't need a gym for, yoga videos, and more, like food prep recipes. You'll also find little features like a way to track your water intake or workout schedule.
The app comes with a free week-long trial, then it's a $19.99 monthly payment (or if you sign up for a year just $119.24).
Get it here on iOS and here on Android.
Couch To 5K
If you want to get into running, this app is for you. "Couch to 5K" is a way to prep yourself for running a 5K — just dedicate three days a week (30-minute sessions) for eight weeks and you'll be trained and ready to go.
Just follow the schedule which lets you know how far to run each time you workout, and get tips on how to cut back on your time. There are graphs to help you keep track of your distance and pace so you can see your progress (plus you get to pick a coach to help you stay motivated).
After you train for your 5K, the app does a method to train for a10K so you can keep going with your newfound love for running — all for free!
Get it here on iOS
*Although this particular version doesn't have an Android adaptation, there is another app that's very similar with great ratings. Get it here on Android.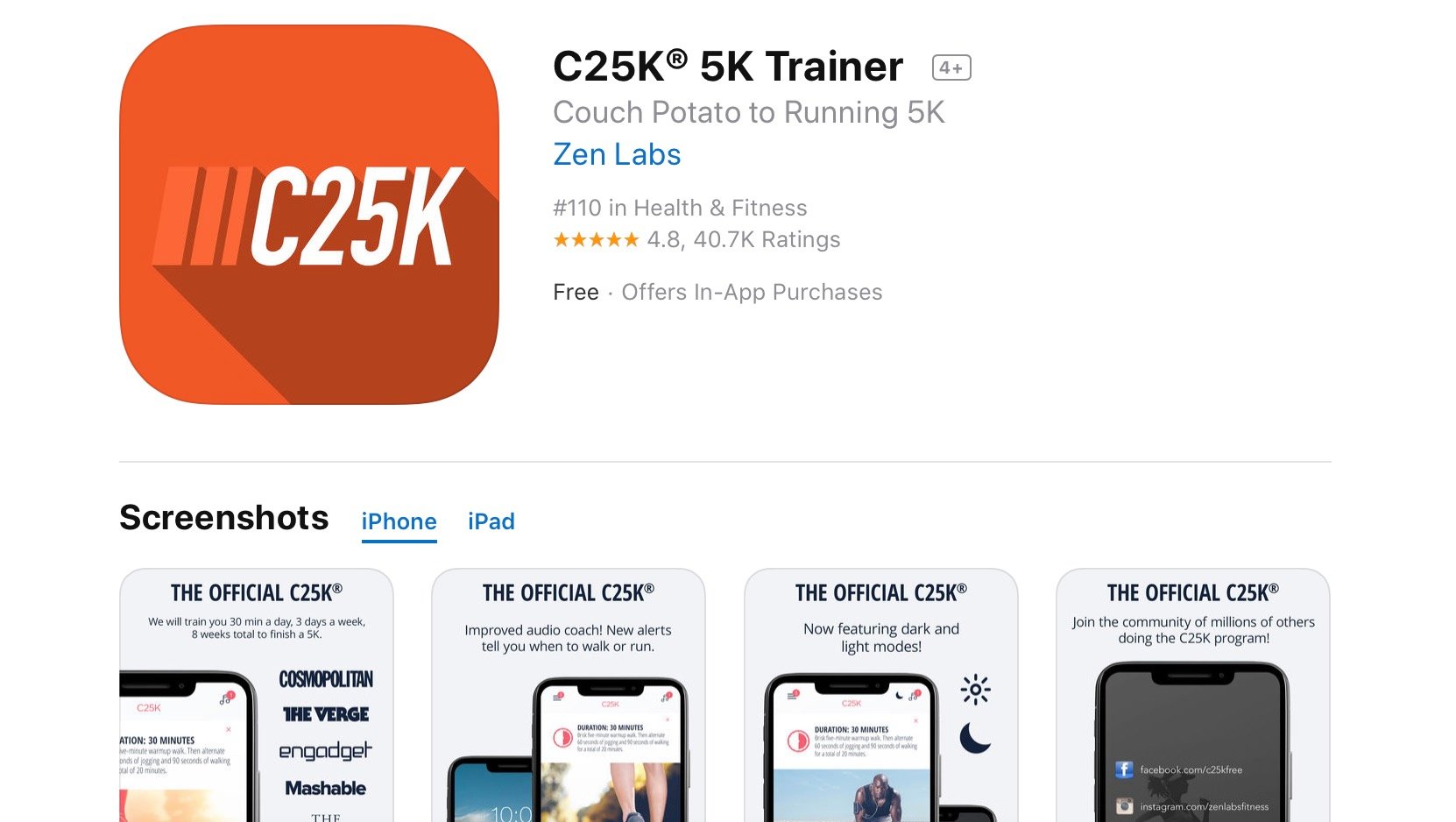 YouTube Videos
ILP volunteers love pulling up a YouTube workout as a way to exercise with their group — here are a few recommendations.
Yoga With Adriene
Some 10 million people subscribe to this YouTube channel, where Adriene walks you through 10 to 30 minute-long yoga sessions, all targeted for a specific purpose. Work on increasing your flexibility, improving your core strength, or sessions that help you wake up in the morning.
Her videos are calming, easy to follow along, and you don't need any special equipment (especially since a towel can work as a yoga mat).
This series has an option for a free 30-day subscription (with daily videos) to help you get into a routine, or you can just pick videos that appeal to you when you want to fit a little yoga into your life. Subscribe here: Yoga With Adriene.
Blogilates is the perfect channel to follow if you want to add some variety to your workouts. This channel has instructions on how to work out very specific parts of your body, as well as full body workouts, cardio dance videos, healthy recipes, and fitness tips.
Blogilates has 7-day, 21-day, or 100-day challenges, video series for beginners, plus detailed videos on areas of your body like your abs, improving flexibility to do the splits, toning thighs, and more.
FitnessBlender
FitnessBlender is a husband and wife team with awesome workouts (there are tons of them!). They have a huge variety of videos which means you are sure to find what you're looking for — find workouts that are just a few minutes long or full-length videos that cover a full workout.
We love all the videos on their YouTube Channel, but you can also check out their website where you can search their workouts by length, intensity, or targeted areas of your body.
Whitney Simmons
You can find countless free workouts on this YouTuber's account. She focuses heavily on weight training so many are geared towards those that have access to a gym, but scroll through and find her at home workouts and videos that are just bodyweight focused (and don't require equipment).
Many workouts are dumbbell only/no machines and many you can also modify. Traveling with just a lightweight band and access to her videos can get you by in a pinch. She's got a great Instagram program too, it you want to go with a $15 subscription plan.
Madfit
This is another account we've used and love. There are tons of video options, including some for beginners, and workouts that range from about 10-30 minutes.
She also have an Instagram account if you'd like to access some workouts that way.
+ Dance Accounts
Other ILP groups have loved looking up JustDance routines or tuned into a few songs to dance to with the Fitness Marshall just in their apartment. You can get quite a workout if you really get into these videos (bonus points if you workout enough to memorize the routines).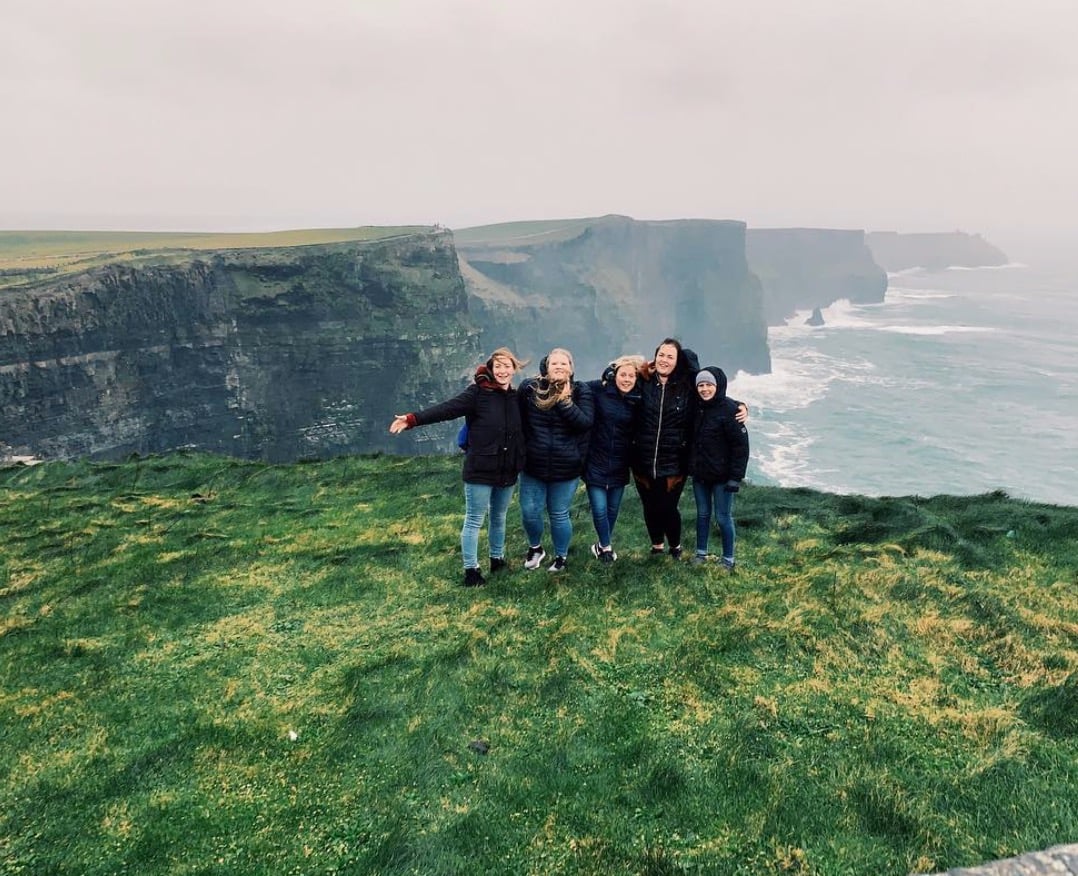 Instagram Accounts
Opengym
One of the best accounts out there for those who are traveling and don't have access to a gym, weights, etc. is @opengym.
For about $10/month, you get a different plan every day that includes body weight only exercises, which is exactly what you are looking for if you have zero equipment but want a good workout.
Open gym also has an app you can download, or you can check out their IG feed for some workout ideas without paying per month.
MomStrongMove
@momstrongmove offers a $10 a month subscription for at-home workouts — the workouts are new every week so you never have to do the same workout more than once. She also has gym strong plan, if you have a gym around (it's also $10 a month ... you can get both for $14 a month). Learn more about both plans on their website.

Meg Miles (the creator of this account + your new personal trainer) includes a video of her doing the workout with you in real time (it really pushes you to keep up with her!).
Heads up — If you can get your hands on a pair of weights or a resistance band it would be helpful, but it's not necessary.
barre3
The barre3 account (and subscription) has so many equipment-free barre workouts — perfect if you're looking to keep up your barre classes on your semester abroad or want to try out barre while you're traveling. Typically it costs around $30/month (which is less than what I was paying for my barre classes at my gym at home!), but they often have even better deals going on too.
Get more info and download their app here.
IHeartMacros
Another $10 subscription, this account changes every single week so you're not stuck doing the same workout. Quincy @iheartmacros also provides some recipes and eating strategies to help go along with your workout. You might need to save those recipes for when you get home from a semester abroad or vacation, but her workouts are great for someone looking to exercise but doesn't have access to a gym.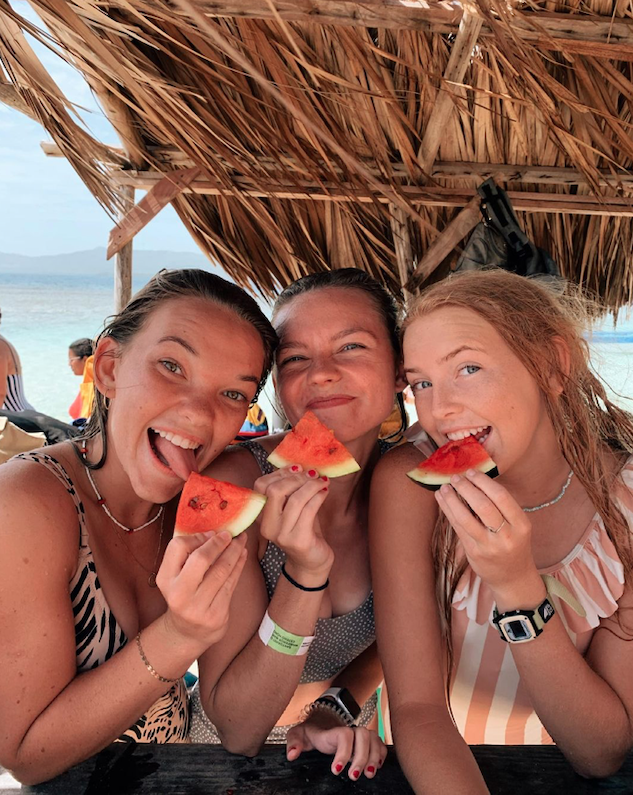 KatieCrewe
@katiecrewe posts free workouts on her Instagram so you can pick what looks good to you just by scrolling on her feed. She does a lot of body weight and core workouts at home where you don't need any equipment or you can get creative with what you have — heavy books, a packed backpack, water jugs, a couple of pineapples, etc can all be used to help you out.
Diana Mirgon
Diana Mirgon posts workouts right on her Instagram feed so you can follow along and have new workouts all the time (they're totally free which is another huge perk).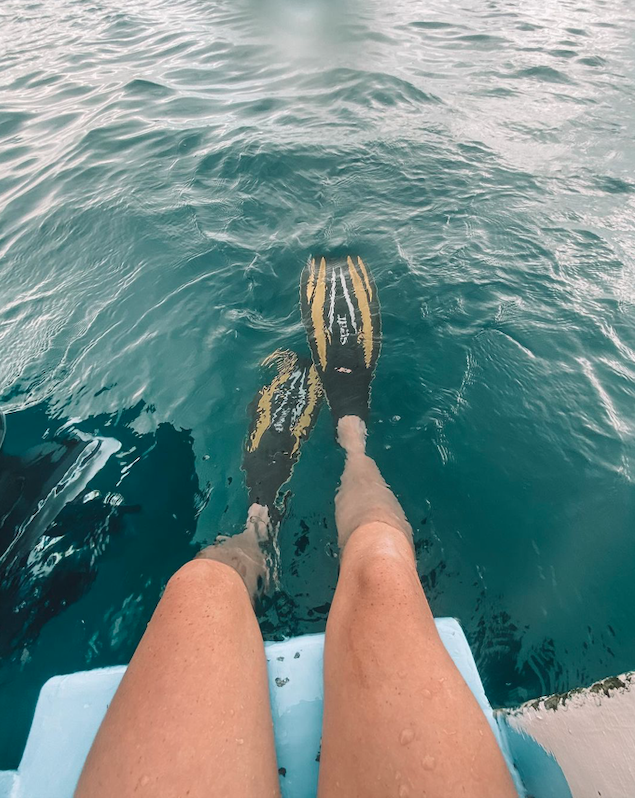 Pinterest Workouts
We all have a Fitness Board on Pinterest, right? Well, now is the time to use it! If you don't have one going get one started and look up things like "workouts from home", "workouts with no gym equipment", "ab workouts", or whatever else you might be looking for. You will have tons of ideas pop up with different workouts and circuits you can try.
Create a schedule for a week (or for a month) so that you know ahead of time which workout you're doing — you want to avoid spending your workout time scrolling Pinterest. Grab people in your ILP group for some added motivation and get going on your new found workouts.
Here are few suggested boards: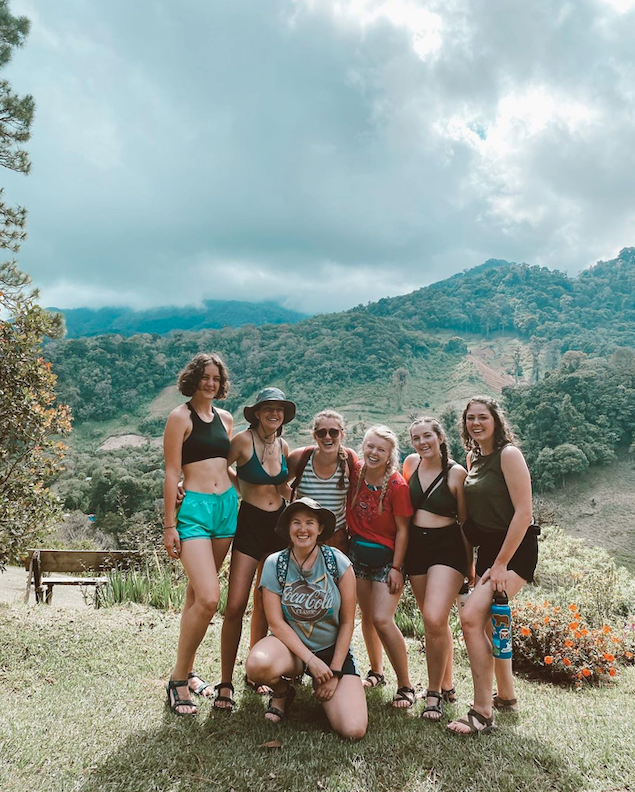 A Few Things To Pack
Most of these accounts and workouts are do-able without any equipment, but you can get a deeper stretch (or just a more comfortable yoga sesh) if you have some minimal gear.
Luckily, each of these pack up easily. Oh, and just so you know, this section of the post has affiliate links for your convenience (which means if you make a purchase after clicking a link, we earn a small commission). Just know that we only share products that we ourselves have used and loved, that other volunteers have recommended, or that we think just look like they'd be pretty useful!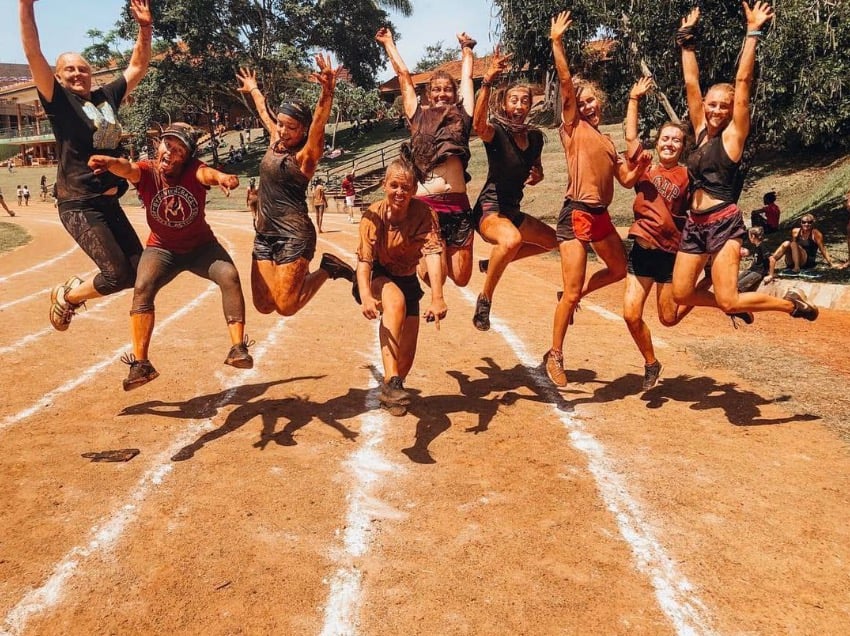 Now you can exercise wherever you are
Including anywhere you could go abroad, right? Yoga on the beaches of Costa Rica or runs down the charming streets of Europe sound pretty great. Come get your questions answered about volunteering and traveling with ILP: