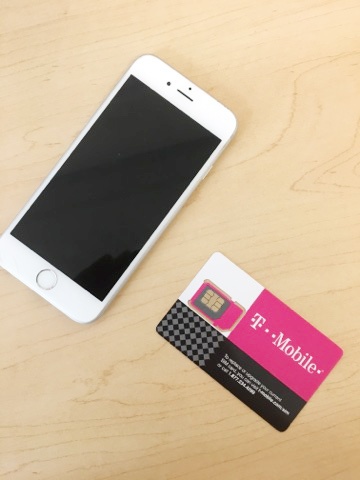 If you're preparing for an international trip (like a semester volunteering abroad with International Language Programs!), but your cell phone provider doesn't have the best of options for international data ... you probably want to do a SIM card.
If you're here, I'm going to assume you already have a SIM card because we're getting right into what in the world do you do with it. But for everyone else...
First, Plan Your Trip
Haven't planned your semester volunteering abroad yet? You're needed as a volunteer in Thailand! Or Romania or Vanuatu or ... we've got lots of volunteer opportunities for you all around the world so just schedule a call with an ILP representative and they can answer all your questions.
Call Your Provider
Find out what your current cell phone provider offers as far as international service goes. There's really cheap (and even free) ways to use your phone when you're out of the country...and also really expensive ways.
I have Verizon and while I love them within the U.S., their international plan is, well ... spendy. I'm not spending my hard earned money on data when I could spend it on shopping at little markets. Check out this post to get more info on how your phone works while you're traveling internationally and the cheapest ways to get the most out of it.
If You Don't Love Your Provider's Plan, Get A SIM Card
If you're like me and your current phone provider doesn't include a good international service in your plan, you're going to want a SIM card. I wanted to be able to text my friends back in the States or have data to pull up Google maps when I got lost, so I got a data plan.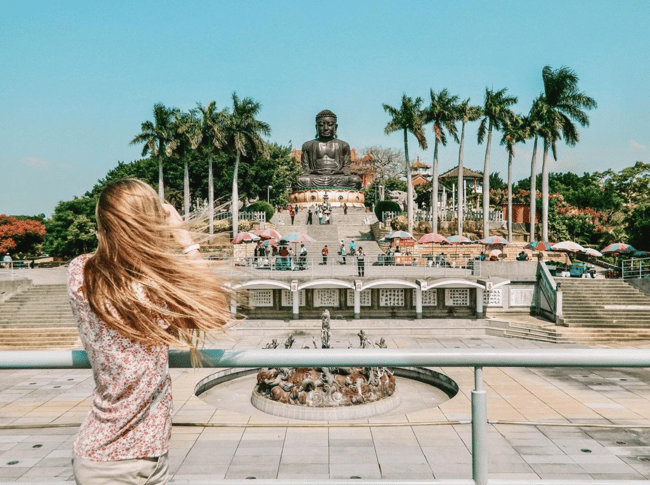 How To Insert A SIM In Your iPhone:
Here's an example — I'm using a T-Mobile SIM card, but the process is the same no matter what SIM card you're going with, whether that's switching providers in the States because you plan on doing a lot of traveling, or just snagging a local SIM once you arrive at your destination.

With this T-Mobile plan, I got a little pink card like the picture at the top. It's about the size of a debit card, but the part you need is that small little gold piece. Just put that to the side for a second.
Grab a paper clip and unfold one of the ends so that you have a straight line. Look at the side of your phone and you should have a little teeny tiny hole that you never noticed was there.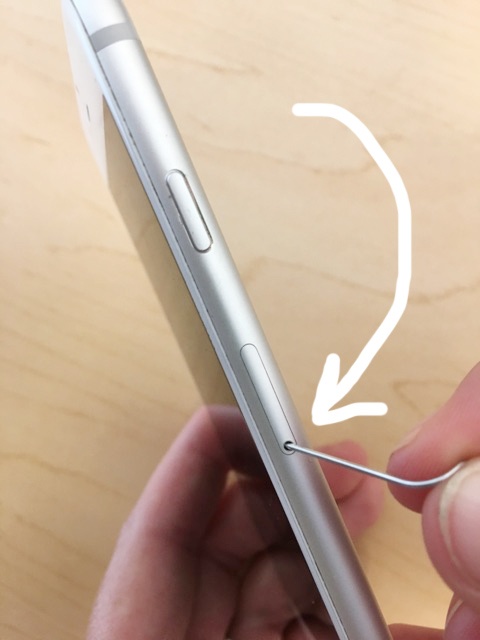 Take the paper clip and push it into that hole. It seems scary, but just be gentle. There's a little pressure point in there so when you push it, it will eject the rectangle piece that holds the SIM card. You probably are going to have to use a little pressure. If it doesn't feel like you're pushing against the pressure point and nothing is happening, just move the paper clip around a bit. It's a tiny thing right in the middle of the hole so you just gotta push into it exactly right.
Once you hit the pressure point, a little message will pop up because your phone recognizes that something is happening! It's fine. See that rectangle piece popping out of the side of the phone? That's what you want.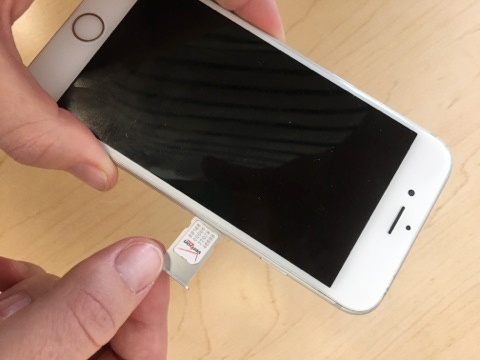 Pull it all the way out. You can see my Verizon SIM card is already in there because that's the provider I use.
Tip — As you take this piece out, set it on the table right away face up. If you keep it facing the same way that you pulled it out at all times, then when you're getting ready to slide it back in you know exactly which way it goes.
Pop your old SIM out of the little holder. It's barely sitting in it, so it's super easy to just let it fall out. Now, go to the SIM card you purchased — if things are packaged like the T-Mobile one I used, you'll see that the card has several serrated edges around the tiny SIM where you can pop it out. Be careful because there's multiple edges — that's because different phones have different size SIM card holders. You'll want to just break it down until it's the same size as your old SIM. Once you have it broken down to the right size, just place it into the metal holder facing the same way that your old SIM was sitting.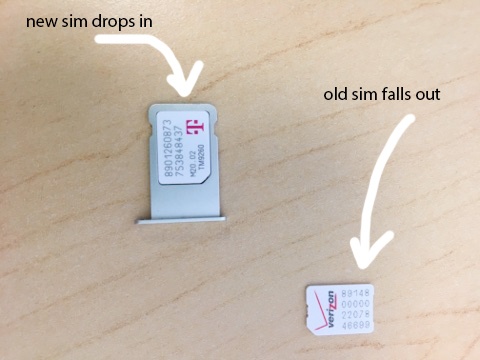 Now just push the metal holder with your new SIM back into your phone. You should feel it click firmly back into place (so it shouldn't slide out of your phone if you turn it over).
Once you do that your phone will recognize that there's a new SIM. iPhone has a message pop up that says something like "Carrier Settings Update" - just click "Update".
You're almost done! With these T-mobile SIMs, you need to activate it by making one phone call. It doesn't matter who you call, you just need to be on the line and make sure it's working. The other thing is that you have to do this before you leave America. So before your plane takes off, make sure you've made one quick 30 sec call. Then you're all set to be able to use your phone for your semester abroad!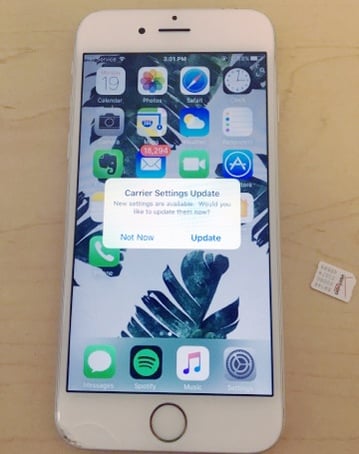 Bonus Tips For You!
Your new SIM is going to reassign you a new phone number because that's based on the SIM card you have. To find out what your number is so that you can share it with your friends and family go to: Settings - Phone - and then your new number will show up under "My Number". You may need to give it a few minutes and/or restart your phone before it shows.

Your phone may have now switched to show that texts are coming from your email instead of your new SIM number. If you want it to say they're coming from your new number, go to: Settings - Messages - Send and Receive - Start New Conversations From...and then select your new number instead of the email.

Be so careful with your old SIM card. I normally use Verizon, so I knew that once I returned from volunteering in Asia, I would want to switch back to Verizon. Keep your old SIM in a safe place so that when you're ready to switch back, you've got that available.

If you're still a little nervous about putting the SIM in your phone, check out Youtube. There's lots of video demonstrations that might help. Just search something like "put SIM in my phone" and make sure the video is about the same type of phone as yours.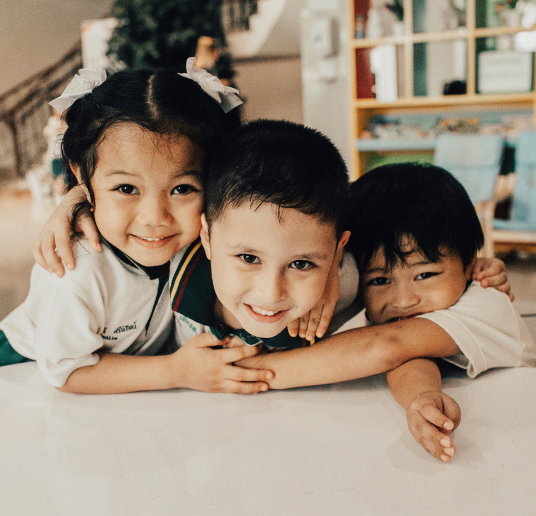 There's no reason to be navigating a foreign country without your phone! For such an affordable cost you can text other volunteers in your group when you lose them in a busy market, look up your hostel's address when the taxi man asks you where you're going, and post pics from your train ride so that your mom knows you're still alive and loving life.
It used to be that an international phone plan were outrageously expensive, but now it's the norm. And super easy. Thank you, technology.
Click the green button below if you're wanting to go abroad with International Language Programs but have lots of questions! We can help you out.