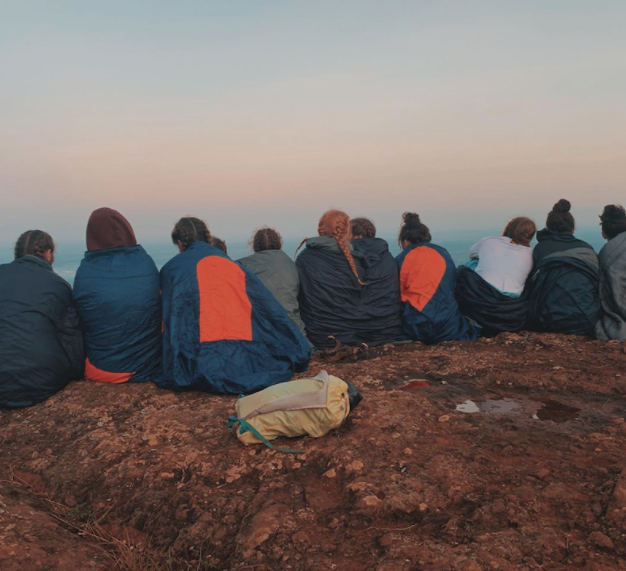 Picture the adventure of climbing up a towering mountain range, but without the crowds and price tag of Kilimanjaro. Oh, and this peak is right around the corner from our favorite waterfall to abseil. We think you'll love just about everything about Mount Elgon.
Sure, you'll find a lot of what comes to mind when you think of Africa on a visit to Uganda … but that's not why I love this country. The safaris are incredible, don't get me wrong, but who knew this country was home to thundering waterfalls you can abseil down or the mouth of the Nile River that's ideal for white-water rafting? You'll want to keep reading because this blog post is bursting with the details you need to trek this elusive mountain, Elgon. At first glance, Uganda may not sound like one of the most action-packed places you can volunteer with ILP, but it totally is.


---
Make sure money doesn't stand in the way of your adventure
Here's a guide to affording a semester abroad in Uganda
---

Hugging the border of Kenya is a ridge of mountains, home to one particular lofty peak that is an adventure and a half to climb. It's nestled right next to Mbale, a gateway city that leads you to Sipi Falls, which is already a favorite spot for our ILP volunteers. But continue high up into the northern foothills to find the hike of your semester if you're up for it.
For volunteers who want to tackle the unique, volcanic peak you'll want to read through this post, grab a guide, and keep an eye for elephants, monkeys, and hundreds of birds that call this mountain home.
About The Mountain And The Hike
Mount Elgon is home to more than a few things. First off? It used to be a towering volcano and is home to a massive crater which happens to be the largest crater of all of Africa's highest peaks. It is one of the largest calderas in the whole world. It's also home to a unique landscape, a variety of vaguely-moon-like rock fields and scrubs that lead you up to the summit, while the foothills are more like thick jungles.
The slopes are dotted with a whole host of animals, rimmed with waterfalls, dotted with caves plus you can even find hot springs in the crater. Since the foothills aren't nearly as crowded as Mount Kilimanjaro, you may spot small crowds of antelopes, hundreds of bird species squawking, or even elephants lumbering around.
Mount Elgon is said to be the 4th highest mountain in all of Africa, but it used to be higher than the famed Kilimanjaro. Over the years, erosion has rounded and pounded the peak, but it still creates a spectacular climb which leads hikers up over 14,100 feet.
What To Expect
It's A Tougher Hike
We'll get to this in a minute, but the views are best admired in 3-6+ day treks. You can make the hike in 3-4 days, but if you want to reach the summit and hang out in the crater's hot springs, plan on a 5-6 day trek. There are some options for you to hike around the foothills for a day and return back to Mbale, but the overnight ones are way more of an experience.
You'll want to make sure you're in good physical shape and can handle a few days of camping out and hiking. It's a rugged experience of sleeping in a tent, under the stars.
When To Visit
The peak tends to be pretty wet even in the dry season which is when you'll want to hike. Plan on tackling this adventure in the middle of December to March, or in June or July. It's just much too wet to do the hike during the wet season unless you want to trek through a lot of mud.
For our ILP volunteers, that means you can hit this hike Spring semester or the Summer semester. Headed here during the Fall? You absolutely still have to come to this part of Africa. Our volunteers love visiting Sipi Falls which is beautiful year-round.
Things To Pack
Make sure you check with your tour company (if you go that route) to make sure you know what's included and what's not included in your hike. Some provide all the camping gear, while others don't.
However, no matter what, you'll want to wear waterproof layers, a pullover or fleece for cold nights, and have a sturdy set of hiking boots for your hike. I always hike in Merino wool socks because they're warm, dry quickly, and help prevent blisters. Bring essentials like a backpack with a water bladder and a water purifier along with snacks. First aid kit, a headlamp, toilet paper, sunscreen, and other essentials are also must-haves.
Remember, it tends to be wet and a little chilly at night so you will want clothes for that.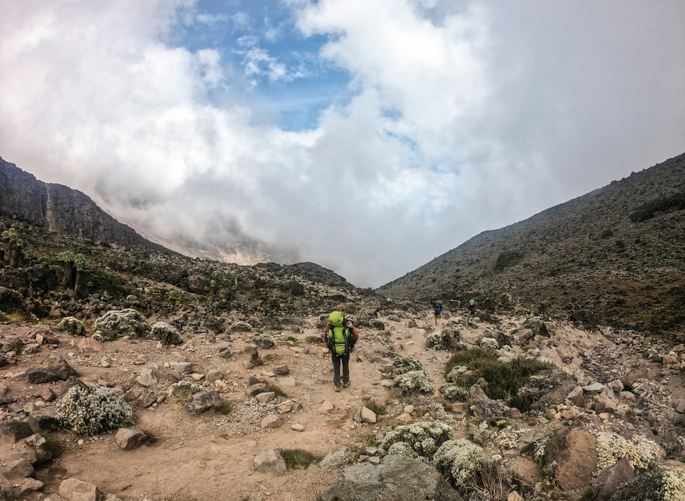 Choose Your Hiking Trail
Mount Elgon is made up of five peaks, partly found in Kenya, split between the two bordering countries, or found firmly in Uganda which are the most popular to hike for those in the know. Just so you know, Wagagai Peak is Mount Elgon's highest peak, but some trails can lead you to Jackson Summit or Lower Wagaigai which are equally stunning. You can pick from the Sasa trailhead, the Sipi trailhead, or the Piswa trailhead.
We're recommending the Sipi Falls + the Sasa Trailhead hike because it's just a continuation of the trail that you take to head up for a bit of abseiling at Sipi Falls. It's already a can't-miss activity, so adding on this hiking trail is just another way to spend more time on the mountain. Most take the Sasa trail up then take Sipi down.
The Sasa trail is the shortest trail to the highest peak (plan on a four-day, 3-night hike) and is easily reached from Mbale. It's a pretty rugged hike and can be a bit rough, especially on the first day of the hike. This trailhead starts in Budadiri, and the Sipi trail ends (or starts) at the Forest Exploration Center in Kapkwai.
Here's a shot of the abseiling at Sipi Falls — see why we love this place?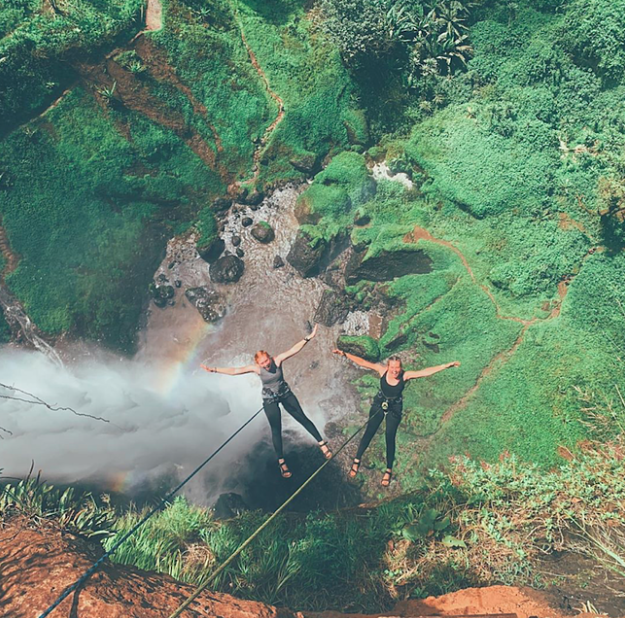 Going With A Guide + Costs
This is something you have to do with an Uganda Wildlife Authority (UWA) guide or ranger (so no self-led hiking trails). If you are booking with a tour company, they'll arrange a UWA ranger to hike with you.
Cost is pretty variable, depending on how you're hiking Mount Elgon (just with a guide or with a tour company, etc). However, you'll need to know that there's a $75 daily charge for tourists to enter the park. This cost includes two rangers who will hike with you. There are also daily charges depending on how long you will be in the park.
If you aren't going with a tour company, it's also common for hikers to hire a cook who'll handle breakfast, lunch, and dinner for you and your group. Plan on paying around 20,000 shillings per day which is around $5.50 (for your group, not per person). Hikers also sometimes hire porters to carry your luggage for about the same cost per day, per person. There's a max weight limit of 15ish kg, just FYI.
Gear is another thing to consider. Some tour groups set this all up for you, or you can rent a sleeping bag (20,000 shillings a day), a sleeping mat (around 7,500 shillings per day), and a tent (20,000 shillings).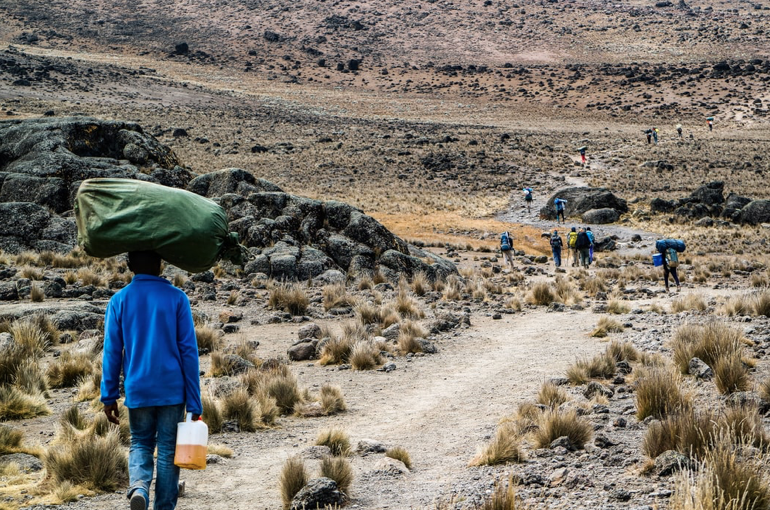 Getting Here
The best place to head to first is to Mbale, then you can make your way over to the trailhead from there. We have instructions on how to get to Mbale from Kampala (a popular jumping-off point) on this blog post all about Mbale. We also have info on places to stay, things to check out, and a couple of nearby adventures. It's a fantastic crossroads to some of our favorite things to do in Uganda, so be sure to check it out.
Once you get to Mbale, you can visit the Uganda Wildlife Authority (UWA) office building to get more info about the hikes ( 19/21 Masaba Road) or make your way up to the trailhead. Remember, the Sasa trailhead starts in Budadiri, and the Sipi trail ends (or starts) at the Forest Exploration Center in Kapkwai. From Mbale, both are about 1-2 hours away.
According to one traveler, you can catch a minivan in Mbale for around $1. Expect a bumpy road!
Remember, these instructions are only applicable if you're booking without a tour company. Multiple vendors take tourists from Mbale (or even Kampala) up to this part of Uganda for a trek around Mount Elgon (or Wanale Ridge), adventures around Sipi Falls, and some even tack on some time rafting the Nile in Jinja.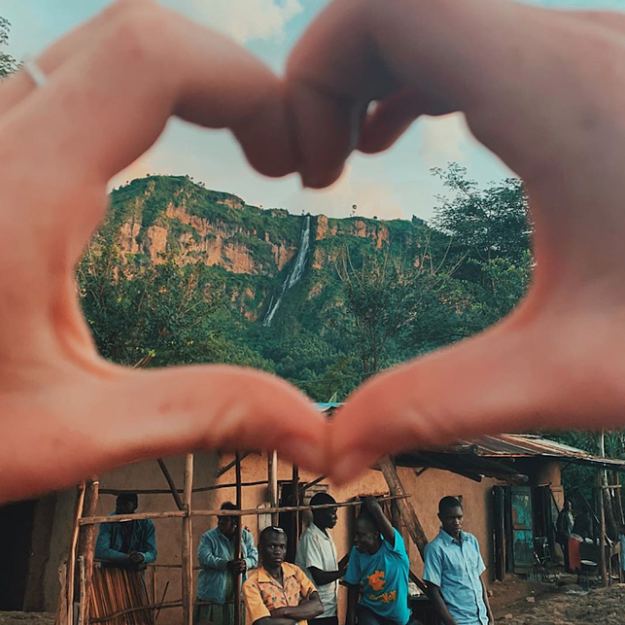 Let's get you to Africa!
The best way to experience so many things is to be in Uganda for longer than a week or two. Come spend a whole semester here, spending your time teaching English and helping with humanitarian projects, and spending weekends + vacation days seeing all of this (and more).