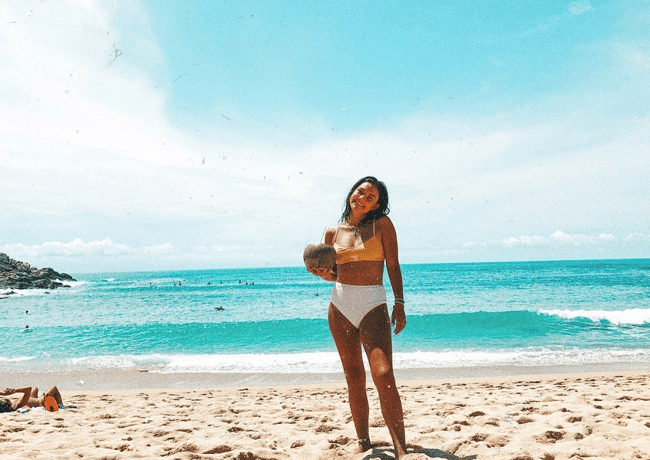 Bali gets all the attention, but that's only because we want to keep Gili Islands more of a secret.
If you're planning a trip to Bali, you should know that you need to plan more time in your itinerary to go island hopping. Bali truly is everything you're looking for, but the amazing beaches, thick jungles, and incredible vacay vibes are just that much more intense when you hop around the nearby islands.
We've already written all about the island chain known as the "nusas" but here's where things get better: that island chain is an easy day trip from Bali, and the Gili islands are an easy day trip from the Nusa islands ... sounds like you need time to hang out on Bali, spend time on a Nusa or two, then explore what the Gili islands have to offer. Sounds like quite the life of an ILP volunteer if you ask me!
---
Spend a semester living in Thailand and vacationing here
Do all that and more as an ILP volunteer.
---

One of the reasons I love traveling so much are these happy surprises. You hear about a destination and know you've got to go (Bali) then a little more research leads you to something even better (these Gili islands). They're small, totally without motorized vehicles, and have a more laid-back island feel than other spots around. Plus, they're easy to get to and boast some truly spectacular beaches. Dive right into everything you need to know about planning a trip here, below:
About The Three Islands
The Gili Island triplets are a collection of three islands found on the northwest coast of the Nusa Lombok: Gili Trawangan, Gili Meno, and Gili Air are the three you have to keep track of for this post. Right off the bat, know that you're going to want to spend most of your time on Gili Air or Gili Meno. They're the smaller of the two islands and have the kind of vacation-vibes you're looking for. Gili Trawangan is the largest and the busiest of the island and isn't as focused on relaxation and beach time. Example? You'll find those dreamy "ocean swings" on all of the islands, but you'll have to wait in line if you visit them on Gili Trawangan.
For that reason, we're focusing the most on Gili Air and Gili Meno, and mentioning a few day trip options to Trawangan if you have the time ... just remember that Bali and the Nusa islands are also worth seeing so we're guessing you'll just have time to hit the highlights!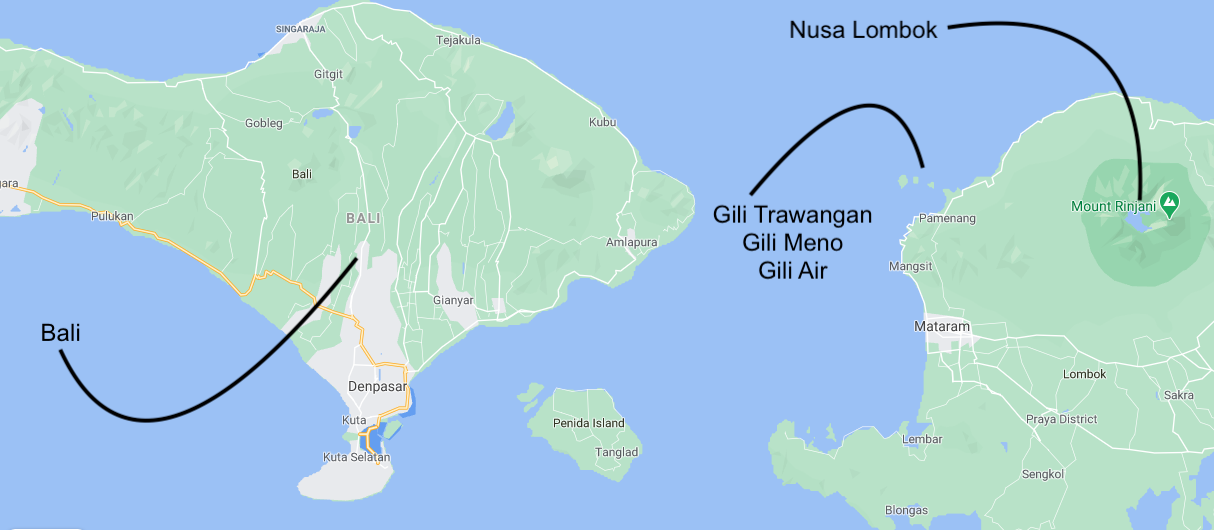 Highlights For Gili Air
With three islands to choose from, you'll find your favorites depending on what you have in mind for your idyllic island adventure. Head to the smallest island of the set, Gili Air, if you want the most stunning beaches and peak relaxation. Here are a few things to check out:
The Ocean Swings At PinkCoco
So you'll find a set of swings partly submerged by the turquoise waters dotted all over the island (Gili Air is quite small, so you can find your favorites). They're all owned by individual beach clubs, but don't worry, they are free to use for that beyond perfect Instagram picture. You can find a set of pink swings at the PinkCoco beach club if you really want the ideal snapshot.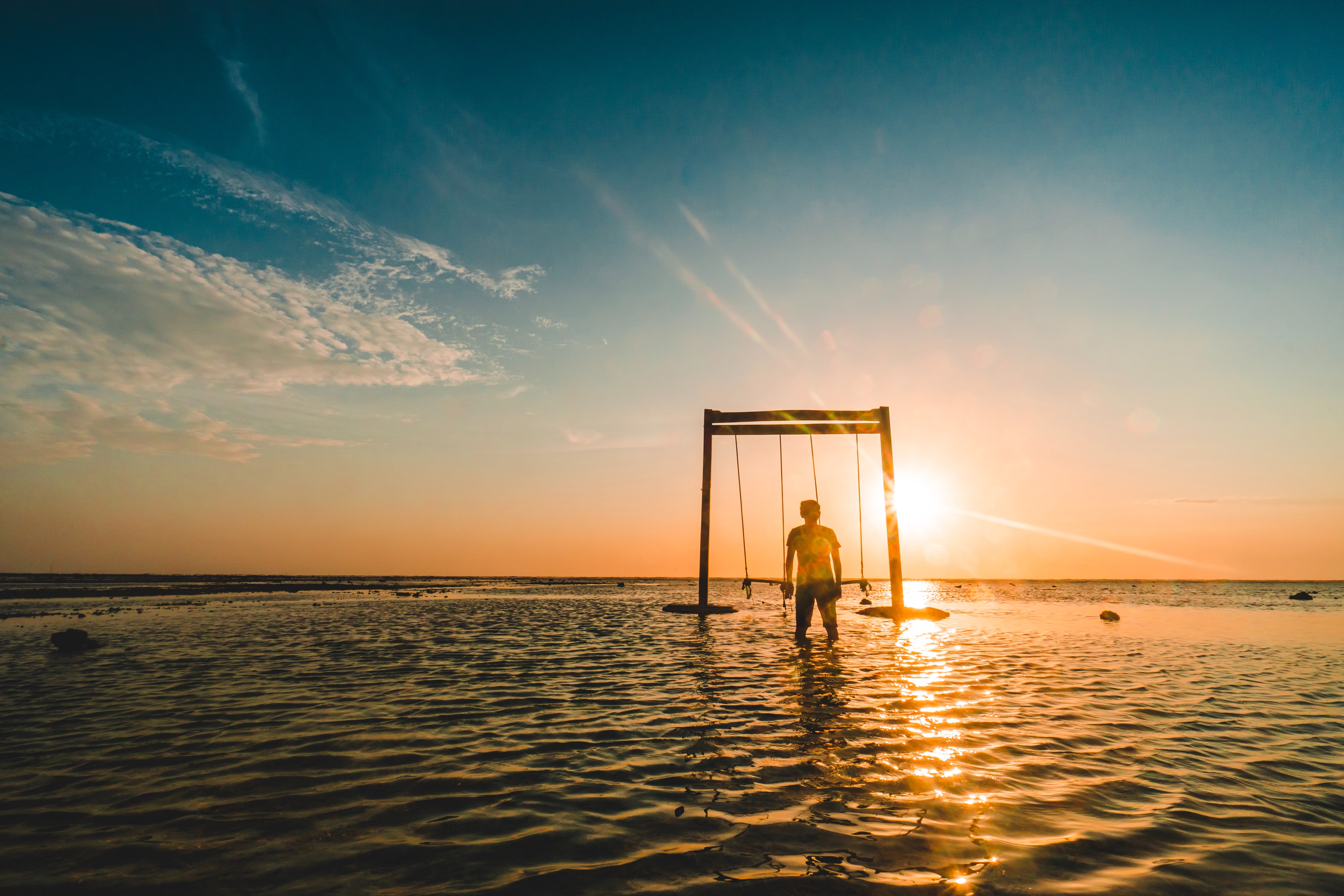 Snorkel With Turtles
Dreams come true on Gili Air! This particular island is known for the stunningly clear and blue waters that make for amazing snorkeling. You can find other snorkel opportunities around the small island, but if you'd like to spot turtles, you'll have better luck on the northern side of Gili Air. There is a particularly good snorkel spot on a stretch of reef between the Bel Air Resort and Spa and the Sunrise Resort.
The spot is about 200 meters wide between the sandy beach and the reef drop off. You'll first swim over the sandy spot then some seagrass, then a bed of coral. Green and hawksbill turtles typically hang around the coral at high tide (avoid snorkeling at low tide — the water is more shallow and it's easy to damage the coral on accident). Remember, keep your distance from the turtles! They're pretty familiar with humans, so they typically don't shy away from but you shouldn't touch or chase them. Others mention spotting turtles by the Sandy Beach Bungalows if you'd also like to try that.
You'll find plenty of places to rent snorkel gear. Prices seem to be in the Rp 15,000 range for a mask and snorkel, and another 15,000 if you'd like flippers.
Biking Around The Island
One of my favorite things to do on tiny tropical islands is to just grab a bike and ride around for the day. I've stumbled upon breakfast places, then found a great hammock by the beach, and a spot for lunch then ran into a snorkeling spot that was ideal right before dinner and sunset ... all unplanned, but so lovely! On Gili Air, you can find bike rentals near the pier (or at your accommodation, just ask!). Run into coconut farms, yummy restaurants, and quiet neighborhoods. One of the best things to do in Gili Air is to rent a bike and explore the island. Follow the beachside and find all the nice beach clubs or bike through the center of the island and see a bit of the local life, coconut farms, and the best restaurants.
Bike rentals are located near the boat pier or at your hotel.
One helpful tip? Bikes with the fatter tires are better for going over the sand. Most places rent these out for 100,000 Rp a day (skinny tire bikes are half that cost), but you can do some bargaining, especially if you want to rent them for 2-3 days. Make sure the gears and brakes work before you take 'em out for the day.
Grab Some Local Food
The island is dotted with quite a few yummy places, but for local food, two places come to mind. Warung Sunny is amazing local food — think Lombok soup, veggie curries, and bomb burritos. This place also hosts a cooking class in the evenings ... I suggest going there for lunch and asking about the details of the class for dinner. Warung Alam Damai is another spot for delicious food (and cooking classes in the morning!)
Gili Bliss is where you'd like to head for smoothie bowls, which is kinda a must-do when in Indonesia if you ask me. Between those three places, you're set.
Stay In A Bungalow
One of the reasons why I loved my trip to Indonesia so much was the accommodation. It just adds to the whole experience if you can stay somewhere like the island bungalows or villas available on Gili Air. Feel free to do your own research but the Gita Gita Bungalows or the Gila Air Bungalows fit that bill — beautiful, close to the beach, and picture-perfect.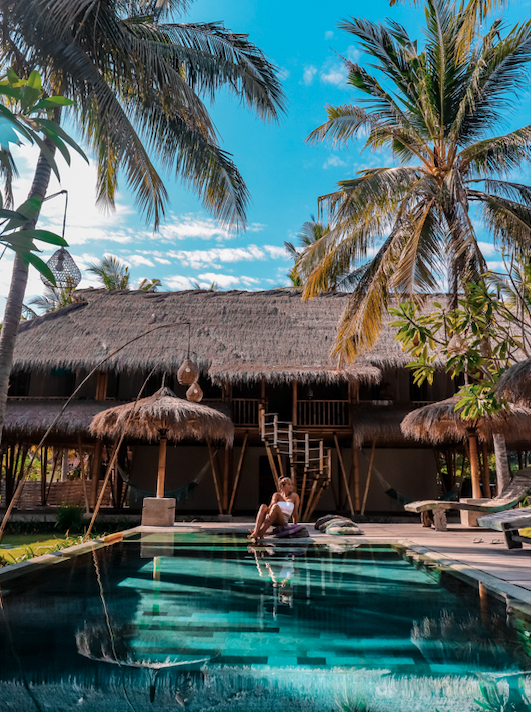 Highlights For Gili Meno
It's a quiet, sleepy, relaxed island boasting lots to do, but best for tons of relaxing. Gili Meno is known for snorkeling and yoga if that gets you a taste of what's waiting for you. Some say this island has the best beaches out of the other two. It's the smallest island (and quietest), but has a few favorite things to check out: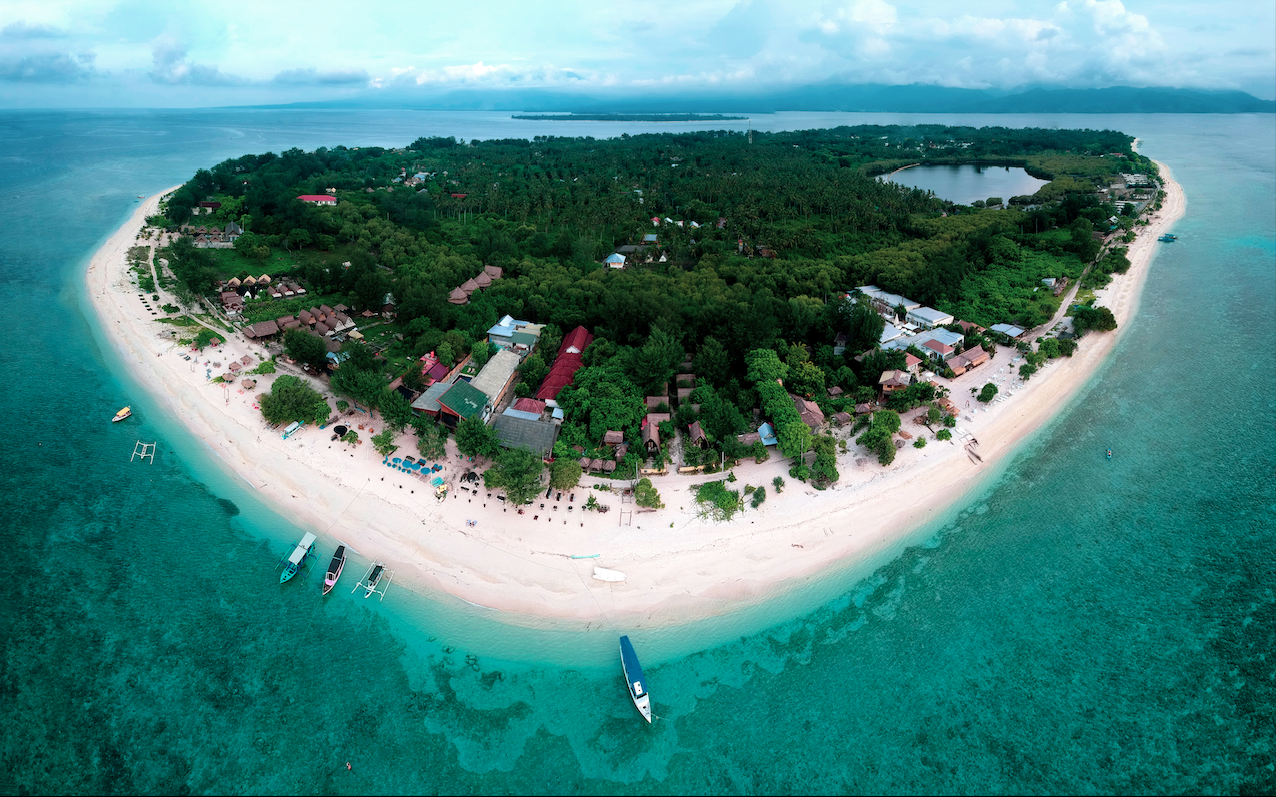 Snorkeling Underwater Sculptures
The snorkeling on Gili Menos is incredible. It's worth hiring a guide for a full day or snorkeling to experience all the surprising hiding underneath the waves. The Meno Wall is a favorite spot (home to a very dramatic drop off), plus you can float above a famed shipwreck (a popular spot for scuba-divers), plus there's a collection of 28 underwater statues installed there to encourage reef growth, a project named " NEST" by artist Jason desCaries Taylor.
If you'd rather just do some snorkeling, that's an option too. Pretty much any hotel or cafe will rent you some gear for the day for around Rp 30,000. Looking for a good spot? Dive in around the Good Heart Cafe (it's on the northwestern shore). On the west coast, there is a former pontoon that can be a good spot, too. On the eastern coast, just be aware of boat traffic.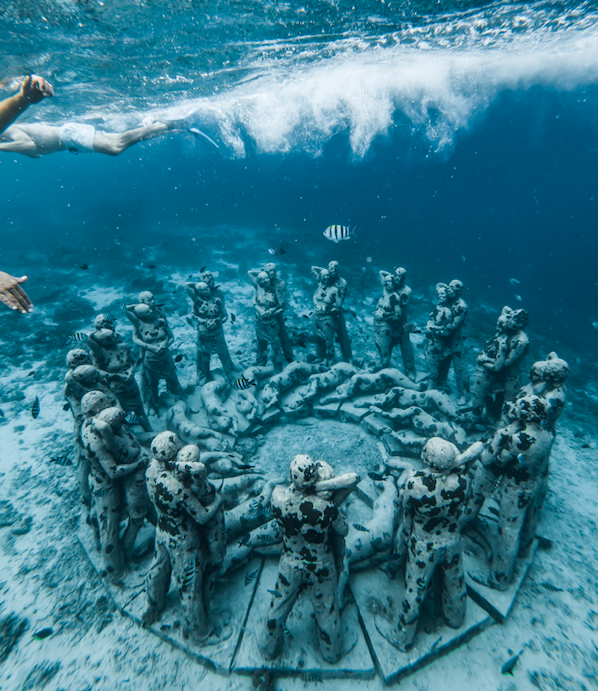 Fit In Some Yoga
You'll find yoga classes on all the islands, but Gili Meno is kinda the place to downward dog. There is a whole range of yoga classes available, but some love the experience at Seri Resort. Classes are 150,000 Rp per class which includes a mat rental and a cold drink after. Classes are offered Tuesday and Saturday at 9 AM and 5 PM but there are also others available on the island.
Walk Or Bike The Island
It's the smallest of the Gili triplets, and you can easily walk around the island in about an hour and a half (or a fraction of that time if you choose to bike). The entire island is rimmed with white-sand beaches, so it's a good opportunity to find your favorite stretch of sand for an afternoon.
Bike rentals are dotted around the island, prices are around 50,000 Rp.
Sunrise At Meno Lake
This saltwater lake is found in the middle of the island and is a nice change of pace from the coast. It's an ideal spot to watch the sunset (or the sunrise if you're willing to get up early on vacation). Rimmed around the lake, you'll find little huts which create a pretty lovely atmosphere for a breakfast picnic or a spot to read a chapter or two of your book.
Hang Out With Turtles
If you'd rather not go into the water to find the turtles of Indonesia, you can always spend time at the turtle sanctuary. There's a stretch of sand used for turtle nesting and the sanctuary makes sure the little eggs are protected until they hatch, and help release them into the ocean once they grow up a little bit. The organization thrives on donations (for about $10 USD you can help release these cuties into the ocean if you're visiting in the right season).
If you'd like to just go visit and see the turtles before they're released (they're kept in little pools), know that the sanctuary is open from 9:00 AM to 9:00 PM. The sanctuary is free to just visit, but donations are appreciated.
Getting To These Islands
From Nusa Lumbok
You can get to any of these islands via Nusa Lombok, making it a very simple day trip or two while you're already over there. Boats depart from Bangsal — you can get a public boat to Gili Meno from the left side of the pier, and boats to Gili air on the right side of the pier. There's a ticket office there to buy tickets at (the left side for Meno tickets, the right side for G. Air tickets).
Double check public boat times and prices — the ride is about 30 minutes, departing at 10:00 AM, 2:00 PM, and 5:00 PM (prices are around 14,000 Rp). Sometimes the boats don't leave until they are full, around 15 people, so they don't always adhere to a strict schedule.
From Bali
You'll want to take a fast boat, and there are tons and tons of companies to choose from. It may be worth talking to your hotel or accommodation to see if there's one to recommend (typically the service includes pick up at your hotel and transportation to the nearest main port: Padang Bai, Benoa Harbor, Serangan, Sanur, or Amed.) Most fast boats go to Gili Air (and Gili Trawangan) and won't stop at Gili Meno unless multiple passengers are headed there. If your ILP group isn't enough passengers to merit a specific stop, you can snag a public boat or private boat once you arrive on Gili Air over to Gili Meno.
Island Hopping Between The Gilis
If you're arriving on Gili Air and want to visit Gili Meno (or vice versa) that's an easy option. There are little public ferries that make a round to all of the Gili islands twice a day, once in the morning and once in the afternoon. The price is about 35,000 Rp per ride. You'll want to ask around to make sure these times still hold true, but here they are:
Morning Schedule: Gili Air 8:30 AM to Gili Meno at 8:45 AM to Gili T at 9:00 AM then departs Gili T at 9:30 AM to Gili Meno at 9:45 AM then to Gili Air at 10:00 AM
Afternoon Schedule: Gili Air at 3:00 PM to Gili Meno at 3:15 PM -then to Gili T at 3:30 PM then departs Gili T at 4:00 PM to Gili Meno at 4:15 PM then to Gili Air at 4:30 PM.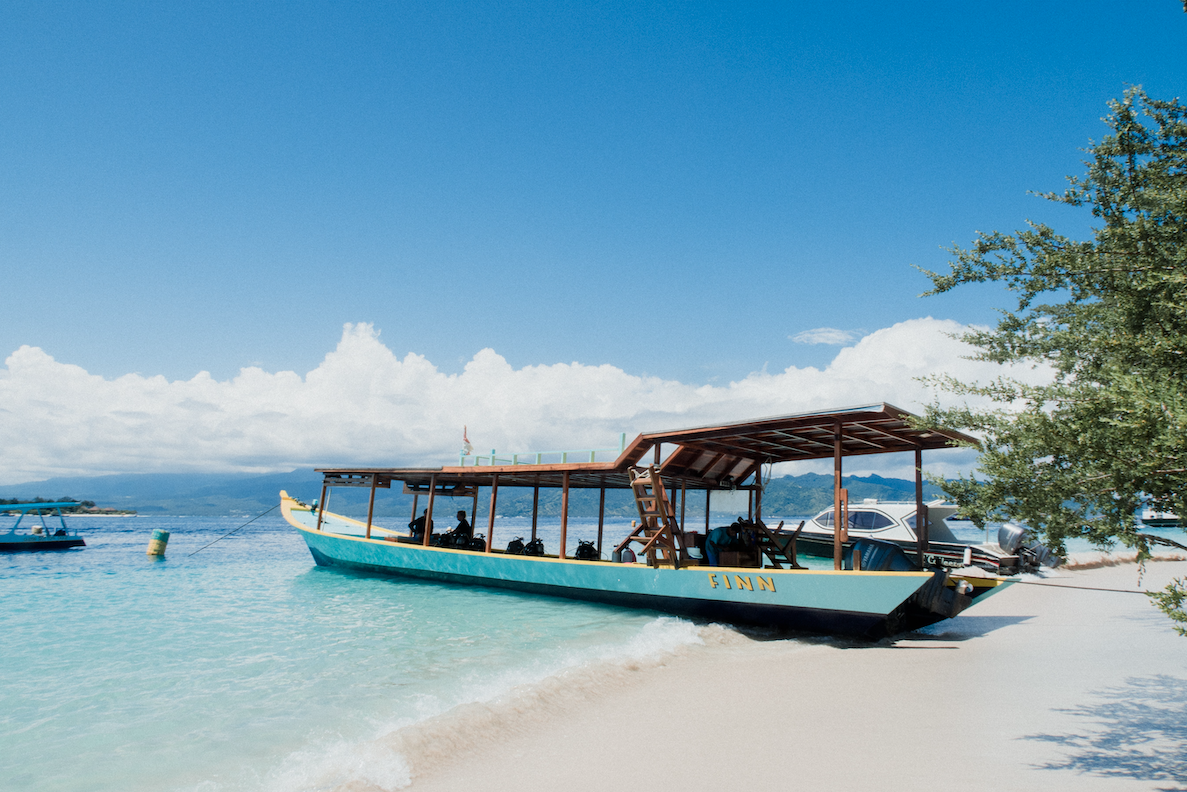 Thinking island life is what you're looking for?
Come spend a semester as a volunteer English teacher with ILP and get a taste of what vacationing is all about. Volunteers are only teaching part-time with weekends off (and vacation days) so you'll have plenty of time to hop down to Bali and see what these islands are all about.