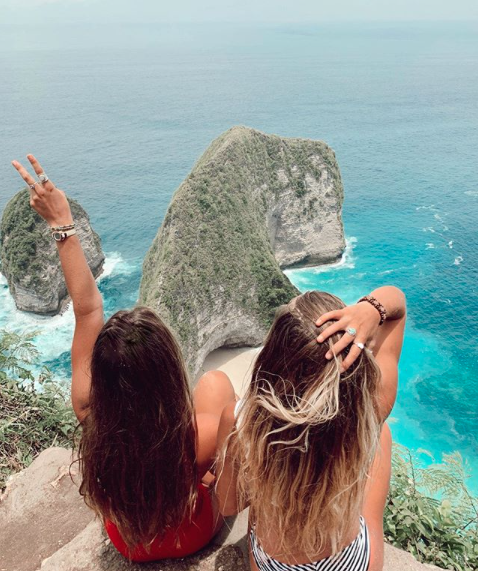 Everyone just goes to Bali on vacation, but the three "Nusa" islands are really where it's at.
So Bali is really dreamy — it's the vacation you're looking for, complete with Instagram picture tours where you can get a camera roll full of açaí bowls, pretty stretches of beaches, jungle swings, and monkey-filled temples. But you'd really be missing out if you just went to Bali and didn't hop over to a few neighboring islands.

---
Ready to travel all around Asia?
Come spend a semester volunteering in Thailand
---

This set of three islands (Nusa Lembongan, Nusa Penida, and Nusa Ceningan) that are just a short, 30 minute boat ride away from Bali and boast some of the prettiest sites in the country.
Need some convincing? Think sun-kissed days swinging in a hammock over the clear water, diving into blue waves to swim with manta rays, and hiking through the tropics for an overlook made for bragging on Instagram. This tropical trio are a hotspot for snorkeling, diving, hiding, relaxing, and swoon-worthy island vacations for those in the know. To break it down, here's an overview for your time here — call it your very own Nusa Island Guide:
Nusa Lembongan
Nusa Penida
Nusa Ceningan

A Map To Help You Out

Getting To + Around The Islands

A Few Things To Know
Nusa Lembongan
The closest island to Bali, Nusa Lembongan is a very popular hub for day trips to nearby Nusa Penida and Nusa Ceningan. The island itself is pretty small but is home to a few of the best beaches in Indonesia, plus some mangroves you can snorkel. Drift snorkeling is also really popular, so ask around about that — snorkeling here is a big deal. Overall, Nusa Lembongan is on the rise with tourists, but some say it's what Bali used to be 30 years ago. Plan on spending your time seeing these highlights:
Just A Few Beaches
Being an island you're expecting to spend lots and lots of time on the beaches, right? Mostly the thing to know about this island is all the tours: snorkeling is really popular so keep an eye out for that. But if you want some beach time, we've pulled out the three prettiest and most popular to you can have the pick of what would be best for your trip.

Mushroom beach is the most popular and isn't the best swimming beach (thanks to all the fishing boats that cruise around between here and the mainland). However, it's a number one spot for chilling out and swimming around. You'll find the most people at this beach but for good reason. The water is clear, the waves are calm (find vendors for snorkeling and paddle boarding). Best to visit in the morning and later in the afternoon before and after most of the passenger boats are gone.

Dream Beach is a spot to lounge in the soft sand and hanging out in the water if you're a strong swimmer. There are huge swells that can pull swimmers out to sea, but it's a gorgeous beach. Nearby is the Devil's Tear — A spot perfect for that Instagram shot, the Devil's tear is a rocky overlook point where you can see the sea spray up through the jagged rocks. The water here is unreal-blue.
Jungut Batu is another option, a main bay where you'll find several boats coming from Bali, but there are sections of the beach perfect for hanging out on (sugar white sand and baby blue water anyone?) , plus there is an inner lagoon that's sheltered by a reef. There is quite a bit of coral under the sand so it's not the best swimming beach, but it's a great place to lounge.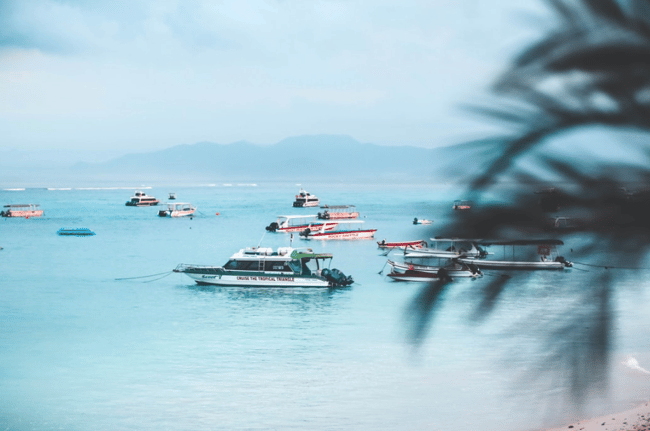 Nusa Penida
The largest of the island is made totally Instagram-famous thanks to the shot you can get at Kelingking Beach. Don't worry though, there's more to this island than that one picture! One very popular thing to do here is snorkel with manta rays — there are plenty of places to book that, but we've outlined a few places where you can spot these marine beauties in the wild as you hike around. Here are the highlights:
Kelingking Beach
The reason you're here right? The beach is home to the peninsula that juts out into curving sandy bays with rolling hills covered in green. Unreal. Add in the beyond blue water and you're hooked right? This beach is incredibly popular, gets pretty busy, and if you'd like to hike down to the beach itself, you'll need to be careful. The hike is manageable, but you'll want secure footing: there isn't a fence but some of the steep steps carved out of the sheer rock do have some bamboo pools for stability. It's really steep, but offers some amazing views. The first part has you at the classic landing point, but the second half includes a vertical hike to the beach below. The beach has powerful waves, but the sand is the stuff of your dreams.
On the hike up, be prepared for a rock-climbing-esque hike up on rocky stairs. The pathway is narrow, so take your time but be courteous of those wanting to pass you. Just another reminder: the hike here is sheer, and difficult. There have been some tragic incidents and despite all the signs and warnings, accidents have happened. Be safe and don't do anything you're not comfortable with! The viewpoint is gorgeous and there are other beaches to visit if you don't want to make the hike. This blogger has more detail about the hike if you want it.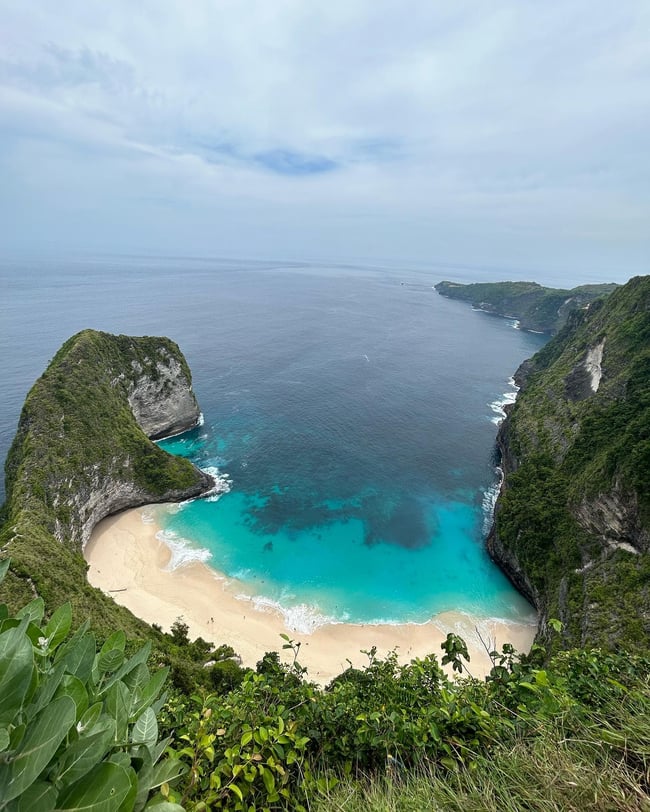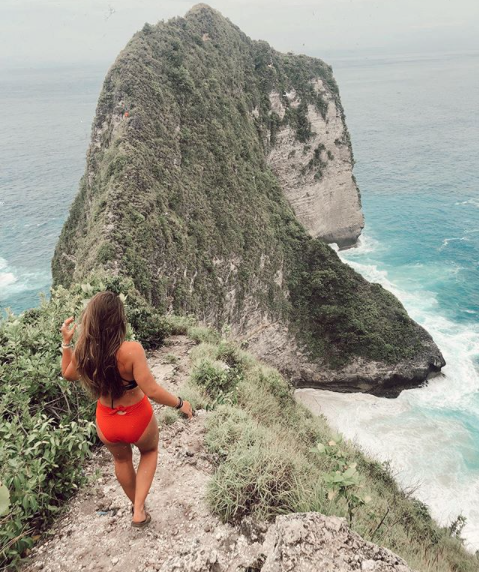 Pst: This may be the most famous beach on the island, but Crystal Cove is another stunning you shouldn't miss (and that one doesn't require an intense hike to reach). The cove is home to a few thatched roof cafes and hangout spots, and that's about it.
Angel Billabong + Spotting Rays
So if you're like me, the only time you heard of Billabong was the clothing company but a billabong is a pool of water created when another body of water passes over that. The Angel Billabong is created by large waves washing over a calmer section of water and the effect is pretty unique. You can swim in the pool which undulates between shades of jade green and bright turquoise between a canyon of rocky cliffs. So pretty.
While you're in the area, walk on over to Broken Beach, where erosion has lead to an archway that straddles a bay. You can hike over this archway and peer down to the waves where you can sometimes spot manta rays. It's a 5 minute walk between Angel Billabong but halfway there you'll run into an archway of trees. Instead of passing through these trees, head up the hill (towards the ocean, on the right) and you can find a spot on the cliff to watch the rays.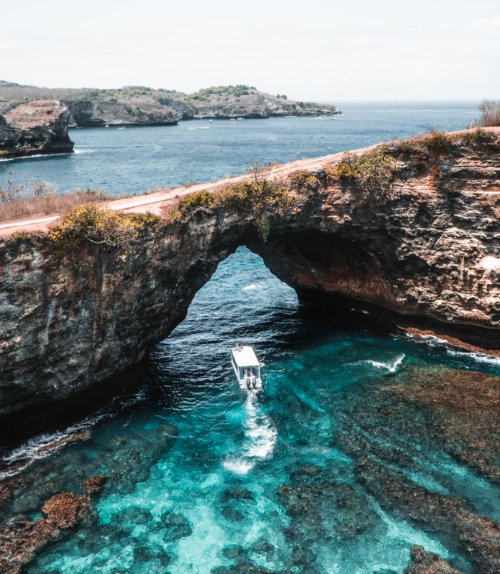 Tembeling Pool
Another swimming spot that's a bit off the path, but one worth seeing if you want to spend some of your time on Nusa Penida jumping into things. Once you reach the trail head, there are concrete steps that will lead you through the Tembeling forest down to the pool. It's like nature's most perfect swimming pool, an imperfect circle of pristine water that locals use to bathe in (true story). If you're wanting to see this spot with a tour (the roads are rough) this tour company is a good option for this and a few other attractions in the area (but there are plenty if you'd like to do your own research). This blogger has a good outline and stunning pictures of the place.
The Blue-Stepped Waterfall
Another Instagrammer's dream are the bright blue staircase that takes you up to the Peguyangan waterfall. So in all disclosure, this isn't really a waterfall, so you're pretty much coming for the blue stairs. The waterfalls itself is a religious area more commonly known locally as Mata Air Peguyangan. If you're hiking there, ladies will need to bring your own sarong or pay 5,000 IDR to rent one. Anyways, the blue staircase juts out front the rock face and leads you down with a view of the ocean on the right. At the bottom is a small shrine with a holy spring adorned with figures. On your hike back, peek around to see if you can spot manta rays swimming around in the surf.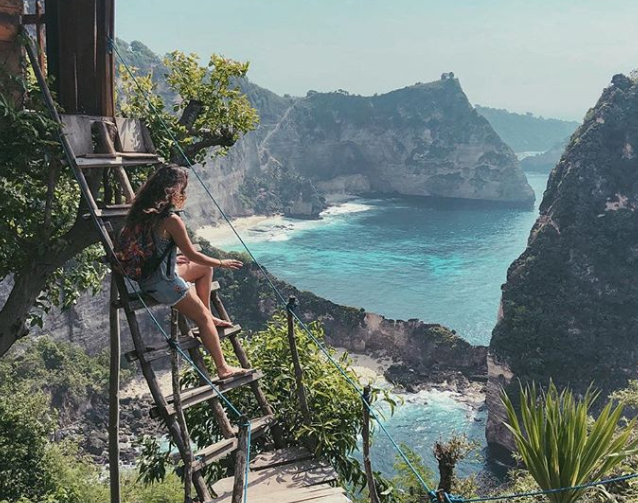 Nusa Ceningan
This tiny island (the smallest of the three) boasts some of the bluest water in all of Indonesia. It's a popular place to spend a few hours visiting from the nearby Nusa Lembongan, but you can also stay overnight and really soak up all the things to do. You don't really need an itinerary since the island is so small, but here are the highlights:
The Blue Lagoon
This stunning section is one of the best places to grab a brag-worthy pictures of your Indonesian island getaway. This lagoon is surrounded by rocky cliffs that frame the baby-blue water. In high-tide, adrenaline junkies dive into the pool from one side, but there are plenty of rocky outcrops that you can sit on and soak up the view. It's a stunner, that's for sure.
If you're looking for more cliff-jump watching, Mahana Point has set up diving boards where you can watch people plunge into the water below. There's a restaurant and bar right there where you can grab a smoothie and something to eat. It's a popular place to spend sunset.
Get Some Pool Time + A Quick Zipline.
There are handful of resorts and hotels on the island that let you use their pool for a fee — you can hang out at the Ceningan Island Resort which boasts a clifftop pool, Driftwood Bar which we talked about above, or a couple of others. Test out Twilgiht Lembongan or Driftwood Bar which also has a zip lining course for 100,000 IDR. It's quick but is quite the rush.
Secret Beach
It's a little tricky to get to (the roads are rough) but that weeds out all of the tourists. More often than not, you're not sharing this curve of sandy shore with anyone else. Talk about dreamy. If you're into infinity pools that overlook the ocean, you can stop at Driftwood Bar, a hotel that charges 100,000 IDR for you to use the pool and hang out. It's dreamy.
The beach itself is okay for swimming, but a good idea to bring your own snorkeling gear because there's a shallow reef that encircles the bay and makes for great off-the-shore snorkeling.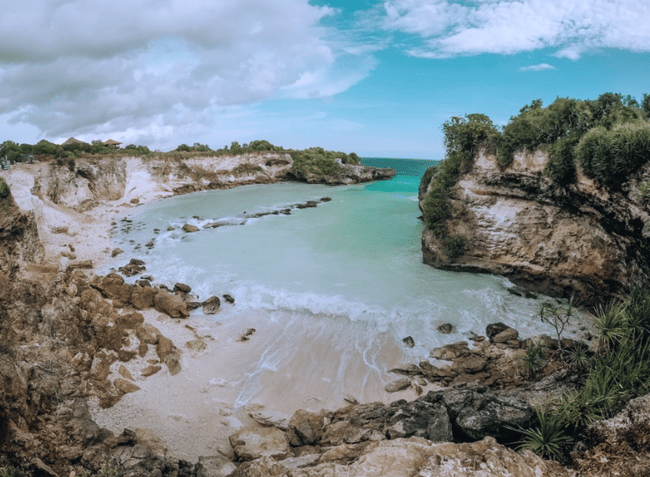 A Map To Help You Out
Once you arrive in Bali, you probably will be in the city of Denpasar, which is where the airport is. Ubud is north of you, and Uluwatu and Sanur are south of you. While there's loads to see up in the northern part of the island, most tourists hang out in the southern portion then hop over to these three islands.
We'll get to this in a minute in more detail and it's already been referenced, but Nusa Lembongan is the closest to Bali and is the busiest, and Nusa Ceningan is the smallest and least popular, and Nusa Penida is the biggest with quite a bit to do. Here's a map that kinda helps you visualize all of this.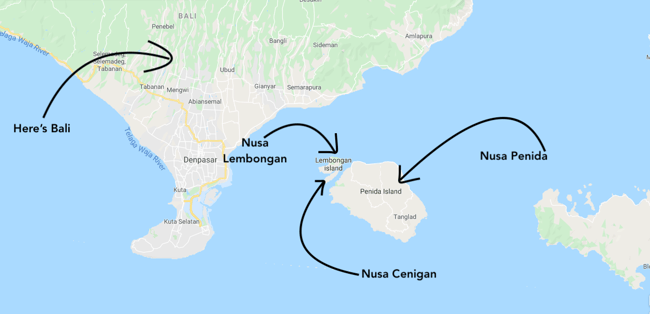 Getting To + Around The Islands
You'll want to start in Bali. Boats depart to Nusa Lembongan from a few different places on the island (like Serangan, Kodang Sesetan, and Sanur). My pick is Sanur because it's near the airport and easy to get to, plus it's close to places in Bali that you're probably already visiting. Sanur isn't a place to spend much time (the beach there isn't much to write home about) so go ahead and spend time in places Ubud or around Uluwatu, then make your way to Sanur.
Once you get to Nusa Lembongan, you can reach Nusa Penida and/or Nusa Ceningan.
Sanur to Nusa Lembongan
Once you get to Sanur, you have a few options to arrive to Nusa Lembongan or Nusa Penida by boat. Oh and don't worry — From Nusa Lembongan, you can get to Nusa Penida and Nusa Ceningan. Most tourists tend to visit Nusa Lembongan first, so here are your Sanur to Nusa Lembongan options:
You can take a local slow boat or a Perama Local boat, both of which take 90 minutes to get there and are in the 60,000 to 150,000 Rupiah range. But my pick? Take the fast boat. It takes just 30 minutes and costs about 250,000 to 300,000+ Rupiah which is around $16 - 25 USD. You have a few options but this $27 option does include some pick up options in Bali which is nice. You can also check the schedules from Sanur Beach to Nusa Lembongan here (prices are lower on this website). Booking this route on 12GO Asia is also popular and has good prices. You have lots of options!
The ferries run frequently, with several crossings between about 8:30 AM and 5:30 PM depending on which company you go with. I suggest booking these tickets in advance: some provide a pick up in Bali and that way you don't need to haggle any prices down.
Nusa Lembongan To Nusa Penida
Getting from Nusa Lembongan is simple. There are a couple of ferry crossings a day that you can book (no need to book in advance, unless you're worried about things selling out). It's a small boat that leaves basically every hour (for about $4-$5 USD) that can take you between the channel. It takes about 10 minutes. You'll want to head to the yellow bridge to get your tickets. There is a pretty unofficial looking building where you can get your tickets. Here's the address of that yellow bridge if you need it: Jungutbatu, Nusapenida, Klungkung Regency, Bali 80771, Indonesia. And yes, that yellow bridge literally connects Nusa Lembongan to Nusa Ceningan. C-U-T-E.
This works vice-versa too — coming from Nusa Penida to Nusa Lembongan, FYI. If you are already on the Penida side, just go to the Toya Pakeh Harbor to get a ticket for Nusa Lembongan.
Heads up: you can just visit Bali to Nusa Penida but it's typically with a private tour on a day trip. They'll boat you over to the island from Bali and you'll spend the day being driven around the best spots. If you are really short on time, it's a good (and affordable option). Here's an example of a day trip just to Nusa Penida.
Getting To Nusa Ceningan
From Nusa Lembongan it couldn't be easier. That really cute yellow bridge is a pedestrian path so you can just walk from one island to another. If you're coming from Nusa Penida, it's best to just boat over to Nusa Lembongan then walk on over to Nusa Ceningan.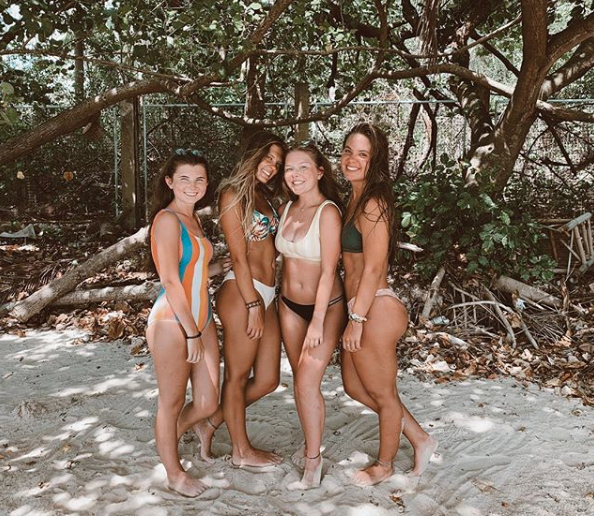 A Few Things To Know
How Long Should I Stay?
There are multiple tour companies who can take you to one or more of the islands on a day trip — visiting Nusa Penida on a day trip is actually very popular. However, we're more of a fan of staying longer, in the 3-4 range. Between the three islands, there is more than enough to keep you busy for even longer. I don't think you'll regret staying longer one these sun-kissed beaches.
Some tourists suggest staying for a day or so (and overnight) on Nusa Lembongan, then just visiting Nusa Ceningan for a few hours (it's really small). But if you want a quieter experience, stay on Nusa Ceningan, then just hop over to Nusa Lembongan when you're feeling it. Then, you can hang out on Nusa Penida for 2-3 days before heading back to Bali and flying home.
When Should I Visit?
The weather here is gorgeous year round, but the rainy season is a real thing. You'll run into daily rain showers during December and February. The islands are getting more popular, so visiting during May through October (high season) will mean crowded streets, waiting around to get that perfect shot with no one in it, and busy beaches. Even in shoulder seasons like the spring, it can get busier than you would think. While these islands aren't the huge international tourist hotspot like Bali, it's very popular with Australians and New Zealanders plus a few other travelers who did their research.
Getting Around The Islands
Nusa Ceningan is very small (everything is reached in a 30 minute drive), but the slightly larger islands like Nusa Lembongan and Nusa Penida are very familiar with tourists so you'll be able to hire a taxi or a driver for the whole day long. There aren't set taxis, but little trucks that can take you around in the back — prices are driven by demand so at least on Nusa Lembongan, prices are anywhere between 50,000 Rupiah to 200,000 Rupiah for a short trip.
You can also hire a driver for the day (most hotels can arrange this for you, for about 600,000 IDR. Just know that most drivers speak limited English so you'll want to be prepared with Google Translate to sort out any communication). Tour companies are also a good way to go: if you end up booking somewhere to snorkel, lots of companies will come pick you up.
Bring Cash
ATMs are limited on the islands and can often run out of cash on weekends and in the high season. You'll want to make sure you do a cash pull to (and double check what you can pay with your card — places to stay, tours, restaurants), etc to make sure you're covered.
Check The Tides
If your'e wanting to do some beach time on your island getaway, you'll want to check the tides. Places like Suwehan Beach on Nusa Penida are totally unswimmable at high tide, with that dreamy blue water crashing right on the rocky cliffs. Same goes for Atuh Beach on the same island.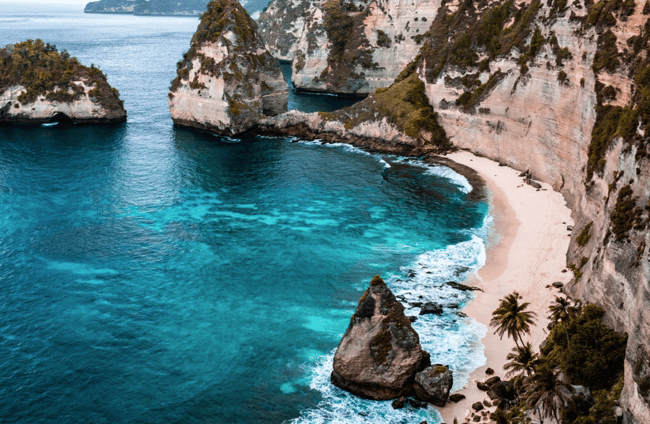 Interested in visiting Asia?
What about living and volunteering there? Language Programs send volunteers there to help teach children English, but you'll also get the chance to travel around to places like Bali. Get more info right here!