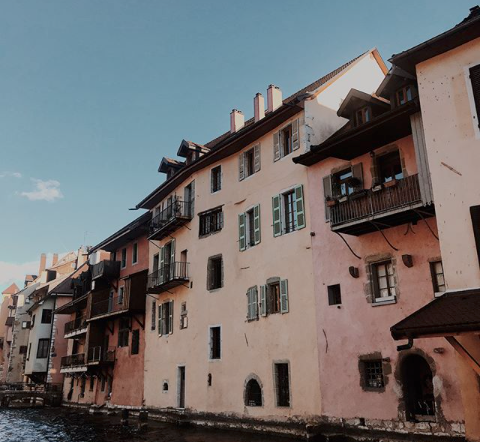 If you're into pastel buildings floating between idyllic canals, you should be heading to France, not Italy.
We love some of those huge tourist destinations; I mean, you can't visit Paris and skip the Eiffel tower. But just because some city is a total tourist-magnet doesn't mean it's the only place of your dreams.

One of those places that is cool, but skippable is Venice. Shocked, right?
Don't get us wrong; we love, love, love the circle brides over the gondola filled canals, licking gelato as you admire crumbling brick and painted villas. What we don't love is how touristy and crowded Venice is. The hordes of tourists trying to take a good 'gram gets in the way of appreciating that charm you're looking for.
And guess what? You can get a (better) "Venice" experience — these same pretty canals, the same Euro-vibes and the same postcard pastel homes in this lesser known city in France. If you're even more of an adventurer, join some of the trendsetters heading to Annecy, France.
Get Yourself To Annecy
This gem of a city sits in southeastern France, rather close to the border of Switzerland — so if you're picturing charming towns rimmed with neighboring peaks (hello, French Alps), you are absolutely right. Since the city is close to some major cities that are probably on your bucket list, it's easy to get to:
From Paris
Spend a few days in Paris, then take a 4-5 hour train ride to Annecy (some trains take about 3.5 hours, if you're willing to pay a little more). About 21 trains leave Paris to Annecy a day, so it's easy to find a time that fits in your schedule.
From Lyon
Lyon is close — there's a daily TGV train to take you between the Lyon airport and Annecy. The ride is around 2 hours.

You can also take an OUIGO bus from the Lyon airport to Annecy; its a 1 hour and 45 minute ride: Book tickets from Lyon to Annecy here.
From Geneva
Annecy is a very popular day trip from the Swiss city of Geneva — plan on catching one of the frequent city buses that can take you there (an hour drive each way, with a roundtrip ticket of 32 Swiss Franks).
You can also take a bus from Geneva airport to Annecy instead of taking the bus from the Geneva's intercity; Catch Bus T72 (operated by Transalis) — it's a 90 minute ride, with a €10.50 cost if you buy online or at a ticket booth, or €12.60 if you buy onboard.

Book tickets from Geneva to Annecy here.
If you'll by flying to visit Annecy, fly into Geneva; it's the closest international Airport and you can easily get to Geneva to Annecy.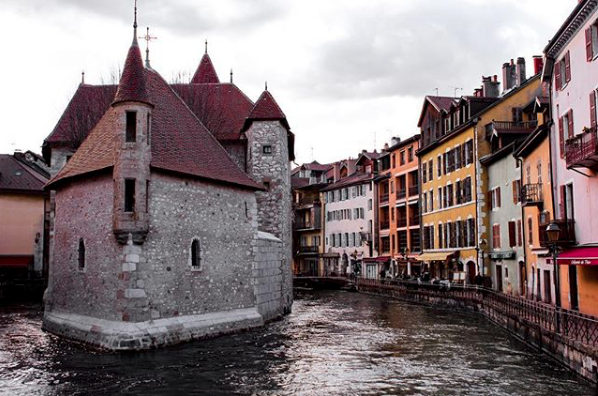 Soak Up The Sites
So you're probably here to see the canals, right? You can easily soak in the picturesque Old Town situated on these waters, but if you have more time, we also suggest going out to see the pristine lake in Menthon St. Bernard — there's a towering castle that's nestled right in the Alps, AKA it's gorgeous.
Seeing The Canals: AKA, Palais d'Isle
A quick Google search of the canals of Annecy will probably give you a picture of Palais d'Isle — a palace-turned-prison that floats atop one of the canal's intersections. See the re-tiled spires and stone walls in that picture? That's the Palais d'Isle.

Just like you would in Venice, we suggest spending a couple of hours to just wander the streets, crossing over bridges and gazing up at flower-filled window baskets that encircle the Palais d'Isle. This place is a dream.
No need to plan out your route; the Old Town on the canal isn't that big and it's nice to be able to wander slowly, photographing basically everything, because it's just so pretty here.
Visiting The Lake
Once you've had your fill of meandering the city itself (there are dozens of cutie restaraunts, eateries and boutiques, that spiral out from the canals, by the way) we recommend admiring the nearby lake that hugs one side of the city. Lake Annecy is dubbed "Europe's cleanest lake" so you'd be missing out if you didn't spend some time here. Annecy sits on the Northern tip which means easy access to pretty lake beaches, boat rides and other water sports.
+ Beaches
The most popular beaches nearby Annecy are Plage des Marquisats (A 15 minute walk south of Palais d'Isle) and Plage de l'Impérial (a 20 minute walk north of Palais d'Isle, or you can take an 8 minute cab ride).
+ Bike Rides
There are places where you can rent bikes to bike around the whole lake (it's a 50km ride) but you can always get a bike (you'll see loads of rental shops around) and just turn back when you get tired. Courtney P. says this is a must do — "you HAVE to put aside a day to rent bikes and bike around the lake. There is bike ride which is sooooo beautiful and it gives you a taste of authentic, countryside France."

+ Boat Rides
Make sure you do a boat tour! Many companies dock at Quai Napoléon III at the Jardins de l'Europe in Annecy, and offer 1 hour to full day tours. If you head east (on the map below, that's just straight ahead) from Palais d'Isla, you'll run into Quai Napoléon III — it hugs the coast of the lake on the outside of the city; between the city of Annecy and the lake, there's this gorgeous park that you can walk through.
There are also paddle board and kayak rentals.
Vieille Ville (Old Town)
Another way to spend your time is walking around the cobbled streets and winding canals found in Old Town. You'll naturally stumble upon it if you're headed to the canals, but keep an eye out for delicious gelato stands selling coconut and lavender flavors.

If you happen to be visiting on a Sunday, get up early and have breakfast at the food markets. The markets in Annecy are some of the best around, boasting breads, cheeses and fruits from both France and Switzerland. They happen early, so don't sleep in and miss them.
Getting Around
Really, all the spots you'd like to see are very walkable; that map above gives you a bit of an idea — The box is the "center" of the canals, with red topped apartments and shops surrounding that center, before the canals flow into the huge lake. You can walk to the lake from the canals and vice versa. As always, taxis are available on the outsides (the center is pedestrian-only) to take you where you want to go.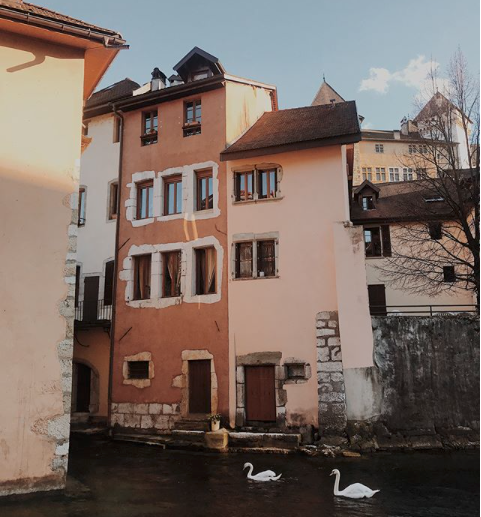 [Also, those swans ....are you joking?? Too pretty]
Favorite Crepe Place
If you're like me, the best vacations seem to have the best food … am I right? Luckily, Au bord du Thiou is the place to go for crepes in this cobblestoned wonderland.
Address: 4 Place Saint-François de Sales, 74000 Annecy, France
Look for the red awnings below a sorbet-pink apartment building right across the island where you'll see the Palais d'Isle.
Hours: 9:30 AM to 8:45 PM (open 9:00 AM to 9:45 PM on Friday and Saturday)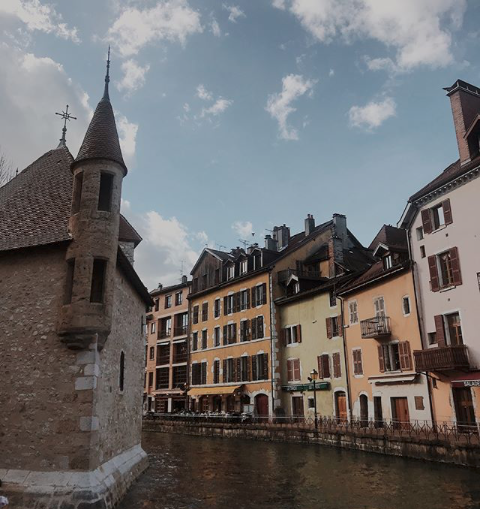 Big fan of pretty vacations to France?
I have a hunch you'll love living in Europe so you can take a quick weekend trips and vacations to cities like Annecy. Come see which European countries you can call home as an ILP volunteer — and click that button to learn a bit more about what volunteering with us is like: