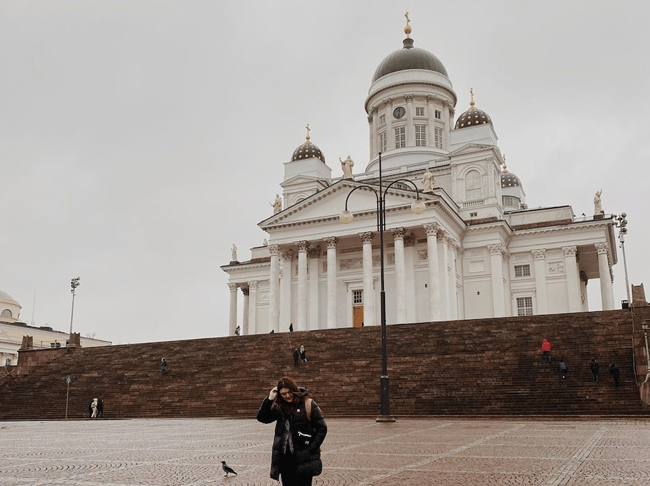 Know exactly where to spend your time when visiting the delightful city of Helsinki.
Helsinki is just cool — a thoughtfully urban environment that is filled with surprises, like a ferry ride to Hobbit-esque islands or ultra sleek and well-designed shopping streets, just around the corner from a photogenic Art Nouveau street made for Instagram. Found tucked away way up in the north, Helsinki makes for a great stopover city, but also has enough to do to keep you busy for a few days.


---
See what spots you're missing in Europe
European Destination Guide
---

To make sure you're only seeing the highlights in Helsinki, you'll want our guide.
Your Can't Miss Adventures
Places For Food
Getting To + Around Helsinki
Nearby Adventures
Your Can't Miss Adventures
Tour Helsinki Cathedral
Perched atop a set of stone stairs, Helsinki Cathedral's an icon of the Helsinki skyline. Completed in 1852, you can peer inside the austere Evangelical church to glimpse the simple yet stunning interior, complete with wooden pews, a golden organ, and narrow windows which leak in light from the sunny days outside. It's free to enter, and an absolute must visit landmark for all tourists. Around the cathedral, you'll get a great view of the nearby harbor and the city itself, and may catch a local event or two. The cathedral is an active church, so you may step in on a local service or a choir rehearsal during your visit.

Address: Unioninkatu 29, 00170 Helsinki, Finland
Hours: 9:00 AM to 6:00 PM daily (June to August, 9:00 AM to midnight).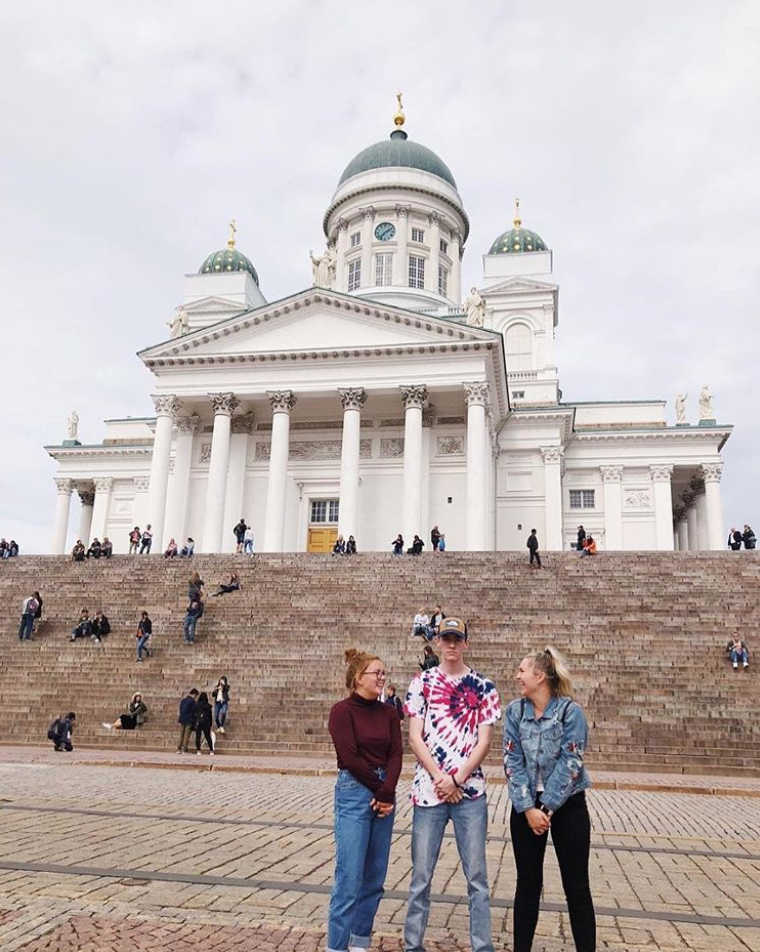 Trek Across Suomenlinna Islands + Sea Fortress
Take a short ferry ride (about 10 minutes) from the mainland and arrive at this imposing sea fortress. The coast of Finland shatters in hundreds and hundreds of little islands, so visiting a few of them is a must if you have time. The Suomenlinna Sea Fortress has been used to defend the country when Finland was owned by Swedes, then by the Russians, and finally was used to protect Helsinki once Finland gained its independence. For tourists, a visit here means a walk back into history. About 800 people inhabit the island (though thousands of tourists visit the UNESCO site each year) and visitors can follow a set route (called the blue route) to see the island's main sites, or you can wander on your own.
On the island, you'll see a collection of heritage homes, various parks, the King's Gate, the Great Courtyard, old style manner houses, the beach, and a few other noteworthy stops. The real fun of visiting is just walking around and admiring all the architecture. There is a small gift shop and cafe, along with a few restaurants, but if the weather is nice, there are multiple places and parks where you can pack up a picnic. Overall, the entire island (and nearby island chains) are extremely photogenic and make a lovely way to spend an afternoon if the weather is nice. Plan on spending anywhere from two hours to all day, depending on if you're visiting museums, or just passing through.
Getting to the fortress: You'll need to book a ferry ticket. Board at Katajanokka ferry port — if you're visiting the Old Market, it's just right next to the market. This ferry will take you to the main dock in Suomenlinna. There are several ferry times a day, check the timetable here. Tickets for the ferry are 2.80€, per way or you can purchase the "Suomenlinna ticket" which gets you a round trip ticket for 5€ and 12 hour access on the island.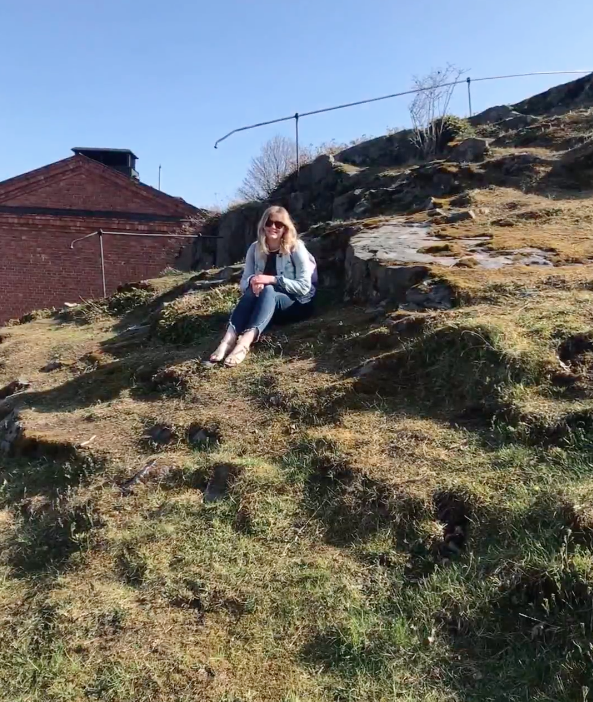 Swim In A Sea Pool
Want to hang out in a thermal pool overlooking the Baltic Sea? The Allas Sea Pool Helsinki is the perfect spot for you. You'll find three saunas and three open air swimming pools at the swimming complex, and is a very popular tourist and local destination for a few reasons. Sauna culture is huge in Finland, plus the entire complex has a pretty unique location (found right on the Baltic Sea) — come very early (right at opening!) for the chance to glimpse the sunrise depending on when you are visiting (sometimes the sun rises much earlier in the summer months). The thermal pool is open year round (yes, even in the freezing winter!) and kept at 27° Celsius. While the water may be warm, you will want a swimming cap or hat to wear while swimming in the colder months to keep your head warm while you swim. You can also take the plunge in the sea pool which filters out the ocean water from the Baltic Sea … the water is frigid!
You'll want to bring flip flops, a swimming suit (though some people go without a swimming suit in the male-only or female-only saunas), and a towel or a robe. If you forget your towel or robe, you can rent one (towels are 8.50€ and robes are 10€).
I'd also recommend walking along the boardwalk along the Baltic Sea (pictured below) .... even if you don't want to take a swim, you should enjoy Finland's gorgeous coastline!
Hours: Monday to Thursday (6:30 AM to 9:00 PM) Friday to Saturday (6:30 AM to 11:00 PM) Sunday (9:00 AM to 9:00 PM)
Good to know: Your session must be under two hours. You have to enter 40 minutes before closing for a sauna session, and swimming closes 20 minutes be closing.
Address: Katajanokanlaituri 2a, 00160 Helsinki, Finland (it's only about a 10 minute walk from Helsinki Cathedral).
Cost: 14€ for an adult ticket. Get more ticket info here — it's recommended that you book online.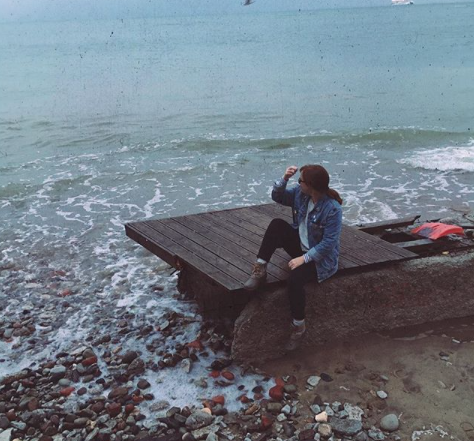 Experience Temppeliaukion Church
Known as the Stone Church, this building is unlike anything you've probably ever seen. The Lutheran church is built directly into the stoney rock wall, slowly excavated to create quite the architectural marvel. The church's dome surrounds the rock walls, lined with copper for a modern touch to the earthy walls. It's an active church with regular meetings (if you do visit during a musical performance, the acoustics are amazing). Please be respectful when visiting this place of worship by keeping your voices down. After you tour the inside, walk around the church and up top for a bit of green space and a different view of the city.

Address: Lutherinkatu 3, 00100 Helsinki, Finland
Hours: Monday - Friday (1o:00 AM - 6:00 PM), Saturday (10:00 AM to 12:30 PM) Sunday (12:00 PM to 5:00 PM)
Cost: 3€. Purchase tickets at the ticket windows before entering.
There are a handful of other beyond stunning churches if you'd like to check those out as well (I'd recommend it).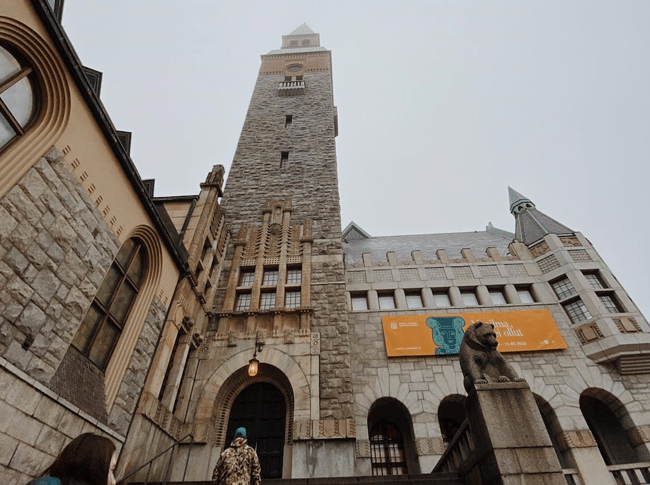 Stop Off At Some Libraries
Sounds like a bit of a snoozer when it comes to things to do, but I loved the libraries in Helsinki — the ones I saw were amazing (and are all free). Oodi Library is a favorite one to stop by, a three-level building where you can find books on just one level, and space for visitors to hang out, create art, relax in cafes, and take in the surprising architecture. The library is actually home to several living trees. Oodi library was built after Helsinki celebrated 100 years of independence, and serves as a connection point for members of the city (and tourists who know about it). Visit their website here.
The National Library of Finland is also a stunner, with sweeping ceilings, hugely tall Corinthian columns, and other touches that make it feel more like a palace than a library. Come for murals, a spiral staircase, and rows and rows of beautiful books stacked high on wooden shelves. Visit their website here.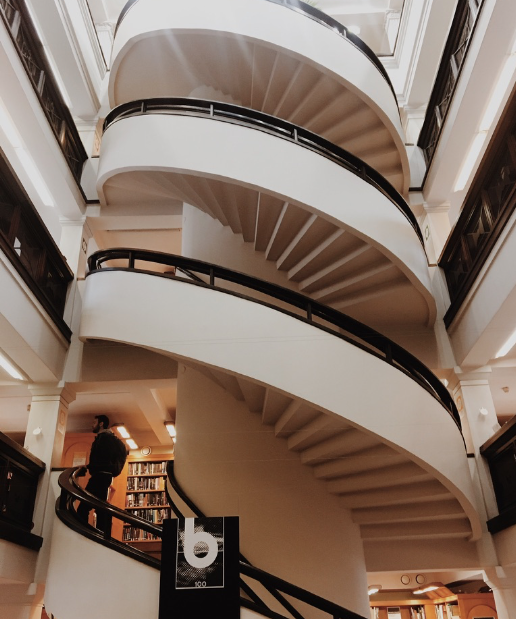 Photograph The Artsy Huvilakatu Street
Painted a rainbow of colors and decorated in the Art Nouveau style, this is probably Helsinki's most Instagrammable street. You'll find a street full of orange, pink, blue and more! Buildings with decorated rod iron balconies and whimsical touches, like vaguely onion domed toppers. It is a quirky adventure anyone into Instagram will want to stop off at. Nearby, you can also visit the Design Museum, which has fabulously unique exhibitions. See what's currently on display by clicking that link (and can peep the museum hours, with fluctuate in the summer season). Tickets are 12€.

Address: Huvilakatu, 00150, Helsinki, Finland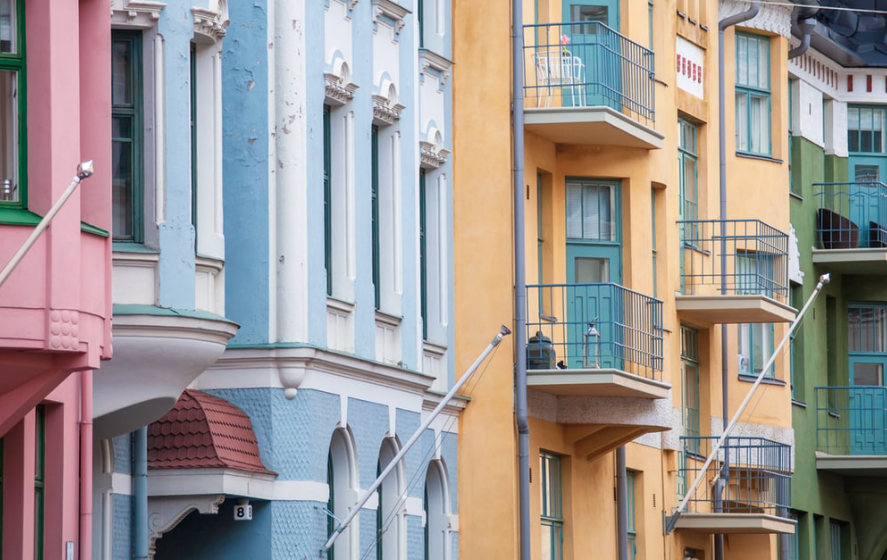 See The Temple In Helsinki
If you're a member of the Church of Jesus Christ of Latter-day Saints, you may want to plan a trip to see the Helsinki Temple! It's found outside of the city, about a 45 minute train ride, or a 30ish minute car ride if you'd like to take an Uber. We have more directions on how to get to the temple here.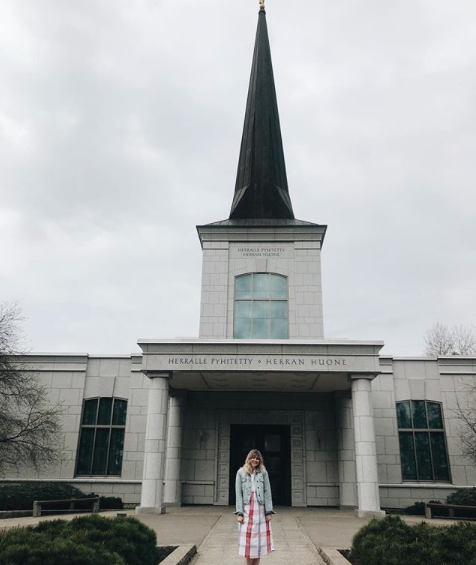 Places For Food
Shop At Hakaniemi Market Hall
Known as the oldest market in Helsinki, this two level brick market has been around for over 100 years, selling all the things you're looking for in Helsinki. Studded with cool cafes (minimalist coffee shops with cardamom buns and cappuccinos), rows of vendors selling fish on ice and tins of reindeer meat, and rotating shelves stacked with cleverly printed, reuse-able dishcloths. You'll also find fresh produce, fresh flowers, cheeses, and hand painted pottery for sale along the rows.
Address: Hämeentie 1A, 00530 Helsinki, Finland
Hours: 8:00 AM to 8:00 PM, closed Sundays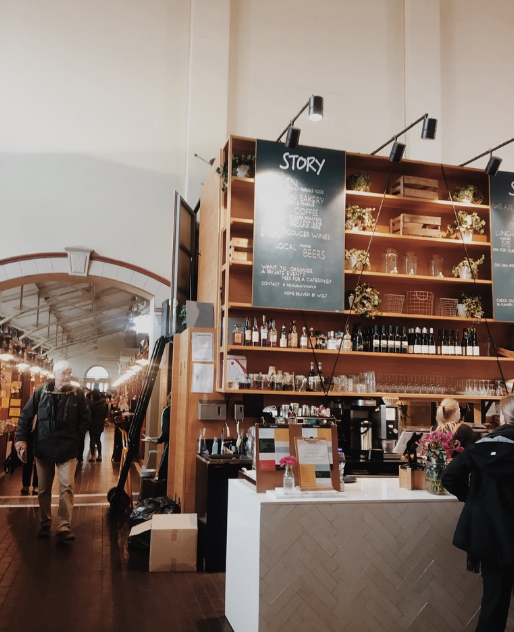 A Moomin's Cafe
Come for the cultural icon, stay for all the yummy food. Created by the Finn Tove Jansson, the Moomins are an imaginary troll family who live in Moominhouse in Moominvalley — it's becomes a huge trend in Finland and were quite popular in Japan in the 1980's, making up a series of children's books and even a television series. You can find a handful of Moomin cafes all over Helsinki (one is even in the airport) where you can test out a few Finnish dishes and hang out with the plush Moomin toys and read a few of the books.
Address: Fabianinkatu 29, 00100 Helsinki, Finland
(Here's the one right by the Helsinki Cathedral)
Hours: Daily, from 10:00 AM to 6:00 PM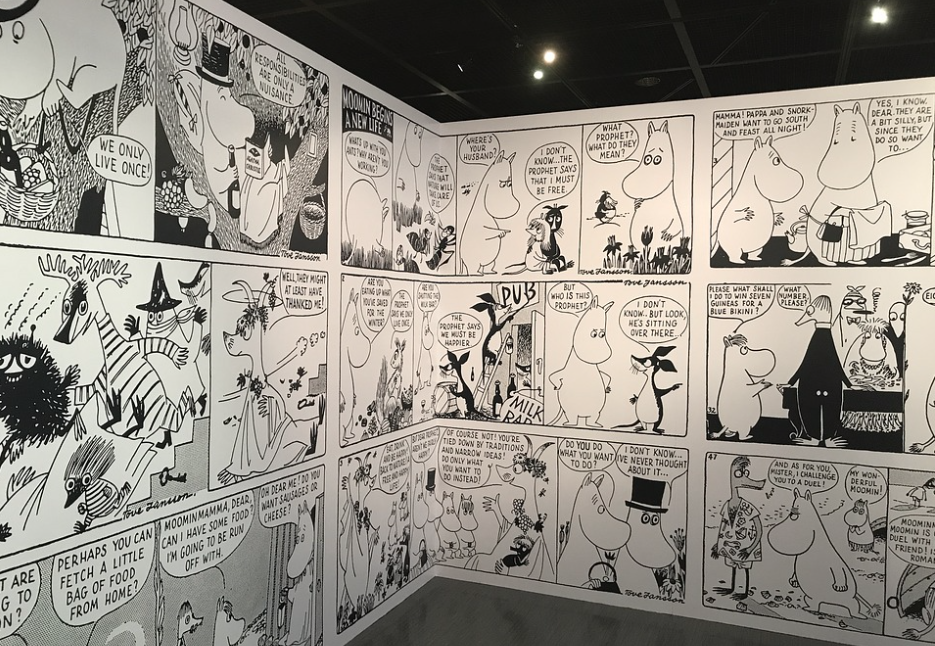 Have An Ekberg Brunch
Very popular with the locals (and the tourists) Ekberg is one of the city's oldest bakeries and has a killer all-you-can-eat brunch. It's been around since 1852 and is also a popular place to grab your week's loaf of bread if you don't want to stop in for a full meal. Brunch is only an option on the weekends, but they also serve a lovely breakfast. Come ready to have your fill of thick creamy yogurt, served with assorted jams, flaky pastries, bowls of cereal, various fruits, hot sausages, and scrambled eggs.
If visiting, it's best to make a reservation.
Address: Bulevardi 9, 00120 Helsinki, Finland
Hours: 7:30 AM to 7:00 PM weekdays, 9:00 AM to 5:00 PM on weekends.
Try A Cinnamon Bun
Peek into any self-respecting Finnish bakery and get yourself a cinnamon bun. These are a must-try treat when in Finland — layers of pastry wrapped around swirls of spicy sweet cinnamon, and topped with a healthy shake of rock sugar to balance out the whole thing. Yum. You'll be able to find them all over, on breakfast menus and in bakeries. This shot was taken at the Hakeniemi Market.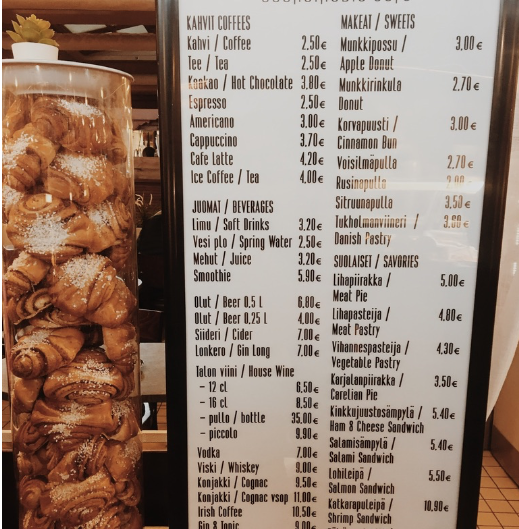 Getting To + Around Helsinki
From the Airport
There's a rad public transport system that can take you from the airport to the city center. When you get off your flight, you'll follow signs for the metro/public transport system and buy tickets at one of the VR kiosks. The kiosks take cash (euros) or cards.

Tickets are broken up into zones — the airport is in Vantaa (which is in zone C) and you'll be headed to the city Helsinki (which is in Zone A). Make sure you get an ABC zone ticket. They should be 4.90€. The train will drop you off at the Helsinki Railway Center (Helsingin päärautatieasema) which is a short walk from many of the attractions we talked about above, like the Hakaniemi Market Hall or the Helsinki Cathedral.
Via Bicycle
The city of Helsinki itself is quite compact, so it's easy to get around via bike especially if the weather is nice. You'll find bike rental kiosks all over, but we're big fans of Bicyclean. They have four kiosks where you can rent out bikes for the day. Prices depend on the bike, but their regular city bike price was 15€ for the day which included a helmet and bike locks. They have electric bikes, tandem bikes, and even cute city bikes complete with a basket on the front. Get bicycle prices here. Visit their homepage for their locations, recommended routes, contact information, etc.

The Finns take their bicycling very seriously, so even when just walking around make sure you are in pedestrian lanes on the sidewalk and not walking in the biking lanes.
Public Transport
Helsinki has an excellent bus and tram system in place. One option would be to purchase the Helsinki Card which gets you free unlimited travel on public transport (includes the Suomenlinna ferry, but does not include airport transportation), and free entrance into a few attractions, like the Rock Church, and a handful of museums. If you plan on doing many of the things included on your Helsinki Card and won't want to walk/rent a bicycle, the cost may be worth it to you.
If not, we suggest renting bikes, walking, or taking the bus when necessary (you can use Google Maps to help you get around on public transport).

Nearby Adventures
Tallinn, Estonia
There are a few people who, out of 20 or so cities they've seen in Europe, still think Tallinn is their absolute favorite. Once you visit, you can see why. I absolutely adored the postcard perfect views — you'll find red-tiled rooftops complete with tall medieval church spires plus the city itself is just rather charming. We're talking "narrow cobblestone pathways winding in and out of little shops and cafes, until you reach the big open Old Town Square, complete with medieval themed churches" kind of charming. On the outskirts of Old Town, you'll find creative street art, groups of artsy restaurants, and design shops where you can easily spend an afternoon in. All of my favorite things to do in Tallinn are right here.
From Helsinki, my vote is to arrive in Tallinn by ferry. It's a two hour ride across the Gulf of Finland, then you're there.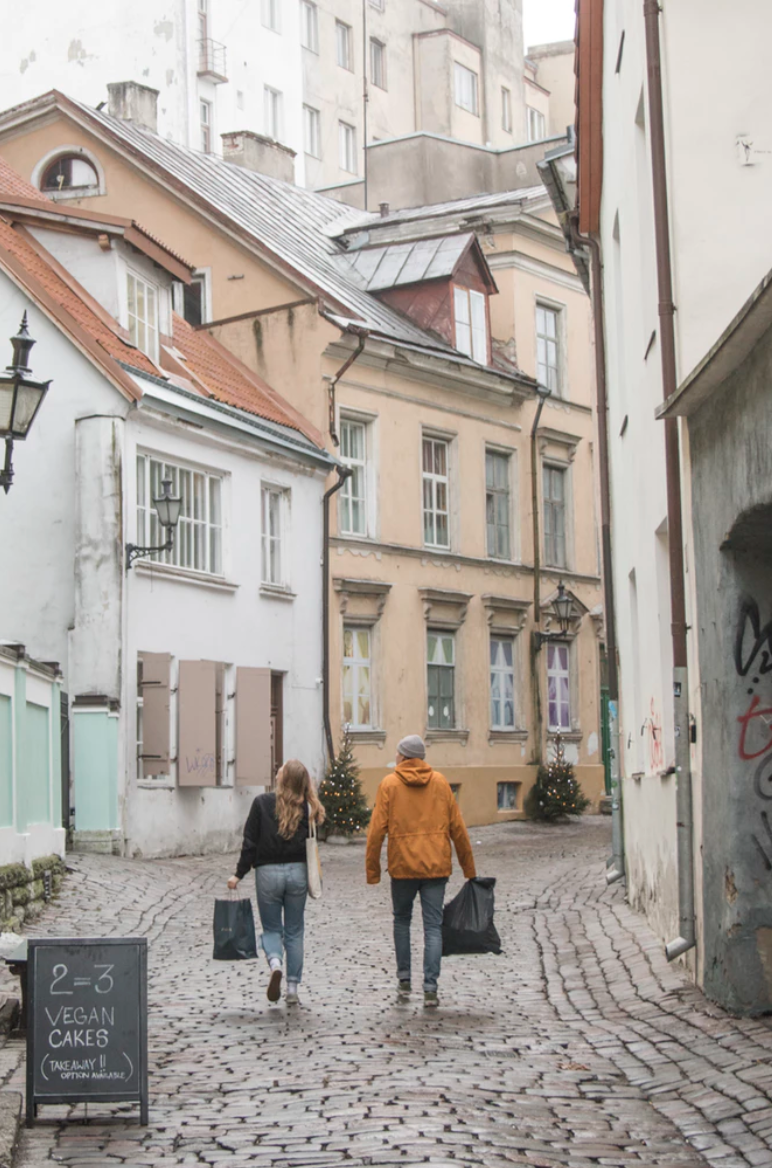 Dying to experience everything in Europe?
I was the same way — which is why I decided to volunteer with ILP! I spend a semester living in Europe as a volunteer English teacher, then had weekends free and vacation days to travel around to all my favorite cities.