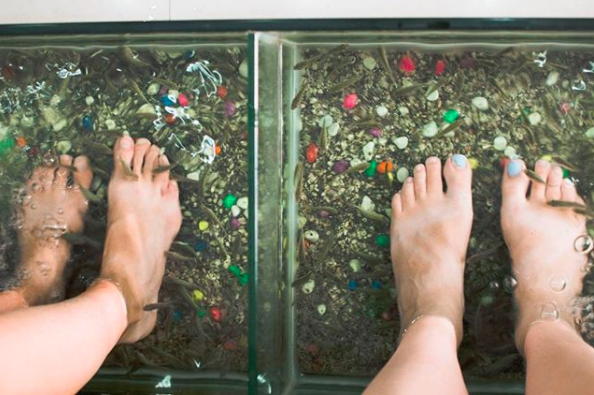 Would you let little fishies nibble on your toes?
Have you been seeing your friends that are volunteering in Asia for a semester post about getting fish pedicures? Or, maybe you're spending a semester in Thailand yourself and keep seeing signs for them everywhere and can't help but wonder what exactly they are. Good news for you -- we know all about these funny little fish pedicures!
---
Not an ILP volunteer yet?
Come fill out an application here.
---
Fish pedicures are one of those things you have to try at least once in your life. It's not like anything you've ever done or anything you'll do again in your life. If you find yourself in Asia, make sure you check them out! Here's what you'll need to know before you go.
What Is A Fish Pedicure?
It's pretty much exactly what they sound like (except the fish do not paint your toe nails — they just help pamper your feet by eating all the dead skin off. Does that sound a little gross? Maybe, but it is absolutely something that you have to experience. It's a pretty unique and ticklish experience that you can't skip out on, especially after walking around so much on all of your rad vacations while you're volunteering in Asia.
What Does It Feel Like?
If you're looking for a relaxing experience, this is NOT it. The fish "biting" your feet almost feels like a weird sucking/nibbling and it tickles! If you have ticklish feet, beware! The second you dip your feet into the spa of fish, you will have to fight the urge to pull them out. Word of advice, when you first put your feet in, cover your mouth because it will make you scream, laugh and cry all at the same time! Don't worry though, it doesn't hurt at all.
How Much Does It Cost?
These pedicures can range from $2 to $100 depending on where you're getting them. If you're going to one off of a touristy street, they will be really affordable. Just keep in mind that these places aren't always the nicest/cleanest. I'd make sure they are washing people's feet before putting them in the spa. If you got a nicer/actual spa, you will pay more (but sometimes it's worth it).
Where Can I Find Them?
If you're looking for a fish spa, you can find them in almost any big city/touristy city in Asia. Google it and you will find a ton! If you're in a touristy town like Chiang Mai, Thailand you can also walk down any busy street and there will probably be a few.
The best way to go about it is to just know they're out there and go for it when you have the chance. When you're walking down the street and see a huge aquarium in the store front window with chairs, you know what it's for and just seize the opportunity right then.
Get One In Utah!
Fish Kiss is a foot spa that mimics the ones you'll find in Asia. It was opened in the summer of 2018 by three friends who took a trip to Thailand. They saw how popular these fish pedicures were and started plans right away to get a spa opened in Provo, Utah.
They now offer fish pedicures (and manicures!) and bring a little bit of Asia to us, which we greatly appreciate.
Hours:

Monday- Thursday 11:00 AM - 8:00 PM
Friday- Saturday 12:00 PM -11:00 PM
Sunday: Closed


Price: $15.00 for the pedicure. This includes a foot wash, fish pedicure, warm towel wrap, and moisturizing lotion. Fish Kiss donates 5% of every purchase to refugees in Utah, which we love.


Address: 32 South Freedom Bvld. Provo, UT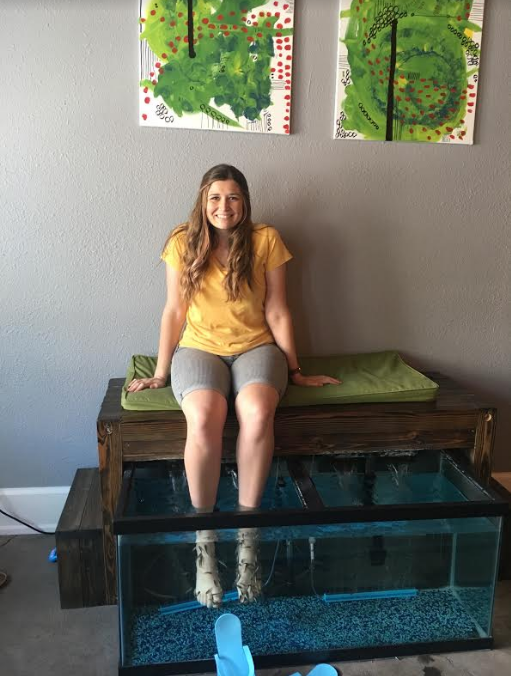 Ready to apply for the International Language Programs?