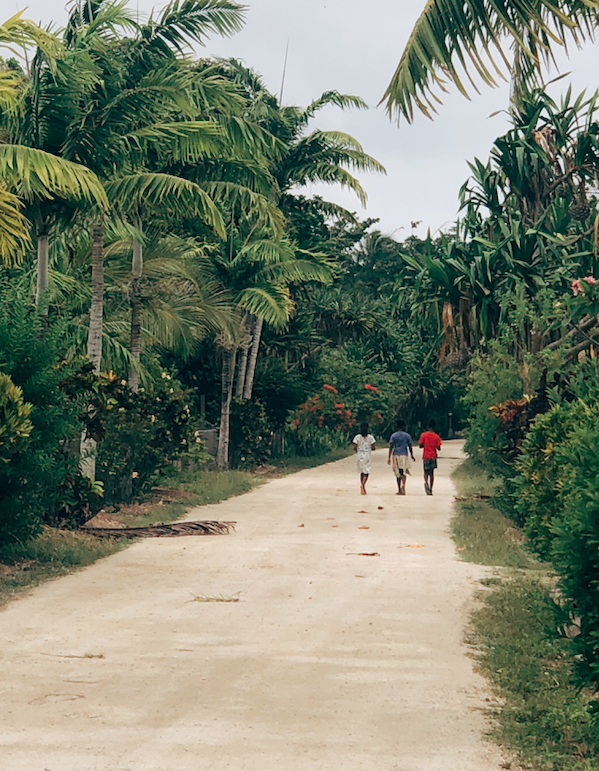 All the nitty-little details you're going to want to know about your new home.
Planning on spending some time in actual paradise? The island of Efate found in Vanuatu is exactly what you're looking for, with so many adventures to keep you busy. It's a small island rimmed with pristine white-sand beaches, and waterfalls + swimming spots galore on the interior, along with dense jungles. You can also hop on a little boat ride and visit half a dozen islands which boast some of the best snorkeling around. Yep, it's pretty perfect.


---
Come spend a semester here!
All about volunteering in Vanuatu
---


ILP's thrilled to have a volunteer location in the South Pacific and can't wait for you to experience everything this part of the world have to offer. To help you get to know the island of Efate just a little better, here are some of the details you're going to want to know before you fly on over.
Things To Do
We're talking the best swimming lagoons, pristine coral reefs to snorkel, and hikes to natural rock slides formed from waterfalls ... plus an entire island rimmed with South Pacific beaches. No matter how long you're visiting, you absolutely must check out a couple of Blue Holes, turquoise swimming spots cut out of the dense mangrove forests. And island life does mean hanging out a few beaches, too — we're fans of Honeymoon Beach and Eton Beach, and about a dozen that don't seen to have official names.
Interested in taking a day trip? There are a couple of islands close enough to ferry over for a day of resorts of snorkeling in a protected marine park. There's even an island that is home to an underwater post office. Yep, you can get a waterproof postcard, fill it out, and swim down to the post office on the bottom of the ocean floor and it'll be mailed out. So. Cool.
There are so so so much to do on this island we put our favorite things to do on Efate in one spot.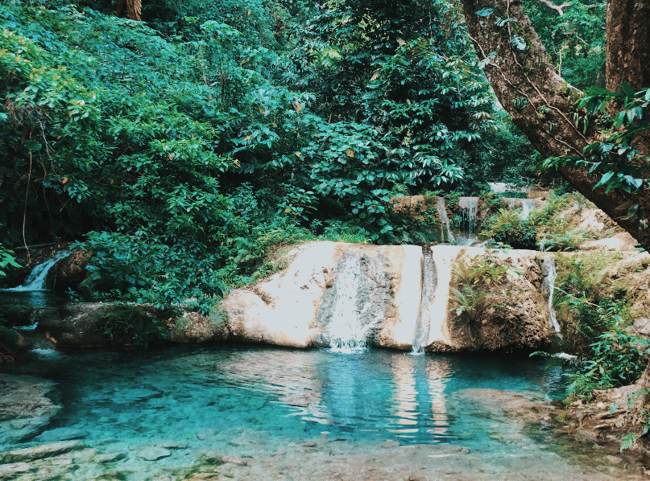 Foods To Try
The food situation on the island is an interesting mix — you'll find menus bursting with fresh seafood and local dishes centered around basics like taro, plantains, and coconut milk. However, there are also restaurants serving Australian, Italian, Indiana, Thai, and a few other international options. Most resorts have pasta, pizza, burgers, as well as seafood options. I you're looking to try local dishes, head to the Port Vila, or look out for roadside stands where you can buy a 20 Vatu plate.
20 Vatu Plates
You'll find roadside stands to grab a quick lunch, made up of that's now called "20 Vatu plates" which shake out to be around 200 Vatu. You'll find favorites like fried eggs on rice, served with tomatoes, yams cooked in coconut milk and wrapped in banana leaves, beef stews, etc.
Lap Lap
Time to try the nation's national dish, right? It's a mix of grated fruits and roots, like taro, yam, breadfruit, etc until that's like a creamy paste. You'll smother that with coconut cream, then pile the mix into banana leaves to be cooked underground. You can also add some proteins like pork, beef, or chicken. You can find a handful of vendors serving up this traditional dish at the Port Vila Market (for a good price, around $2 USD).
The Fresh Fruit
You will fall in love with the fruit here. Think golden pineapples, towering bundles of bananas, spiny jackfruits (eaten with lime and coconut here … yum!), the vaguely sweet and citrusy soursop, bell-shaped rose apples, avocados, and of course, ripe paw paw. You know it as papaya, but we love the local nickname way more.
Ni-Vans are incredibly self sufficient, able to make so much of what the island has to offer. Many Ni-Vans keep gardens, growing and raising the food they need. You're going to see lots of roadside stands where you can buy local fruit right along the side of the street. It's all homegrown and organic. See what fruits are in season during your visit here.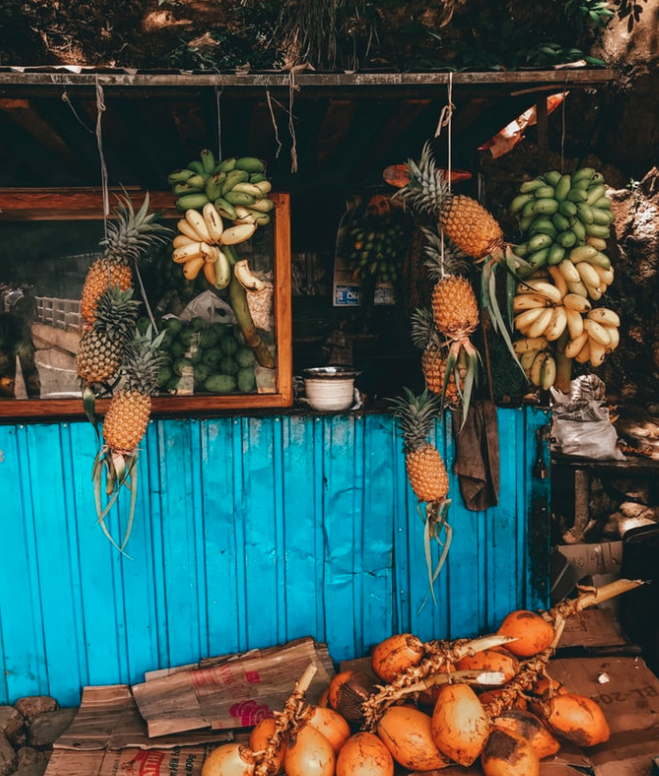 Getting Around The Island
You'll be walking quite a bit (many places are easily reached with a 20 minute walk) you can also take advantage of the public and private transportation. There's a ring-road around the perimeter of the whole island. It takes about 2 hours to drive if you don't make any stops which is handy to know about (people may let you know a place is on the ring road).
Taxi
Taxis will be the most expensive option, by far. Unless you want to burn through your budget in a week, don't use taxis. Seriously. They are incredibly expensive (in the $50 - $80+ range just for short trips) and really are only used by tourists who are just here for the day, on a cruise stop. But you know better, right? Mini buses with the letter "B" on the license plate are the way to go.
Mini Buses
These are basically a public van (think of it like a mix between a taxi and bus). It's going to be your most affordable option by far. These mini buses have a certain route, but people just get on and off as they want. You can even ask the driver to take you to a certain part of the island (kinda like a taxi). These can be very crowded (and are a total experience). Recognize these buses by peeking at the license plate — you'll see the letter "B" that lets you know you can hop on and off. There's a high likelihood you can just speak English to let the driver know where you'd like to go. Prices depend on the distance of your ride (and are really affordable). It's about 100 - 150 VAT which is around $1.25 for a short 15 minute ride. Plan on paying around $3 to $5 USD to get to places farther away on the island.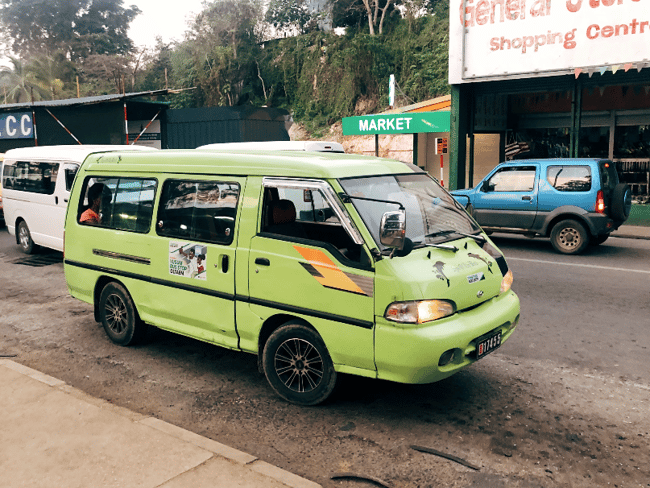 All About The Cash
Swap out your US dollars to Vatu (VUV). Check the current exchange rate here. You'll find that some places in Port Vila will accept some credit cards (typically with a 4% or 5% fee), but cash is king everywhere else. If you pull money out of an ATM, expect to be hit with some ATM fees. There are only a couple of ATMS sprinkled around (mostly in and around Port Vila), so it's best to have cash on you in case anything comes up.
Prices are pretty similar to Australia with a couple of exceptions. Cruise days can up the prices around the popular tourist attractions, just as an FYI. You can check port dates here which is a really handy link to have since lots of places around Efate get so busy on cruise days you'll probably just want to visit on another day if you can.
A Note On Tipping + Bargaining
Tipping is not a thing in Vanuatu. You may find some restaurants in Port Vila where tipping is an option, but culturally, it's not part of life here. According to the kastom (a local word that's all about the culture, religion, customs, and beliefs spread across Micronesia), tipping is something that should be reciprocated, so instead of money, smiles are how you'll tip around here.
Bargaining is also not an option here. In many street markets around the world, you're welcome to negotiate a price between you and a vendor — not the case in Vanuatu. The prices posted are what you're paying for, which eliminates the need to go back and forth, trying to find a price you both are comfortable with.
Weather + When To Visit
The two kind of go hand in hand, but know this about Efate: the weather is pretty lovely all year round, with warm temperatures that are great for swimming, no matter when you're here.
April To September
Find peak season during these months. It's slightly cooler which pulls in more and more tourists especially vacationing Australians who tend to visit over school holidays (April, July, September and the beginning of October, in particular). Temperatures are in the high 70's on average (think between 62° and 78°, typically). It does still rain, so plan on that. You'll typically have about 16 days of rain in April, which slowly decreases to be about 8 days of rain once you hit September and October.
November To March
Technically known as off season, you'll still find your fair of tourists, especially those visiting via cruise ship. It tends to be rainier, with warmer and higher humidity, which just makes for days perfect for cooling off in the ocean or those Blue Holes. Temperatures are typically in the 84° range, dipping down to the high sixties, with your fair share of rain (between 11 to 17+ days on average).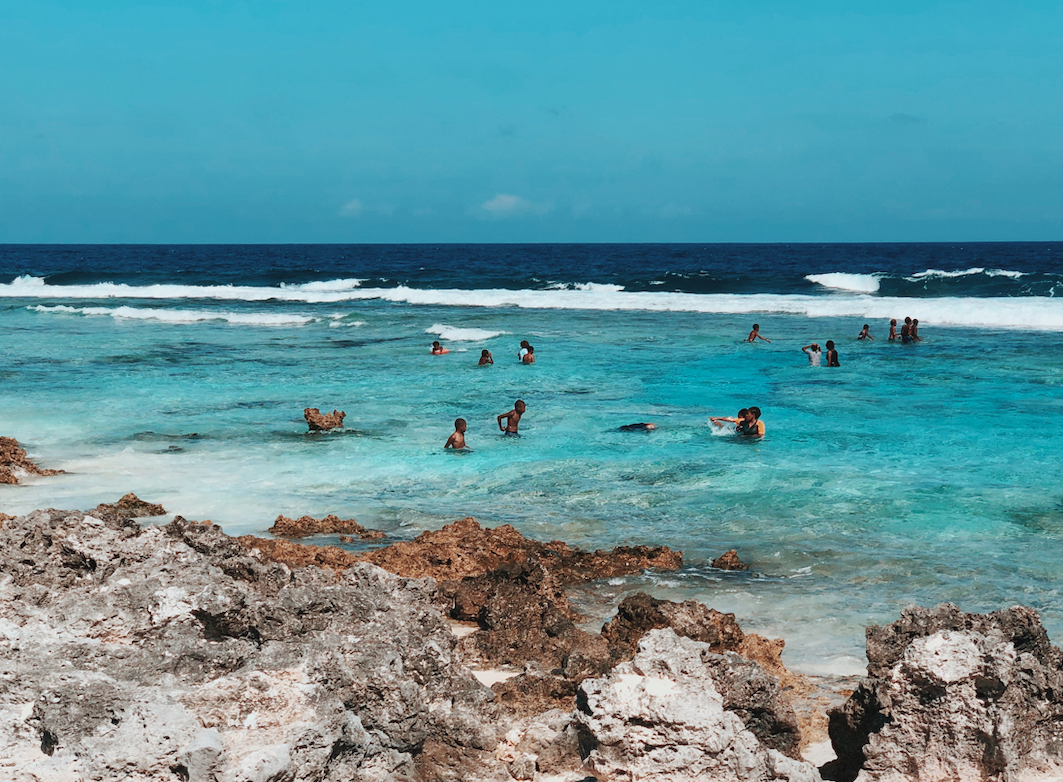 Come to Vanuatu with us!
ILP's a nonprofit organization based in the US who sends volunteers abroad to teach English around the world. You'll be set up with a group of fellow, college-aged volunteers to live, teach, and travel with, complete with weekends off and vacation days to travel around the South Pacific.