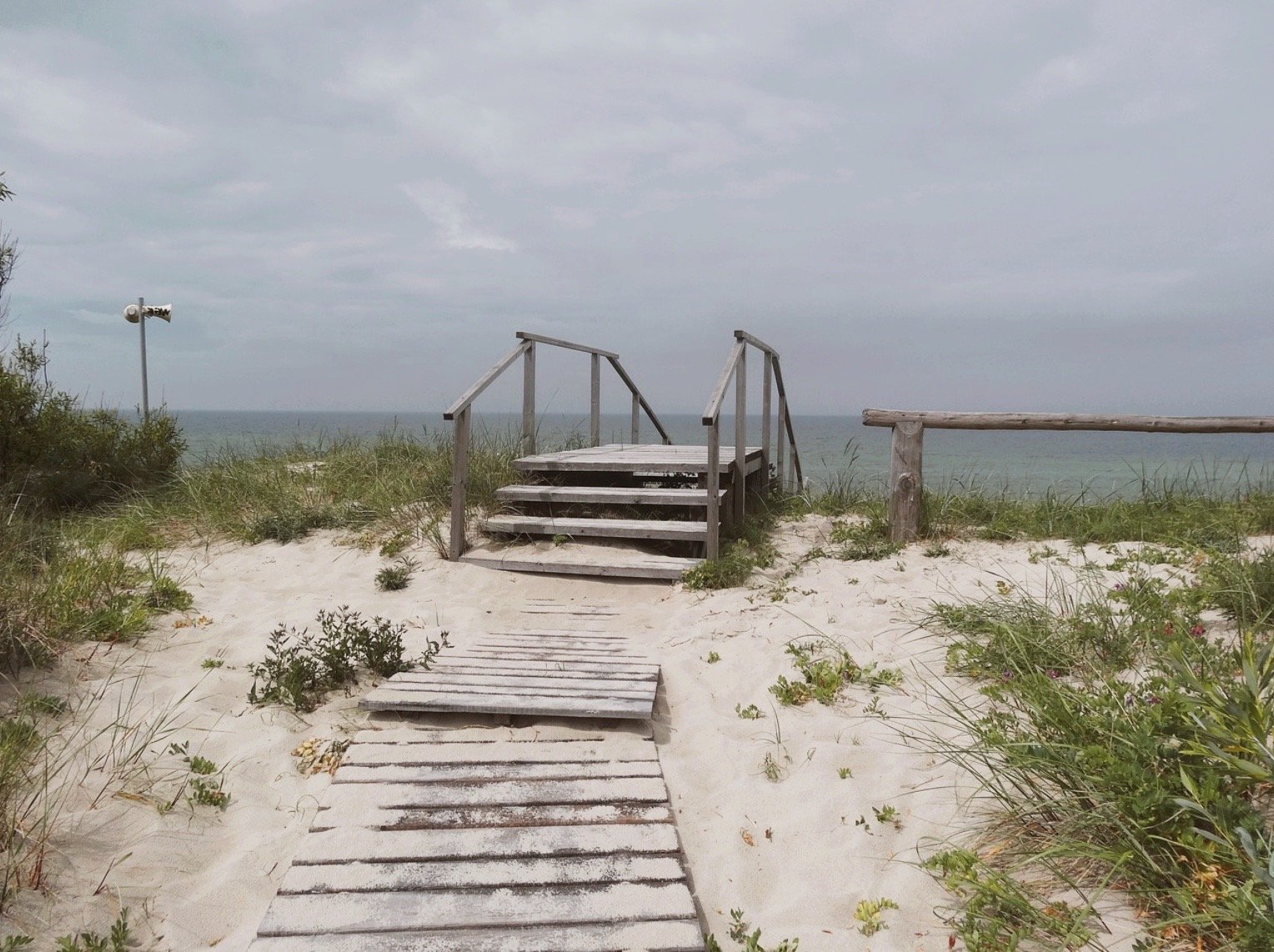 This white, sand duned strip of land stretches across the Baltic Sea and it's the perfect place to come sink your toes in if you're looking for walk along the coast while you're in the Baltics.
The Curonian Spit is a long, narrow strip of land that juts out from Kaliningrad and leads up near Klaipeda in Lithuanian, shared by both countries. It's just over 60 miles of sand dunes, forests, and charming little villages and we have a feeling this is the place you didn't know you needed on your travel list.


---
Dreaming of a European Semester Abroad?
We can hook you up with other college-age volunteers
to spend a semester in Lithuania!
---
There's lots to love about Lithuania. It's famous for its charming Old Town in Vilnius, not to mention this stunner of a castle surrounded by a lake you can actually sail around. But it also claims a bit of the Baltic Sea, which means you've got stretches of white sand dunes back by tree lined coasts. During the summer months vacationers come for miles, but when the crowds die down the quieter, windy days can give you serious Oregon coast vibes. We're in love.
And just half a mile out from that coast line lies that Curonian Spit, just waiting for you to come explore. The ferry departs from Klaipeda, so it's perfect to tack onto that trap because Klaipeda is another city worth seeing.
Mapping Out Your Trip
First off it's important to note that The Curonian Spit is shared by both Lithuania and Russia. Lithuania takes the top half, which is known as Neringa Municipality.
Kaliningrad (which is owned by Russia) claims the bottom half. If you have a Russian visa you could cross the border and technically see two countries on this trip! But if you don't have a Russia visa, you can head as far as Nida.
There's so much to see and do, but we just want to highlight 3 main spots for you: Smiltyne, Juodkrante, and Nida.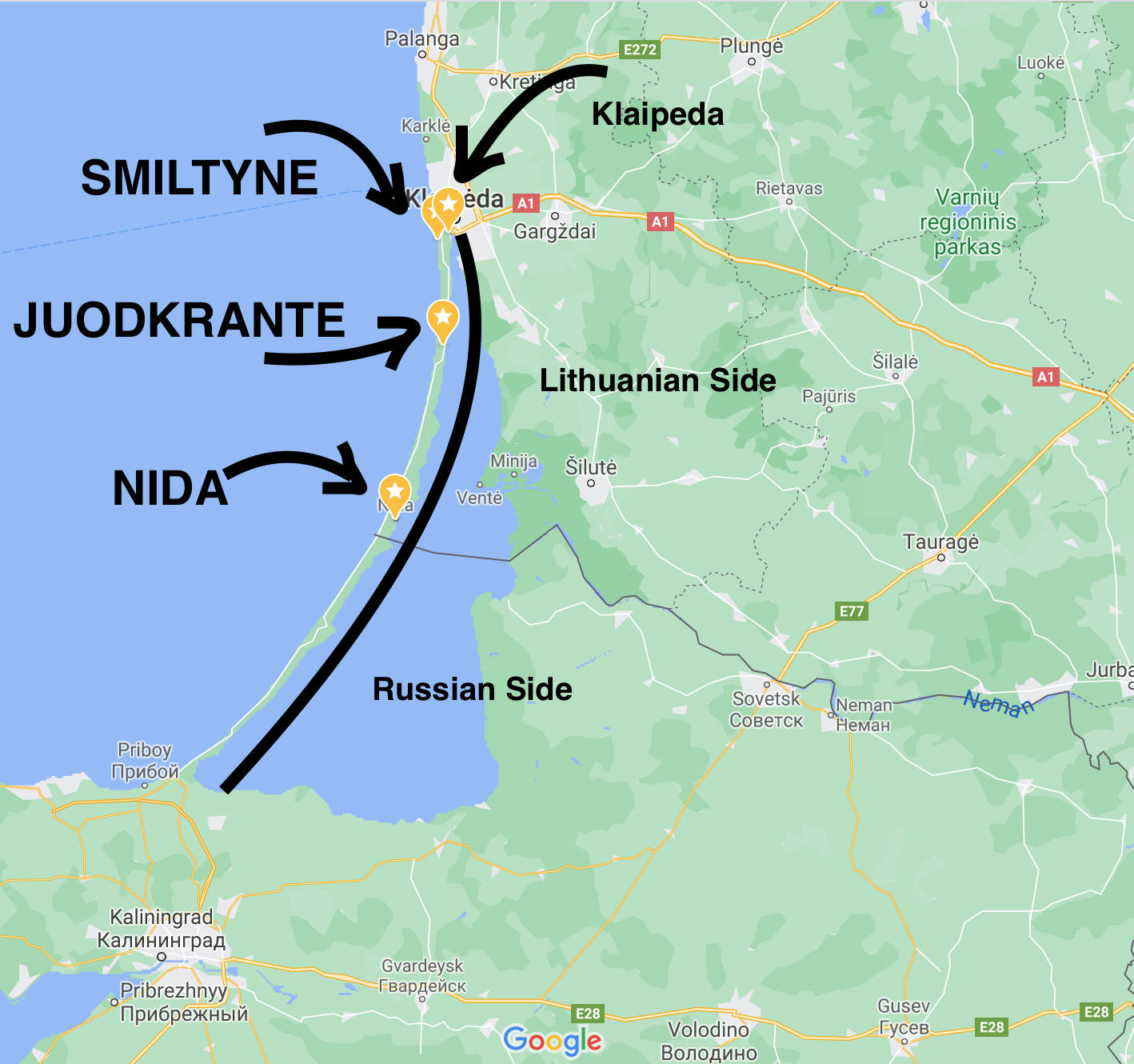 Getting Here + Around
Take The Ferry
If you're already exploring Klaipeda, getting here is a cinch!
There are a couple of ferries (the old one and the new one) that depart from Klaipeda and head to the northern end of the Spit, near the town of Smiltyne (which is conveniently close to that favorite beach we mentioned earlier). They leave frequently throughout the day, around every 30 mins-1 hour, so it's pretty easy to jump on when it fits your schedule. During the busier summer month there's also a ferry that heads to Nida, further south, but it's a slow 2 hour ride. The ferry to Smiltyne is a bit more popular.
The new ferry hosts those with cars, so travelers who are coming on foot or with a bicycle will want the old ferry. A little tip from our volunteers who've traveled here — it's pretty fun to explore by bike! There are lots of trails and boardwalks, but the only catch is that it's often easiest to rent a bike in Klaipeda and bring it over with you. The good news though is that it's easy and free to bring it with you on the ferry.
Tickets for pedestrians are 1 euro each way. Get a timeline of when the ferry departs here.
It's a pretty quick ride, about 5 minutes. See how easy?
Getting Around
There's one main road and it heads north/south with a public bus that has stops in 6 major spots along the way. That's pretty much it! And the whole thing is pretty narrow and flat, so it's pretty hard to get lost here. There's also a boardwalk that runs parallel to the road — it's pretty popular to take the road when you're out exploring, you'll often see bikers who bike the distance and then ferry or bus back to their starting point. Just know the the distance is around 30 miles, so it's mostly for serious riders.
You can also find guides that offer private tours of the area. That's a quick and easy way to get around, but if you're more of a budget, adventurous traveler it's also very easy to get around on your own.
When you arrive via ferry there are a couple of buses that leave from the port — one frequently takes tourists down to Nida (but you may need to wait a bit for it). Or you can head straight for the beach! Our top pick, Smiltyne, is close by and you can ride your bike there.
Also, they have an official site for tourism that may be helpful for things like updated routes and times, things to do, etc. Check it out on VisitNeringa.
Dip Your Toes In The Sand At Smiltyne Beach
Let's start from the northern-most part! If you're looking for the best beach around this area, most locals will direct you here. Just know that during the summer months everyone is looking for the best beach, so you might find some crowds along with the white, sandy shoreline.
This beach sits along the northern most coast of the spit, and not far from the mainland (it's only about a .5 mile distance across the lagoon).
Even during the summer the water is pretty cold, but definitely bring your suit for a quick swim. Take time to sit and feel the sand, which one reviewer described as "powdered sugar". Aside from enjoying the beach, there are easy biking and hiking trails just past the sand.
July and August are the busiest and warmest months, but outside of that bring a sweatshirt. Even in June or September you may get the wind coming in from the sea which can get you feeling quite chilly.
Getting to this beach is quite easy since it sits directly across from Klaipeda. Once you take the ferry from Klaipeda over to the Spit, the beach isn't far from there.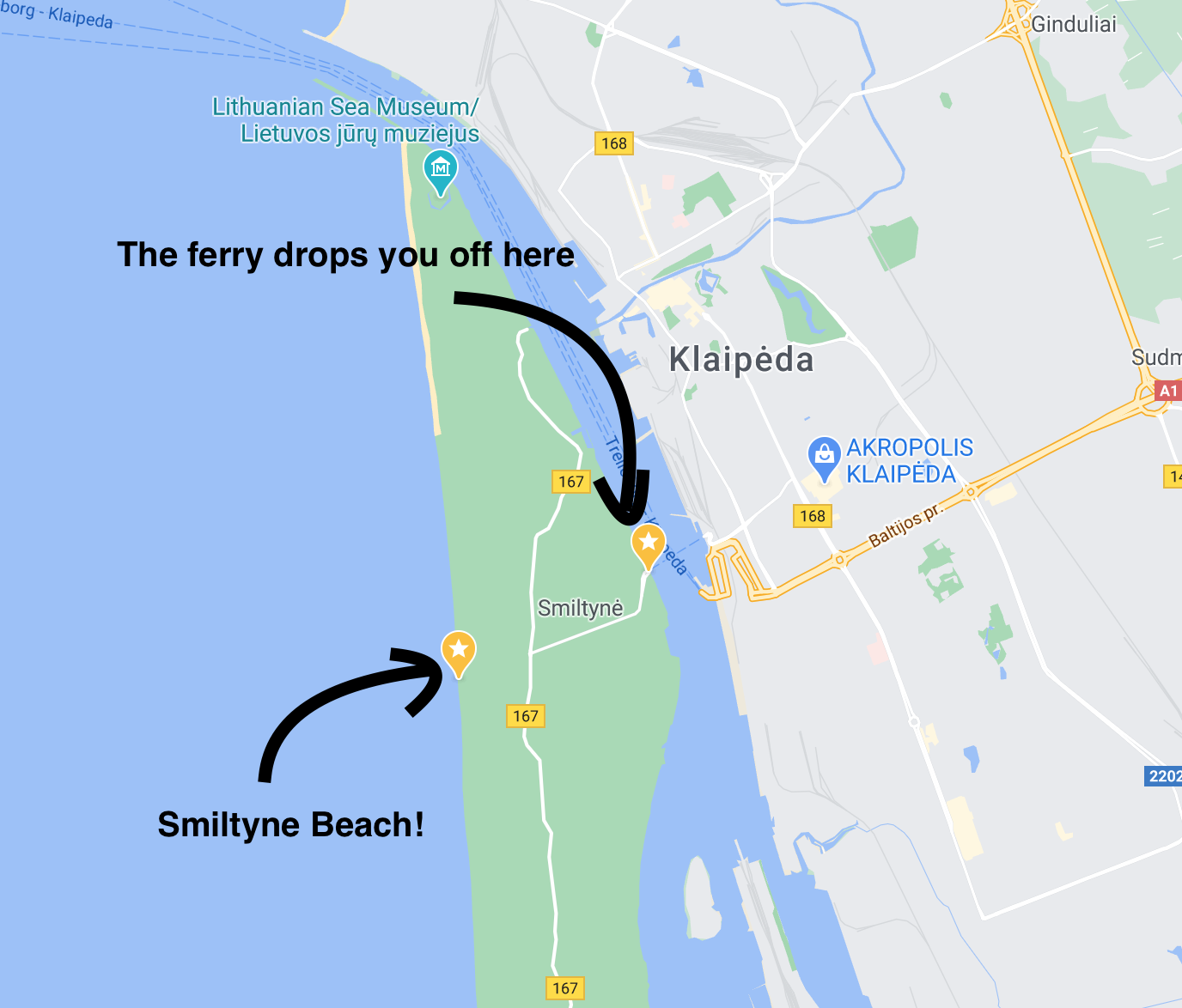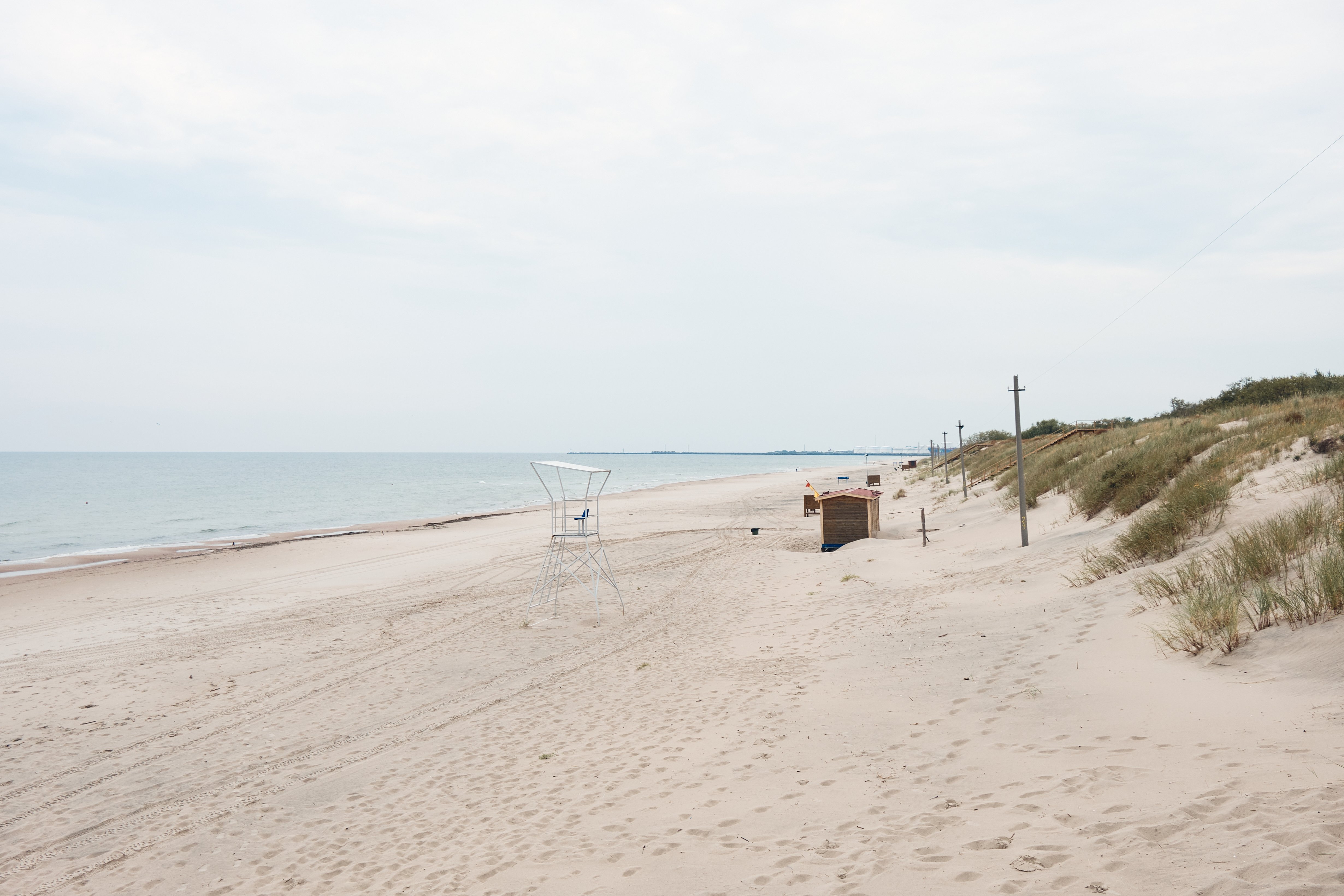 Explore Witch's Hill
After you've sunbathed, jump on the bus and jump off at the Juodkrantė stop. From the main road there's a huge sign, so you can't miss it. Take that road and it will lead you to the start of this area ... and honestly it's hard to really describe what you'll find here.
The surrounding forest is the home to an ancient Lithuania folktale; as the story goes Neringa, a friendly female giant lived on Lithuania's coast. There was a dragon named Naglis who wanted to marry her, but she refused and he grew angry, threatening disaster. To save local Lithuanians from the dragon, Neringa made a great barrier of sand, now called the Curonian Spit. This barrier actual acts as a natural protection from storms in the Baltic Sea.
There are nearly 100 intricately carved sculptures and wooden statues of witches and trolls and totems hiding in this forest. It's another highlight most tourists miss! You'll find a windy path that you can follow through a thick forest, filled with those impressive wooden carvings throughout. The path leads you right back to the start, so it's an easy hike as it's mostly flat and easy to follow.
It's free to visit (there's no one allowing you in, it's just an open pathway). Most people spend about 1-2 hours exploring here.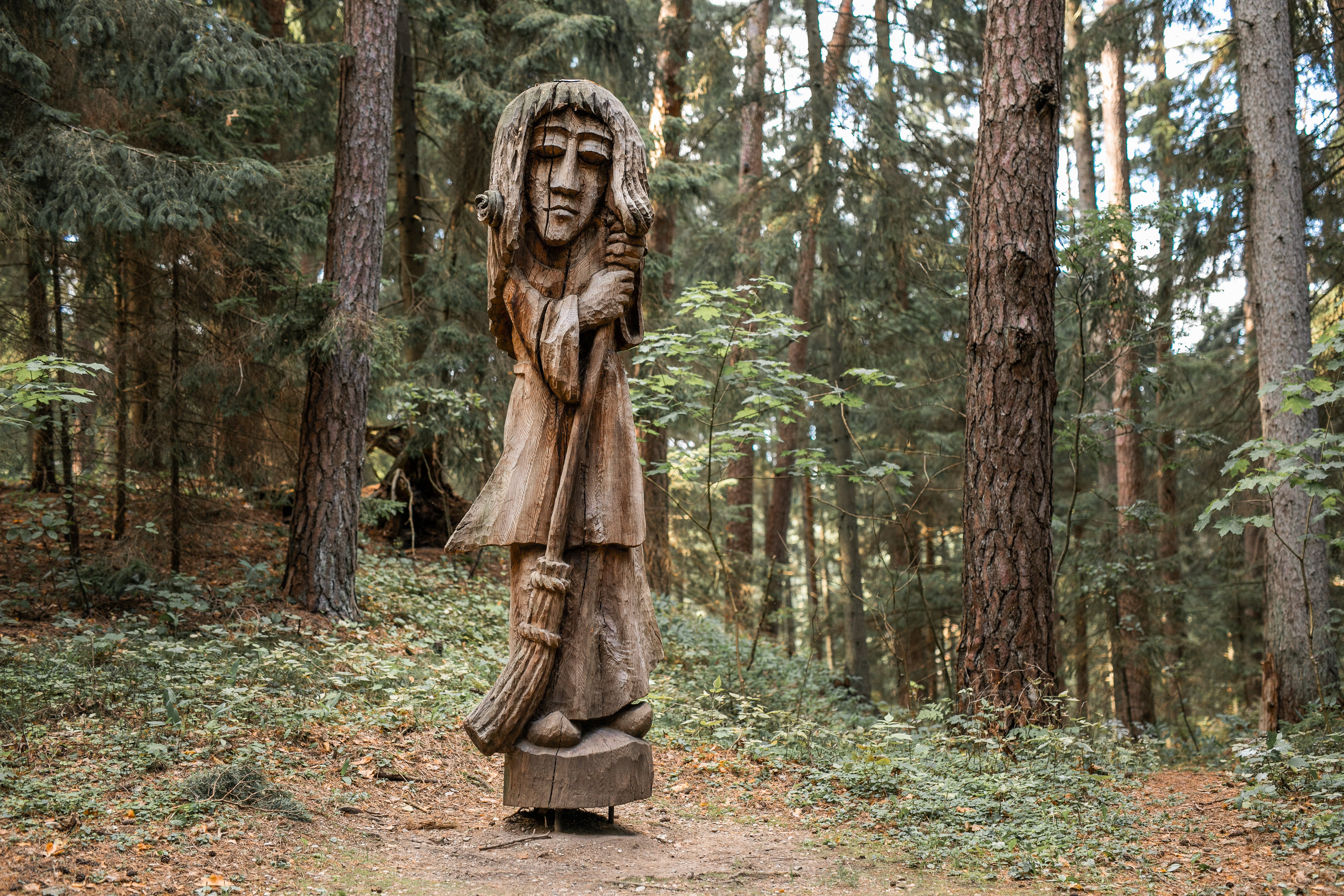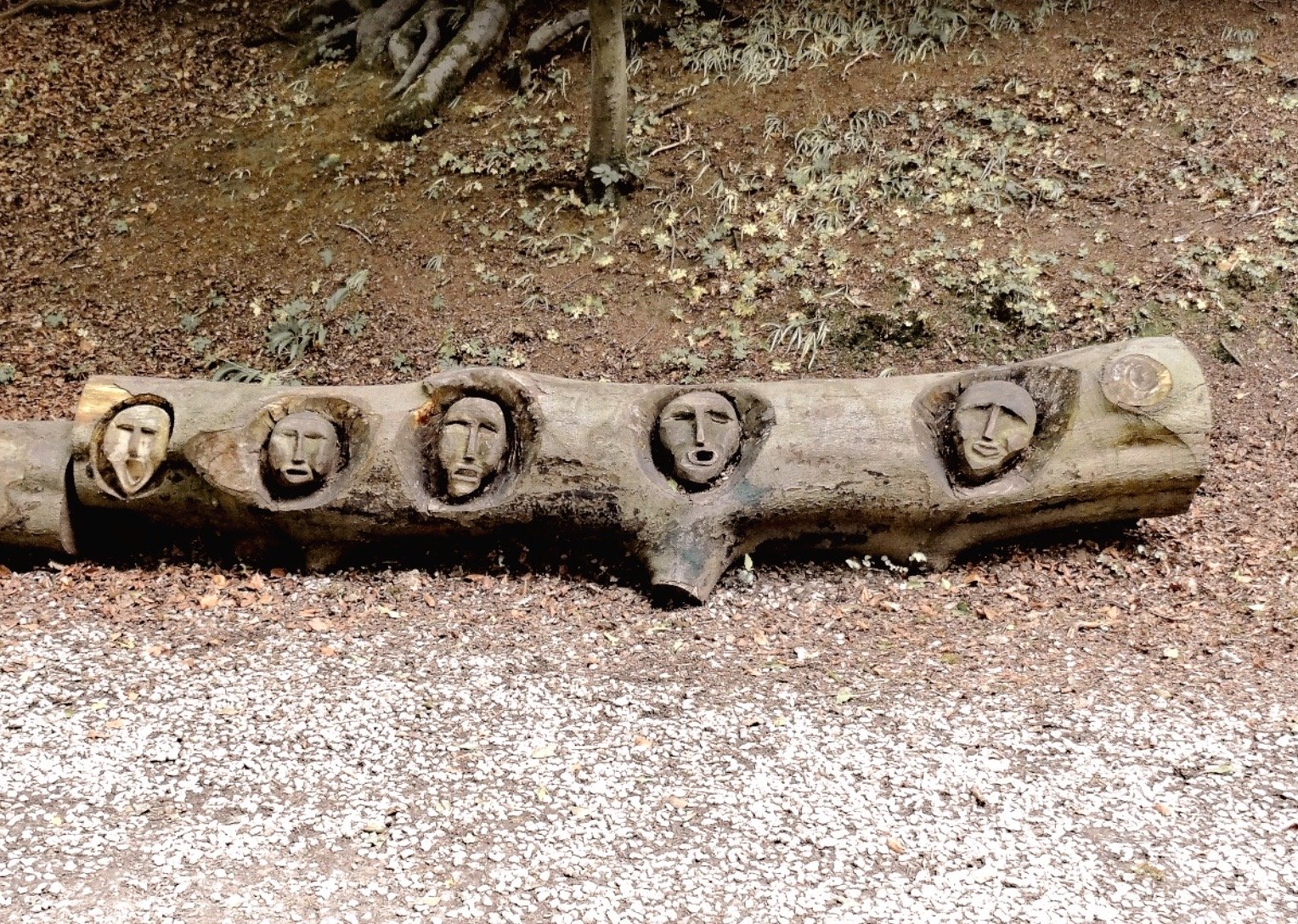 Shop Around In Nida
Again take the bus further down the Spit to Nida. And unless you have a Russian visa, this is as far south as you'll want to go. Nida is the last town on the Lithuanian side of the Spit before you cross over into Russian owned Kaliningrad (which is why you'd need a visa).
Nida is a nice area that is surrounded by some cutie neighborhoods (seriously, these houses are indescribably charming). This is also where you'll find shops if you're interested in picking up souvenirs. You'll find all sorts of things from local vendors. Amber is a local resource and you can always count on being able to find various pieces of it shaped into jewelry — my personal favorite are the amber rings. And if you didn't bring a bike but you're regretting that now, you can usually find bike rentals in Nida.
If you wanted to stay the night over here, this is where I'd pick. There's a few Airbnbs you could choose from.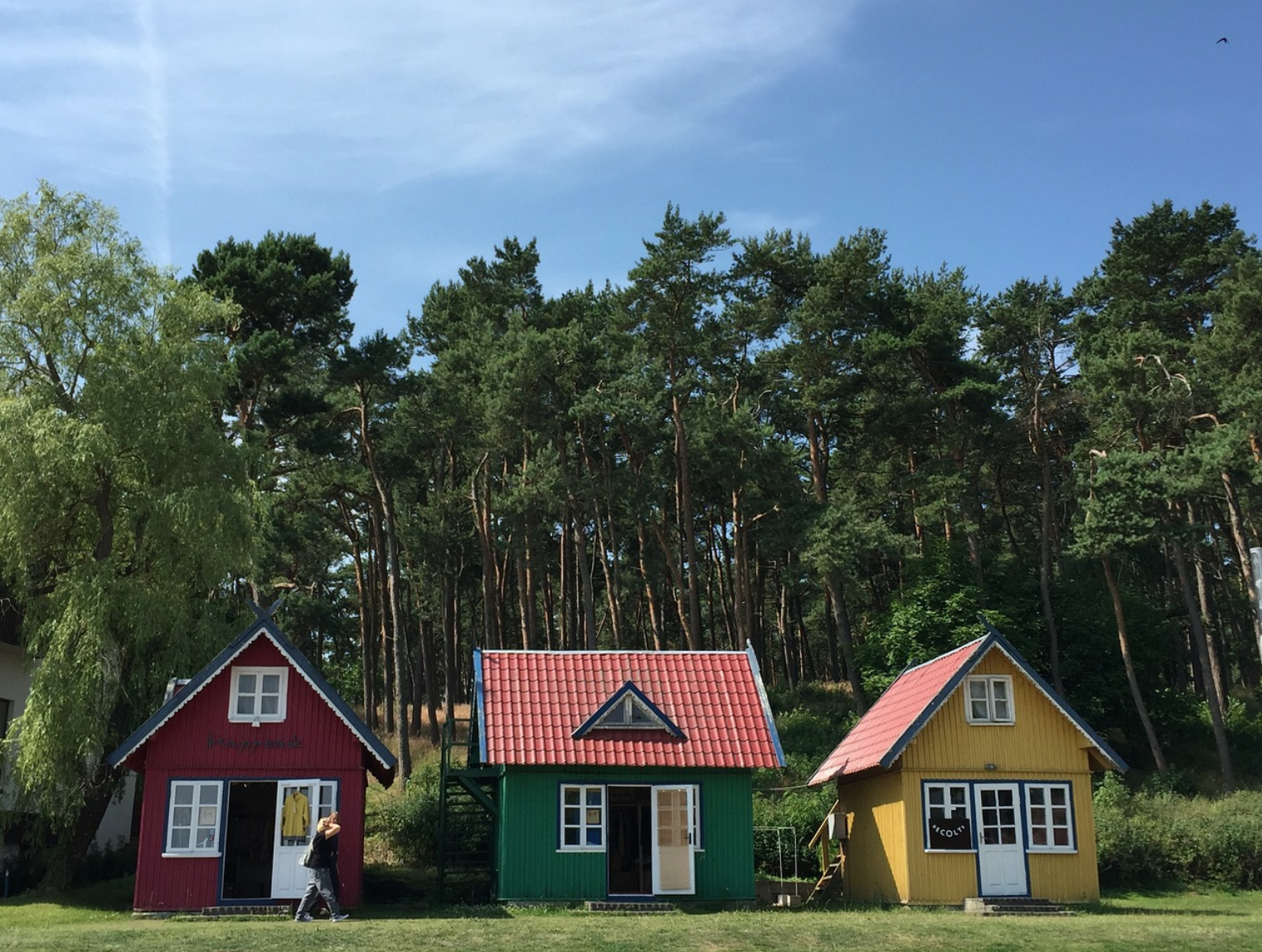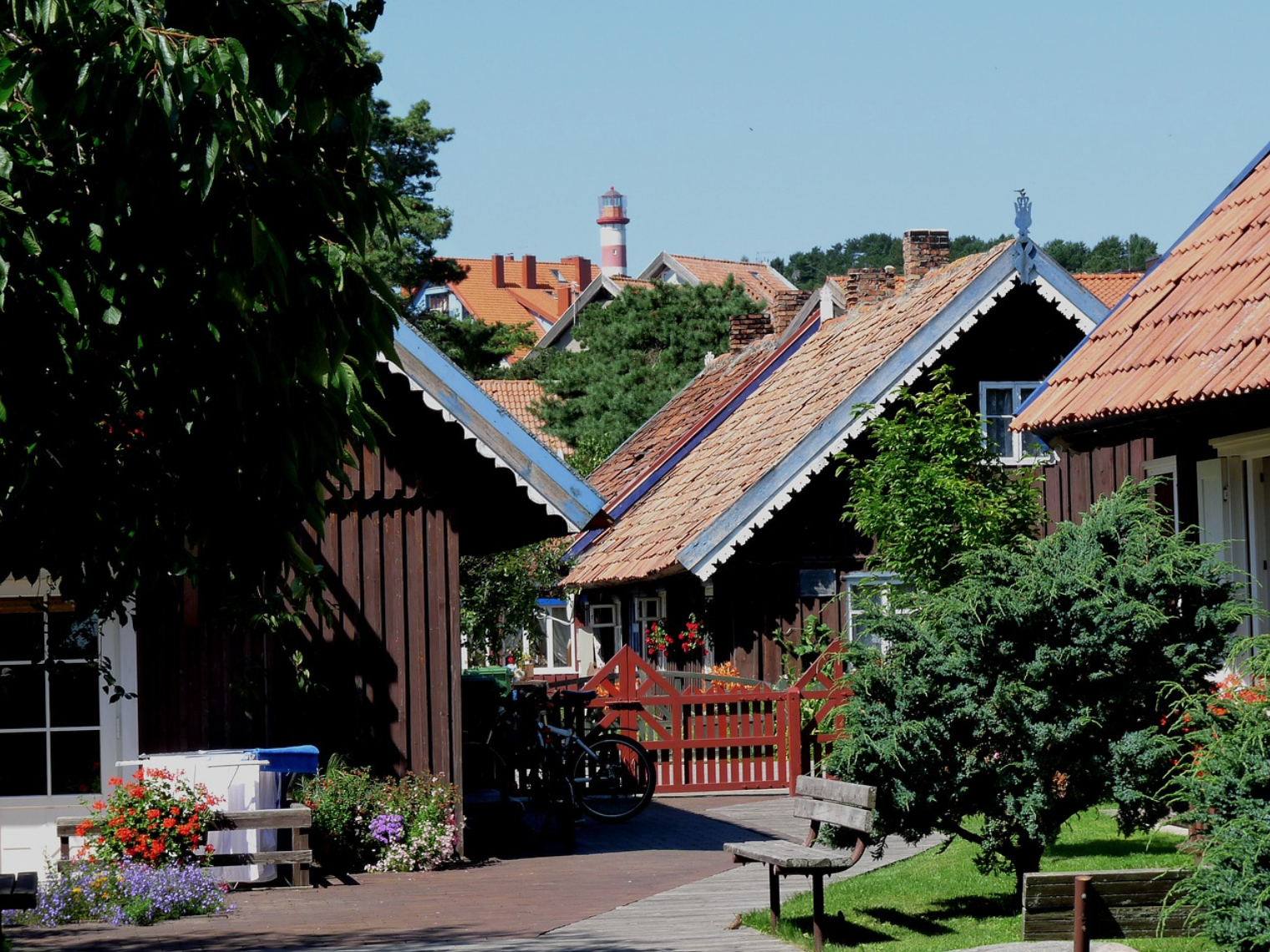 Climb The Parnidis Dune
Just south of Nida (about 5 miles south) lies a long stretch of untouched dunes that stretch into Russia's side of the Spit. There's a path that leads to the bottom of the dunes, climb to the top, and then follow the boardwalk that leads along the area. Oh and just a note, stick to the boardwalk to prevent harming the environment.
You'll get some beautiful views up here and typically have the place to yourself without seeing many fellow travelers. Oh and see if you can spot the massive sun dial.
Check Out Nida Beach
There's also a few beaches in the area ... Nida Beach usually being the favorite. Some even claim it's Lithuania's best kept secret. But don't stop there because we have another beach to suggest you see as well.
+ More Tips
How long should I stay?
You can pack this all into a full day, or if you want a bit more time then I'd suggest spending the night in Nida.
Don't forget to spend time in both Klaipeda and Palanga as well, along the mainland's coast. All three spots make for a great 3 day trip if you're in the area!
When's the best time to come?
July and August are the busiest months and that comes with pros and cons. The weather is the warmest and the most attractions and shops are open, but prices are a bit higher and you may deal with more crowds. During the rest of the year this little bit of land is really quite peaceful and you can have it all to yourself. Just make sure to bring a jacket! Even during the summer there are windy days that can chill you.
Run this race:
If you're here during the fall, there's usually a trail run you can sign up for! Running along a coastal UNESCO Heritage Site? Count me in. It's typical held in October and there's options starting at 12km (so it's for a bit more seasoned runners) — get all the details here.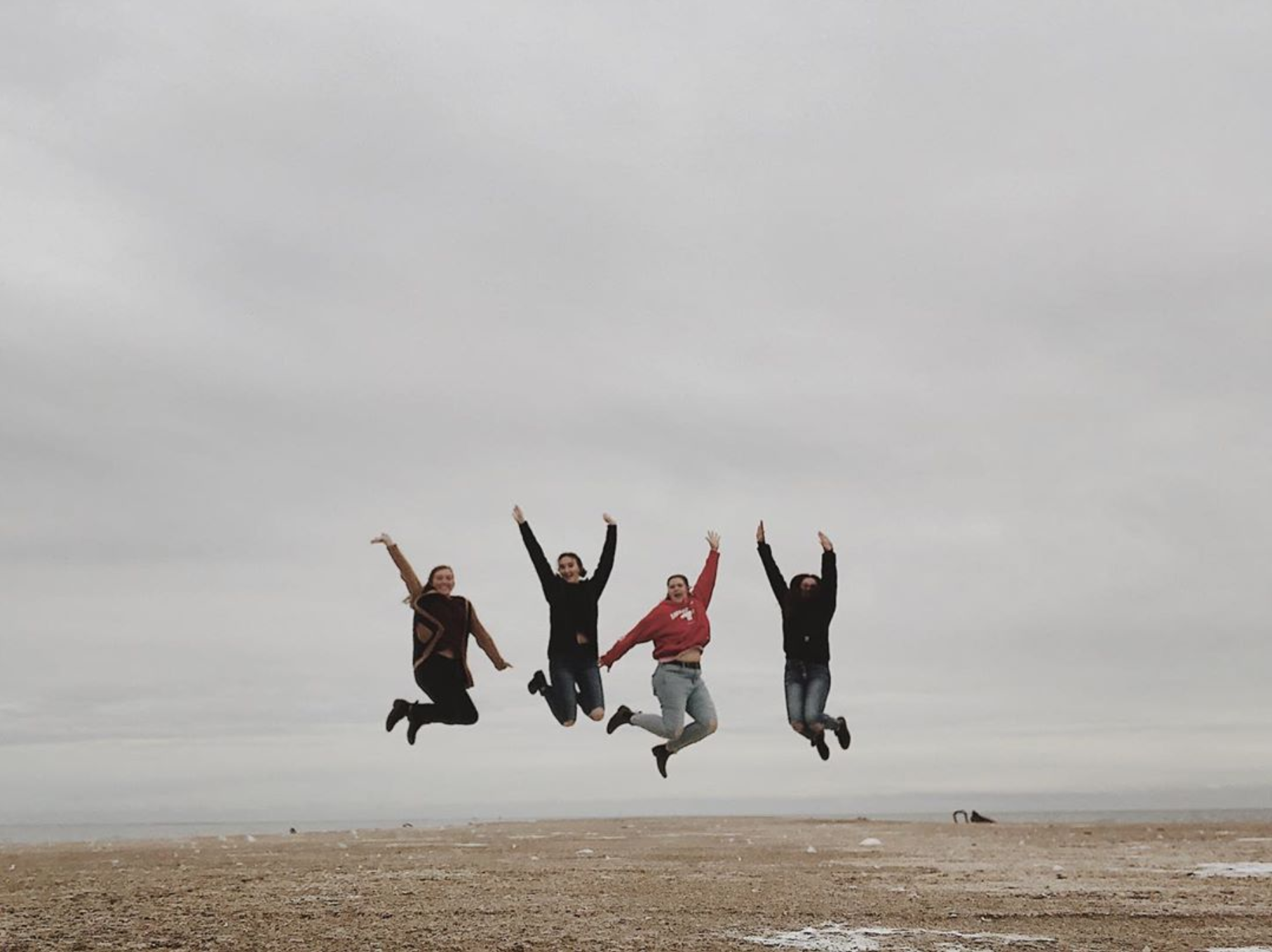 Come Explore Lithuania For Your Semester Abroad
Living in Lithuania for four months is a pretty unique experience, and it's the perfect amount of time to start feeling like a local and seeing all these unique spots that tourists usually miss. International Language Programs has opportunities for you to live abroad with other college-age American volunteers for a semester — spend part of your time helping kids learn English, and exploring Lithuania in your free time. Check it all out by clicking that button.