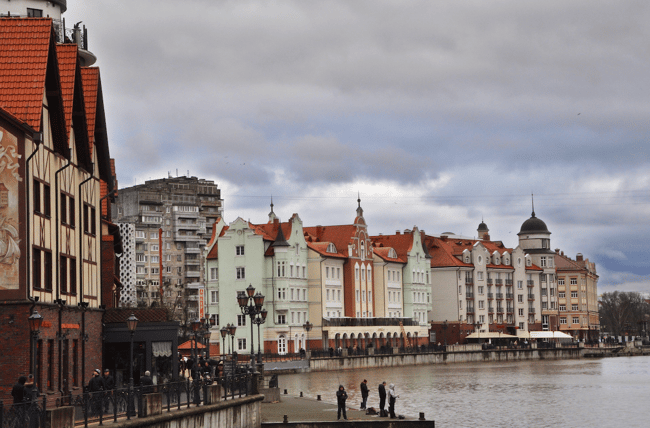 Sandwiched between Poland and Lithuania, our ILP Russia volunteers can plan quite an adventure when they visit Kaliningrad.
One of the reasons I chose to volunteer in Russia was because it gives you so many more unique opportunities than the other ILP Europe locations. Don't get me wrong, I would have loved to live in one of the other European locations but when you get to volunteer in Russia, you have some major (major) perks.


---
Come see what a semester in Russia is all about!
---

Because Russia has a pretty strict visa policy, other ILP Europe groups don't typically visit this country. But if you volunteer here with ILP, we take care of getting that Russian visa for you and you get to see all of Russia plus those other European destination points! It's a major perk, especially when you think about taking a trip to Kaliningrad — it's a spot you won't want to miss for more than a few reasons.
What To Know About Kaliningrad
First off, it's a kinda special vacation spot just for our Russia volunteers. Like we mentioned, ILP takes care of your Russian visa, so you're welcome to visit all the cities in this country plus others, like nearby Poland or Lithuania. It's one of the main reasons I chose to volunteer in Russia with ILP!
Technically speaking, Kaliningrad is owned by Russia, so you must have a Russian visa to enter. That means this is another vacation spot that only our volunteers in Russia get to take!
A Smidge of History
The city's history is steeped in quite the folklore, first dating back to the 13th century where it was ruled by German knights. It's been under the rule of Poland, belonged to Prussia, then again to the German empire. It was a total hub of science and culture for Germany, Lithuania, and Poland (and was home to Immanuel Kant), until it was annexed to the USSR in World War II. The city was purged of its German roots and renamed after the Russian communist leader, Mikhail Kalinin — Kaliningrad was a huge military base and only recently became an option for visitors in 1991.
Take A Peek At A Map
Another quirk of the region is the area's geography. Kaliningrad is part of Russia but is found totally separate from the rest of the country. You'll find Kaliningrad nestled up north, bordered by Poland, Lithuania, and the Baltic Sea. Visiting means being close to favorite cities in those two surrounding countries, plus the opportunity to explore a city steeped in Russian history with German remnants.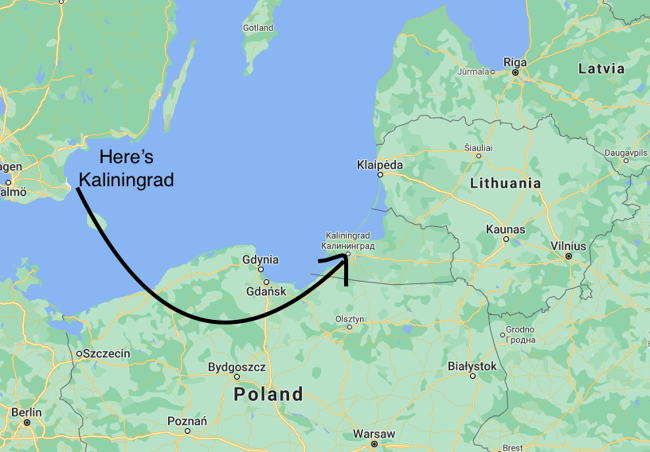 Things To See And Do
Listen In At Königsberg Cathedral
This stunning cathedral is easily one of the most iconic sections of the city, built way back in 1380. Königsberg Cathedral is a towering Gothic structure, home to more than just a place of worship. The cathedral has served as a defense stronghold, a military prison, and a tomb to one of the world's most famous philosophers, Immanuel Kant. Massive air attacks damaged this historic building in 1944 and 1945, where it laid in ruins in the post-war period.
The building was almost torn down (believing it to serve as a symbol of Prussian fascism, according to the Soviets) but was preserved because it was the resting place of Immanuel Kant. Beginning in 1960 through the 1990s, organizations focused on restoring the cathedral back to its original, majestic self. It's a must-see spot, especially since the cathedral hosts a daily organ concert that's rather lovely to listen to.
Address: Ulitsa Kanta, 1, Kaliningrad

Hours: 10:00 AM to 7:00 PM

Cost: Organ concerts have a price, but the cathedral's free to visit.
Get a schedule (and price breakdown) of the daily organ concert here.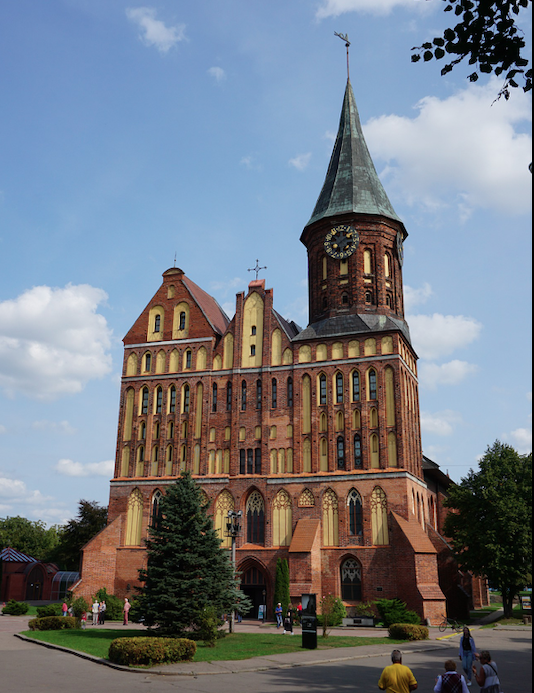 + See Immanuel Kant's Tomb
One of Kaliningrad's claim to fame is being the birthplace of famed philosopher Immanuel Kant. Kant used to teach at the nearby Universitas Albertina — the university actually purchased a plot of land for professors to be buried, between the school and the cathedral. When Kant passed away in 1804 he was buried inside the cathedral but was later moved to that small plot of land. What's pretty astounding was that of Königsberg that was preserved by the Soviets.
Now, visiting Kant's tomb is one of the integral elements of the city for tourists and locals. It's even become customary for newlyweds to visit the mausoleum and leave flowers.
Address:

Located in the northeast corner of the Königsberg Cathedral.
Shop At The Amber Museum
The Baltics are known for amber, and the museum in Kaliningrad is one of the best places to admire the gemstone (and come home with a few souvenirs). The golden resin is seen in a mesmerizing display, ranging from samples where insects are still preserved in amber samples (from 40 million years ago), the second-largest "sunstone' in the world (weighing in at almost 10 pounds) and artwork by a myriad of artists. Another reason to visit? The whole museum is housed in a former fortress tower dating from the mid-nineteenth century. Learn more about the museum here.
Address: Ploshchad' Marshala Vasilevskogo, 1, Kaliningrad

Hours: 10:00 AM to 6:00 PM (Closed Mondays)

Cost: 350 Rubles (250 for students)
Museum of the World Ocean
If you're into marine life, this museum is the spot for an afternoon of wandering. It's home to over a dozen marine and freshwater tanks so you can spend time admiring piranha, rays, sharks, and 120+ other species. When you're finished peeking into the tanks and scouting out the huge articulated whale skeleton hung in a pavilion stop by the harbor to tour the sleek Soviet research ship, the Vityaz.
There's also a pretty lookout deck where you can view the river, the other ships apart of the museum, and the famed Königsberg Cathedral. Learn more about the museum here.
Address: Naberezhnaya Petra Velikogo, 1, Kaliningra

Hours: 10:00 AM to 6:00 PM (Closed Mondays)

Cost: 150 - 300 rubles (Get an audio guide for 100 rubles)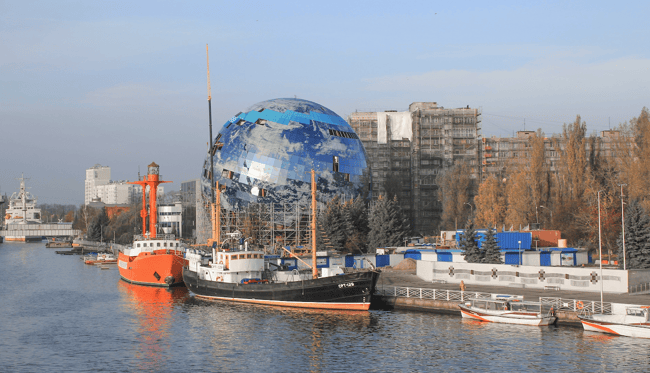 Nearby Vacay Spots
Gdansk, Poland
We cannot get enough of this coastal city in Poland. It's tucked just to the west of Kaliningrad and would make for a very fun little stopover on the way there or on the way back. Gdansk is crammed full of things like a colorful port city with towering cathedrals to admire, quirky and colorful buildings lining the waterfront, and an artsy main square plus a decorated Old Town. Get more of Gdansk here.
As far as getting here from Kaliningrad, the bus is an option (it's around a 4-hour journey for around $8-$12). Check out bus routes here.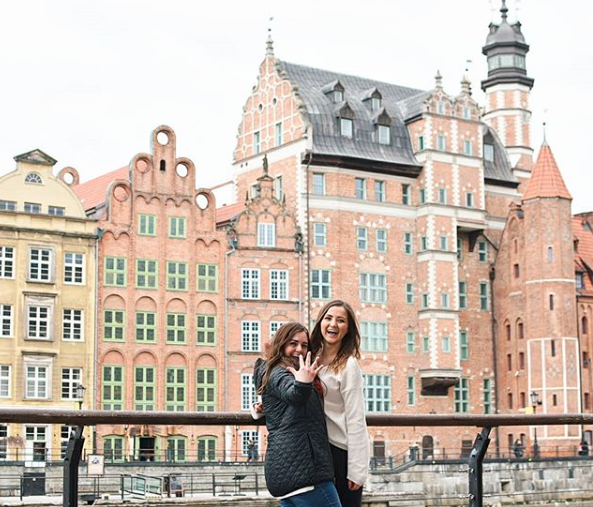 Lithuania
The lovely country of Lithuania is found just east of Kaliningrad, and is home to quite a few little locations we'd recommend:
Klaipeda is a beach town, full of stretches of sand, plus a pseudo-island called the "Curonian Split" and a few other treasures. Get here via bus in around 3-4 hours for $7-$11. See the schedule here.
Kaunas is another favorite city (found by the nearby capital, Vilnius) that's worth a visit if you're into darling cafes and a castle or two. Get here via bus for around $12-$17. Bus is around 6 hours — see routes here. You can also take a train, but it's around five times the cost of the bus, and requires a transfer at Kybarti (GR). See routes here.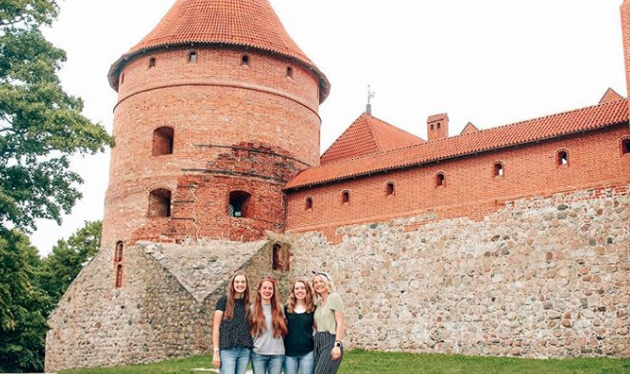 Getting To Kaliningrad
We've pulled routes and potential itinerary options from a handful of Russian cities so you can get an idea of what the price/timetable would be, depending on which city is closest to where you're departing from.
From Moscow
I'd suggest flying because trains and buses will take anywhere from 19-23+ hours. The routes via plane are quick (can be as low as around $50) and fast (typically around 2 hours). Check itineraries on Pobeda and UT Air. Oh and get more about Moscow here.
From St. Petersburg
Flights are also a good choice from St. Petersburg. A direct flight is around 1.5 hours, though some itineraries have a connection, so you're looking at an itinerary closer to 4 hours. Prices fluctuate but can be in the $50 -$88 range. Check itineraries on Pobeda, S7, Aeroflot, and UT Air.
Bus and train are options but are lengthy (around 18+ hours). If you have the time, a bus would be fun because it takes you from St. Petersburg over to Estonia, through Latvia, then Lithuania. Stopping off along the way could be an option if time is on your side.
From Voronezh
You're going to want to fly. Since the Russian city of Voronezh is more south than the very-north city of Kalinigrad, it'll be one long train/bus ride. I'd suggest adding Kaliningrad onto your trip to Moscow or St. Petersburg for a very quick flight up to Kaliningrad, but if you'd like to go from Voronezh flights are around 7-12 hours depending on the itinerary. Prices on Pobeda, S7, Aeroflot, and UT Air are in the $75-$175 range.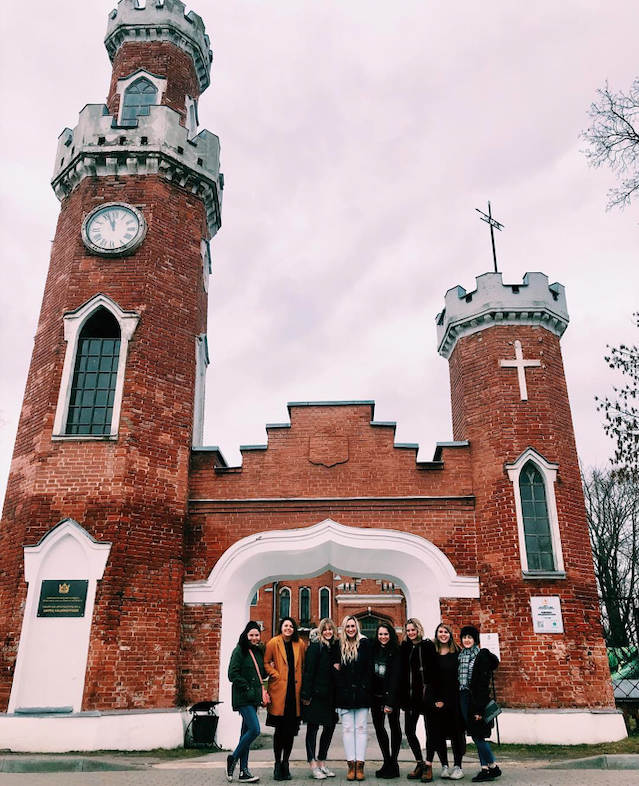 Ready for Russia?
I loved spending a whole semester living in Russia, teaching English, and traveling around Europe. Get all of your questions answered about a semester just like mine, here: