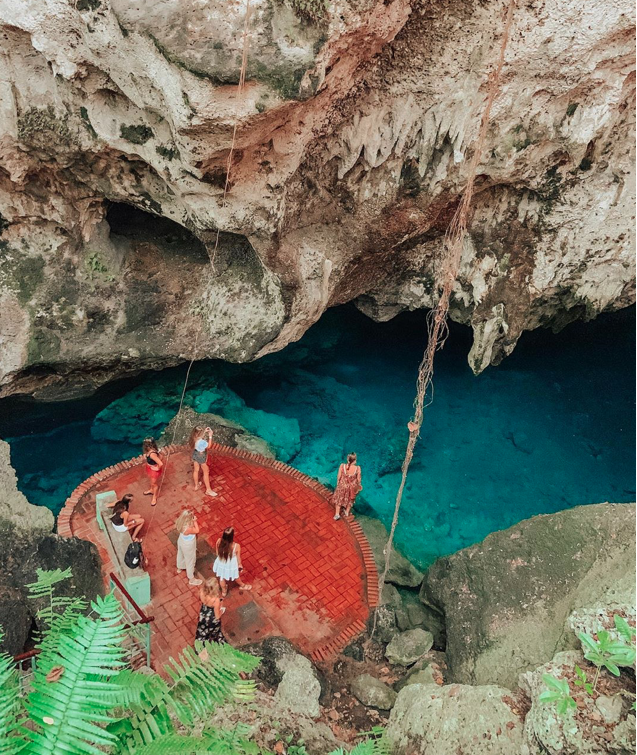 Some say not visiting Los Tres Ojos National Park while in Santo Domingo is like skipping the Eiffel Tower when in Paris — you won't want to miss these stunning blue lagoons.
If you're heading to the Dominican Republic for your semester abroad, chances are, at some point, you'll visit the oldest city in the Americas, Santo Domingo — we think you'll pretty much instantly fall in love with the colonial streets and museums, plus a few other things to see in this colonial city ... like Los Tres Ojos!

If you're interested in seeing a series of deep caves that interrupt the green and lush jungle only to climb down and see pools of water colored an impossible shade of blue, you're in luck — Los Tres Ojos National Park is exactly that! It's a must-see while you're in Santo Domingo. Even if you're visiting the Dominican Republic for just a short time, make sure it's on your list.


---
Thinking you need more time in the DR than just a quick visit?
Come volunteer in the Dominican Republic for a semester!
---

Our volunteers living in the Dominican Republic love taking a weekend trip to Santo Domingo and always have rave reviews from their visit to this national park. Because it's such a highlight, we're going to give you all the info you need to plan your own visit here, making it a cinch to see for yourself.
A Bit About Los Tres Ojos National Park
This national park is known by a few names — the Monumento Natural Cueva Los Tres Ojos, Parque Nacional Los Tres Ojo, or just "three eyes park" for those who are making a literal English translation. But whatever the name, know that this is one of the most popular things to see while in Santo Domingo (and we can see why).

The park is a series of caves and lagoons that were discovered over a hundred years ago, in 1916, but wasn't established as a protected area until about 40 years ago. It's believed that this area was used for religious purposes for the Taino people, an indigenous group who lived in the Dominican Republic. The Taino Indians believed this space to be sacred, using the caves and blue waters for various rituals.
Now, it's a popular attraction, where visitors can climb down the network of staircases to reach the three freshwater lagoons (there are actually four pools in the area — we have info on all four down below), letting you descend deeper into the limestone caves to look at the pools. Some say the name of the park ("three eyes") comes from the stunning effect of that water: it's so blue, it's almost like the circular lagoons are like piercing blue eyes that look back at you!
You can't swim in these pools (best to head to the cenotes in Mexico for that!), but you will find turtles paddling around, some small fish, and sometimes ducks enjoying the water (as well as a few bats that call this cave home, if you look overhead).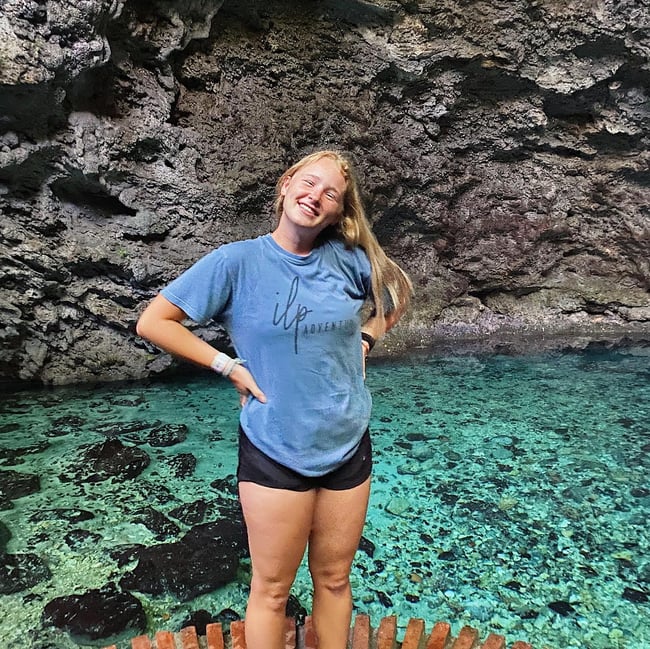 Visiting All Three "Eyes" + The Fourth Pool
All the pools here are connected by an underground river (La Brujeula) — the pools were actually all connected to form a massive lake, but are now separated due to cave collapses in the past. Now, you're able to visit all four pools either by navigating the staircase down or taking a boat ride (that's how you access the fourth pool). Here's info on all of that.
Lago de Azufre
This pool is known for the unbelievably blue water. The high calcium content in the water is to thank for the stunning color. The pool isn't terribly deep, just around 12 feet, but is the first one you'll reach when you start descending down the stairs. It was once believed to be a sulfurous lake (hence the name) but was later tested to find a high calcium content, along with other minerals.
Lago Las Damas
Continuing on, you'll reach the second lake "the women's lake". It was once used as a former spa, reserved exclusively for women and children. The lake here isn't as deep as Lago de Azufre, just about eight feet in the deepest section. There's a bigger viewing platform to spread out and admire the blue waters set underneath the massive stalactites hanging down from the cave.
Lago La Nevera
Sometimes known as "the refrigerator lake", no sunshine reaches this lake, setting it at a constantly cool 70° Fahrenheit. You'll need to hop on the wooden ferry here if you're interested in reaching the fourth lake.
Los Zaramagullones
You catch a ferry at Lago La Nevera to come reach Los Zaramagullones. The experience is rather eerie: the ferry travels via a series of pulley systems, slowly letting you glide across the clear, blue water of Lago La Nevera, until you reach the lake. It's not considered one of the "eyes" but it's still worth seeing according to our ILP volunteers who took the boat ride. It's also a pretty famous spot for movie fans who want to see where a portion of Jurassic Park III was filmed!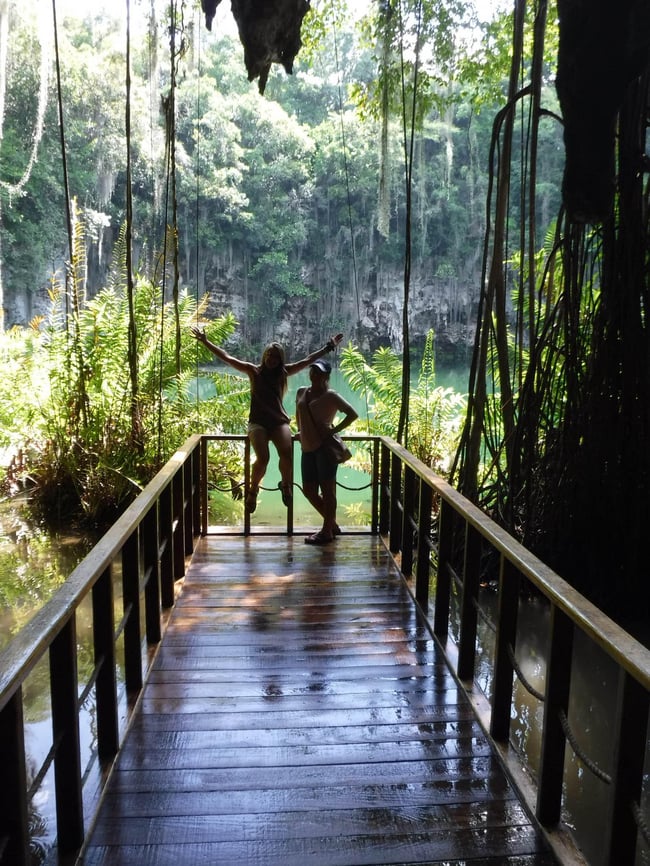 Costs, Hours, And A Bit Of Advice
Costs
100 pesos ($2 USD) gets you into the cave to see the three eyes. If you'd like to see the fourth eye, it's about 25 pesos (0.50 cents USD) to ride the boat across.

It's cash only.
You may notice a few people hanging around insisting you need a guide to visit the caves. Of course, that's up to you, but it's an expensive way to see the cave system (which is very easy to navigate on your own). Guides range anywhere from about $25 - $55 if you're interested.
Hours
The national park is open daily from 9:00 AM to 5:00 PM, but in order to give visitors enough time to see the park, the kiosk stops selling tickets at around 3:00 PM.

If you can, it's helpful to arrive early. Santo Domingo is a popular city (especially as a cruise stop) meaning groups can flood the area and make things very crowded on the weekends or cruise stop days. Volunteers who were here right when it opened had to battle fewer people if that's helpful to know.
How Long Should I Stay?

Most groups were here between 1.5-2.5 hours if that helps you plan your day in Santo Domingo.
Be Ready For Stairs
Remember, the whole lagoon system is found down in a big cave, meaning you'll need to handle more than a few stairs to reach all of the three lagoons. Some say there are close to 400 stairs you'll climb down to reach all three lagoons, then will need to make your way up. Make sure you have the right shoes and water for the trek!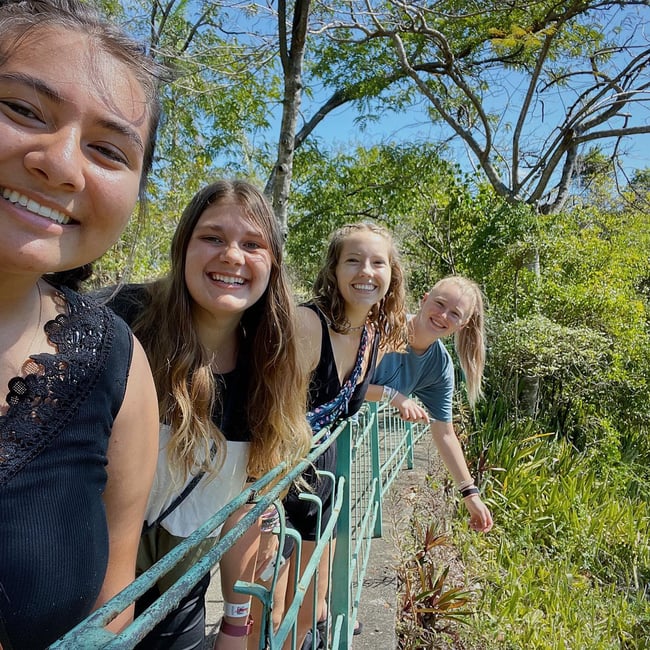 Easy Ways To Get Here
The park is easy to find, just a few miles east of the city center. If you're in the Zona Colonial part of the city, plan on a 10-minute taxi ride, for about 200 pesos.

There are also public buses that can take you, just be aware that the ride is around an hour from the main section of the city. You'll need to take a couple of different buses and walk to the connecting bus stops, but it is an option. I prefer to use Google Maps to help me navigate the bus — type in your destination and select "public transport" and you'll get a list of the bus numbers and stop locations to get you there.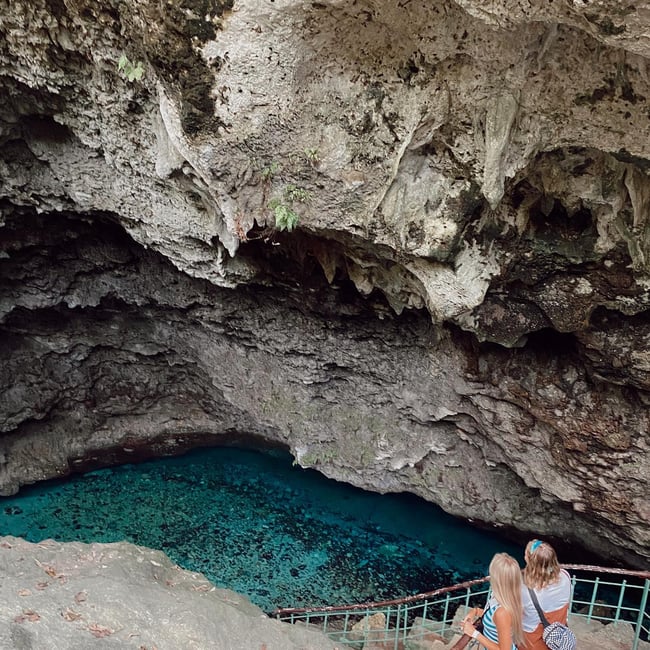 Ready to come spend your semester abroad in the Caribbean?
Live just minutes away from the beach and make a big difference in this humanitarian program! International Language Programs (ILP, that's us) sends groups of college-aged volunteers to teach English in the Dominican Republic, along with a few other countries. You're set up with a group to teach, travel, and live with, with a part-time schedule. Volunteers have every weekend off, plus vacation time to explore everything on this island. We can't wait to see if the DR is right for you!