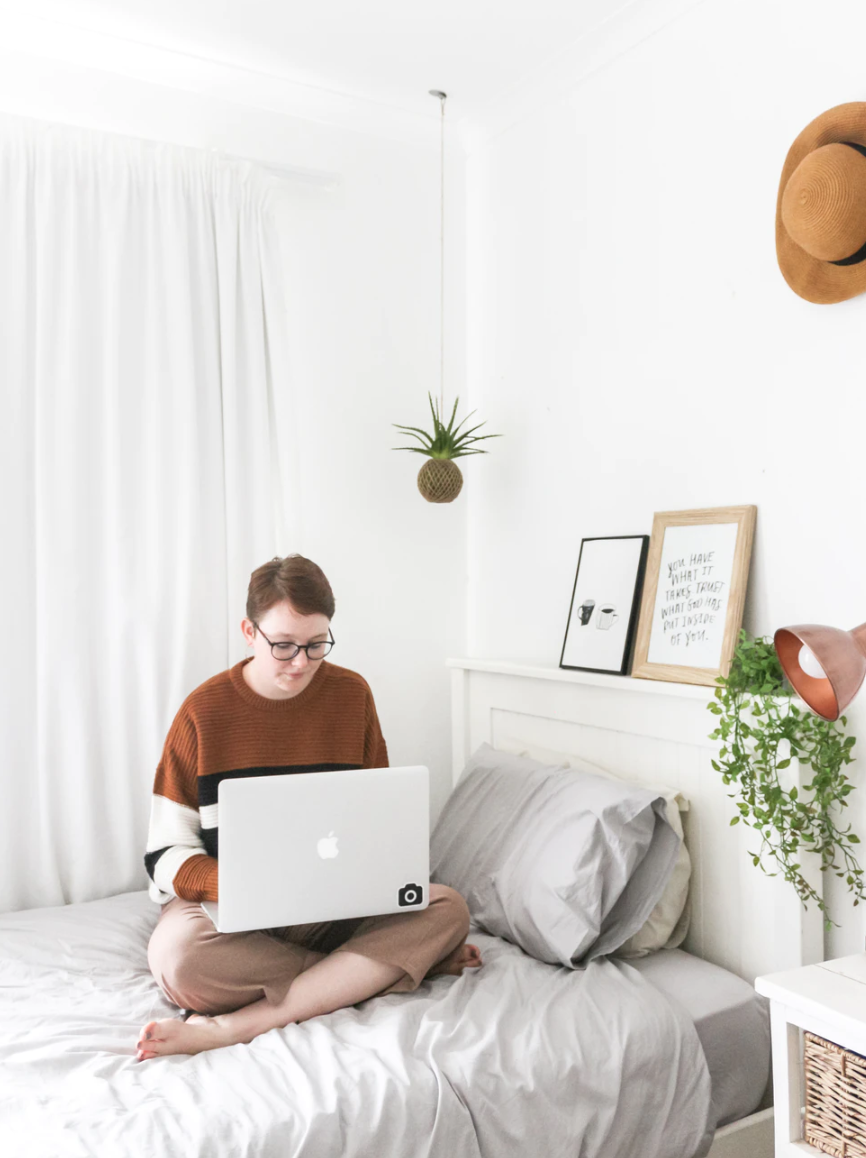 So you've moved into your new dorm room at school and aren't loving the bland white walls you aren't allowed to paint and the boring furniture you unfortunately can't replace. What's a girl supposed to do…without spending much money? Don't worry, we've got you covered.

Obviously you are going to want to redecorate as cheap as possible so your money can go to things like school and traveling the world, right? Luckily, these ideas are both cute and inexpensive, leaving you to save up for a semester living abroad in Europe or scootering around Thailand…or drinking out of a coconut in the Caribbean.
Ah, but until then, you've got to do some redecorating to make this dorm room as cute as possible. Check out these tips to do just that without spending all that much, especially since we've pulled our favorite pics from Amazon. As an FYI, this post has affiliate links for your convenience (which means if you make a purchase after clicking a link, we earn a small commission). Just know that we only share products that we ourselves have used and loved, that other volunteers have recommended, or that we think just look like they'd be pretty useful!
Hang A Mural
Post Photos
Washi Tape For Everything
String Some Lights
Decorate With String
DIY A Rug
Hang A Mural
Hanging up a fabric mural, flag or tapestry is a great way to cover the wall with a single (and hopefully inexpensive) decoration. Hunt at local thrift stores to get a cool narrow tablecloth to hang up, or maybe use a flag from the country you'd one day like to visit. If you just got back from a trip, use the beach tapestry from Thailand or scarf you purchased abroad (we love these other Eastern Europe souvenirs) to add a splash of design and color to your apartment.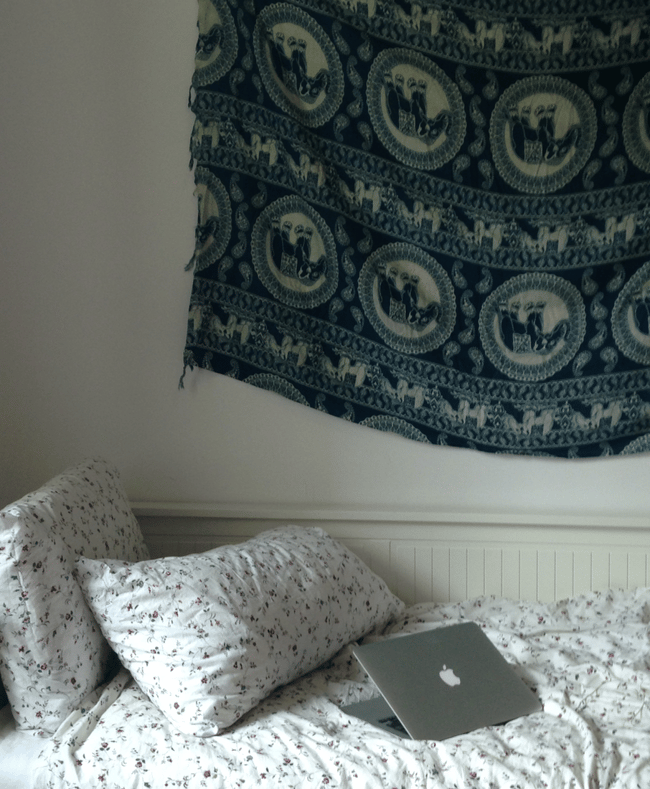 Post Photos
Pinterest has about a zillion ways to decorate with photos, some simple and some…not so simple. If you go the simple route, all you will need is to get your photos printed (and that sticky putty to stick 'em to the wall) and you are set. Think about spending a few dollars and creating a photo collage to instantly brighten up your dorm room walls. Add a bit more interest by hanging up your favorite posters or even your own art along with some pictures for a more eclectic look.
There are several places where you can print photos for cheaper than cheap (check out places like Snapfish, Shutterfly, and Walmart).
But my favorite places to print are from Artifact Uprising and Parabo Press. I often see sponsored Instagram posts where Parabo offers free prints. Seriously free. And they're gorgeous too, I recommend getting the matte square ones. Follow Artifact Uprising on Instagram and you might see a promotion for free prints, and they sometimes send out discount codes if you sign up for their newsletter.
Just remember to use that sticky putty so that you're not making holes in the wall with pins or accidentally ripping paint off the wall with tape!
You can also print photos straight from your phone if you don't want to wait!


Washi Tape For Everything
Seriously, use this for everything. Add geometric stripes to your door, create art on a canvas, put some polka dots strips to your mirrors, or write out inspirational words (like "travel" or "adventure") in whatever color you can get your hands on. Unlike just about every other tape out there, this tape is pretty safe to use on painted walls and comes in tons of colors and designs…you really can't go wrong with Washi tape.
Personally, I use this stuff to decorate my room, wrap packages, make envelopes way cuter, and more. This print is one I'm obsessed with but I also have this set hanging out in my Amazon cart right now.
String Some Lights
You might need to talk to your apartment manager to make sure this is okay, but if it is, it's an absolutely dreamy way to make any room magical for cheap. String above your bed, or over your photo wall. Perfect, easy, and cheap — I currently have these too-cute llama lights hung up over my window and let me tell you, it's the funnest thing to flip them on right before bed.
Decorate With String
You've probably seen how cute this string art is and for good reason! It's pretty simple and inexpensive and you can do whatever you want with it. Do a string outline of your home state (or favorite country…maybe like Thailand and the 20 things you gotta do while you are there?) or your initials. Use colored string and a plain canvas…or rainbow string and a white canvas. Cute, cute, cute!
DIY A Rug
Need some decoration for your floors? See if you can find a table cloth (circle ones work great for this) on clearance and pick up some water-based Polyurethane (you probably don't have that just laying around) and a foam roller. This website outlines all your directions (and is where that rad picture below is from), but basically you coat the tablecloth with this Polyurethane a couple times, let it dry, and you have a cute rug for cheap!

*Note: this is just fabric and makes more of a stiff floor cloth, so if you want more of a soft and cushy rug, buy a thick rug pad to stick underneath it.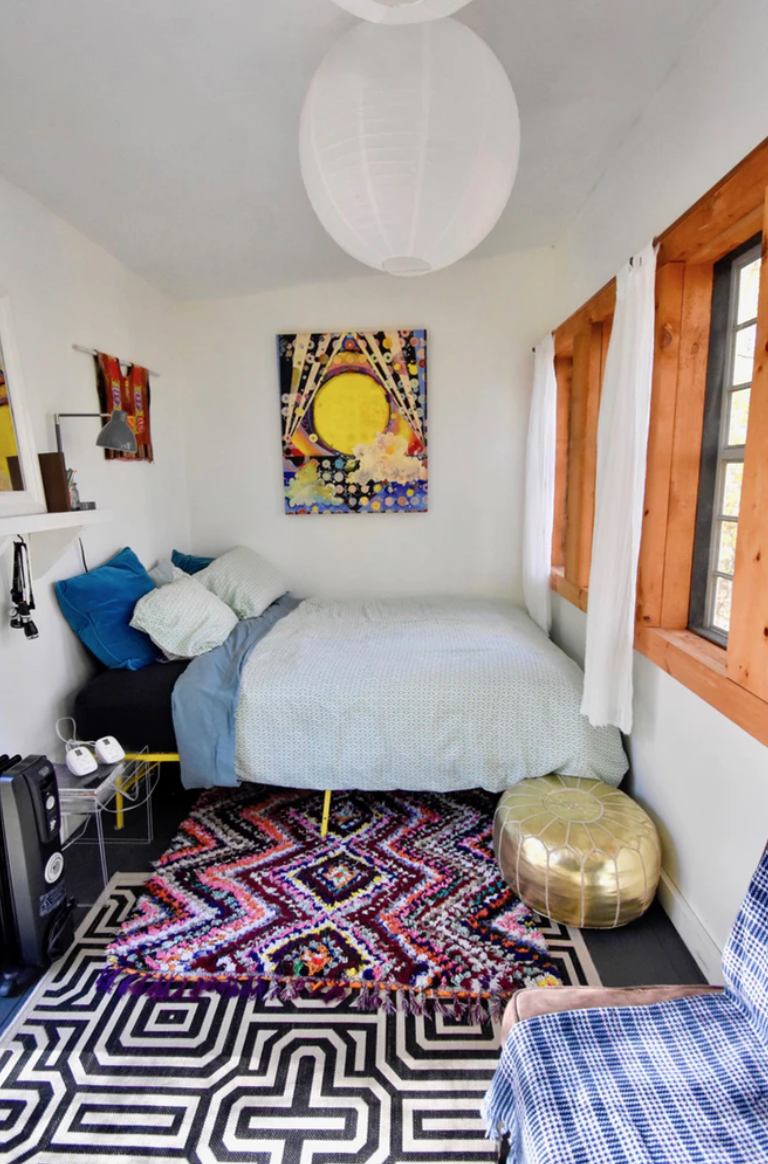 So there you have it — a few options for giving your blah dorm room some color and personality, all for just a few dollars…giving you a few more dollars to spend going on a safari in Uganda, or doing another bucket-list adventure in one of ILP's other countries!
International Language Programs has schools in Asia, Central America, Europe and the Caribbean and, as always, your program fee includes your flights, housing, visa, meals and culture classes for the entire semester…and you get vacation time.
Sounds like a pretty great break from school, right? Come learn all about what your next semester could be like ... abroad with ILP!