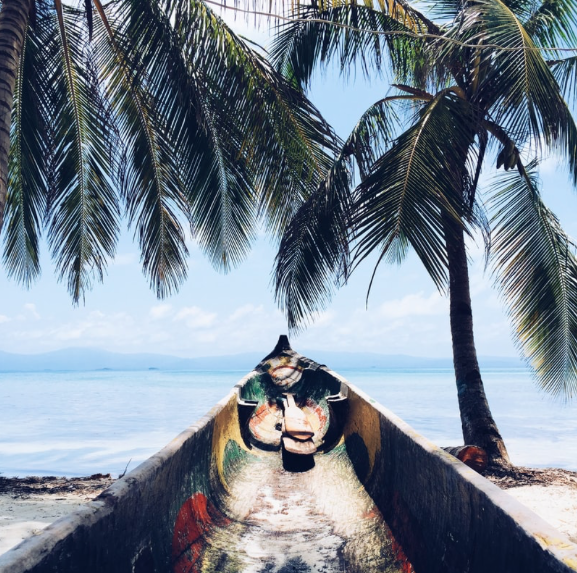 It's the tropical vacation you're looking for, complete with lots of beach time, island hopping, snorkeling, and chill vibes.
If you'll be spending a semester in Central America, you're quite spoilt for choice. Not only are you living in one of our ILP locations, you're set up with plenty of free time as an ILP volunteer. Since you're only teaching part time, you have time during the week to explore your new home, plus every weekend off and vacation days to hang out in all the places on your bucket list. And we have a pretty good feeling you'll want to spend some time in Panama.


---
Have a few questions about volunteering abroad with ILP?
Learn more here!
---

Boca Chica might not be as famous as its "on the other coast" cousin, Boca Del Toro, but there's some pretty captivating aspects about this tropical getaway that's more of a quiet, relaxed, refuge from some of the other vacay spots you'll find in Panama. Found on the western side of the country, Boca Chica is a gateway to a half a dozen other islets and adventures, totally off the popular path.
What Kind Of A Vacay Is Boca Chica?
It's a quiet one, especially when you understand a bit more about this part of Panama. First off, this section of the country sits right next door to the Parque Nacional Marino Golfo de Chiriqui which is a big hub for sport fishing. The gulf of the Coiba National Marine Park is also nearby.
You can find all the diving, snorkeling, fishing, sailing, beaches, and sunshine you're looking for, just in a more authentic and untouched atmosphere. Instead of trendy, thatched-roof bungalows hugging the seaside, you'll stay in lodges tucked away into the hillsides of the mainland. As long as you know that you're signing up for a calmer, beach experience in Boca Chica, you'll love it.


A Quick Peek At A Map
Knowing the layout of Boca Chia is pretty crucial before jumping into all the rad adventures you have to have here. Boca Chica sits on one of the larger islands, but the whole area called Chiriquí is one of the best parts about this Central American country. The whole area is an archipelago, broken up into several large islands, lined with a few restaurants and places to stay. But as you move further south, the islands get smaller, and way more remote, making for ideal day trips.
We'll get into this a bit later, just know that the few tourists who know about this gem usually stay in the mainland (on the western coast is the actual town of Boca Chica) then hire out fishing boats to explore your neighboring islets. This hidden gem is totally off the radar, making this quiet and quaint fishing village on the Pacific side that much more dreamy.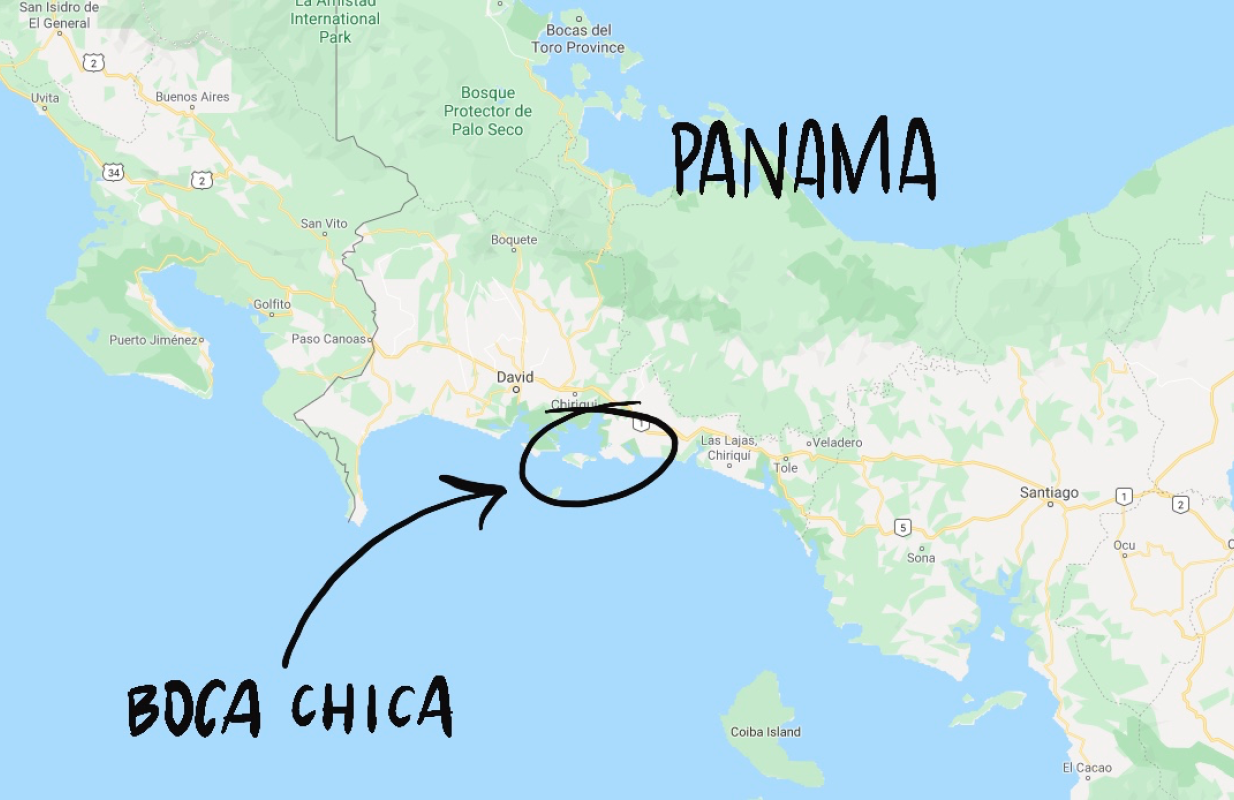 Here's a bit of a close up — see all the little islands?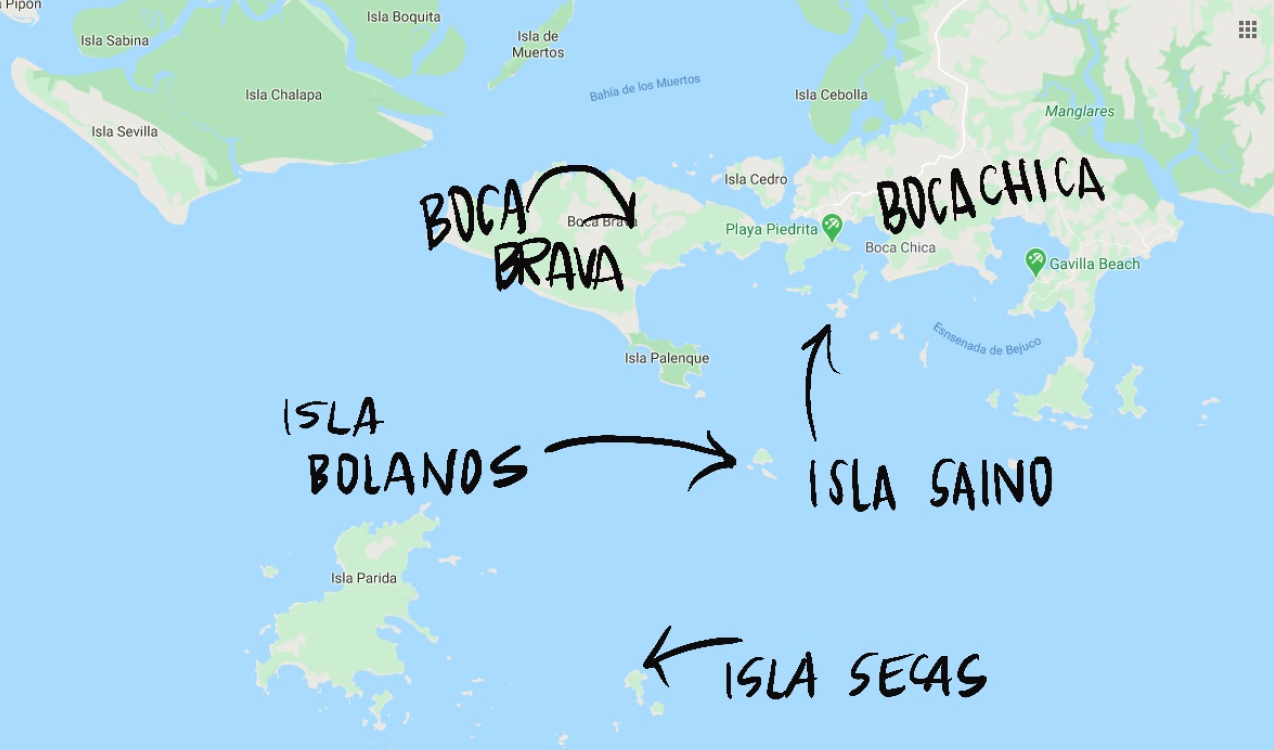 All About The Islands
Here's your guide to planning a trip in this tucked-away, nearly isolated paradise still unspoiled by mass tourism. Boca Chica's a gateway to some of the best things to do in Panama. If you don't leave the mainland Boca Chica area, you can catch some sun at the dark sand beaches of Playa Hermosa but I highly recommend you do some island hopping to really find the best beaches and snorkeling around.
Fishing boats can take you island-to-island to see dense jungles or islets lined with palm trees and rimmed with dark, chocolate colored sand or the bright turquoise water and white sand you don't often find on the Pacific side. Hop over to visit some of the best snorkeling spots around or to wave at howler monkeys that call a few islands home. Here are few of the most popular to visit:
Boca Brava
5 minutes from Boca Chica by boat
Home to a resort + thick jungles
You have easy access to this island …. it's right across from Boca Chica. It's also the largest island in the island chain, with a sprinkling of hotels and a couple of backpacker bungalows (it's the only island in the Gulf Marine Park that has that level of accommodation and infrastructure). However, you'll want to bring your own water and food for the day of hiking or hanging out on the beaches … it still feels kinda remote. Boca Brava is home to huge families of howler monkeys and about a 100+ additional species of birds, bugs, and other animals who live in the thick jungle. There are a few hiking trails crisscrossing the island, though most aren't well marked. One hiker marked this 2.6 mile trek if you'd like to test that out, or check out arranging a guide to take you through the dense foliage. Some of the boats near the Boca Chica marina may have resources for a guide if you're interested.
As far as beaches go, the island isn't known for stellar beaches, with dark sand on the eastern most tip (Playa Arena Bonita). But the water and sand get really gorgeous if you head south to the little peninsula of Isla Palenque. The area is home to a couple of resorts (like the Cala Mia Island Resort) which have pretty beaches ideal for paddle boarding, kayaking, and just swimming around for the guests of the resort.
Getting Here: Walk to the marina on Boca Chica and hire a boat for about $1 USD over to Boca Brava. It's about a five minute ride. Make sure you arrange to have your boat come pick you up — you won't find boats waiting to take you back to Boca Chica. If you're in a pinch, you can ask one of the hotels to call you a boat to take you back over, but that's a last resort the hotels aren't typically too happy with.

Isla Saino
10 minutes from Boca Chica by boat
Come for the dark sand beach
This island visit is a good day trip option or half day adventure since you can get here pretty quickly by boat. Isla Saino is a chill beach with dark sand beaches and a calm surf that's good for swimming, all backed by a thick fringe of palm trees. The dark sand and water make for poor visibility (so not a great option for snorkeling) but it's a fun option if you just want to hang out on the sand.





Getting Here: You can get a boat from the Boca Chica Marina to take you over and pick you up, for around $20 USD.
Isla Bolanos
30 minutes from Boca Chica by boat
Gorgeous white sand and turquoise water
This is the island of your dreams, with pristine water that laps onto a shore of soft sand. You'll want to get here early to get a spot in the shade (thanks, palm trees). There isn't much to do except soak up all the sunshine and watch the little hermit crabs scuttling back and forth.
A trip to Isla Bolanos is a popular tour option (book online or in town with your hotel in the $100-$120 range) or go on your own. Going with a guide typically includes lunch and snorkeling gear which is a perk — the snorkeling around here is really excellent. But you can also go on your own, just make sure you are packing your own water, food, and snacks for a day at the beach.
Getting Here: You can get here in local boats for about $15 per person for the 30 minute ride, or transportation will be arranged if you book with a tour.
Isla Secas
1 hour from Boca Chica

The best snorkeling around
Want to make friends with sea turtles, maybe say "hi" to some dolphins, see a sea floor dotted with starfish and splash around with tons of tropical fish? Take a dip into the coasts along the Isla Secas. Isa Gamez is also known for snorkeling too, but Isla Secas just edges out if you ask around. Snorkel around here and find a huge array of colorful fish and coral in the pristine blue water. Remember: much of this area is a protected marine, leading to a flourishing crowd of ocean friends.
There are also overnight accommodations but they are very expensive (we're talking thousands of dollars a night), so we love visiting Isla Secas just for the day instead of staying overnight.
Getting Here: You'll want to visit this island via tour. Boca Brava Adventures is one that heads out to Isla Secas for just $50 a person if you have a group of five people. The tour leaves in the morning (around 7:00 or 8:00 AM) and gets you back to Boca Chica around 2:00 or 3:00 PM in the afternoon. They do provide snorkel gear, but plan on packing up your own lunch, snacks, and water for the day.
Find The Boca Chica Marina
To get to any of these islands, you'll need to take a boat. If you've booked a tour, you'll most likely leave from the Boca Chica Marina, which is where you can find boats on your own who can take you over for just a few dollars. Find the marina at the end of the street in Boca Chica (it's a small town with just one main road).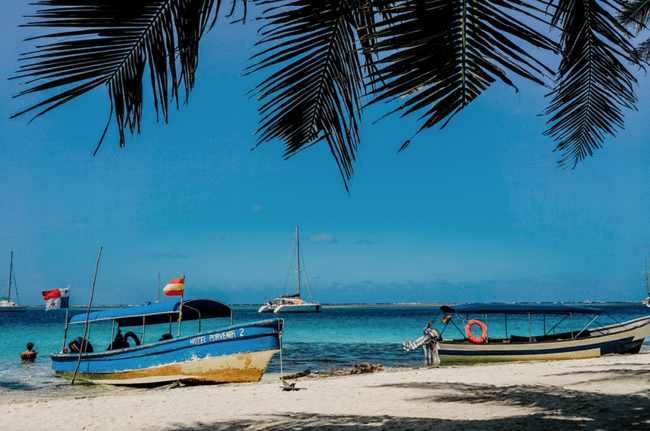 Taking An Island Tour
If you want to see the best of Boca Chica in one day, you'll want to hop on an all-day island tour that will take you to a couple of the best islands. They typically set you up with snorkeling gear, and you may be lucky enough to spot turtles, dolphins, or whales as you cruise from one island to the next. Boca Brava Adventures is one tour company to know, offering some tours for just $20 USD if you have a group of 7-10. They have a couple of different tour options available (this blogger got a 3-island tour, visiting Gamez, Bolaños and Partido). You may want to book a tour with where you are staying. Many hotels will give you a price that's better (or at least matches) the option online, plus you can work out any details in person (like which islands you'll be visiting, what's included, the details on the timeframe, etc).
Another tip? Make sure you understand what's included. Some tours include snorkel gear and lunch, while others do not. You'll want to bring plenty of sunscreen (the heat here is intense), water, a towel, and anything else you could want for an all-day adventure. Most tours leave in the morning around 8:00 or 9:00 AM, and won't have you back to Boca Chica until 4:00 PM. You'll be visiting remote islands with no infrastructure, so double check (triple check!) you have everything you could need because you won't be able to buy it on one of the islands.
A Note About Sport Fishing
This is a huge mecca for sport fisherman, so don't be surprised if all the other foreigners who are around are here to catch huge red snappers, Marlin, Yellow Fin, Dorados and others. If that's something you're interested in, talk to your hotel about a boat charter. Typically ILP volunteers just stick to the snorkeling but know that it's an option.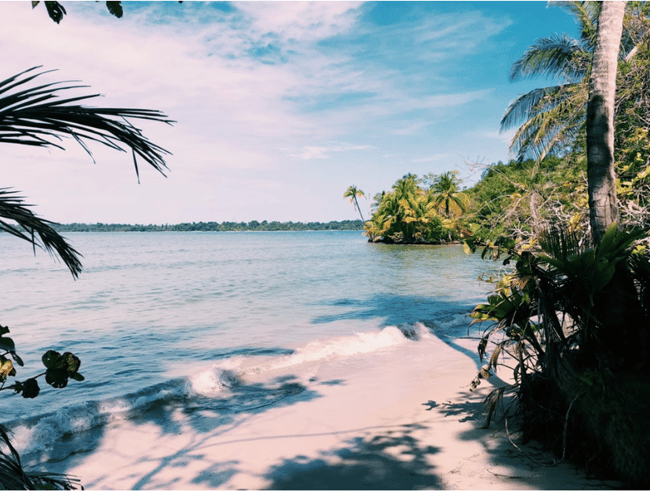 Essential Tips

To Know
When It Comes To Currency
The region uses balboas, but US cash is almost always accepted (one US dollar equals one balboa). There aren't any ATMs in Boca Chica, so have enough cash for your trip — not many places take card. I'd check with where you are staying to see if they take card or not, but plan on paying for your activities and food (and maybe your lodging) with cash. You can find ATMs in David or Boquete (we have more info about both of these cities below in the "Getting to Boca Chica" section).
Plan Out Your Meals
Food options are pretty few and far between around Boca Chica. Make sure you're booking hostel or hotel options with a breakfast and/or a restaurant because you will not find many places to eat breakfast or lunch if you don't. There are also very limited grocery stores and markets..
You will want to make sure you have your own snacks packed (you can find a small market on Boca Brava and a couple of tiny markets in Boca Chica, but that's it). Most fancy resorts do have an upscale menu that you'll want to budget for. In a nutshell, plan on limited foodie options on this vacay.
Here are a couple of the restaurants you'll choose from:
Roxy Fishing Club is one of the better options in Boca Chica, serving up pizza, pasta, burgers, salads and other favorites.

Panama Sport Fishing Lodge is another place to grab dinner, with a menu full of shrimp, fried plantains, grilled fish, fried rice and other options.

Fonda Lily is another place known for seafood (get lobster for about $10 USD) along with other staples like fried plantains, rice, grilled fish, and shrimp.
Where To Stay
Options are pretty limited, a split between an upscale resort or two and more affordable 2-star hotels. It's recommended you stay on Boca Chica then take the boats out (just head to the marina) for a day of exploring on the other islands. Many of the islands in this area of Panama aren't set up with any accommodations, so they're set up for day trips by default. We've pulled out a couple of options below:
Roxy Fishing Club, with rooms in the $50 range
Residencia De La Marina, with rooms in the $35 range


Getting To Boca Chica
From Boquete (Via David, Panama)
Some people hang out in Boca Chica for the day from Boquete, Panama which is a mountain destination I'm completely obsessed with. You'll want to spend a few days in Boquete hiking to hidden waterfalls, shopping for soft alpaca blankets and patterned hammocks, trekking to steep volcanic mountain tops, and more. It's a favorite ILP vacation spot, that's for sure. Get all the details on Boquete, here (like where to stay, how to get here, things to do, and some bomb pictures)
This tour company will take you on a tour from Boquete to Boca Chica if you just want to visit for the day, or you can ride the bus on your own for lots less (and more time in Boca Chica). First you'll need to get to David. You can get buses from Boquete to David around every 30-60 minutes, leaving from around 4:30 AM to 9:45 PM. Like most buses in Central America, these tend to leave when full so plan on waiting a spell if not many people are making the drive that day. The price is around $2 USD. You can also take a taxi which should be around $30 - $40 USD.
From David, Panama
From David, you'll make a connection to Boca Chica. You can't find a straight shot to Boca Chica, so you'll need to get on a route to Horconcitos. If you can't find that route, hop on a bus from David to San Lorenzo, San Felix, Panama City, or Las Lajas (they pass Horconcitos so just talk to the bus driver about stopping at Horconcitos to drop you off). Pay around $2 for this first leg. From Horconcitos, you'll be picked up by another bus/mini van to take you rest of the way, around 20 miles, for about $3 USD. Or you can take a taxi for around $15 USD.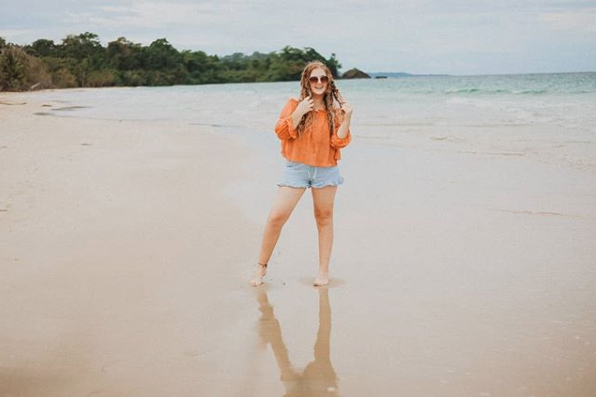 Get ready for life in Central America!
International Language Programs is a non-profit organization set up in the United States, set on sending volunteer abroad to teach English and spend a semester in one of our many countries. So if you're into teaching English (no experience necessary), meeting new friends, and hopping over to places like Panama, you're probably ready to fill out an application: