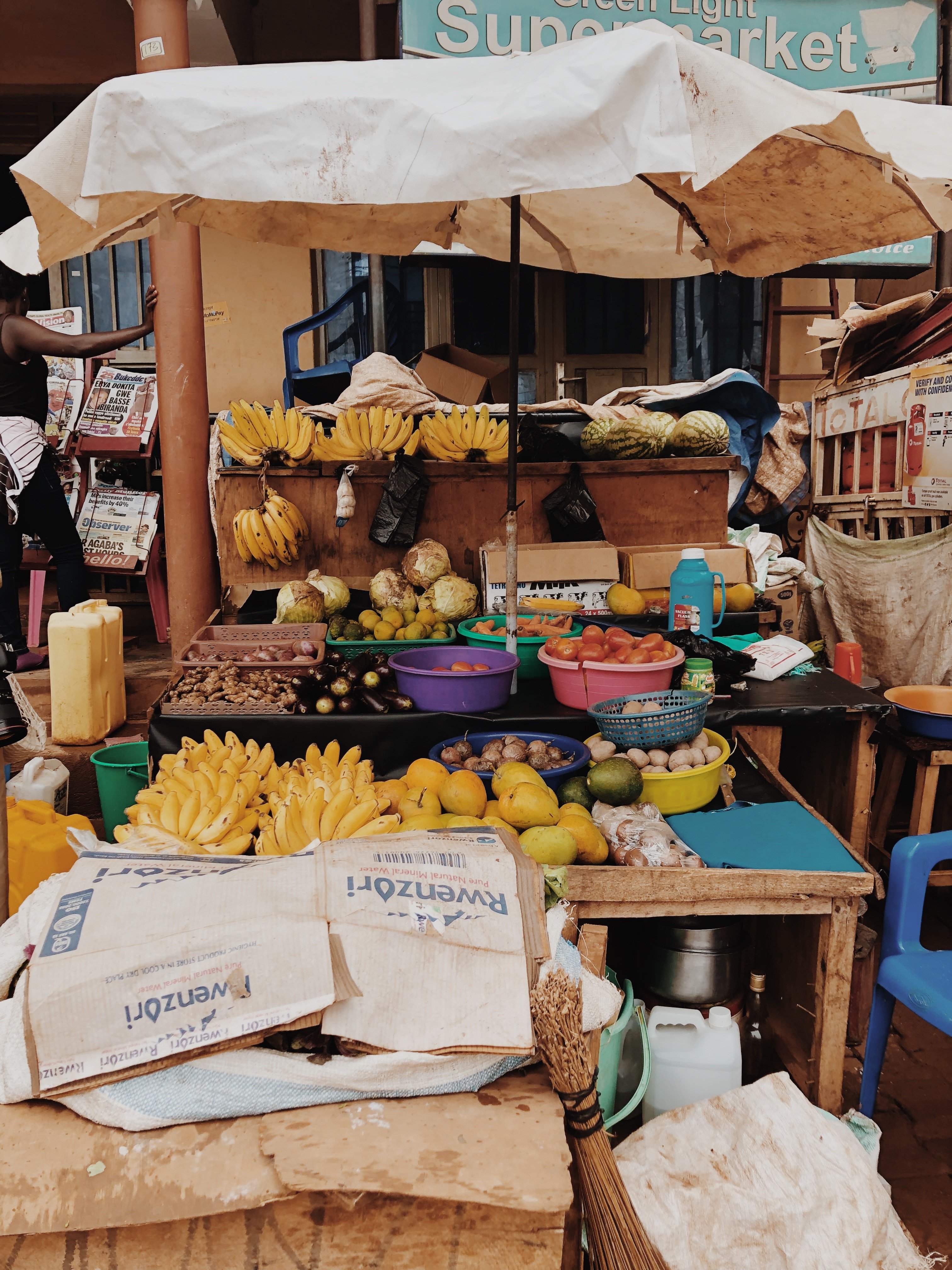 If you're headed to live in Africa for a few months like our ILP volunteers do for their semester abroad, then you're probably wondering what the food is going to be like.
Food. It's a whole experience. I mean ... I've actually chosen spots I want to travel to just because of the food. And some of my favorite memories involved the cultural experiences that local meals gave me, and while I was in Uganda there were so many moments just like that!

For ILP volunteers, you'll be living there for 3-4 months and it starts to feel just like home. You'll discover your favorite little corner shop that sells your favorite snacks, you'll have chances to eat out at restaurants that offer so many options, and most significantly, your daily meals are just like what Ugandans typically eat. You're going to start feeling like a local really quick and food is such a big piece to that.


---
Interested in a semester abroad in Africa?
We're accepting applications to join a group of American volunteers!
---

We talked to ILP volunteers about what meals were staples during their time living in Africa (and even asked them to dish on special treats too!) to get you this little overview of what to expect on your trip to Uganda.
Local Snacks + Treats To Try
Fresh fruits and vegetables
Fruit and veggie stands were one of the first things I noticed while walking around smaller neighborhoods in Uganda. There were truckloads full of fresh pineapple calling my name and many, many bundles of green baby bananas waiting to ripen. And the mangos ... oh the mangos!
On my first day in the country, I was with a local and we were driving down the road. He suddenly pulled off to the side next to a wheelbarrow full of pineapples and jumped out. I couldn't be happier when I saw the vendor start cutting one up and I knew I was about to get the yummiest snack!
I honestly didn't know a whole lot about the standard diet in Uganda before I arrived. I mean all I could think about was the safari I was planning. I had no idea that all those fresh fruits that I've associated with tropical destinations were also a staple here. You'll see them all over though.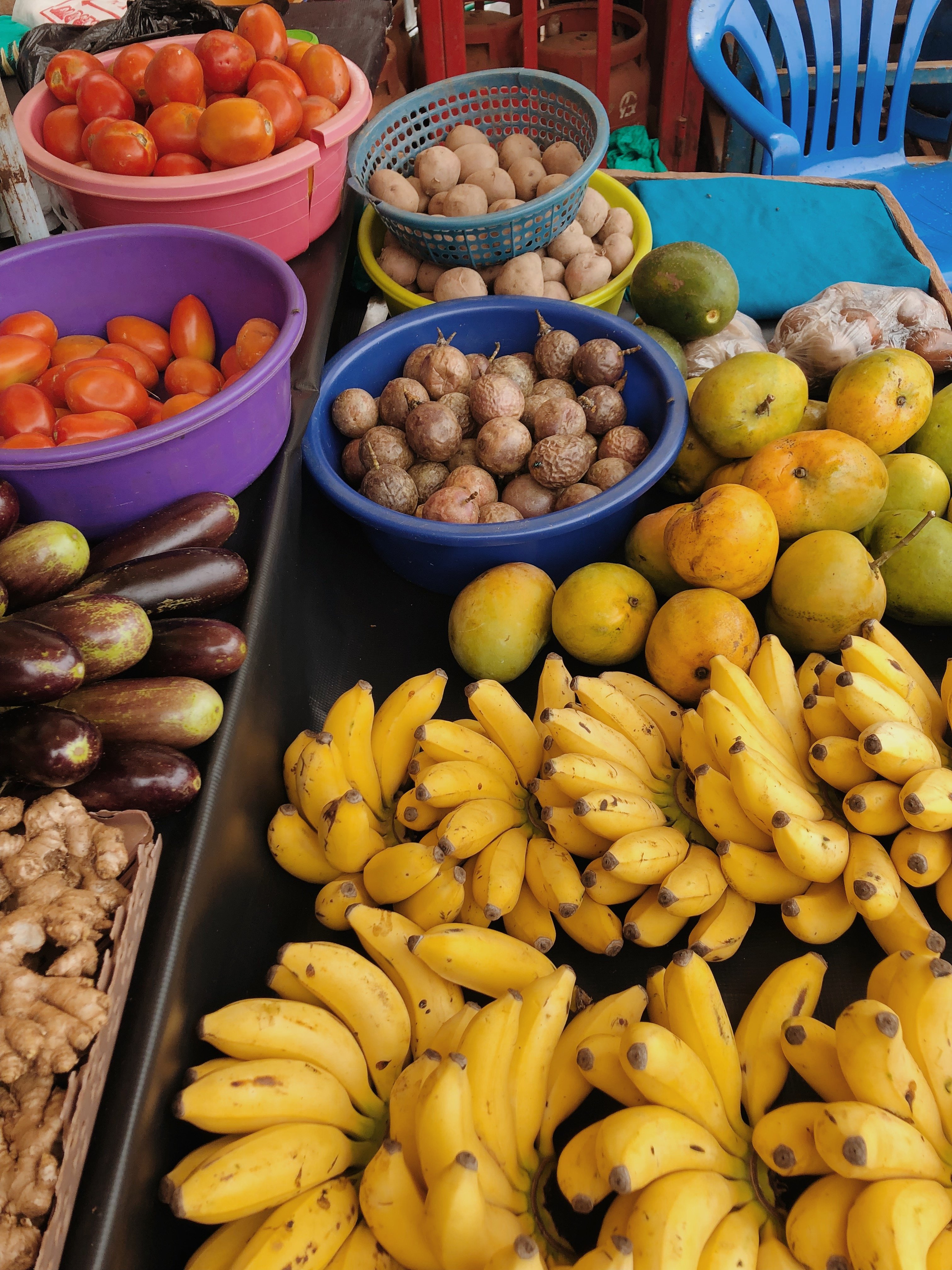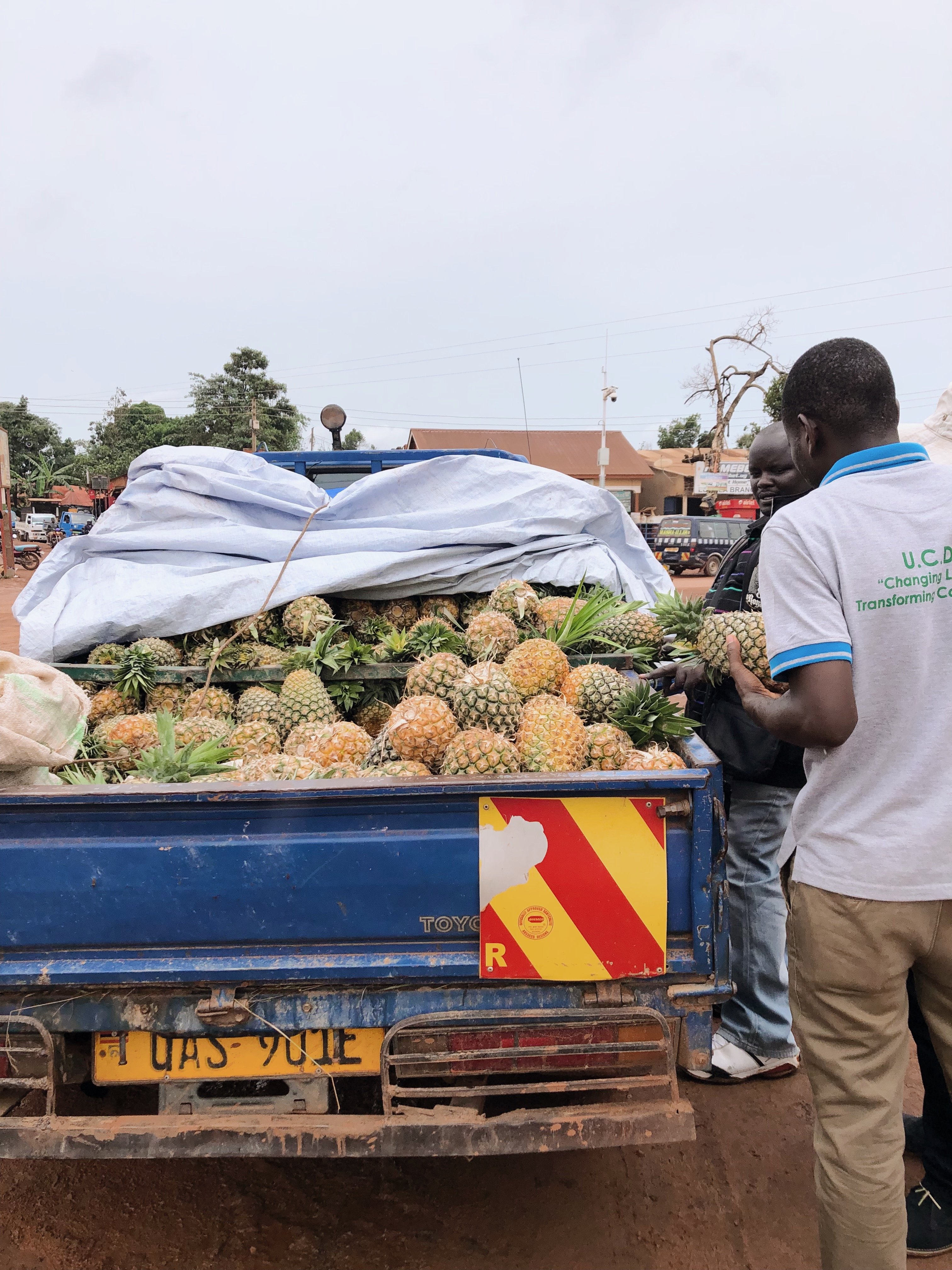 Popcorn
This is a little bit random but there are local vendors that sell bags of popcorn and ILP volunteers have raved about it. One volunteer even said, ".... the best popcorn I've ever. Perfectly salty, but not buttery." So we definitely recommend picking up a bag when you spot them, especially since they're less than a US nickle for a bag!
Teas + Drinks
I fell in love with this "African tea" that is often served with breakfast or even sometimes with dinner. It's more of a treat, but if you can find it and want to have a try just know that I recommend it. Anytime I was at a hotel for a vacation and it was offered, I was quick to order it! If you've ever had Chai tea, it's pretty similar to that. The basic recipe usually includes milk, sugar, and black tea, but often also has cardamom and cinnamon as well. It's pretty creamy and sweet. Yum!
Fresh fruit juice is also a pretty common part of breakfast, which I personally love!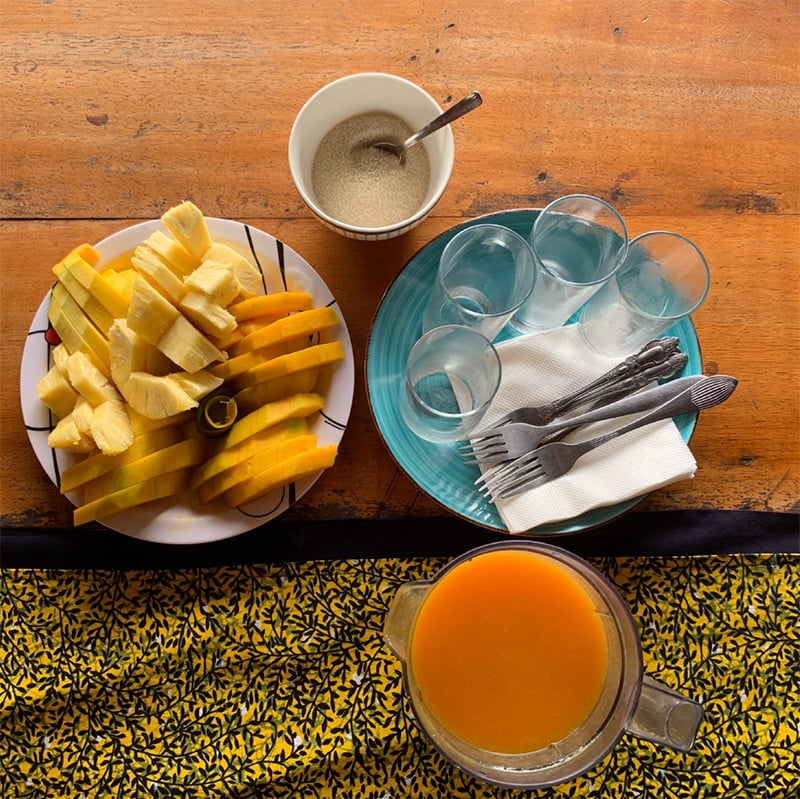 In The Meal — Local Staples
Ugandans utilize a lot of the foods that are grown locally to make up the majority of their diet. There are many tribes throughout this little country that have their own spin on things, but you'll often see dishes that are built around starchy staples like potatoes, rice, flour, and cornmeal. The bulk of Ugandan meals are very carb-heavy as these items are so inexpensive, so easy to grow, and easily accessed. You'll see a lot of beans, sweet potatoes, cassava, bananas, plantains, and peanuts, as well as animal proteins like chicken, pork, and beef.
*A quick note for ILP volunteers: We'll talk about this more before you go, but you are so lucky because you get to have some Ugandan locals who are employed to help out your ILP group, and that includes having someone to cook your meals! They likely won't make everything on this list below (probably a couple things though), and they often try to include more Americanized versions of meals because they want you to feel at home. This list below is just to give you a little peek into a typical Ugandan diet, and you might be lucky enough to try a dish or two while you're there with your new Ugandan friends!
Chapati
This bread dish originated in India and has become widely loved throughout eastern African countries like Uganda, Kenya, Tanzania, and Burundi. Really (really) quick history lesson, but did you know that India and Africa have a historical connection that dates way back to around 7th century B.C? Wow! It's believed that trade was a major piece to this relationship as sailors made their way between India and Eastern Africa. You'll still see some of this influence today sprinkled into Ugandan culture.
Ok back to chapati. If you've never had Indian chapati before, think naan bread (it's much thicker and denser than a tortilla). The adapted African version is cooked in oil to get crispier edges, and it's great used as a wrap or just a side to your meal that can be dipped in sauces and soups. It's a good thing it's so yummy because it's also so common (a lot of Ugandans eat it every day!).
It's actually really easy to make at home if you want to share a piece of Uganda with your friends and family after you return home! And the best part is you probably already have the ingredients (flour, sugar, oil, water, salt).
Rolex
Think breakfast burrito — it's chapati filled with scrambled eggs and veggies like cabbage, tomatoes, and onions. And again, oh so good. It's one of the most popular dishes in the country so you're bound to come across it at some point.
Luwombo
Don't think that just because the weather is hot year round that Ugandans don't love their stews ... because they do! And Luwombo is probably one of the most iconic and traditional stews. Rumor has it that a personal chef to one of the past kings was the one who created the recipe — it's filled with meat (usually chicken or beef, sometimes fish) and carrots, mushrooms, potatoes, plantains, and a peanut sauce.
Mandazi
Say hello to African donuts. It's really similar to something you've probably tried before like a donut, scone, or fry bread — fluffy and hollow inside with a crisper outside — but a dash of cardamom is what gives it that unique East African taste. You'll often see it served with tea or coffee and jam or honey, or even with curry! See the Indian influence again?
Posho
This dish is made with maize corn meal, a frequently relied-on staple food in Uganda to make a number of dishes. It's so easy to grow, which makes it so widely available. For posho, they take the ground-up maize and boil it with water until it's thoroughly cooked until it becomes more of a dough-like consistency, and then serve it with everything from stews to cooked veggies. It's more of a bland taste on its own, so it's best tried with something else in your meal. It's basically meant to be an inexpensive filler to bulk up the meal and keep you full.
G-Nut Sauce
Also known as groundnut sauce. Many Uganda meals have a base that has a very mild taste (if you're from another part of the world you might even call it a bit bland). But this sauce brings the flavor! It's red peanuts that are ground and cooked into a creamy, rich texture and used to enhance so many dishes.
Matooke
This actually has a lot of names depending on which part of the country you're in, but where ILP volunteers are located is typically referred to as matooke. It's a type of native banana (East African Highland to be specific) that is harvested, steam-cooked, and mashed to make this yummy side dish! If you've ever had fried plantains before, it's a lot like that.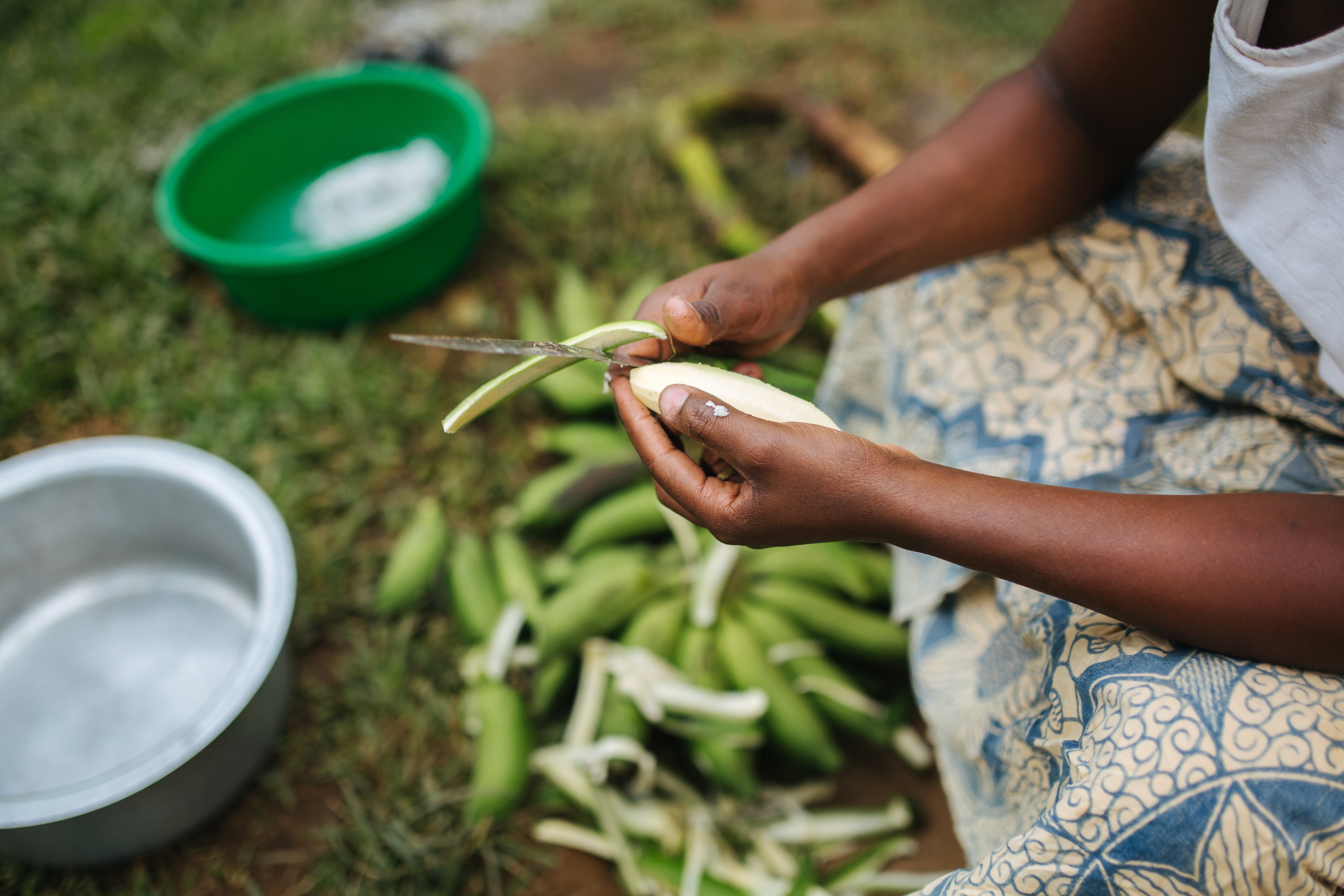 Familiar Brands From Home
Many of our readers are from the US and Canada, so this one's especially for you! I really love eating the local meals as much as I can because it's so much cheaper and because when else will I have the option to eat authentic mandazi you know? But after living somewhere new for a couple of months, I really do start to crave some familiarity from home.
You'll run across several major brands that you're familiar with in the grocery store and even in little snack shops around town. Drinks like Coke (probably not diet Coke though), Sprite, and Orange Fanta are common. There are also American snacks like Lays, Doritos, Pringles, Nutella, Oreos, and Haribo candies to be found at different spots in Uganda. And you may even find European chocolates like Milka!
Quick tip — if you're here for several months like ILP volunteers are, you might want to consider packing some of your favorite snacks from home to bring with you. You really can find some common American snacks, but if you're particular and there's anything you don't want to live without (like protein powder for example), lots of our volunteers recommend that you bring what you have room for.
Americanized Restaurant Options
I always love having local dishes, but again, after living abroad for awhile you start to crave some of your favorites from home. You might be surprised how easy it is to find restaurants in Uganda that serve their take on Americanized meals though.
Whenever you're traveling it's always a little hit and miss on how close it will taste to what you're used to at home, but even a plate of fries can do the trick if you've really got the craving! There's even a restaurant near where our volunteers live where you can get yummy tacos and milkshakes ... who knew?!
Acacia Mall — In Kampala
Our ILP volunteers have been known to hit up this mall on the weekends for shopping and things while in the country's capital: Kampala. There are a few restaurant choices in or near the mall you should check out if you're there!
Endiro Café is across the street from the mall and has a mix of Westernized Ugandan food and American-type of meals that our ILP volunteers have raved about. It's a more expensive meal out though, so volunteers who are budget-minded use this spot as more of a special treat. We also love that you can purchase WiFi here if you're not already on a data plan.
El Queso is a Mexican restaurant where you can get pretty authentic tasting Mexican food (which is hard to find!). And it's convenient that it's right next to Endiro.
Holy Crepe is another good restaurant that is fairly close to the mall. They have lots of choices for crepes from sweet to savory. It can get expensive, but the price varies depending on what you put on your crêpe!
Pizza Hut and KFC are actually so international that you can find them everywhere from China to Costa Rica, and yes, even at the Acacia Mall (and in Entebbe too). It's funny how I really never eat at either of these places while I'm at home in the U.S. ... but somehow manage to end up here at some point while I'm out traveling all over the world. Anyone else?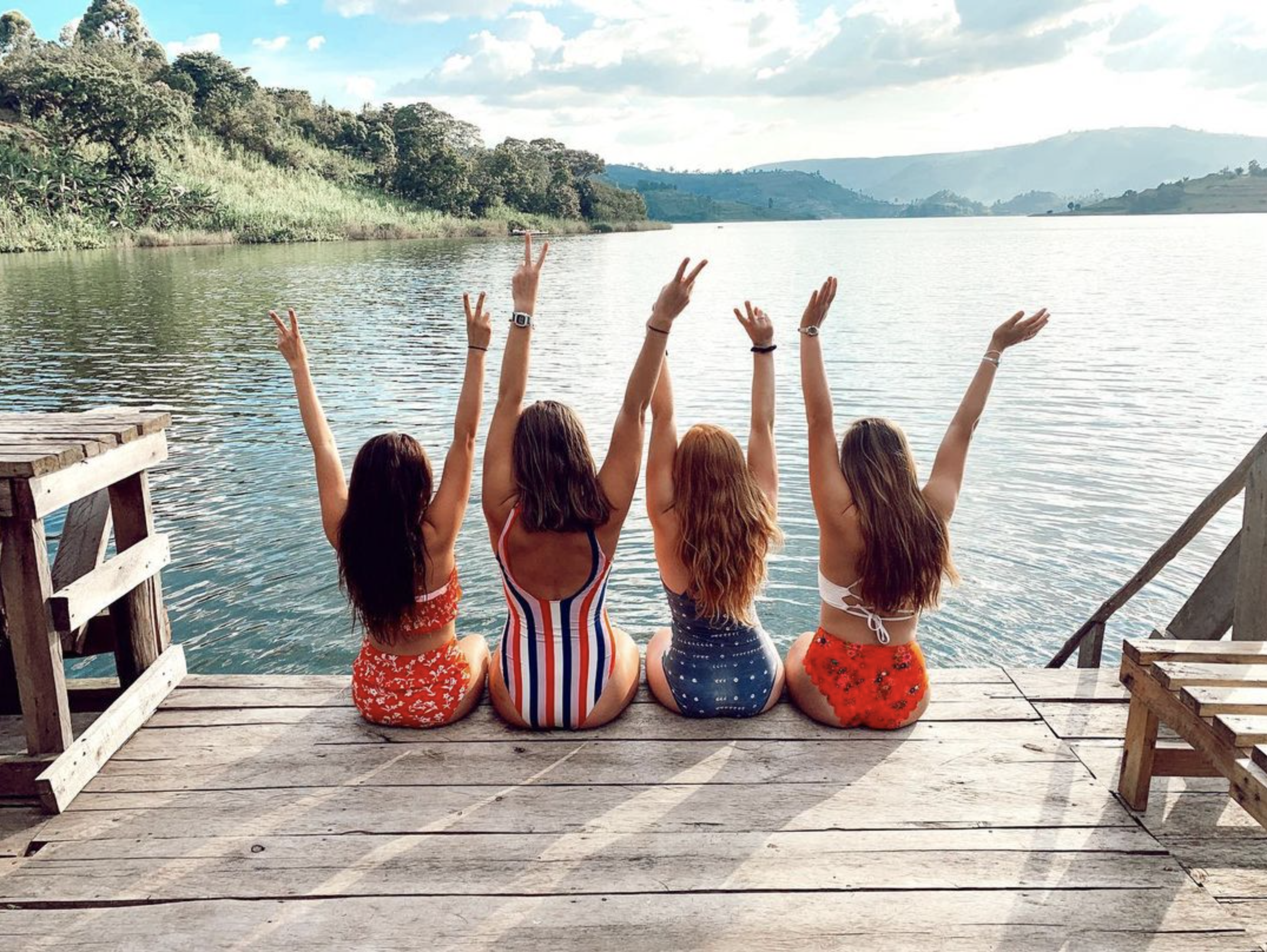 Good news for you!
We're accepting applications for volunteers looking for an adventure in Africa — come spend a semester volunteering in Uganda! We're ILP (International Language Programs) and have had 30+ years of experience sending groups of college-aged volunteers abroad for a semester of travel and service.
We love our program in Uganda and think you may too — learn more here.