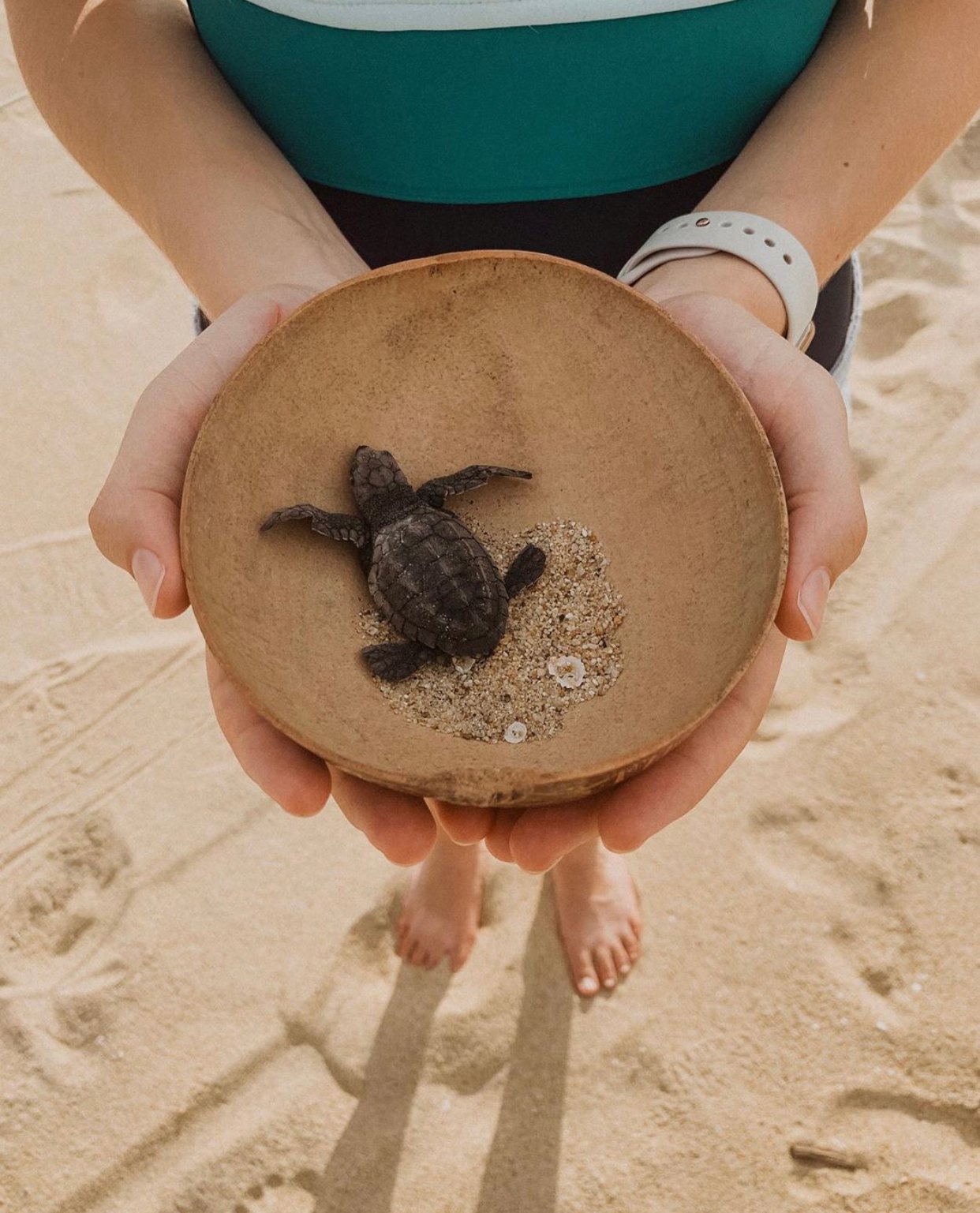 Anyone else want to fulfill their lifelong dream and help cutie little turtles make it to the ocean? Our ILP Mexico volunteers are the luckiest because they can cross this off their bucket list during their semester, no problem.
---
Dreamy beaches, the best tacos, jungle adventures?
Come fill out an application and snag your spot in Mexico!
---

Anyone who is teaching English in Mexico for semester with ILP can come release baby sea turtles in the ocean which might be one of the coolest things ever. Ummm, is this real life?
Time For Cutie Sea Turtles

I'm getting all the details from past volunteer Kelsie, who was totally obsessed with her turtle releasing experience (and took bomb pics). Here's how she said releasing went:

"They gave you a coconut shell to hold the baby sea turtles in because they don't want you to touch it, and they drop the 'lil thing in there and it's so surprisingly tiny! And blue! I could have just watched them forever…It was just a magical experience."
How'd You Release Them?

"When I had the sea turtle in my coconut shell I wanted to run away and keep him forever but I didn't want to be THAT person. I decided to do the right thing. So after staring at my little Michael forever (my friend named hers Dwight), we decided it was time to let them go find their life in the ocean. There was a little fence around the part of the beach where we were to release them so no one accidentally stepped on the little things. So we knelt down behind the line and gently poured out our turtles onto the sand. And we watched. None of them made a straight line to the ocean. Some of them did complete circles or just went back and forth creating beautiful patterns in the sand.
"However, crabs were present. And crabs eat baby sea turtles. So while we were watching our babies try and make it to the ocean we saw the crabs peek out of their holes and eye the turtles. There was a couple times where the crabs would go after one of our babies and we all freaked. The yelling and screaming that was coming from the 10 of us girls was insane, people were probably thinking someone was dying.
"But all of our baby sea turtles made it to the ocean! I had a moment when I was watching them flop towards the water where I had the thought, 'this little creature will be on this earth longer than me.' It was an incredible opportunity to witness it and such an honor to help these beautiful creatures start their lives."
Okay, Where In Mexico Is This?
Kelsie and her ILP group were taking a vacation in Puerto Escondido and found out about the sea turtle release at their hostel — "We just hailed a taxi and told them to take us to the Playa Bacocho beach and he knew exactly where to go. It was just a couple minutes away by cab."
If you do a quick Google search, it turns out you can do this in places like Cancun, Puerto Vallarta, Cozumel, Los Cabos, Playa Del Carmen and along the Oaxaca coast while vacationing in Mexico… but we love Puerto Escondido because it's already our volunteer's favorite (that beach is unreal) and is lots less touristy, less expensive and less crowded than other places might be.
Get your Puerto Escondido guide right here: full of tips like which beaches are best, where to eat, and things to do.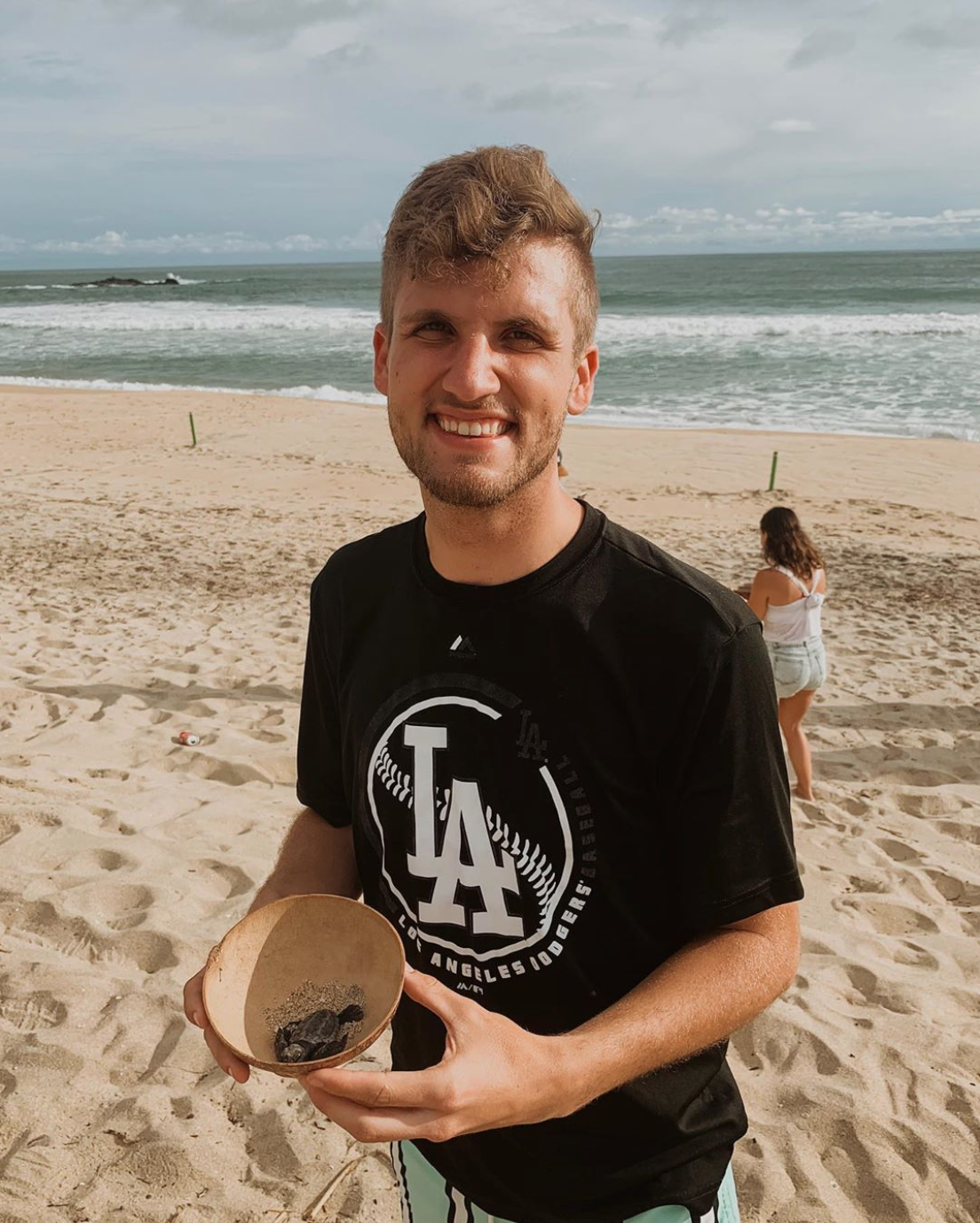 How Much Did It Cost?
"Don't be suckered in to paying a lot of money for it. For our experience it was only 50 pesos, so about $2.50 USD."
… Less than $3 for a total bucket list adventure? Mexico, you've got to be joking. However, prices do rise during more popular times. But even at the most you shouldn't pay more than $15. At. The. Most. Sounds like this little spot in Puerto Escondido will give you the best prices, even in the high season.
When Do The Turtles Hatch?
The sea turtles usually hatch from late July to early December, which means it's perfect timing for all the ILP Summer and Fall groups that head over to Mexico. Another big perk? Our Summer semester typically fits in with most school schedules, so you can take your summer break as a BYU volunteer and not even need to miss any school to come live in Mexico!
Sounds like you have zero excuses to come volunteer here!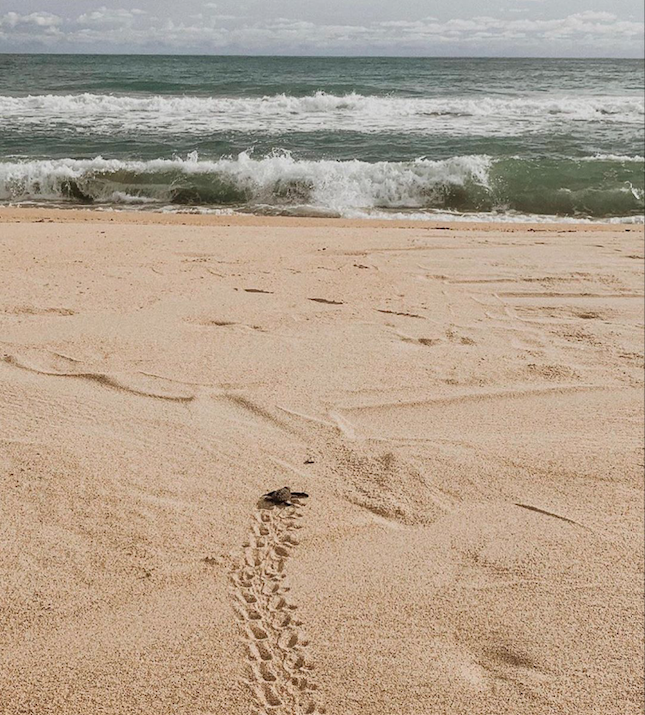 Totally in love with Mexico?
Yep, join the club. This country seriously is hiding the best of the best — jungles, beaches, baby turtles (!?), oh and don't even get me started on the food.