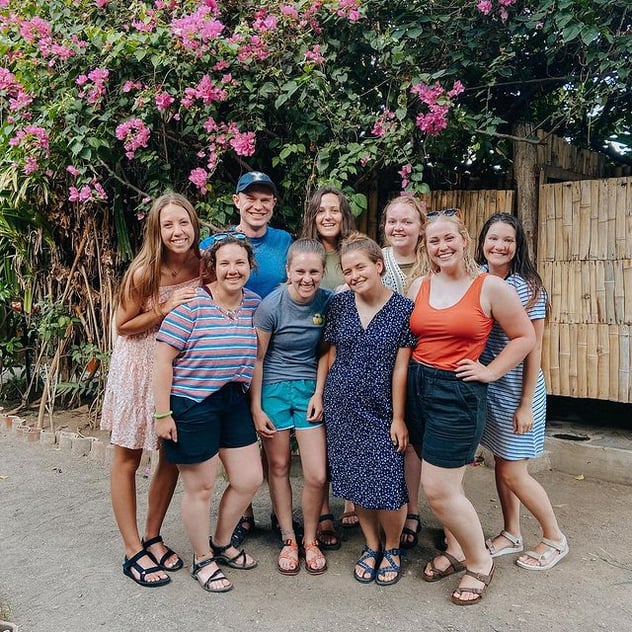 These free games on your phone make it possible to play anywhere in the world with all your friends, no matter where they are in the world! (oh and super helpful for all of those long layovers, you know?)
With work, school, and everything else going on in life it's pretty easy to feel stress and overwhelmed. Make sure you are taking time to just relax and have fun! These games will help you do just that and the best part is they're free.


---
Need a break from your normal "life routine"?
Start your application now to volunteer abroad with ILP
---
Psst — these games are a great game to play with your ILP group if you're trying to pass time before you're about to board a flight.
Some of them need to be played while you are together and some can be played even if you're in different countries. So, if you're backpacking Europe or living in Thailand for a semester, you can still stay connected. Have fun!
The Best Games To Play On Your Phone With Friends
Mario Kart Tour
You don't even need to bring your Switch on your semester abroad because you've got the classic Mario games right on your phone! There's a couple steps to setting it up (like you need to set up a Nintendo account real quick if you don't have one) but then you're good to go! Get to racing 7 of your friends around the all-time favorite Mario Kart courses.
Check it out + download it here
Psych!
This one is addictive and you can all be in different places to play. First, the "game leader" will choose a category, start a new game, and give everyone a code to enter so they can join. Each category varies and there are tons of options on how to play. Some categories have you answer questions about each other, some have you making up meanings for a word on the screen, and some are trivia.
You submit your answer anonymously and once everyone has submitted theirs you vote for what you think is right. At the end of each round points are tallied up and you can play up to 10 rounds. It's. So. Fun.
Check it out + download it here
Houseparty
The social distancing of 2020 may have been what brought this game to the forefront, but either way we're glad it's here because it's a good time! The cool thing about this app is that you're on a video call with your friends while you play, so you can see and hear their reactions all while you're playing. So if you're traveling you'll want to make sure you have good Wifi and jump on with your friends. The app is also pretty cool because when you open it up, it sends a notification to your friends that you're online and that they can come join you. They can even join the game you've already started if they're jumping on a bit late.
So what's the game? There's actually a handful of games in this app and they're all really good, but basically you've got simple things like trivia, charades, and the classic Pictionary type of games. They're pretty basic games, but the best part is being on a video call with your friends. Oh and Chips & Guac is my personal fave. Have you ever played Apples To Apples? It's like that. Just give it a try and thank me later.
This is the one game that actually works better when you're not in the same room though. If you're trying to play with friends and one of them is in the same room as you, one of you will need to mute your audio so that it's not echoing off both your phones.
Check it out + download it here
Spyfall
Okay ... so fun! Grab at least 3 other friends to get this game going — you can either be all in the same room (on your own phones or tablets) or you can jump on a video call together (so you'll want to set up a time when everyone can be in on this one at the same time).
You're a group of detectives, but duh duh duh ... someone is an enemy spy. You'll go through rounds trying to figure out who it is, but the great thing about this game is that each round is pretty quick, usually under 10 minutes. So it's another one that's great to play while you're waiting around, maybe hanging out at your gate before jumping on a plane for your weekend vacay in Paris with your ILP group.
Words With Friends 2
A classic board game now on an app! I love playing this game with my friends because we don't have to be both on our phones playing at the same time — it's more like phone tag. You'll start the game with them, play your turn, and then the game just sits and waits until they're ready to play their turn. You can turn your notifications on so that as soon as their turn is finished, you get a little notification that it's your turn. Depending on how fast you guys play the game could be finished in a couple days, or I've actually had a game go on for months.
Check it out + download it here
GamePigeon
If you're an iPhone user you automatically have tons of games at your fingertips. Here's how to find them:
Open a text message that you have going with the friend you want to play with
At the bottom of the screen there's a gray bar with little icons for apps that you frequently use, scroll through there until you see the GamePigeon icon
Tap the game's icon and scroll through their game options until you find the one you want to start!
Once you're there you have access to a bunch of games ranging from Basketball, to Mini Golf, and even Battleship. I love this game because you don't have to download a separate app which takes up space on your phone. Each time you play your turn, it just sends your friend a text right in your text thread that it's their turn.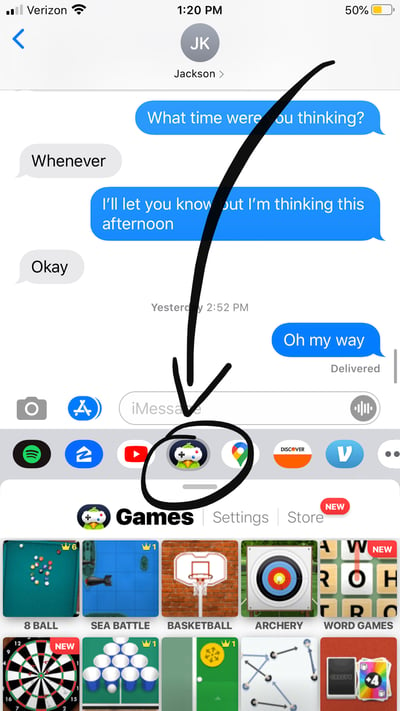 Who Can't Draw
Okay this one is so fun to pass the time if you're sitting around with a group of friends. Who Can't Draw is like that classic old game of Telephone. One person starts — they'll get a word on the screen and they have to draw it on their phone. Then they pass the phone to the next person who tries to figure out the drawing and re-draw it their own way.
This happens multiple times as the phone gets passed in a circle, leaving it up to the last person to decipher what the drawing is. It's harder than you think, especially when you're drawing on a phone screen and it's timed, so be quick!
Download on the App Store + on Google Play
Spaceteam
This is another one that's so fun to play while you're hanging out with your friends.
Ready to save the universe? Spaceteam is your game. In Spaceteam you are working together with your team to steer clear of disaster and make it out of your space mission alive.
Each person playing has a different "dashboard panel" on their own phone with buttons and switches they need to push. The game will tell you in what orders to push the buttons and it's up to you and your team to coordinate well and complete the mission together. The goal is to complete as many missions as you can. Get ready for a lot of shouting with this one.
Get more info + download it here
Would You Rather
This game really needs no explanation right? This is just like the classic game we've all played on road trips, but the app version means you don't have to think of the "would you rather ..." questions, they're all set up for you.
Get it on the App Store + on Google Play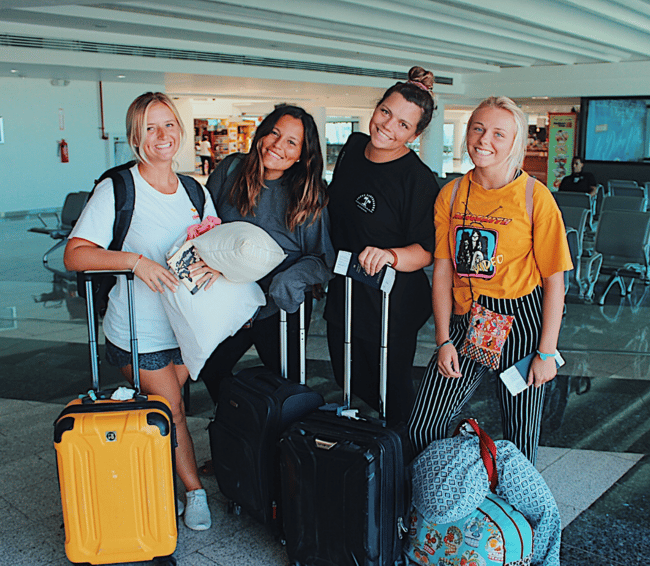 Does volunteering abroad sound rad but you still have some questions?
ILP representatives are in the office to tell you all about the ILP experience and answer those questions. So, whether you can't decide which country to volunteer in, you have questions about what it's like to help with projects in Africa, or you want to hear about traveling in Europe, click the button below and we'll get in touch.