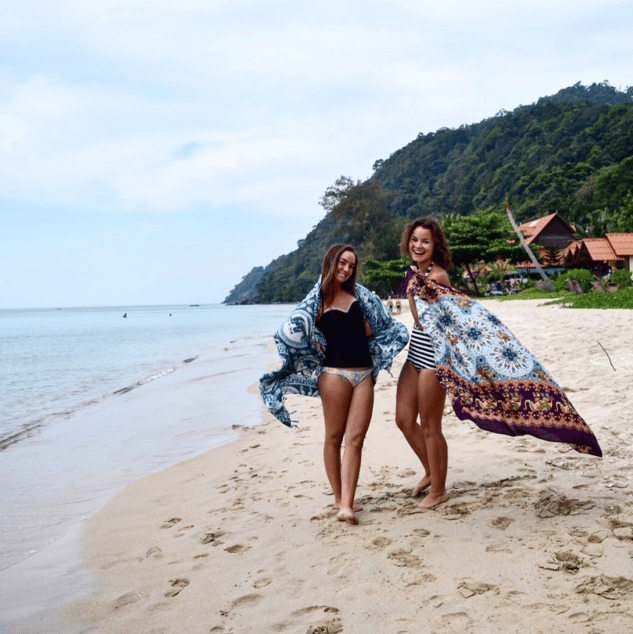 I mean, unless dreamy beaches and staying in the cutest little hostel sounds awful, then you probably want to visit some place else. There's really no way around it — Thailand is an absolute dream (we actually created a Thailand Destination Guide because there's just so many places we love). There are soooo many amazing places to visit that it's tough to choose just a few to see for yourself. You could see quite a bit of stuff in a couple weeks, but wouldn't it be better to live in Thailand for a few months?

Okay, now that you're going to be living here, not just visiting, you'll have more time to choose more than just one vacation spot. And I vote you at least consider Koh Chang if you're looking to find the best Thailand beaches. Need a little more convincing? You asked.
Explore Beyond Relaxing Beaches
Enjoy The Quiet and Chill Vibe
Where Should I Stay?
How Do I Get Here?
How Do I Get Around Koh Chang?
Explore Beyond-Relaxing Beaches
If you stay at the Pajamas Hostel (more on that below) you'll be just 2 minutes away from Kong Prao Beach which is ohhhhh so relaxing. The water only gets about waist deep even if you walk way out from shore. There's cute hermit crabs and lots of little sand dollars to keep you company. Half of the beach is filled with restaurants and bistro lights, but the other half is completely deserted so you can have it all to yourself.

If you want a change of scenery, go visit Lonely Beach or White Sand Beach. Both are jaw droppingly pretty. You don't really get waves, so the water is just ideal for a swim.
Photo taken at White Sand Beach — it's gorgeous.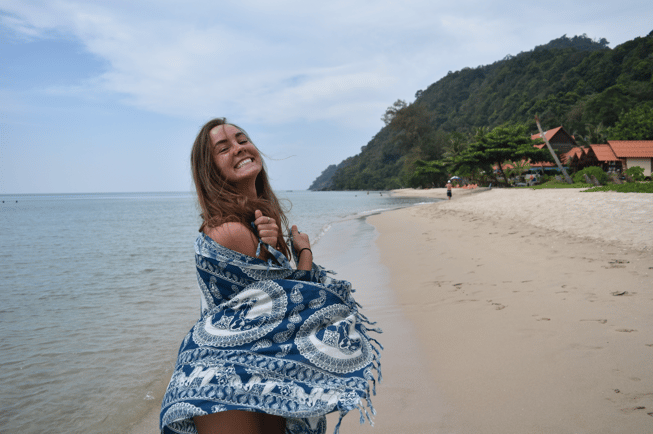 Enjoy Quiet and Chill Vibe
There are so many different islands in Thailand and each one is known for something different, so the cool thing is that you can really get whatever experience you want by choosing specific islands. Some are more touristy, some are more deserted, some are more party-ish.
One thing I liked the most about Koh Chang was just how chill (and deserted) it was. I feel like everyone who was in Koh Chang was there just to unwind. It was so chill, and a well needed break.
Kong Prao Beach has a sandbar that emerges after low tide where people just hung out, collecting sand dollars and watching the sunset. It's so relaxed and chill.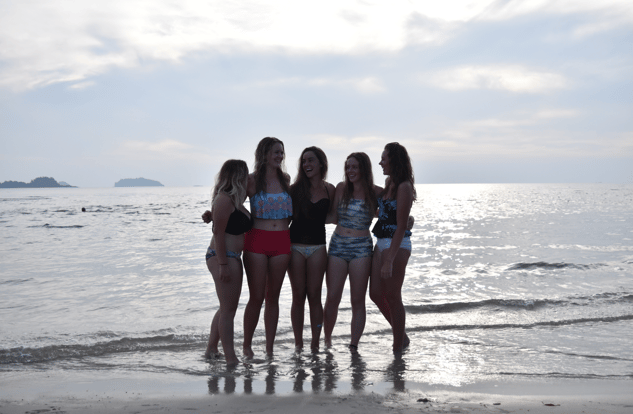 Where Should I Stay?
You'll find a couple of hostels and bunaglows around this small island but I have a favorite hostel — This hostel is called "Pajamas" (seriously). And if that isn't the cutest thing you've ever heard, I don't know what is. This is the place to stay while in Koh Chang.
It's a 2 minute walk to a dreamy beach (Kong Prao Beach), has a pool, bean bags and hammocks perfect for napping in and plays rad music. Oh, and a yummy breakfast is included. All this for $15 a night? Yes, please.
It's a small little chill island — we stayed for 2 nights and 3 days and got to see it all but I could see how you could stay longer, just lounging around.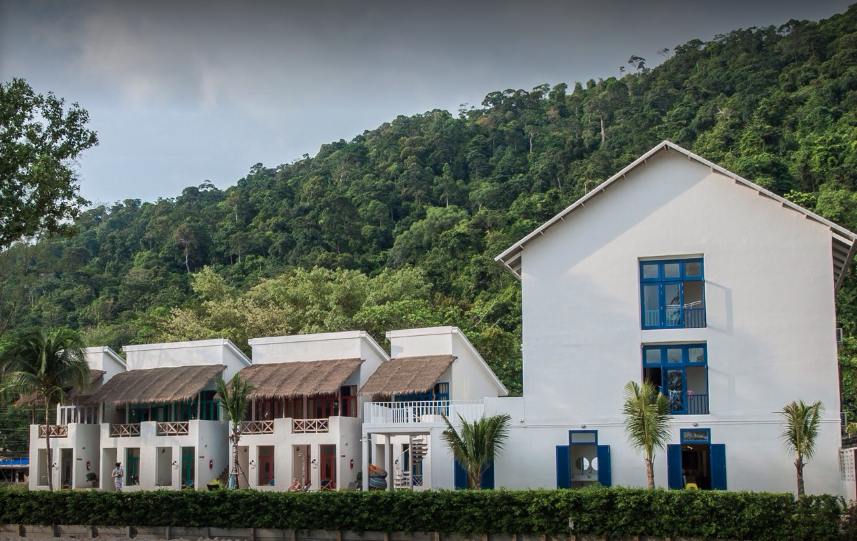 How Do I Get Here?
This island is tucked off of the south-eastern coast, several miles up form the classic peninsula of Thai islands you typically think of when you think of Thai beaches. We adore the beaches and such in Krabi, but if you really want to get away, come to Koh Chang.

Get To Trat:
Our ILP teachers hired a car to take them from Bangkok to the tiny, tiny town of Trat. You can also get a very cheap flight from Bangkok to Trat. If you fly to Trat, just know the airport's terminal is basically the size of my apartment, it's itty bitty!).

Get To The Pier:
Next up, you'll need to get the pier. You can easily hire a taxi (or pick up truck taxis called "songtaews" which cost around 60 Baht) or most hostels you book at include a passage via shuttle from the airport to the ferry if you ask when booking.

Take A Ferry Over:
Via taxi, songtaews or shuttle, head to Ao Thammachat on the Trat side to disembark at Ao Sapporot pier in Koh Chang.
How Do I Get Around Koh Chang?

The island is rather small, and you'll easily be able to walk to most places depending on your location of your hostel. Where I stayed, we could walk to a restaurant street and a couple of beaches.

There are also songtaews you can hire to take you to the other side of the island if you'd like to explore the beaches. Several local gas stations have roadside maps of the islands that are clearly labeled in English, giving you a good idea of how to travel around the coast and visit the beaches you'd like to see.
*Make sure to get a picture by this swing on Kong Prao Beach!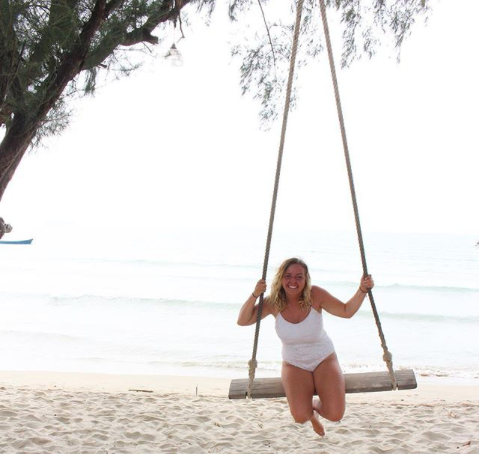 Need more Thailand in your life? Of course you do — good thing you can read all about our program there (and our fav. vacations) right here on our blog. Oh, and get a little more info about where you can live and other details by clicking that button: