If you've ever been to the amazing city of Chiang Mai, you know how much stuff there is to do there. It's literally never ending. One of the things you need to put on your "must do" list is the markets! You like shopping? Chiang Mai is your city. When doing your research, you will notice that there are a few different markets you can go to, so how do you know which is the best?

No matter what market you go to, you're in for a treat. Most of the markets in Chiang Mai happen during the evening (which is a good thing. Trust me, you will save your body a lot of sweating and sunburns)!
There are 3 really popular markets in Chiang Mai that you will want to chose between (if you have more than one night to do the markets, hit up a couple). Here are the three markets to watch out for:
Saturday Weekend Market
Sunday Weekend Market
Night Bazaar
Saturday Weekend Market
The Saturday weekend market happens (as I'm sure you can guess) on Saturdays! It is also known as the Wui Lai Market and it is opened every Saturday from 4:00 pm to midnight. It's located on the south west side of the Old City and just opposite of the Chiang Mai Gate. Be prepared and wear some good walking shoes because the market extends little over half a mile down Wui Lai Road. You will find all kinds of stuff from traditional Thai clothing to hand carved wooden figurines to delicious food. Make sure you bring a hand full of Baht and be prepared to barter them down. The Saturday market is the less popular of the 3, but that doesn't mean it's any smaller!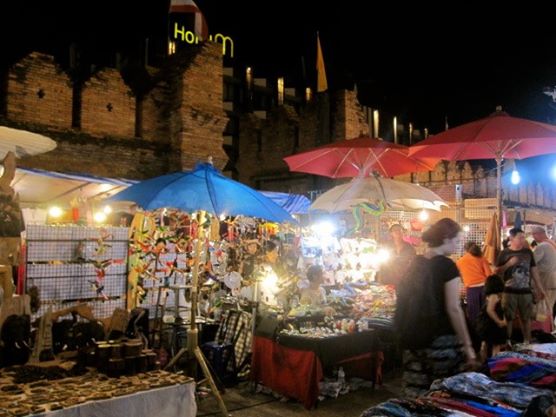 Sunday Weekend Market
The Sunday weekend market is the better known of the 2 weekend markets. It's located in the middle of the big walled city area by the Phae Gate and extends over half a mile down the Ratchadamnoen Road. It's opened from 4:00 pm to midnight every Sunday and all traffic is closed down the full length of the road, so there's no need to worry about getting run over! If you want to beat the crowd, go earlier on in the day when it first opens, but bring some sunscreen! It will be hot, hot, hot! The crowds tend to show up after dusk. They have everything that the Saturday market has plus more. Don't miss the hand crafted jewelry, paintings and cheap clothing!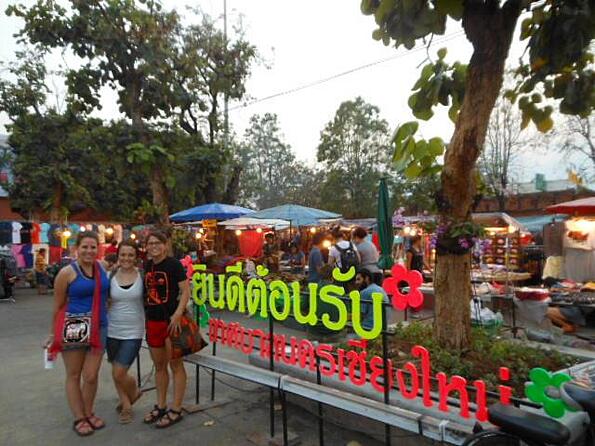 Night Bazaar
If you are not in Chiang Mai over a weekend, you obviously won't be able to attend the 2 weekend markets, but the Night Bazaar is a great alternative! The Night Bazaar is located on the east side of the old walled city and extends all the way down Thanon Chang Khlan. The Night Bazaar is opened every day no matter the holiday or weather from dusk to midnight. The major difference between the 2 weekend markets and the Night Bazaar is you will find stuff such as fake designer bags, clothing and jewelry and some DVD's and CD's for cheap! They also offer things that the weekend markets do, but if you're looking for cheap clothing or bags, hit up the Night Bazaar!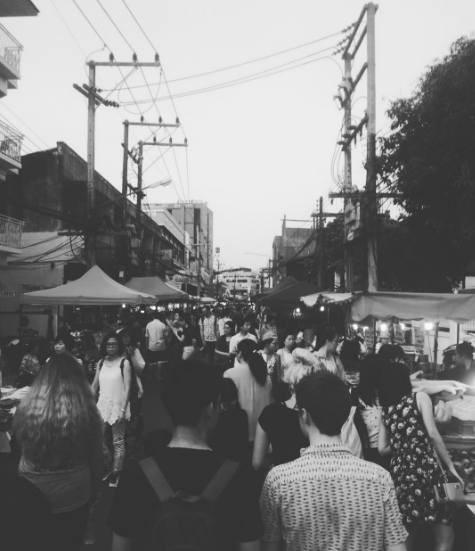 I would strongly suggest going to the Night Bazaar and one of the weekend markets if you have time. There is no experience like a Thai market!
---
Do you want to teach English in Thailand? Find out how you can serve abroad with ILP (International Language Programs)! Click below to learn more about what it's like to be an ILP Thailand volunteer!