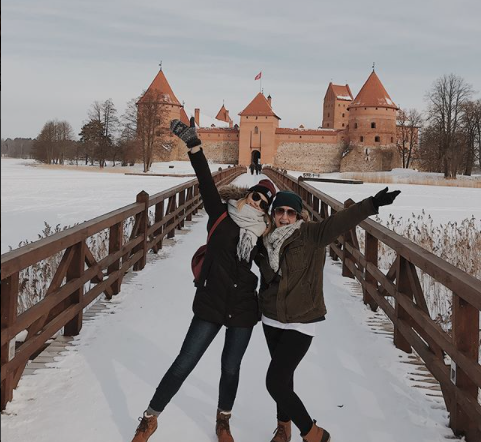 Europe is amazing, even when it's snowing outside.
There's something just beautiful about Europe in the winter (Plus there are major perks, like lower prices!). Sure, it's beyond pretty in the summer time, but to see your favorite castles and cathedrals topped with a fluffy white layer? It's unreal.
Ready for your own European adventure? How does a semester abroad volunteering in Europe sound? Click here to start your application now.
Everyone volunteering in Europe in the spring and fall will be experience some cold weather. That means bundling up in you thick sweaters, fuzzy socks, and wrapping a scarf around you to stay warm as you enjoy your semester. Here are our favorite ideas:
Visit A Museum
Explore A Holiday Market
Host A Cook-Off
Outdoor Ice Skating
Check Out Local Festivals
Try New Restaurants
Hang Out At The Mall
Spend Time With Your Group/Host Family
Explore The Underground Metros
See The Opera, Ballet Or Circus
+ Tips For Handling The Cold
Visit A Museum
This is a good warm activity because you'll be inside (obviously). Make sure you're going to be visiting in the right hours; some museums have different opening hours during the winter season.
We suggest visiting all the city museums you can during the winter months so you can spend time doing outdoor things when the weather warms up. No use spending time inside a museum when you could be picnicking in the park, right?

Visit Trip Advisor for the best museums in your city and do a quick Google search to see if there are "free" days; some museums have a free entrance day for students once a month, or discounted tickets on a Wednesday.
Explore A Holiday Market
A lot of cities throughout Europe will have holiday and winter markets both before the winter season and after the New Year. Don't miss out on these cultural experiences! All of Moscow is draped in a blanket of lights, peek into shops and stores to get holiday souvenirs and get food you can't get any other time of the year.

Most of these markets are outside, so you'll need to bundle up, but there's only available in the winter months — lucky you!
Host A Cook-Off
If staying inside and eating good food sounds good then this is for you. If you have a kitchen in your apartment or if it's OK with your host family, invite over some of your ILP group to have a cook off. Head to the grocery store and pick up your ingredients and see who can back the best batch of cookies with the ingredients you can find (hard than it may sound, unless you speak and read the local language!).
Your host family may also want to get in on the action. See if they would be willing to teach you how to make your favorite local dish, or sit at the kitchen table and help your host family fold dumplings or dice vegetables. Food in Europe for the winter season are hearty dishes that you'll want to know how to make for your winters in America.
Outdoor Ice Skating
So many cities embrace the cold and set up several ice rinks around town. You'll pay a small fee to rent skates and to get on the ice. Think about skating around these impressive buildings and cathedrals. We're in love with this idea. The whole Red Square in Moscow sets up a big rink where you can skate past St. Basil's Cathedral and pirouette in from of the Kremlin. Ah, it's dreamy.

If there aren't outdoor rinks, check inside. Some huge malls will have a few skiing rinks at the bottom floor for you to use.
Check Out Local Festivals
There's bound to be a couple of winter festivals happening your city or country. Maybe there are ice sculpture contests, or a celebration of the end of winter. There could be local craft markets selling winter clothes or market selling hot cider and other treats you can only get in chilly months. See if local parks swap out walking tours for horse-drawn carriage tours, like the Russian city of Suzdal.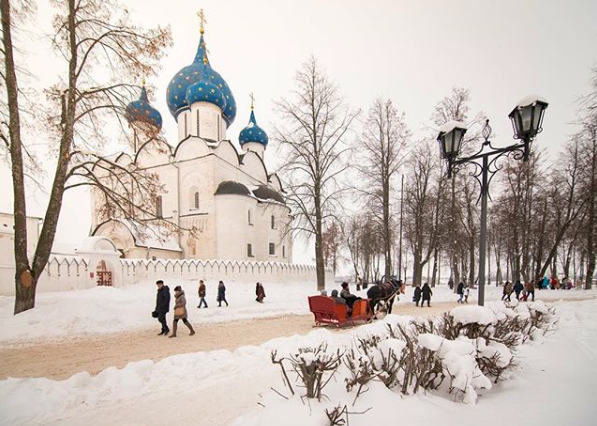 Try New Restaurants
Have your eye on a restaurant you've been wanting to try? Check it out while the weather is colder so that you can spend the warmer months out enjoying the scenery. ILP volunteers will have access to an area book where past volunteers have listed their favorite restaurants.

Oh and volunteers in Ukraine; we're in love with the L'viv Chocolate Factory where you can order up a cup of warm, melted chocolate. Our volunteers love this treat year round, but it's that much more delicious after a day out in the cold.
Hang Out At The Mall
Malls in Europe are probably different than what you are used to in the U.S — it sounds less glamorous, but our volunteers love exploring the malls in their city because they are so different.

When the weather outside is frightful, peruse through the stores, pass by restaurants, and explore grocery stores all in one spot. It's almost like a mini-city where you could spend a few hours. Some even have loads to do, like ice skating, ropes courses, arcades, movie theaters and more. It totally depends on what city you are in, but check it out.
Spend Time With Your Group/Host Family
An obvious choice, but when it's too cold outside to do much, hang out with your friends. Show your host family pictures from home, play games with your group, teach your host sibling how to play a card game, host a movie night (complete with popcorn and treats from the local grocery store).

You can also cross off a few things of your to-do list, like organizing all of your souvenirs, catching up on your journal, editing all of your pictures, creating a video of your semester, writing thank you notes for your Local Coordinator and other local friends, typing out an email to your friends, filling out detail on your personal blog about life in Europe, etc.
Explore The Underground Metros
In cities like Moscow and Kiev, you could really spend a few hours just riding the metro and see a lot of your city. Both of these metros have an impressive history that goes back a few decades; some of the metro stops in Moscow and Kiev are protected by the government because they are home to ornate ceilings, detailed chandeliers, painted walls and historical statues. It's like a museum underground. Get more info about our favorite stops, here.

One ILP Group streamed a video on their phone while they rode all of the pink line in Moscow. The whole line encircles Moscow in a round circle, which is pretty neat.
See The Opera, Ballet Or Circus
This is a huge bucket list thing for your semester in Europe, and winter is the ideal time to indulge. Be sure to talk to your Local Coordinator about booking tickets; they tend to sell out very quickly, but you can easily research the opera house or theater in your city and check out what will be showing in the chilly months of your semester.
+ Tips For Handling The Cold
How To Dress
If you're dressed for the weather, it really won't bother you that much. Think about it: if your feet are warm in good quality boots, with wool socks, and have a coat and scarf that covers your face, you'll be a lot happier than someone who has cold feet and a freezing nose.

You will get more packing tips on how to pack and dress for the cold, but we suggest wearing a warm base layer (like lined tights, thermal underwear, etc) then your pants and a long sleeved tee. Next comes a sweater or pull over, then a warm coat. Add a scarf, super warm socks, lined boots with good tread, and a hat. Pull on your hood and you are good to go.
Remember, it will be toasty warm inside, so you will want layers you can easily remove once you get inside.
Limit Your Time Outside
This is a strategy you'll see the locals using; not spending 100% of your time outside. Break up cold days by slipping into cafes for a warm drink or heading inside a mall to do a bit of shopping while you are site seeing. You'll be much happier exploring the city in chilly, bite-sized chunks rather than trekking outside for 8 hours straight.
Just Do It!
Don't stay inside doing nothing just because it's cold outside. You'll end up wasting half of your time if you just wait for the warm weather. Take advantage of seeing your city under the snow. There are so many things you can do around town despite the slush and cold weather. Especially in Europe, a lot of your experience will be experiencing history at local museums, touring cathedrals and churches and other buildings which are all indoor activities. Plus, you can definitely still do some site-seeing in the snow.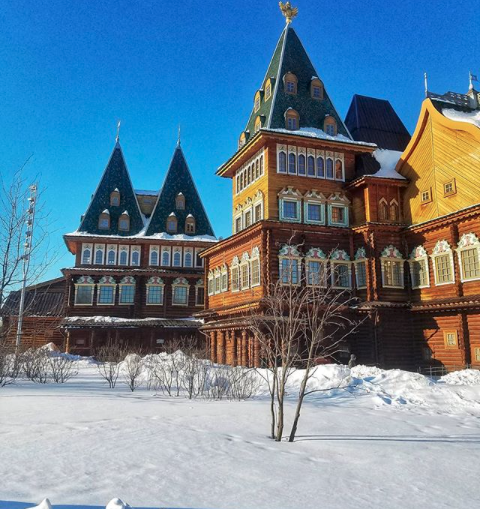 Have some questions about volunteering in Ukraine or maybe wondering how you can make a difference as you serve abroad in Lithuania? Click that button below and we will help you out with those questions and more!